This time, I left Dubai for a day trip to Abu Dhabi! I used a bus to get to Abu Dhabi, but it was quite comfortable as the facilities inside the car were substantial!
I would like to take a closer look at the bus stop and facilities between Dubai and Abu Dhabi.
There are two bus routes between Dubai and Abu Dhabi.
There are two bus routes from Dubai to Abu Dhabi. One departs from the Al Ghubaiba bus terminal in Old Dubai "E 100", and the other departs from the Ibn Battuta bus terminal on the Dubai Metro red line "E 101".
It takes 1 hour and a half to get to Abu Dhabi by E 101 and 2 hours by E 100. Both buses run every day from 5:30 to 23 o'clock, approximately every 20 minutes, so it's convenient!
Also, there is a service on Friday, which is a holiday of Islam, but the number of service decreases a little. Please refer to the timetable for details → E100 / E101
The fare is 25 DH, and the Nol card is convenient!
E 100, D 101 both cost 25 DH one way to Abu Dhabi. You can't take a bus with cash, so you have to buy a ticket at the bus terminal window or use "Nol Card".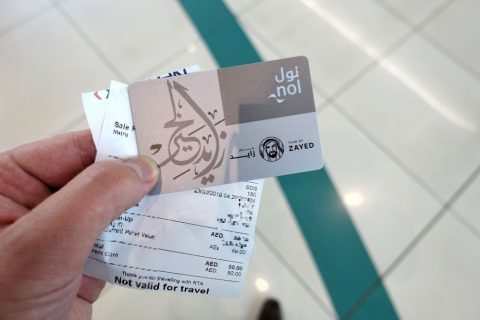 "Nol Card" is an IC card that can be used for metro and bus in Dubai. Like Japan's Suica, you charge a certain amount of money in advance and use it (You need to get on the Dubai Metro train from here for details! Nol Card details and route map).
If you charge a certain amount on Silver or Gold of Nol card, you can get on the train with touch and go just like Dubai Metro, so it's convenient!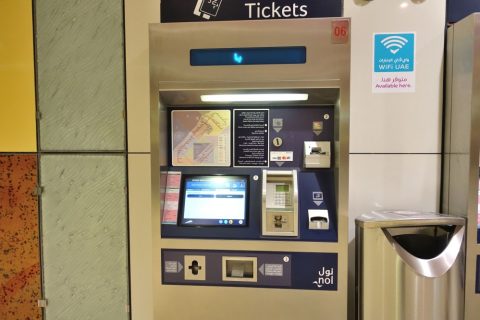 If you use a No card to get on a train, once you go to Abu Dhabi, you will not be able to recharge your No card (Top Up) (There is no ticket vending machine that accepts Nol cards.). If you also use a No card for the return trip (Abu Dhabi – Dubai), you must recharge the amount equal to or more than the round-trip fare (50 DH) in advance.
Ibn Battuta Bus Terminal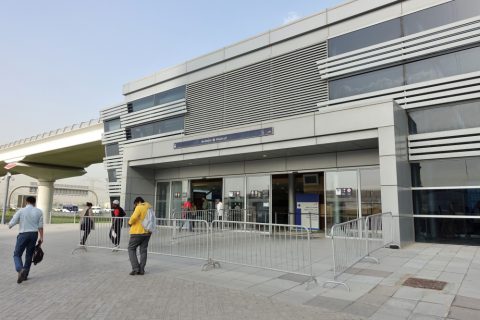 Then actually from Dubai to Abu Dhabi! This time, since my hotel is close to Ibn Battuta station, I will go to Abu Dhabi by E 101 bus.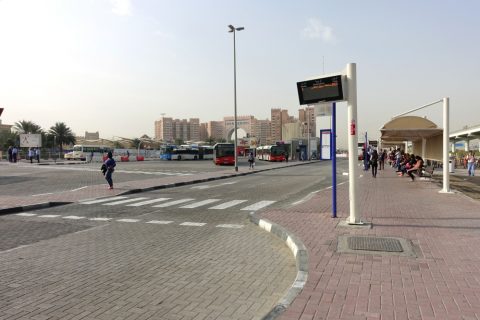 The bus terminal is right in front of the exit of Ibn Battuta Station on the Dobby Metro Red Line. It is a big terminal, but it is a little hard to find as both route buses and highway buses are crowded …。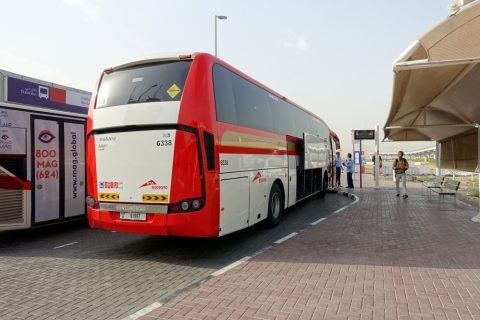 When I looked for the bus stop of E 101 bound for Abu Dhabi, it was on the far right side (There is a possibility of change, so please confirm.) with my back to the station! There is a red and white high decker bus.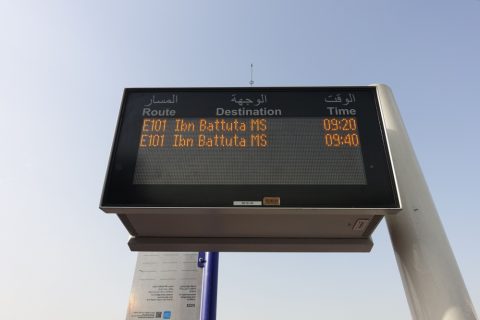 When I looked at the electric bulletin board, for some reason the departure place name was displayed instead of the destination (Abu Dhabi), but when I asked the attendant who was nearby, she said that it was for Abu Dhabi.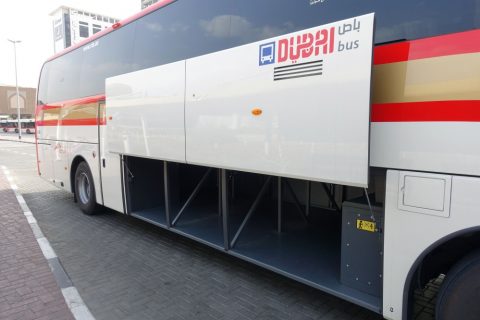 It has an expressway bus and a big trunk! When you use it, I think you should manage your luggage properly just in case.
In-Vehicle equipment and seat of bus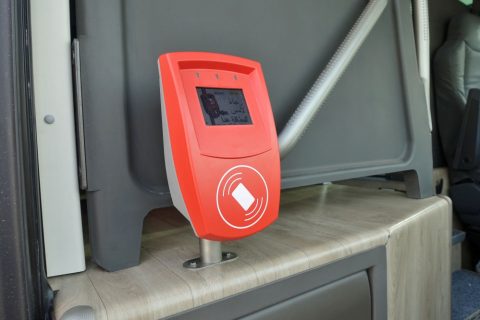 When you get on the bus, there is a card reader next to the entrance, so you touch your Nol card here. It is necessary to touch not only when getting on but also when getting off.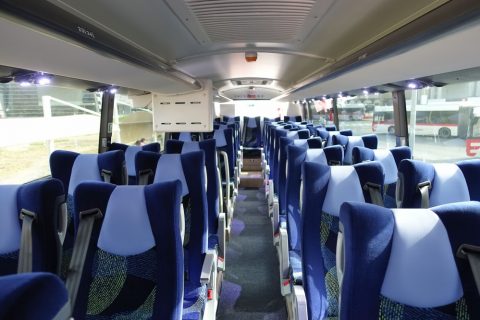 The inside of the bus is an ordinary highway bus with 2 + 2 seats, but the floor, walls, and seats are shiny, maybe because it's still a new body.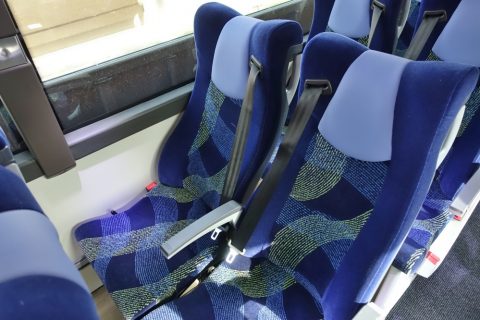 The width of the seat, measured by weight, is about 44 cm. The seat pitch is standard and the foot space is not very large. It has a seat belt that goes down from the shoulder.
It is equipped with reclining and footrest! But the reclining angle is very shallow, and the footrest is very simple, and it moves when I put my foot on it.
There's a bright LED reading light overhead, and a USB power supply on the back. There were some seats where the USB power was not working, so it would be better to check before you sit.
Don't you stop at the station on the way?
The bus leaves on time. This time, I took the 9: 20 bus, but the boarding rate was about 50%. All the window seats for 2 people were filled up.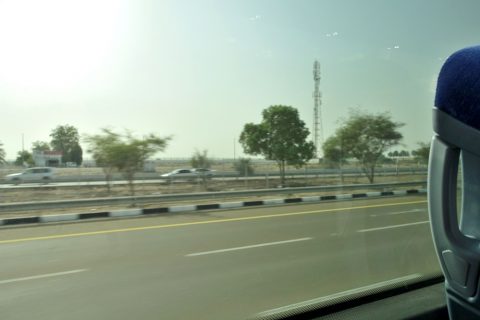 From Dubai to Abu Dhabi, keep driving west on the highway. When it comes to buses in foreign countries, there are many cases where they drive recklessly like turning at the edge of centrifugal force, but this bus is extremely safe driving!
That's why we drive slowly on expressways at about 80 kilometers from start to finish. If I fly more, I can save time, but on the contrary, I get frustrated.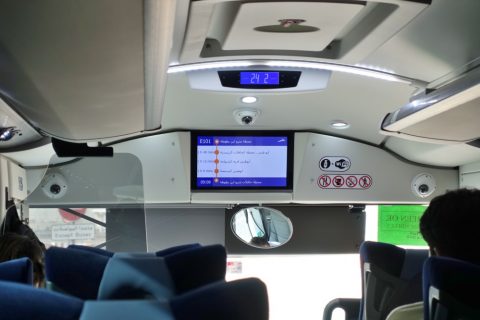 According to the timetable of E 101, trains bound for Abu Dhabi should stop at 2 stops, Samha and Shahama Village, and trains bound for Dubai (Ibn Battuta) should stop at Samha, but for some reason the trains did not stop until the last stop without any guidance on the round trip.
There is no sign of the bus stop, why …? If you get on and off at a station on the way, you should check with the driver in advance.
Abu Dhabi Bus Terminal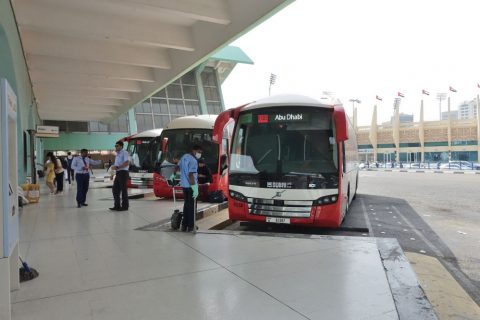 10: 56, we arrived in Abu Dhabi on time! The terminal on the Abu Dhabi side is called "Abu Dhabi Central Bus Station". The return trip (To Dubai) starts from the same place, so it's a good idea to remember the place.
It is one of the most prosperous transportation centers in Abu Dhabi, with bus and taxi stops to various destinations and a shopping mall nearby.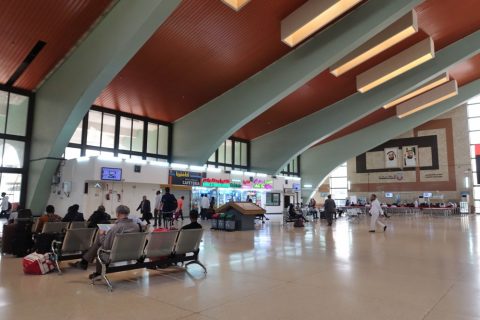 The inside of the terminal is a magnificent building with a high ceiling, but it feels a little old-fashioned. There is a ticket counter and a kiosk on the premises.
There is also a popular restaurant called "Lebanese". I went in for a while, but it was a super local restaurant so I was worried about sanitation …。 As expected, I didn't have the courage to eat here …。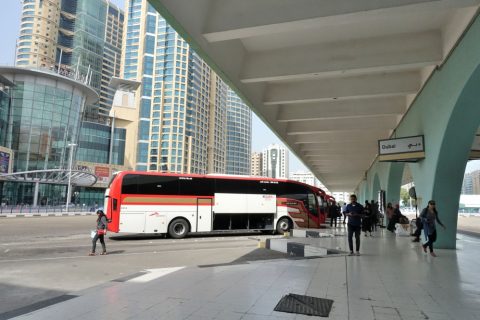 So, next time I will report about the bus running in Abu Dhabi city!