In Dubai's old city (Old Dubai), there is a ferry service called the "Abra". I also tried to ride it because it is popular among tourists, but the number of services is large and it is surprisingly comfortable even though it is a small boat!
I would like to report on the Abra in Dubai, including how to ride and fare.
There are two routes, the ferry in the old city.
The Avra runs in Dubai Creek, an inlet that flows through Old Dubai (Old City). Although it is called an inlet, in some places it is a large river that is more than 100 meters to the other side of the river.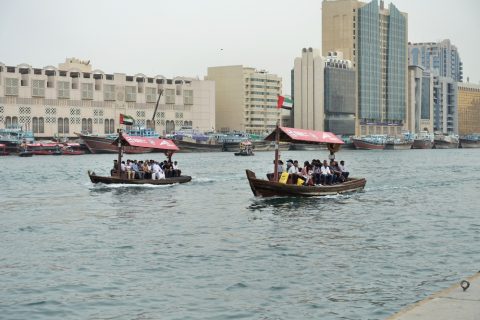 This is where Abra flows. A small boat with a capacity of about 20 people ran smoothly with a rumbling engine! There seem to be a lot of services, and when I look at them, they come one after another almost without interruption.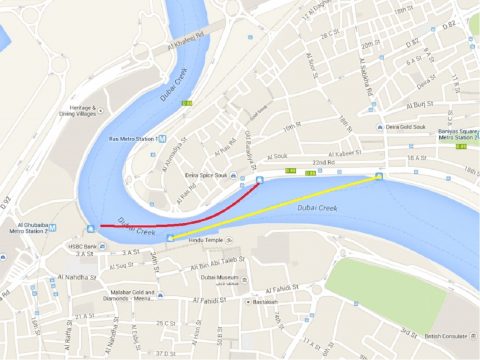 According to the company's website, the service currently operates on two routes. I thought it was just connecting the opposite banks in the shortest distance, but it seems that it is a long distance of about 1 km.
Boarding Deira Old Souq Station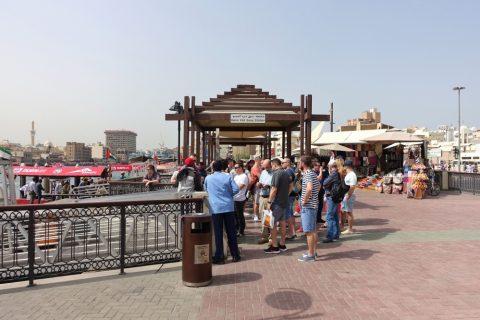 This time we will board from Deira Old Souq Station near Spice souk and head to Dur Dubai Abra Station on the opposite shore!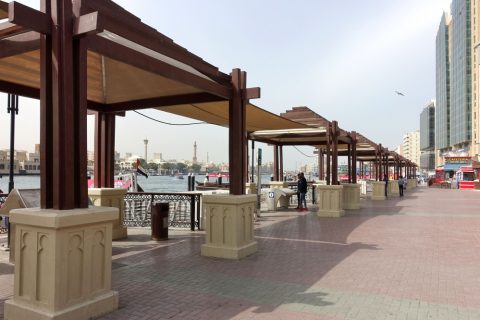 As it was a ferryboat, I had imagined a quiet and empty landing place, but it was a beautiful and splendid terminal! It's not only the Abra, but also the Water Bus and Water Taxi.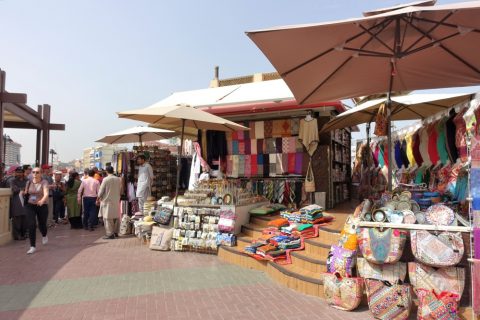 Some shops sell souvenirs. However, there is no price display, and all the stores are like extension of souk. It's kind of embarrassing to have to negotiate a discount here. …。
No ticket required, easy to ride!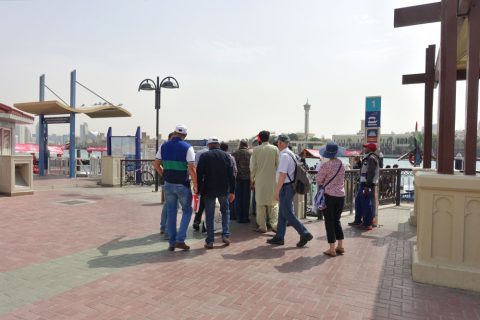 This is the easiest way to get on the Abra! There is no need for boarding procedures or tickets, just wait in line at the boarding place with the words "Dubai Abra" and board in order of arrival! You don't have to worry about getting lost as there is only one line in Abra departing from here.
The boat has a driver in the center and sits on a bench around the driver. There are no iron fences or handrails around the boat, so if you don't calm down, you might fall …。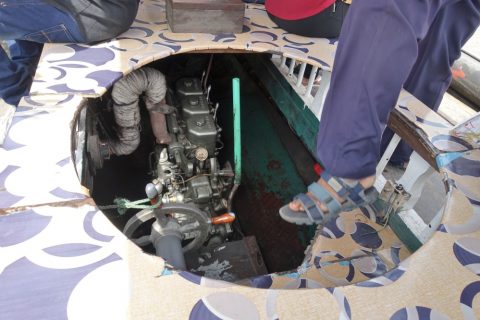 Inside the driver's hole is the engine compartment, where the driver turns the rudder. When you sit near here, you need to be careful not to drop things.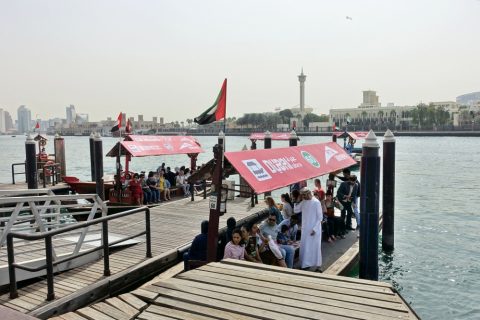 There were a lot of services, and when I looked at it, there were departures and arrivals every 2-3 minutes. I think it depends on the number of users, but if there are so many tourists, I don't think they have to wait (On the other hand, you may have to wait in line to board the ship.).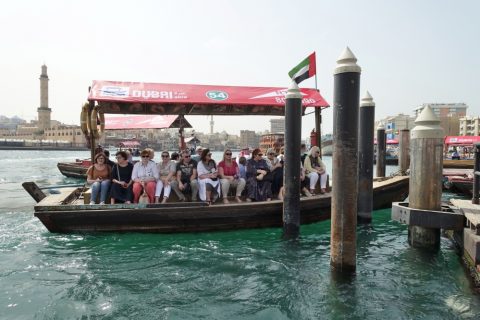 Also, according to the guidebook, it says "Abra's not leaving until it's full.", but actually it seems to depart even if the seats are half empty. There are boats coming from the opposite shore one after another, so it might be good to see some of them off when it's especially crowded.
The fare is 1DH.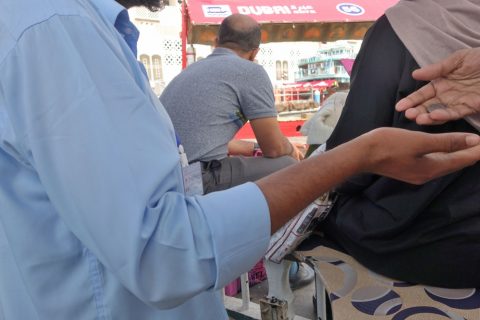 The fare in Abra is 1DH. I will pay the driver after I get on board. 1DH is a coin, but it is not clear if you can get change even if you take out a large bill (No one was asking for change.).
I think it's better to get it by shopping at a supermarket before boarding.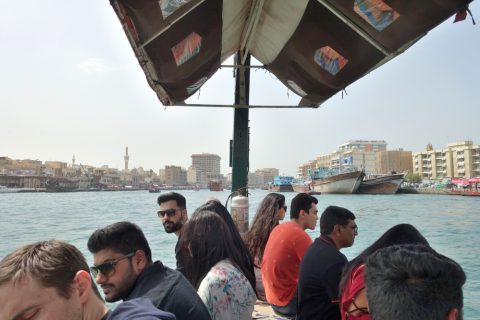 This time around 15 passengers were on board. From what I saw, they were all hardcore tourists, from Asians to Westerners.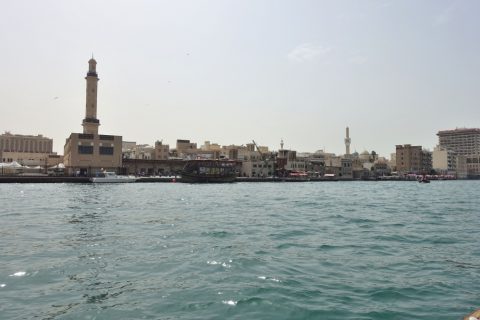 About 7-8 minutes to Dur Dubai Abra Station. Although it is a small boat, it has a sense of speed and the wind feels good! The good point is that you can see the buildings of the old town from a different angle from the land.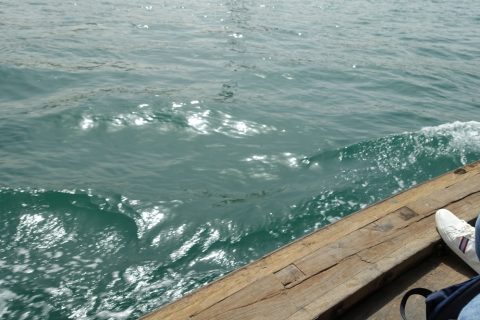 Also, the water is clean, so there is no unpleasant smell and it is comfortable. Thailand and Vietnam have no complaints if the water quality is this clean, but …。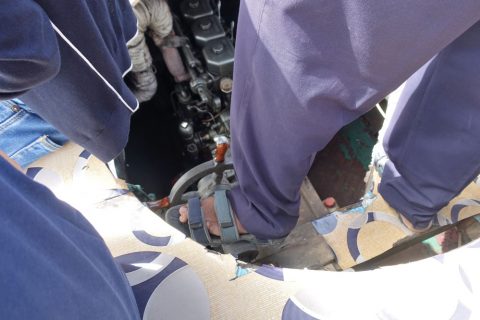 The steering style was also unique, and when I looked at the driver, he was dexterously controlling the rudder with his feet while standing! I think the reason is that when you enter the hole, the passengers get in the way and cannot see ahead, but the splendid handling like a hand is quite something to see.
Very useful! Cheap and Comfortable Abra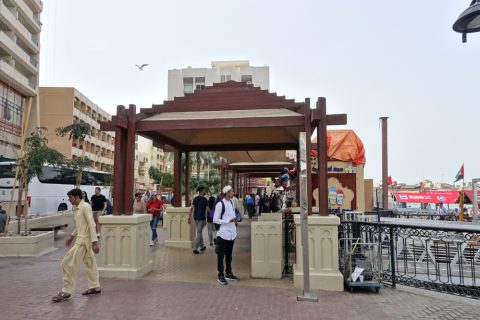 So we arrived at Dur Dubai Abra Station on the opposite shore! I could ride with only 1DH , and it was a very comfortable trip without any complicated procedures!
It's good to use for sightseeing, but it's worth using even for traveling in the old city! Don't forget to prepare 1DH coins when boarding!
♪Click here for a List of articles on "Dubai"