"honey" is a specialty of Russia. It is also good for health and is widely used at home in Russia.
This time, I visited the honey specialty store "DOM MEDA (Toyota Motor Corporation Current Era Mila A)" in Moscow. Surprisingly rich in variety, all of which can be sampled! It's much cheaper than buying it in Japan, so it's perfect as a souvenir!
Location of Dom Meda
The honey specialty store "Dom Meda" is here. It is close to the Tretyakov Gallery, and if you go by subway, the nearest station is Novokuznetskaya on Route 2.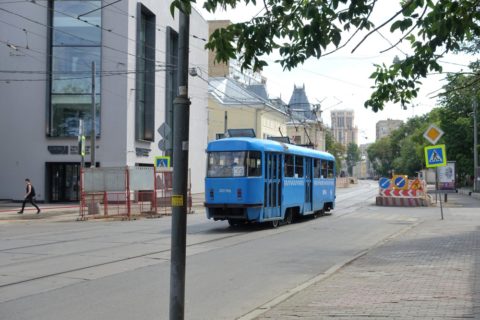 The tram is more convenient than the subway. Get off at Metro "Tret'yakovskaya" on tram 39, and it's only a few dozen meters from the bus stop.
The tram runs only around here in Moscow, so it might be a good idea to take this opportunity to go sightseeing.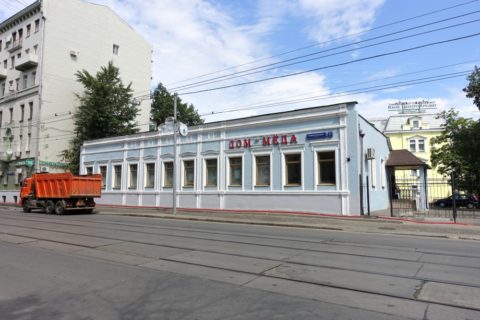 The Dom Meda store is a one-story building with light blue exterior walls. There is an entrance at the gate on your right.
Supermarket interior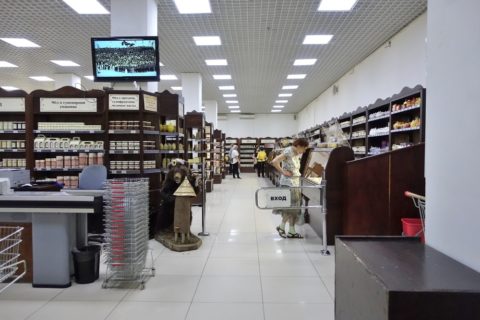 The interior of the store is like a supermarket, and the front of the entrance is the store. Shopping baskets are also available. Unlike SC, you can enter without baggage inspection, so it's easy!
There are various kinds of bottled honey sold in the store, and there are many kinds. However, all the products were packaged like souvenirs for tourists, so I didn't see many that local people would buy.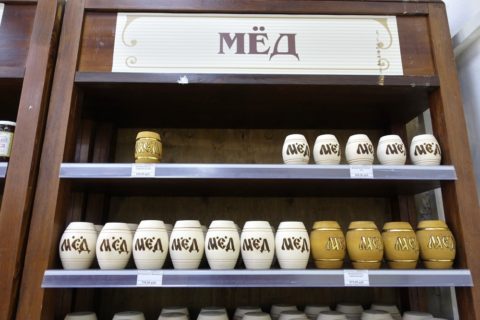 Even so, there are small bottles of honey that you can buy for about 500 yen, so it might be a good souvenir. Barrel-shaped honey contains 250 ml starting from 250 RUB.
There are many kinds of "tea"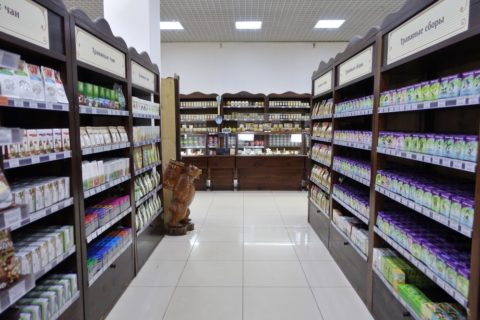 Other than honey, the lineup of "tea" is especially popular. There were various kinds of tea bags and tea leaves, including Chinese tea written in Chinese characters.
I didn't know until I came to Russia that tea culture is unexpectedly prosperous and there is a custom to enjoy various flavors other than tea. It's true that there were many restaurants with a rich tea menu.
There are many containers and teapots.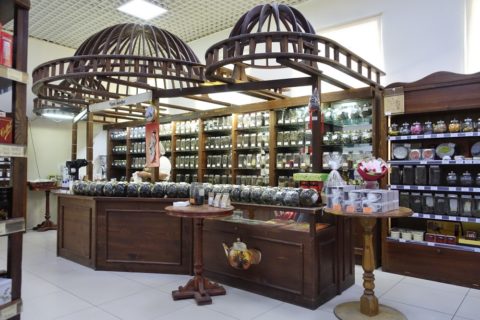 There is also a counter in the back of the store that sells tea by measure. There aren't many teahouses in Japan with such a variety of teahouses lined up behind staff.
the sale of honey by measure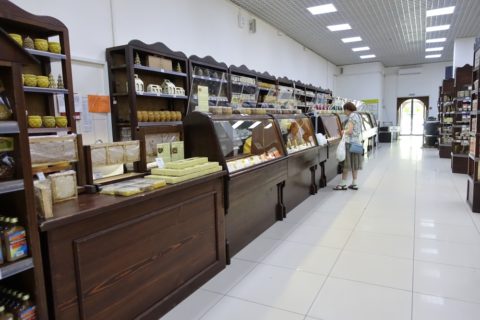 Now, the purpose of this visit is of course honey! In front of the entrance of the store, there is a counter for selling honey by measure lined up on the wall.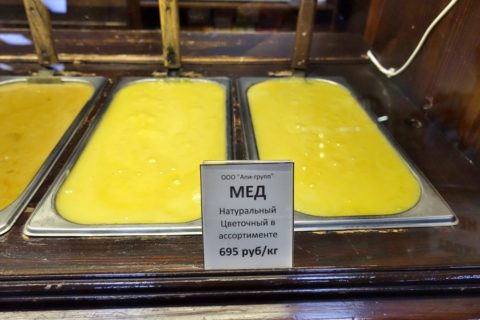 Honey is "Мёд (Med)" in Russian. Each honey label shows the name of the product and the price per kilogram. It is written in Russian only, so it is refreshing to see what kind of things are without translation …
The price varies depending on the type, about 600 to 1,900 RUB per 1 kg. It is about twice as expensive as the Vladivostok market, but still much cheaper than buying in Japan.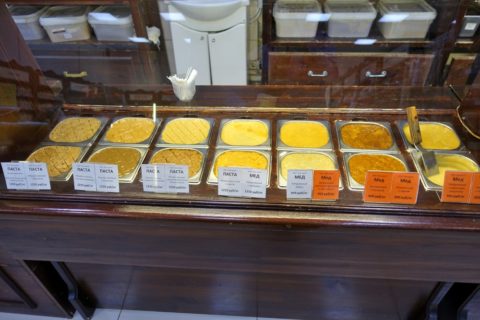 Even so, there are so many kinds …! When you think of honey, you think of it as amber and transparent, but what you see here is yellow and brown, and some are pure white and some are black, and some are miso (Japanese)-like honey.
Can I try some?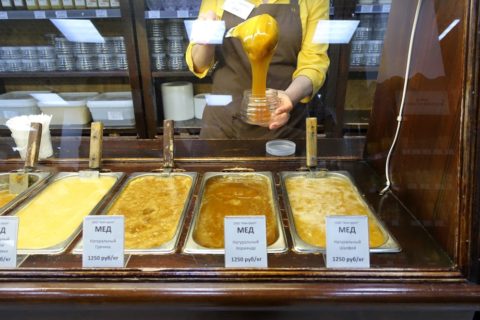 I would like to try various kinds of honey, but you can try all kinds of honey at this counter! If you point to honey through the glass and say you want to taste it, a kind aunt will happily try it.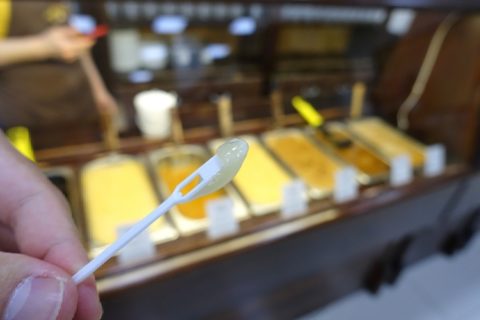 I tasted about 10 different flavors of this and that, and although there are differences in stickiness, density, and the thickness of the flavor, the base of the flavor is the same. However, the white one has a milky taste, and the brown one has a fermented smell like miso, so the appearance and taste are strangely linked.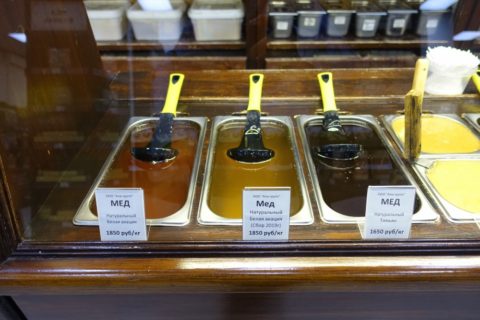 Also, basically, the dark ones have a strong taste, while the light ones have a mild taste, and I thought they were similar to the honey Japanese usually eat.
It's a good idea to buy some unusual flavors such as pitch-black ones for future reference, but if you want to buy something safe and delicious, it might be best to buy something familiar with the amber color.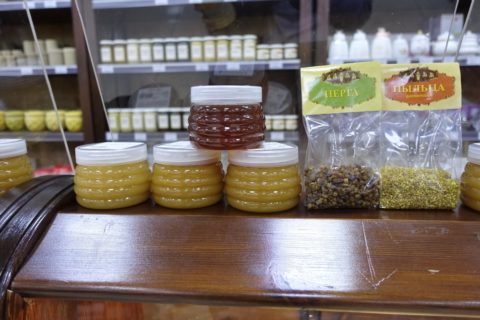 There are 2 types of honey containers sold by measure: 1 liter (There are no pictures.) bottle and 500 ml bottle. If you don't need 500 ml, you can use this half bottle to specify a small amount of 100 ml or 200 ml.
I used gestures to communicate in English, but the clerk seemed to understand simple English words.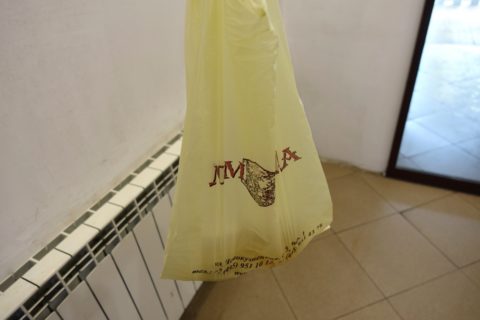 Please pay at the cash register near the exit. You can use a credit card, and you can put your purchase in a shopping bag.
You can also take it back to Japan!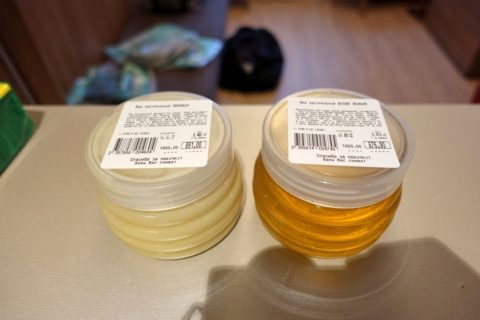 I bought these two items this time. The container is made of plastic, but the lid is tightly sealed, so you don't have to worry! I brought it back to Japan as it was and there was no dripping (We encourage you to put it in a plastic bag just in case.).
The container is not suitable as a gift, but honey can be stored for a long time, so you can enjoy it for a long time if you buy some for home use.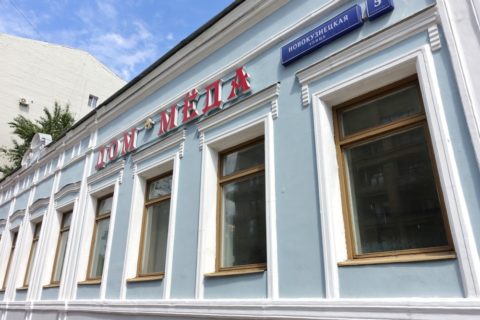 Dom Meda is a specialty honey store in Moscow. It is a little expensive for Russia, but I am glad that I can taste a rare flavor that is rarely seen in Japan!
Please visit if you like sweets!
Дом Меда
Address:Ulitsa Novokuznetskaya, 5/10, строение 1, Moscow
Opening House:9:00~20:00(Sunday:10:00~18:00)
For more information about Moscow, click here → "Moscow"