I found a super cost-effective restaurant near Old Souk in Dubai! The menu with pictures is easy to choose, the taste is good, and the price is very cheap! Even though it is a popular restaurant, the inside of the restaurant is very clean and the service of the staff is good! I recommend this restaurant in Dubai.
a restaurant near Old Sook
This time I visited this restaurant "Desi Deira" in Dole Dubai. Take the Abra from the Deira district of Spice souk and get off at the Bur Dubai Abra Station, and it's right on the side street behind the big apartment.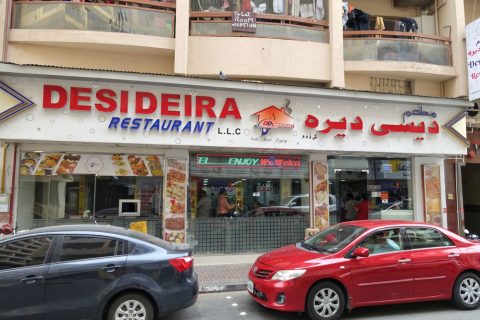 It looks like a fancy restaurant for the general public. It is located on the first floor of the apartment building, so many residents may use it. It is just a stone's throw away from the old souk, so it is convenient to stop by while sightseeing!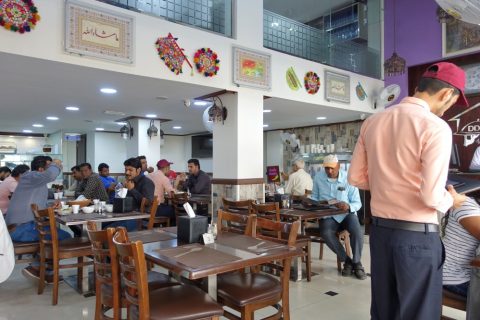 The restaurant has a table for 4 and around 50 seats. The interior looks like a popular restaurant, but there is no trash on the floor and the cleanliness is outstanding! The customers were mostly labor-oriented local men, but there was also a young couple.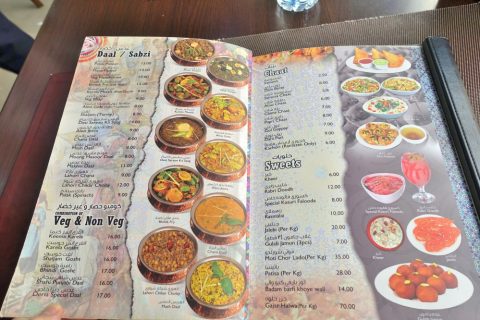 If you look at the menu, you will see that it is a Pakistani dish, with mainly curry, kebab and rice dishes. There are more than 100 kinds of menu if you count them all. There are many menus with pictures, and it is nice that it is easy to order by pointing.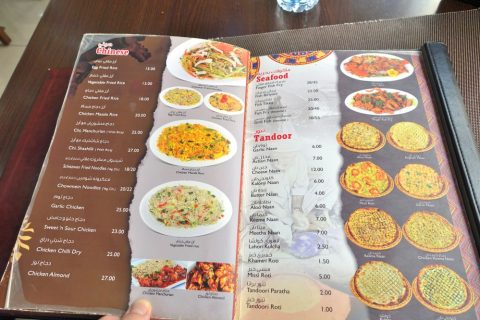 The price is around 15 ~ 20 DH per dish, and some dishes are less than 10 DH, so it is very reasonable! Seafood dishes are a little expensive, but curry starts from 8DH and you can eat Biryani at around 15 DH.
For all the menus, please check out the PDF on the store's website.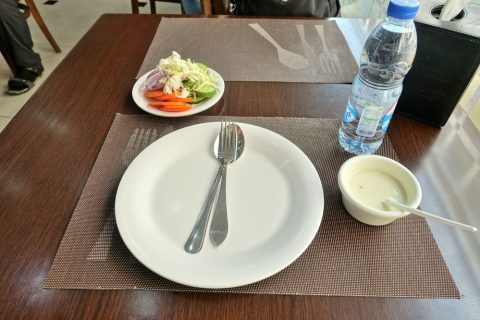 When you get to your seat, you will be served vegetables first. White liquid tastes like smooth plain yogurt and is common in Central Asian restaurants.
I didn't order a drink, but a 500 ml plastic bottle was left, but I was charged for it! But it's 1DH, so it doesn't hurt or itch.
A delicious chicken rice.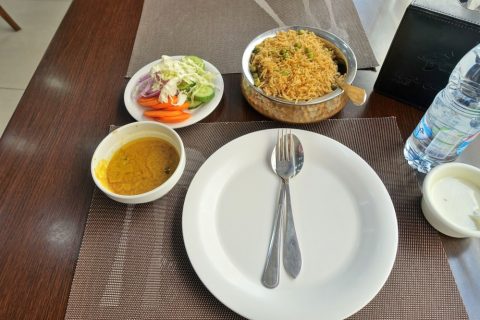 What I ordered this time was a rice dish called "Matar Pulao". I was asked about the spiciness when I ordered, so I said "medium". It comes with a small bowl of curry. The rice was more voluminous than it looked, and I couldn't eat it all by myself …。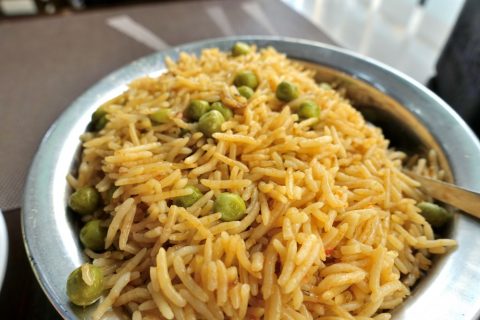 This is a simple pilaf with only green peas, but when you try it, it tastes surprisingly good! There are no peculiar spices or unpleasant flavors of Asia, and even though the rice is flaky, it has a moist texture when you take it to your mouth.
It doesn't have any special flavor, but you won't get tired of it, so you can enjoy it!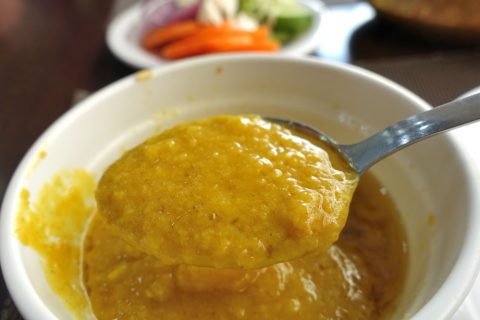 The curry on the side was quite delicious, with a mild taste, natural sweetness, and later a strong spicy taste. This is a taste you can't really taste in Japan.
The spiciness of pilaf and curry is not so bad, but my mouth is burning when I finish eating.
The cost performance is too good! Highly recommended restaurant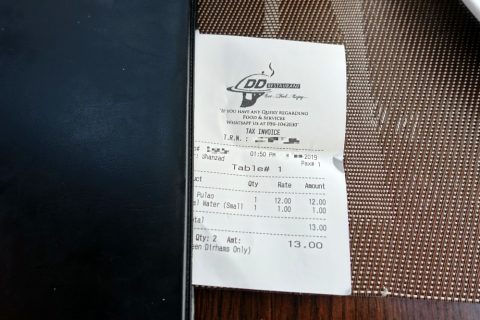 The bill this time is 13 DH. The water cost 1DH is added, but the price of Matar Pulao is 12 DH. Even at this low price, the taste is strong, and the cost performance is so good that I wonder if this is really Dubai!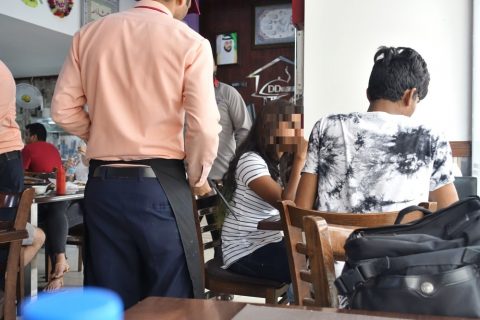 The food was voluminous, but when I looked at the couple sitting in the front seat, they shared one biryani and ate it, so I think it's no problem to use it like that.
If you go with more than one person, it's more economical! A cheap and delicious Pakistani restaurant, please come if you have a chance!
Desi Deira
♪Click here for a List of articles on "Dubai"