Goat soup (Alternate name: Yagi-jiru, Hijiru-jiru) is one of the Okinawan dishes that, as the name suggests, contains goat meat. It is said that it is full of nutrition and is good for strengthening the demand, and while it is one of the high-class dishes, it has a strong smell and the taste is divided.
This is my first time to try this goat soup at the cheap restaurant "Daiichi Shokudo" near Naha Airport! What does it taste like? I'd like to report.
Close to Naha Airport "Daiichi Shokudo"
This time, I visited "Daiichi Shokudo", a cheap restaurant located 5 minutes walk from 2 stations "Oroku" on Yui Rail from Naha Airport. You can go there in about 20 minutes from the airport, so you don't have to worry even when your stay is short due to training like this time!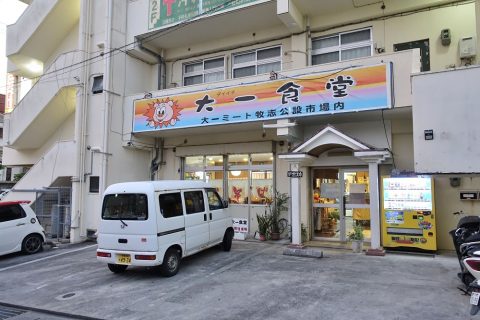 It is open from 11:30 ~ 20:00. But in Okinawa, privately run stores often close early for their own reasons, so I think it's better to check the closing time by phone beforehand.
I called as soon as I arrived at the airport in the evening, but they said they were open until 20 o'clock without any problem.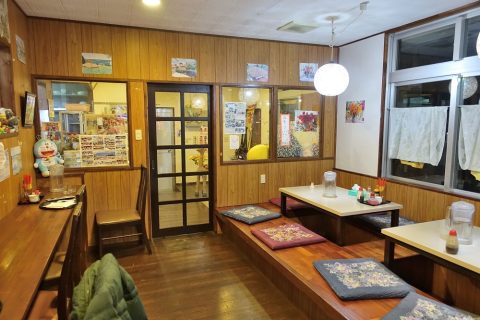 The restaurant has 7 counter seats and 3 tatami rooms for 4 people. It's a small store that can't hold 20 people.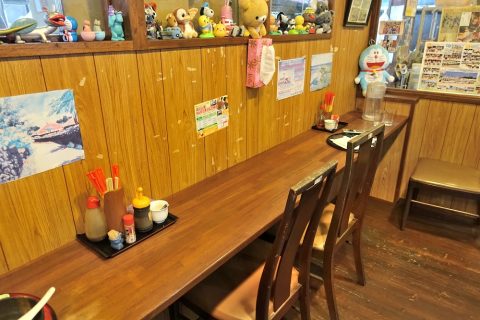 It is a restaurant with the atmosphere of a cheap restaurant, but the table and the floor are thoroughly cleaned and clean. The shop assistant's aunt was kind and not uncomfortable, but it was quite hot without an air conditioner at that time …。
Menu/Okinawa Soba 550 yen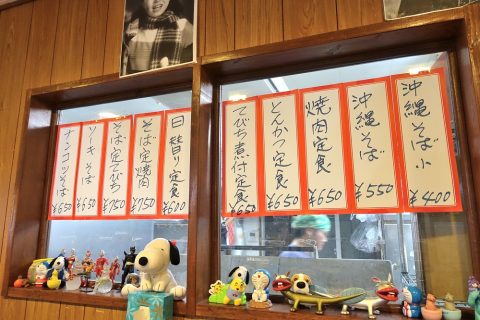 The menu consists of only posters. It looks like there are many, but many of them are duplicated in the same menu, and actually there are about 14 ~ 5 kinds. The standard Okinawa soba is 550 yen, and there is also a small size for 400 yen.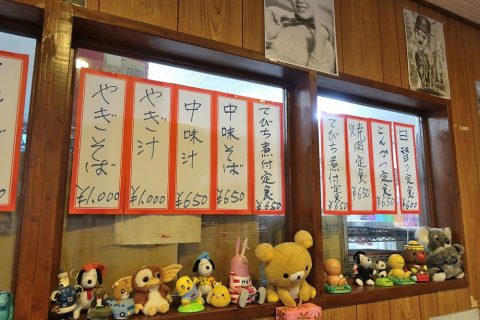 I wanted to eat goat soup, but the price was 1000 yen! It's so expensive that you wouldn't think it's a cheap restaurant in Okinawa, but it's not uncommon for a restaurant to charge 1500 yen for goat soup using goat meat, which is a high-class ingredient. Considering that, the price might be quite reasonable.
However, looking at various reviews, it is said that it was 750 yen only 2 or 3 years ago, and when I think about it, I feel a little hesitant …
No odor! Very easy to eat "goat soup"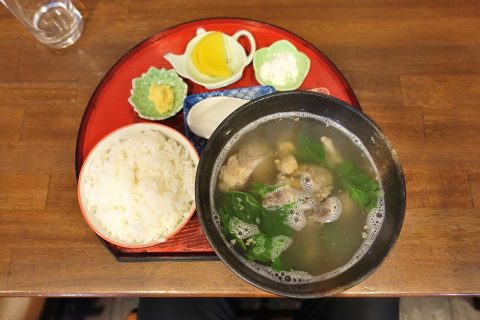 High class Okinawan cuisine "goat soup" was served for 7-8 minutes after ordering! It's not written on the menu, but it comes with rice, pickles and condiments.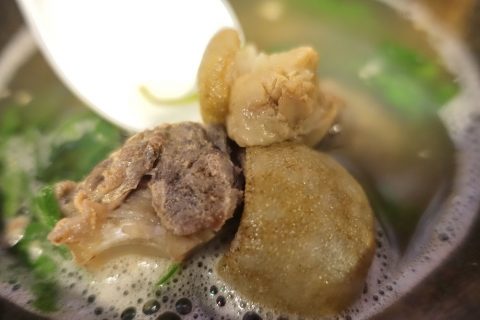 I thought this goat soup had a bad smell, but there was no bad smell at all! The taste of the soup is a little salty like chicken bone soup, and although it has a unique taste, it is refreshing and easy to eat.
Goat meat is on the bone. It has a texture like giblets and is soft, and tastes like chicken. I see. I understand that this is the taste of high-class meat.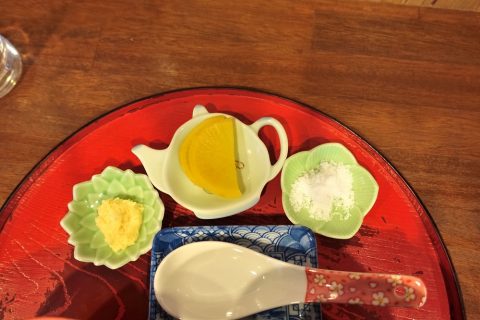 You can add salt if you like, but my aunt advised me not to add too much because it is already salty. I feel that the original one is a little salty, but if you put too much salt, it will surely become quite salty.
Recommended for goat soup debut!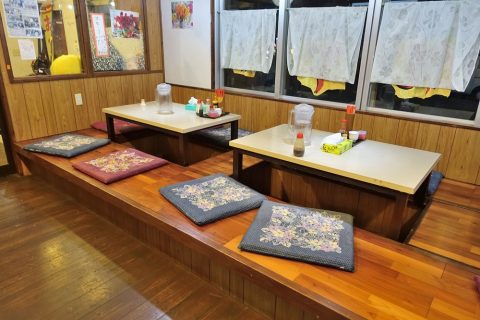 That's why I had high-class Okinawan cuisine "goat soup" at a cheap restaurant. The goat soup of this Daiichi Shokudo is very easy to eat despite its strong taste, and I think it is perfect for the goat soup debut.
It doesn't taste good for everyone, but I recommend it for those who want to try out goat meat!
Daiichi Shokudo
Address: 3-5-2 Tahara, Naha-shi, Okinawa
Opening hours: 11: 30 ~ 20: 00 (confirmation required)
Closed: Sundays
Tel: 098-859-2828
♪Click here for a List of articles on "Okinawa Main Island"