On the way back from "Joseph Cathedral" which I introduced yesterday, there was a cheap restaurant called " Cơm Việt Nam " nearby, so I stopped by and had lunch.
It is a cheap restaurant with a local feel, but only tourists are inside. When I looked into it, it seems that the shop has a good reputation in reviews such as Trip Bud Visor, but how is the truth?
just beyond Joseph's Cathedral
Cơm Việt Nam, which I visited this time, is near Joseph Cathedral (Hanoi Grand Church). It's on the corner of the road facing the square in front of the church.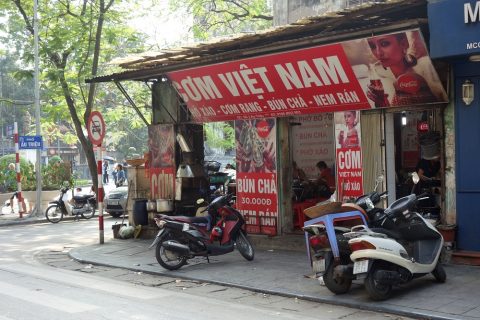 Com Viet Nam is a red signboard, but if you look at pictures of people who have visited before, it might have been a blue signboard.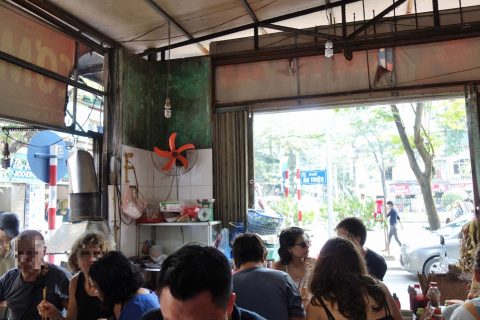 He visited the office at about 1:30 PM. Phở Gia Truyền introduced before was also like that, here is also full of westerners! It was full, but my aunt who was a waitress made room for me and secured a seat.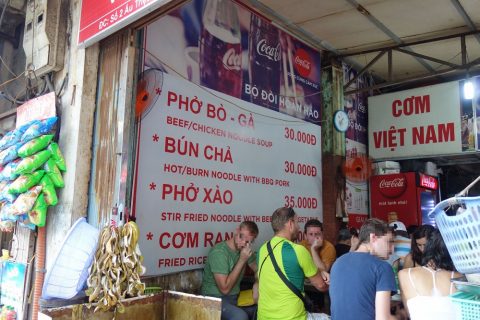 There are four kinds of menu in this restaurant. If you look at the menu list on the wall, you will see the standard pho noodles with dipping sauce called "Bung Cha", the "Four Sao" is a dish of fried pho noodles, and the last " Cơm Rang " is fried rice.
It is easy to understand because the explanation is written in English with the tourists in mind.
The restaurant has a local color of banzai and the atmosphere is local, but almost all the customers are tourists according to what I saw. Seeing this situation, local people may stop coming.
How do you like beef pho?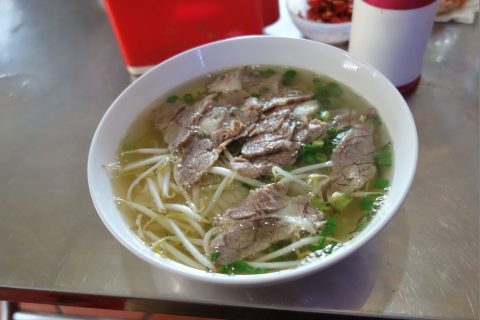 It seems to be ready 2 minutes after the order. At the top of the menu " Phở Bò Gà ", I ordered 30,000 dong. Phở Gia Truyền I ate the day before was not delicious, so I was expecting a bit here.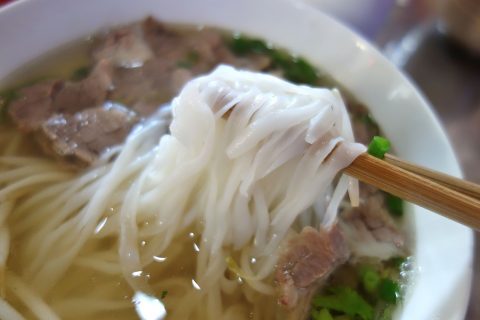 When you eat it, it has a light taste but it has a ginger flavor, and the aftertaste spreads in your mouth when you drink the soup. I can't really feel the depth of the taste, but it is a much higher level than yesterday's pho!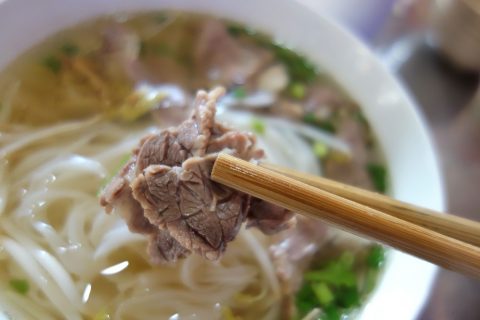 The quality of the meat is also good. It's a little hard, but it doesn't have any unpleasant fiber, and it melts into your mouth naturally with the noodles.
The coriander flavor was so subtle that I could not tell if it was in it or not. It doesn't have a strong taste, so I think it has a taste that everyone will like.
Cơm Việt Nam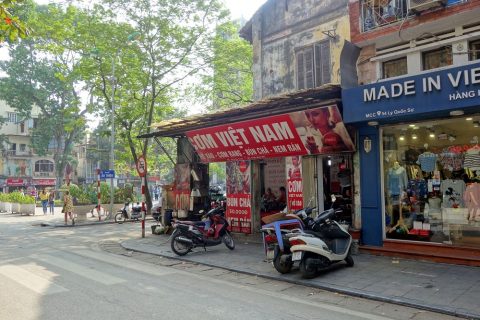 Address:2B Ấu Triệu, Hàng Trống, Hoàn Kiếm, Hà Nội
Opening house:Unknown
Can you give me a score of 60 points for the taste of Cm Viet Nam's standard "Pho"? It's not exactly the best, but it's a lot more cost-effective than the 45,000 dong Pho 24 pho I ate in Ho Chi Minh City.
That was the report from Cơm Viet Nam, a cheap restaurant near Hanoi Grand Church!
♪Click here for a List of articles on "Ha-Noi"