While strolling the historic area of Al-Fahidi in Dubai, I stopped by the Coffee Museum "Coffee Museum" during a break. This is a place where you can learn about coffee from all over the world and its history, and it's a secret attraction in Dubai.
There is a cafe inside the museum where you can enjoy coffee from all over the world including Arabic coffee! The interior was stylish and it was a very comfortable space!
Coffee Museum in Al Fahidi Historical District
The Coffee Museum is located in Al Fahidi Historical District.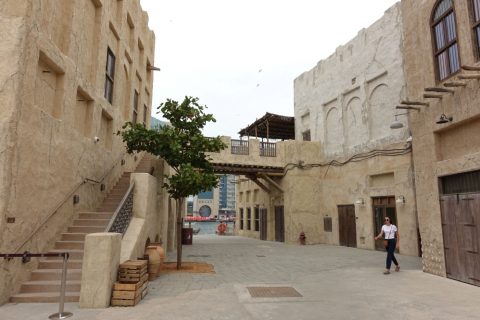 This area is a place where stone buildings stand side by side, and there are maze like alleys. It is a place that attracts attention as a historical townscape, but there are few shops and the atmosphere is quiet … It is a bit eerie that there are not many people there. …。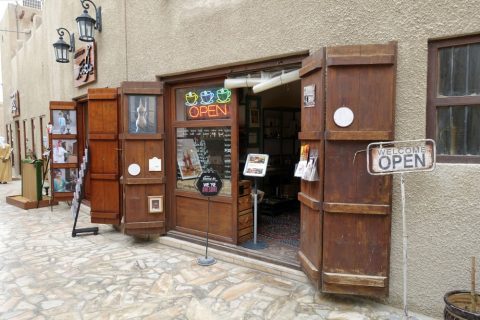 The Coffee Museum is part of the Al Fahidi Historical District. The entrance is more like an ordinary cafe than a museum.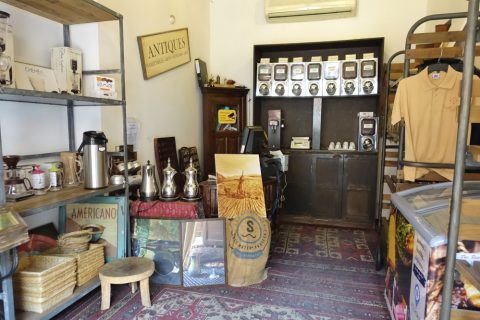 When you enter, there is a reception, where you pay the admission fee (10 DH). There were some reviews saying that it was free, but the price was raised …?
antique-looking interior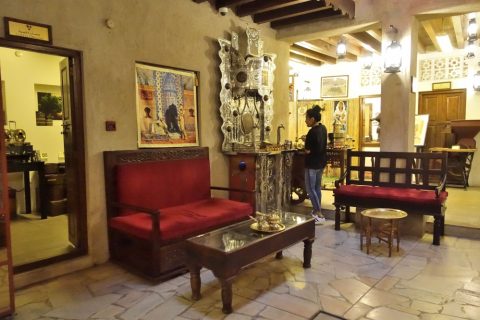 When you enter, you will find a cozy space decorated with antique furniture and ornaments. From the moment you enter, you can smell the aroma of coffee!
It is a small space just like a hair growing in an ordinary house, but the interior which creates a relaxing space is designed by fusing the oriental and Arabic. It is true that there is a taste of "Japanese" here and there.
According to the map of the museum, this coffee museum has two levels. There are several small rooms on each floor, and each of them has exhibits according to the theme.
If you take a look at each room, you will see an exhibition of old coffee machines and other antique goods used around the world mainly in the Middle East. They exhibit machines that were actually used in the past such as roasters and coffee mills.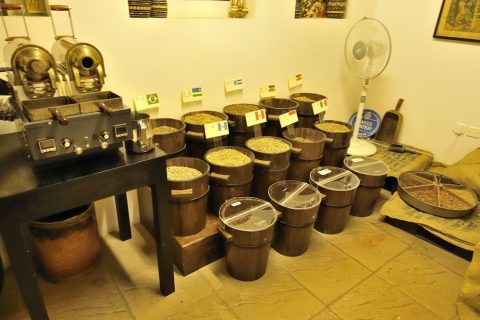 Coffee beans from Brazil, Guatemala and other Latin American countries are also on display. According to the exhibit, the coffee spread around the world because of large-scale cultivation in Yemen, so it is not an exaggeration to say that today's reflection is due to the achievements of the Middle East.
fancy cafe on the second floor
The first and second floors are connected by a wiping hole. It is a small building, but this is the only place with a sense of openness and good! The ceiling and design are also unique.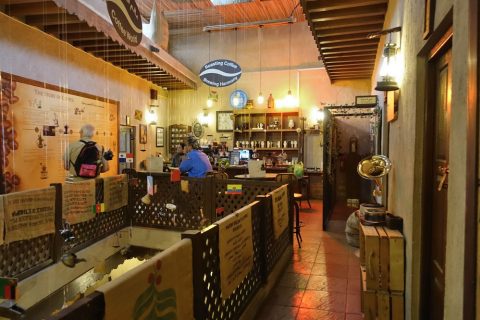 If you go to the back of the atrium on the second floor, there is a corner where pots and cups are displayed fashionably. It looks like this place is a cafe.
There are only about 5 ~ 6 seats. There were chairs and tables on the other side of the wiping cloth, so the whole corridor on the second floor can be used as a cafe.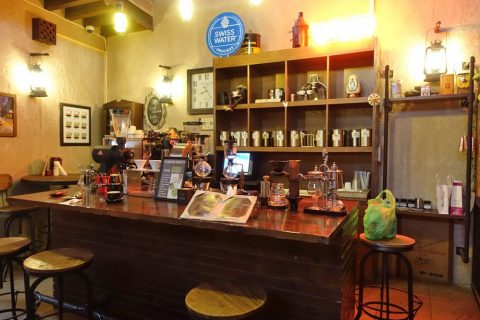 The female staff at the counter was friendly, and the space seemed to be quite comfortable! It's a good opportunity, so I'll order some coffee.
Arabic Coffee (5DH) with Dates!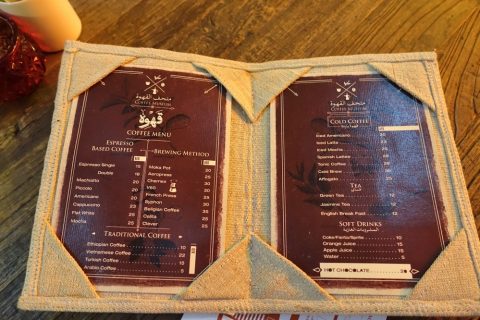 When I looked at the menu, as expected, it was a place specializing in coffee, and there were a lot of coffee I had never heard of! The left half of the menu seems to be hot, the right cold, and there are some teas and soft drinks but no cakes or snacks.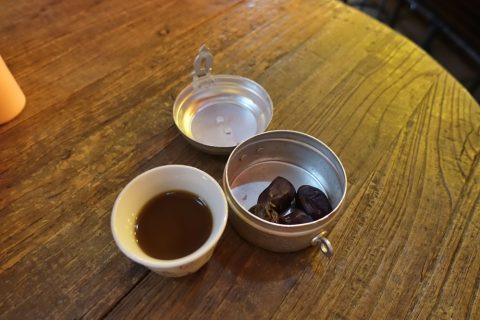 According to the reviews I researched in advance, this Arabic coffee comes with dates and is a good deal, so I ordered it! Price is 5DH with 4 dates.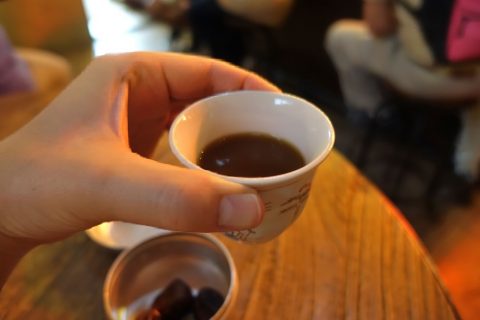 This Arabic coffee is more sour than what I had on Emirates flights or in lounges, and even a small amount in my mouth gives it a strong taste. I learned that the taste of the same Arabic coffee changes so much depending on how it is made!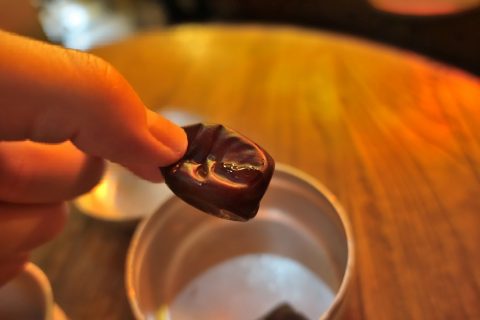 The dates are seeded, unlike the Emirates Bateel. It has a prune-like color and shape, but the taste is similar. It's not so sweet, so it might be good for tea.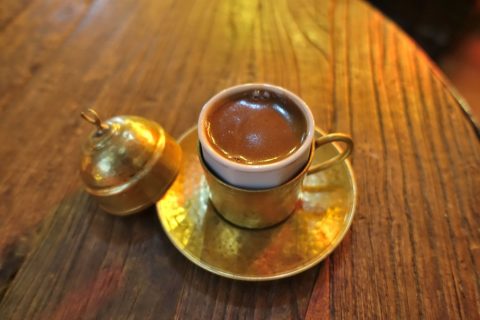 Another thing I tried was Turkish coffee. I have never been to Turkey, so it was my first experience, but when I drank it, it was a super thick espresso! While the bitterness and sourness come in at the first touch, the aftertaste is surprisingly light and not lingering.
This is one of the menus called "Traditional Coffee", but there are also Ethiopian and Vietnamese coffees, so I would like to try it if I have a chance!
Experience the world's coffee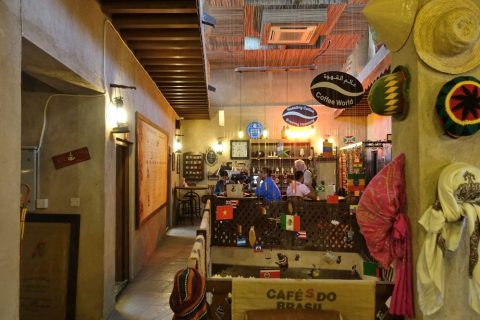 So, I wrote about the coffee museum in Al Fahidi Historic District in Dubai! It is a good place to experience the taste and history of the world's coffee! The price of the cafe is a bit expensive, but I think it's perfect for taking a break from walking.
Coffee Museum
Address:Villa 44, Al Fahidi Historical Neighborhood, Bastakiya – Dubai
Opening House:9:00~17:00(Closed on Fridays)
♪Click here for a List of articles on "Dubai"