During my stay in Ho Chi Minh City, I visited the supermarket "CO.OP mart" several times. It's a large store in the suburbs, but it's within walking distance from downtown, so it's perfect for shopping for daily necessities and scattered souvenirs!
Large supermarket "CO.OP mart"
CO.OP mart is a large suburban supermarket in Vietnam. There are some shops in Ho Chi Minh, but for tourists it is easy to use, because it is a shop of located in Nguyễn Đình Chiểu street.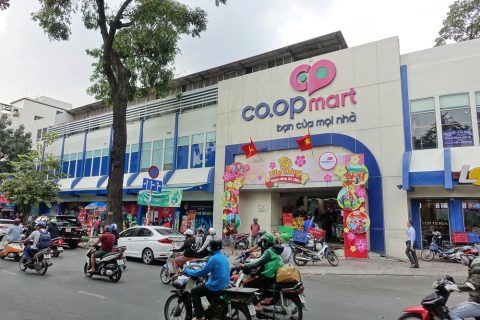 It is a bit far from the city center, but it is still just over 1 km from the Ben Thanh Market and less than a 10 minute walk from Saigon Cathedral. I always use this place when I stay in Ho Chi Minh City.
leave one's luggage at the cloakroom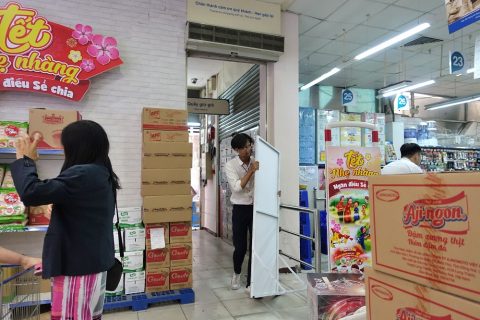 One thing to keep in mind when you use this COPE Mart is your luggage. Large items such as backpacks must be checked in the cloakroom before entering the store. The cloakroom is located on the left side of the front entrance.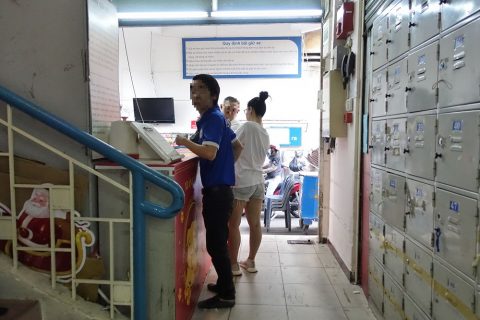 There is a locker here that looks like a school shoe cupboard, but it is not actually used and you can leave it at the manned counter next to it (Free).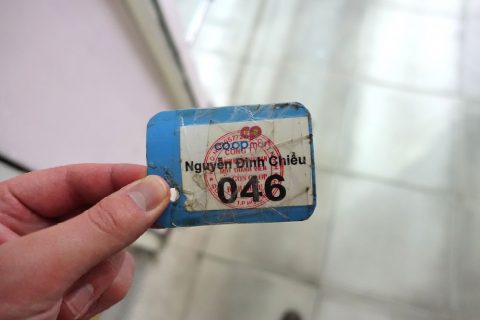 I got the voucher and it's done! The staff is kind and polite, and you don't need to tip, so you can leave it easily, but you should manage your valuables well just in case.
It's a big supermarket. They sell daily necessities.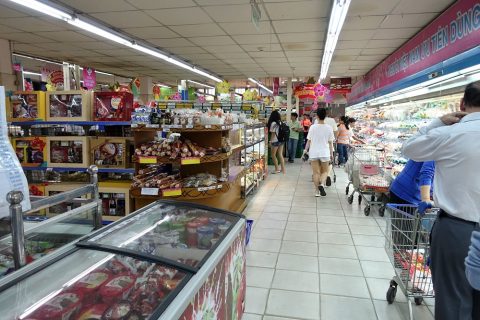 By the way, this store of COPE MART is so spacious that it doesn't look like a supermarket in an urban area! I visited around 15 o'clock in the afternoon, and there were a lot of customers and staffs.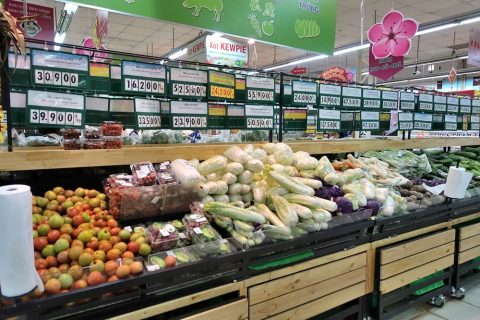 A quick check of what is on the market reveals that vegetables and fruits are priced at around 20,000 to 50,000 VND (100 yen to 250 yen) per 1 kg. It's a little more expensive than local stalls in town.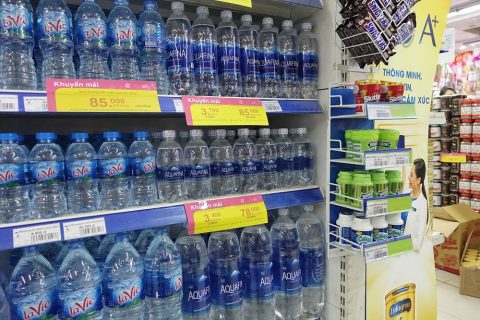 Water is very cheap, and a 500 ml bottle costs 3,400 VND! The 1.5 liter bottle is 6,900 VND, which is very cheap!
This "AQUAFINA" water was also available as a welcome drink at the hotel where I stayed, and it had a smooth taste and was quite delicious.
In addition, the cheap cup noodle is 5,500 VND (the expensive one is about 20,000 VND). There is also a cup noodle of Pho which is good as a souvenir to Japan, and the price is 12,200 VND.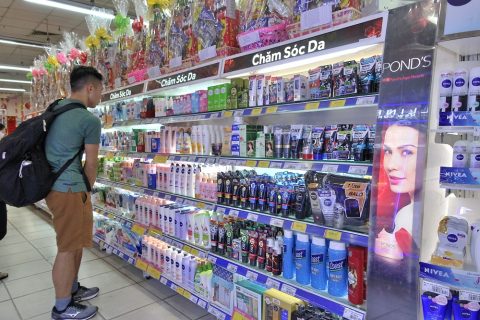 The store also sells daily necessities such as shampoo and facial soap. There are many familiar products from Japanese drugstores such as OKY and NIVEA! But the price is the same as Japan or a little more expensive.
Beer is cheap! Wine is expensive …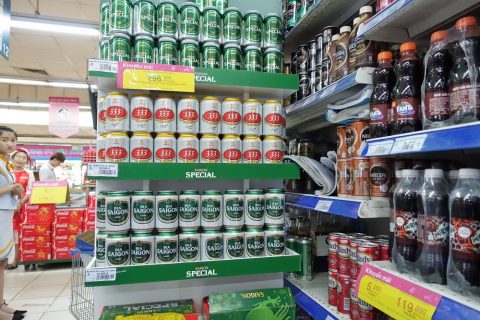 In such a situation, the purpose this time is canned beer! 330 ml of "333" and "SAIGON SPECIAL" are sold at 108,000 VND each. I visited some supermarkets around here, and this one was the cheapest!
But other beers such as Tiger beer and Heineken are around 180,000 VND and not so cheap.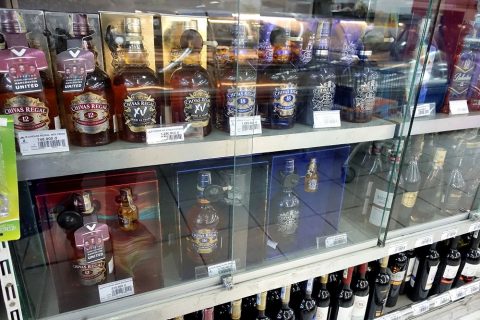 I checked the price of the whiskey, but the 18 Chivas Regal bottle was 1,685,000 VND, and the 12 bottle was 748,000 VND, which is about 1.5 times higher than Japan. I think it is still cheaper in Southeast Asia.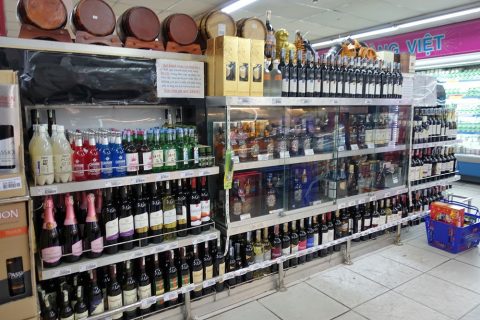 There is also a wine corner, but it is more expensive than Japanese supermarkets. As I thought, wine is limited to Europe!
Can you put it in a shopping bag?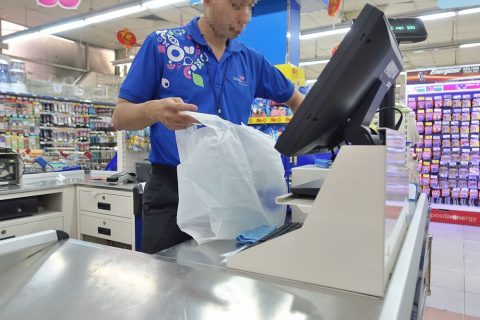 Finally, you pay the bill, but supermarkets in Vietnam are more friendly than in Japan, and they give you what you bought in a plastic bag. The good thing is that you don't have to rush to bag like in Europe.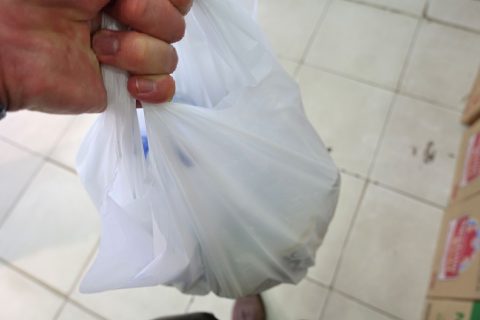 And for heavy beer, the spirit is to double the bag! The service of the staff was good, and it was a very pleasant shopping!
Cheap and convenient! Recommended supermarket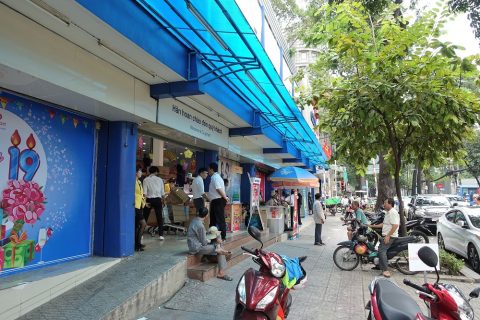 I reported on the big supermarket CO.OP mart in Ho Chi Minh City, which is open from morning to night and convenient, and is perfect for shopping for water, beer, and loose gifts to use during my stay! I think it's worth going a little further.
Please use it when you stay in Ho Chi Minh City!
CO.OP mart
Address:168 Nguyễn Đình Chiểu, Phường 6, Quận 3, Hồ Chí Minh
Opening House:7:30~21:30
♪Click here for a List of articles on "Ho Chi Minh City"