"Fado" is one of the ethnic music of Portugal. Accompanied by a guitar that has a unique shape, this emotional music is accompanied by songs with a rich flavor that the singers are making full use of emotion.
This time, I watched Fado at "Clube de fado" which has a lot of reviews that it is easy for tourists to enter! I would like to tell you the details from how to make a reservation to the restaurant.
Booking from the official website
If there is a vacant seat, you can jump in on the day to watch fado at Clube de fado, but it is a popular restaurant, so you have to make a reservation in advance! Reservations can be made on the official website.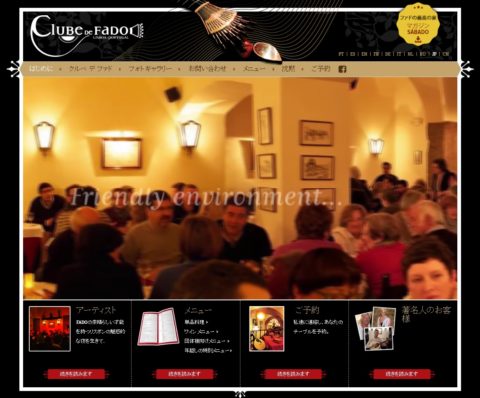 Reservations are easy! Enter "Reservation" on the top page, select the date and time and enter your name and email address. Once you've made a reservation, you just need to tell the name of the reservation at the restaurant on the day!
You can specify the time as 20:00 ~ 23:30, but the fad starts at 21:30. Also, if you make a reservation before 22:00, you need to order a meal, so if you want to listen only to fado, you can make a reservation after 22:30 for only 1 drink.
Location of Clube de fado
Clube de fado is located close to Lisbon Cathedral. I left from the Metro Terreiro do Paço station, but the trains are still running after 24 o'clock, so I don't have to worry if I'm late coming back.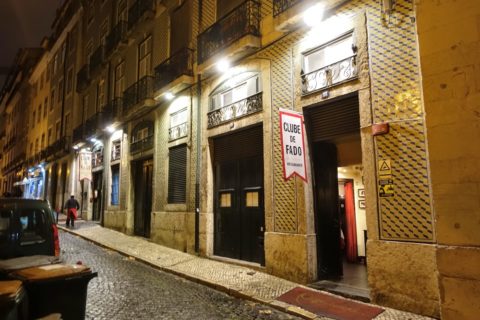 From the street where the streetcar runs, go into a narrow back street and go up the stairs to find the shop. It is not a particularly dangerous place, but it might be better to take a taxi if you are worried about late at night.
There are two entrances, and the left one is the entrance. If you tell the clerk at the entrance your reservation name, they will let you in.
wait in the entrance hall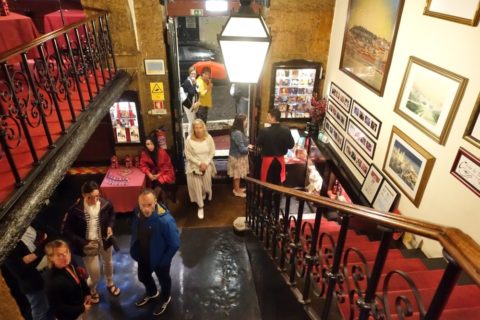 When I went inside, there was an entrance hall with a red interior, and I had to wait on this floor until the reservation time came. There is a bar on the first floor and a waiting room with table seats on the second floor.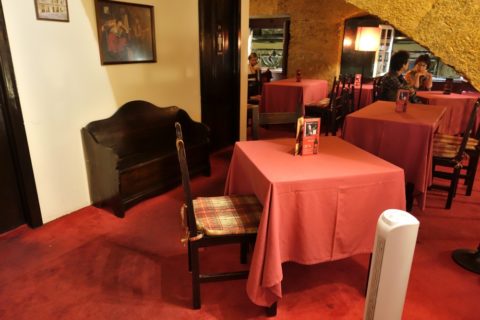 On the wall, there are many pictures with a motif of fado and pictures of past performers! This atmosphere is similar to Tablao (A restaurant where you can see flamenco.) in Spain.
Restaurants and Menus
At the end of the previous performance, the staff called me and led me to the restaurant floor!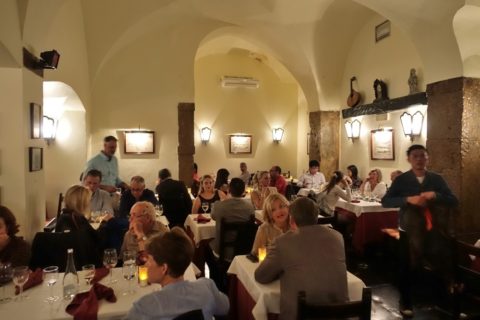 The restaurant has a stone interior with an arched roof and around 50 table seats. I had a reservation at 22:30 this time, but it was almost full at this point! It was right to make a reservation.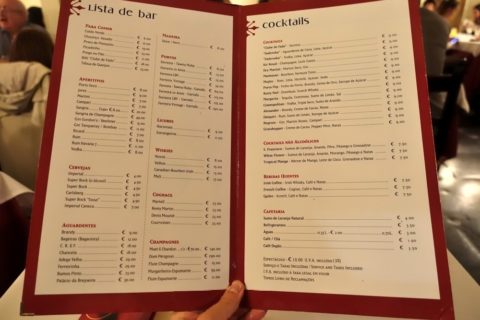 When you are taken to a seat, you are given a menu. It was a restaurant for tourists, so I thought they had an English menu, but I was a little worried because it was only in Portuguese …!
This time it is 22: 30, so the menu is only drinks, not meals. There are many kinds, but the port wine costs €8, which is a high price for a live restaurant.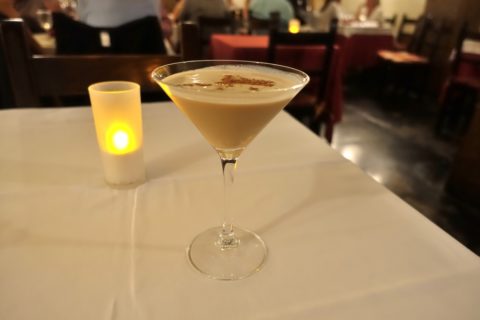 This time, I made a cocktail named "Alexander" without any problem! The price is €9, a brandy-based cocoa flavor with a bitter aftertaste for adults. There is a taste that doesn't go out of style, but there is cinnamon on a fancy glass, and it is a nice cocktail for a place like this.
Fado is 15 minutes per session (4 songs)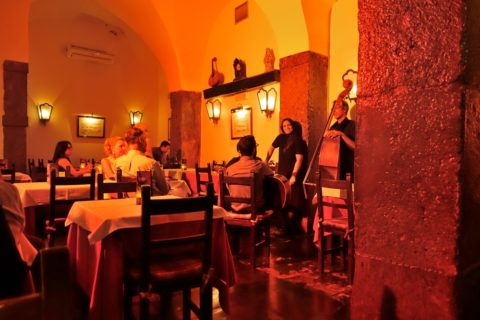 30 minutes after we entered the restaurant, at 23:00, the lights changed and finally the performance started! There is no clear stage and it is played standing by the wall at the very back of the restaurant.
The performers are a female singer and a contrabass, and two guitarists who sit with their backs to the audience.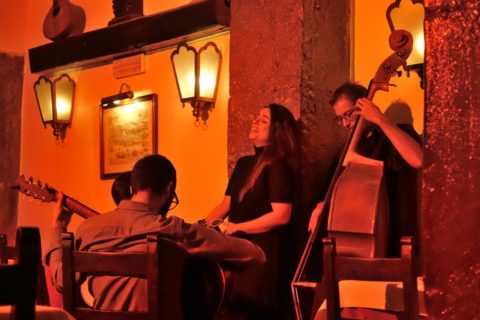 I listened to Fad for the first time at that time, and most of the songs were in G major. However, it is interesting that he is familiar with the American music of the early 20 century, the first half of which is in minor key and the second half in major key. The female singer sings with a slightly thick alto voice and a distinctive lingering sound with a scat like grain.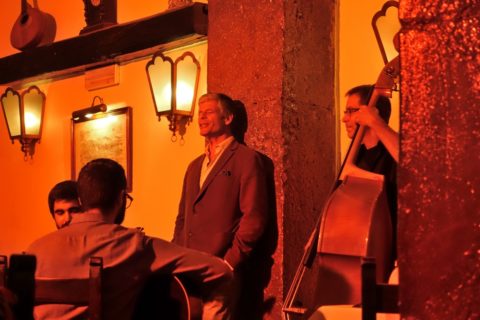 They perform 4 pieces in about 15 minutes at 1 time. There was a 30 minute break after that, and around 23:40 another male singer appeared and sang. The singer's performance ended in 15 minutes, and it was lighter than I had expected …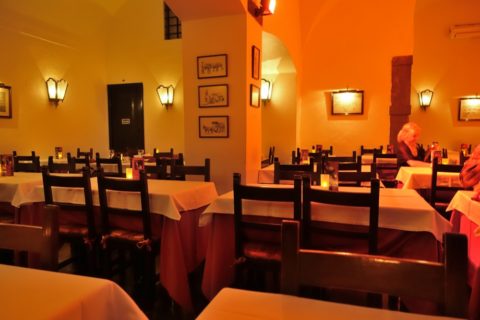 Also, after 23 o'clock, the number of customers dropped all at once, there were only 4 groups including me in the store … The singers sang properly even in this quiet situation, but it was a bit awkward as there was too little applause …
If you want to listen to it in a lively atmosphere, it might be better not to come too late.
Feel free to listen to Fado, but feel a little unsatisfactory …?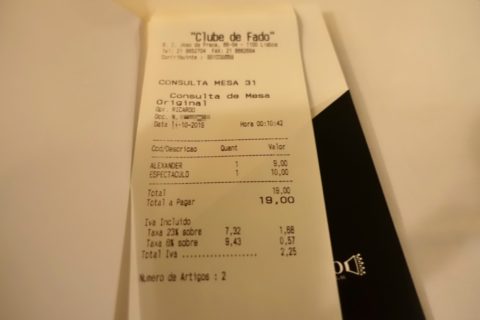 The payment this time is €19. The drink is €9 and the music charge is €10.
The charge doesn't change no matter how many sessions you listen to, but if you enter before 22:00, you will have to order food, so if you want to listen to it easily, it is better to make a reservation after 22:30.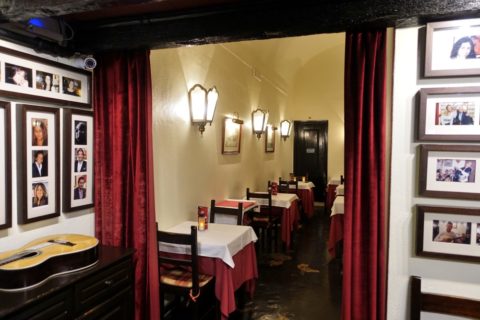 However, there are only 15 minutes for 1 session, and there is a 30 minute break between sessions, so I honestly feel that I can't listen to much even though it takes time. Well, it can't be helped because such a loose feeling is a feature of a fado restaurant, but …
It is a restaurant where you can easily make a reservation, so I recommend it to beginners of fado.
Clube de Fado
Address:R. de São João da Praça 86, 1100-135 Lisboa
Opening House:20:00~26:00
Website(Reservations)
★Please also try this → "Lisbon" article list