We went a little far from downtown Hanoi and took a bus to Lake Saiko in the north. The lakeside has Hanoi's oldest temple " Chùa Trấn Quốc (鎮国寺)", so let's go and see what kind of temple it is!
By bus to the shores of Lake Westen (Hồ Tây)
Hanoi has several large and small lakes, but the one that is the largest is Lake Westen (Hồ Tây).
Around Lake Westen, which stretches about 3.5 km from north to south, there are temples such as the 西湖府(Phủ Tây Hồ), and this time we will head for Chùa Trấn Quốc, which is the lake's closest point to downtown Hanoi.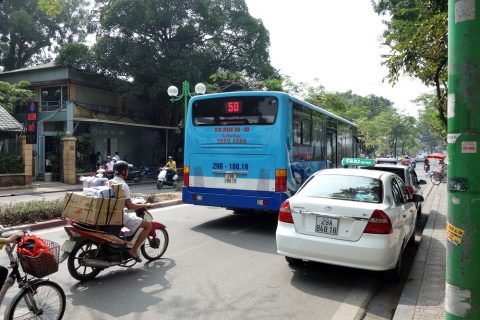 I think a taxi is the easiest and fastest way to get there from the city, but this time I used a stingy bus. It is a route bus of Hanoi which is dangerous to take for a while, but the cheap price of 35 yen is attractive!
Đối diện 28C Thanh Niên bus stop is right in front of the temple, so it is also very useful. This time I went by bus number 50 from Long Bien's bus terminal, but please refer to the article about the usage of the bus yesterday → The route bus of Hanoi, Vietnam is very dangerous! Route maps, riding methods, precautions, etc.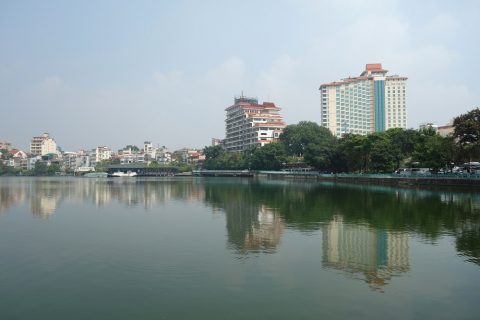 Lake Westen (Hồ Tây) is the largest lake in Hanoi. It's nice and quiet! The big building you can see over there is a 5-star hotel "Intercontinental".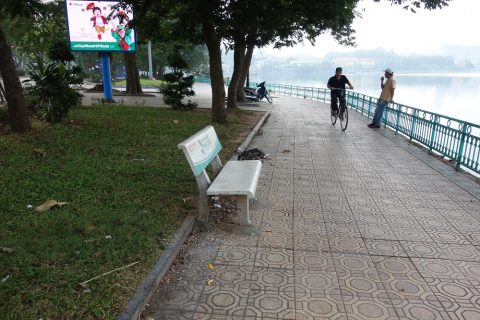 The lakeside has this kind of promenade and it looks like a park. There are a lot of greenery, so the air is not so bad, and the wind feels good when I relax on the bench!
Admission is free.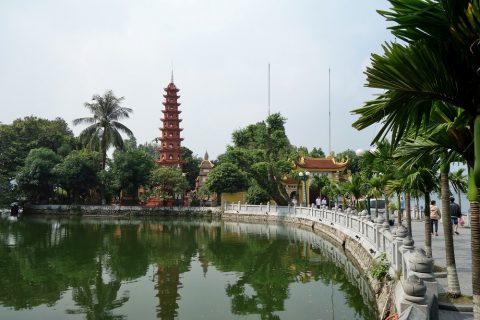 Now, let's go to " Chùa Trấn Quốc "! The temple is on a small island in the lake, which is connected by sidewalks. The red tower and yellow front gate are the landmarks.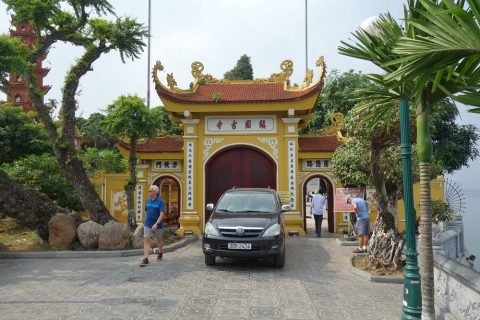 鎮国寺 (Chùa Trấn Quốc) entrance with "鎮国古寺" written. The big gate in the middle is not open, and you enter through the small back gate on the right.
Admission is free, opening hours are 7:30 ~ 11:30 and 13:30 ~ 18:30.
When you enter, there is a gate at the end of the approach to the main hall, and if you go through the gate, there is a courtyard with the main hall. In addition to the main hall, there is a red tower that you can see from outside, so you can see it up close.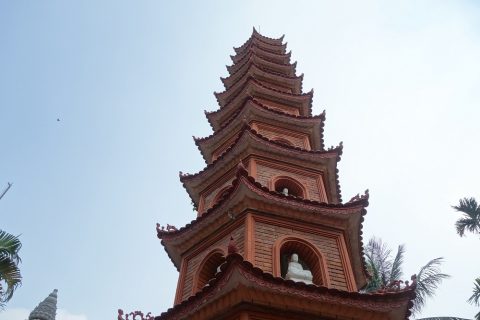 This characteristic red tower is called "stupa" and is used to store the remains of Buddha. In fact, it is said that the bones of high-ranking monks are stored here.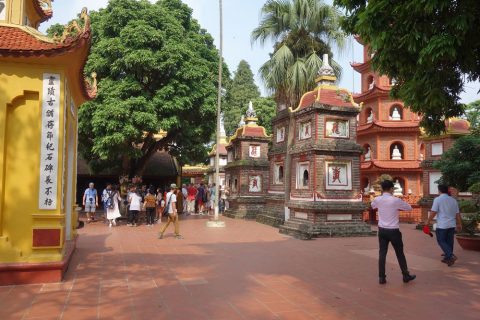 It was not a big temple at the time of Chùa Trấn Quốc, but this courtyard was the biggest area and was crowded with tourists. There is also a toilet here, but it smells awful just by coming closer …。
To the main hall dedicated to Buddha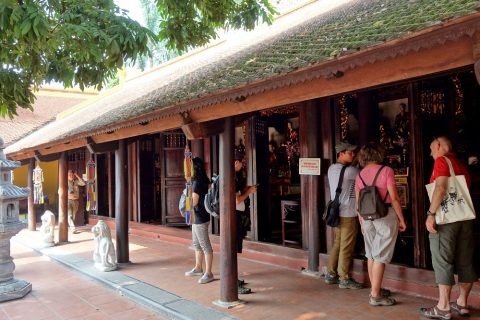 Next, let's go into the main hall! This Chùa Trấn Quốc has a long history that dates back to the 6th century during the reign, but it was originally located in a different location but was moved to its current location in 1616.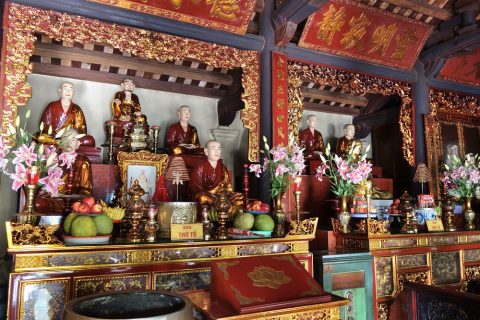 You can freely visit the inside of the main hall. It is said that Shaka statues and bodhisattvas are enshrined here, as well as Trần Hưng Đạo, which was also enshrined in " Temple of the Jade Mountain ". The chic red with gold decorations still remains here. This unique texture is unique to a temple in Vietnam.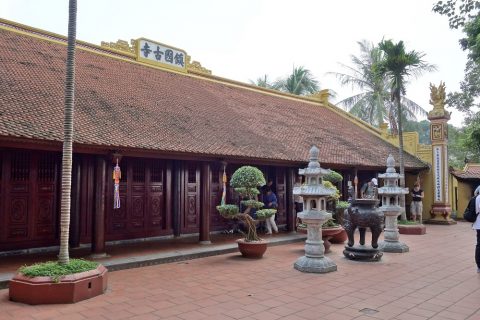 In addition, there is a place to enter the main hall taking off your shoes, but unfortunately it was closed in the morning, so I couldn't go in at the last moment. …。 It closes at 11:30 in the morning, but if it is 15 minutes before that, the door of the main hall will be closed, so please come early if you want to see it!
Chùa Trấn Quốc (鎮国寺)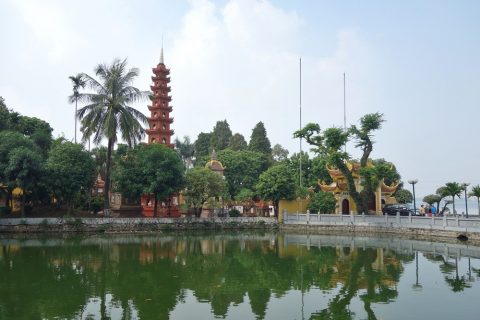 Address:Thanh Niên, Yên Phụ, Tây Hồ, Hà Nội
Opening House:7:30~11:30、13:30~18:30
You can enter Chùa Trấn Quốc for free. There are not many places to see, but the view of the temple from the lake is beautiful, and it might be a good idea to stop by while taking a walk by the lake.
That's all about Chùa Trấn Quốc in Hanoi!
♪Click here for a List of articles on "Ha-Noi"