Continuing from the previous issue, this report focuses on Ho Chi Minh's Chinatown "Cho Lon" and this time on the Chinese temple called " Chùa Bà Thiên Hậu "! This temple, which is widely featured in guidebooks, is famous for its unique spiral-shaped Senko.
※This article was written before the virus scandal. This will be updated.
20 minute walk from Cho LonBT
To get to " Chùa Bà Thiên Hậu " "Chong Chon", take bus # 1 from Ben Thanh Bus Terminal (To Cho Lon) and get off at " Triệu Quang Phục " bus stop. (Please refer to yesterday's article about this bus terminal.→Ho Chi Minh "Chợ Lớn Cho Lon" is Like This! Directions and Attractions, Markets, Temples, etc.
But the road bus in Vietnam has some high hurdles, so if you are worried, you can definitely take a taxi! I walked from the Cho Lon bus terminal and it took about 20 minutes.
Vietnam's oldest Chinese temple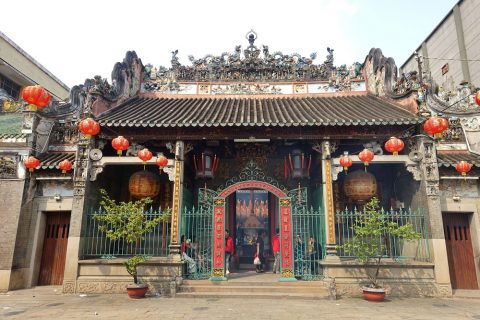 Chùa Bà Thiên Hậu was built in 1760. It is one of the oldest Chinese temples in Vietnam. Certainly, when I see roof tiles, they look very old.
Admission is free, and is basically open all year round from 6 AM to 17 o'clock in the evening.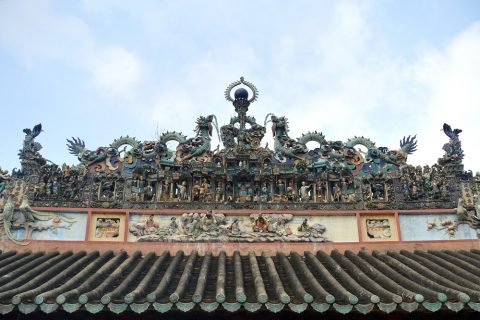 On the roof is a sculpture depicting the fight of Guan Yu. This person was a general who was active in Chinese dynasties from ancient times and appears in the novel "Romance of the Three Kingdoms".
The color is similar to a Hindu temple, but the facial expression of the person is milder (lol).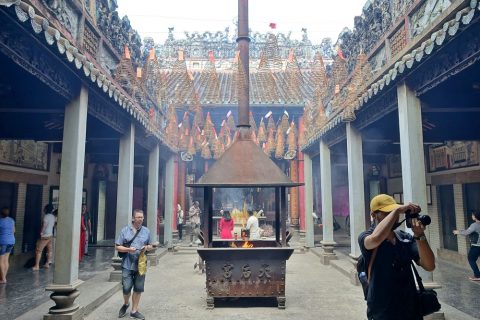 Inside the temple, there is a corridor surrounding a long rectangular courtyard, and the altar is at the very back. The frontage is not big, but it continues for about 40 ~ 50 meters toward the back.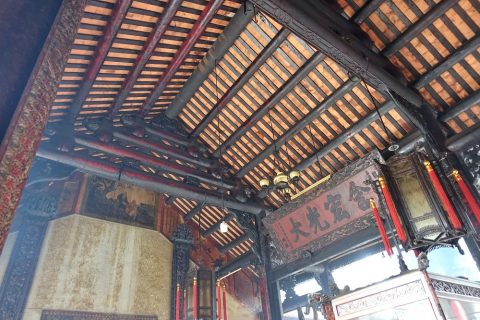 The walls and floors are simple, but the temple ceiling has a very unique design! You can see characteristic beams different from Japanese temples.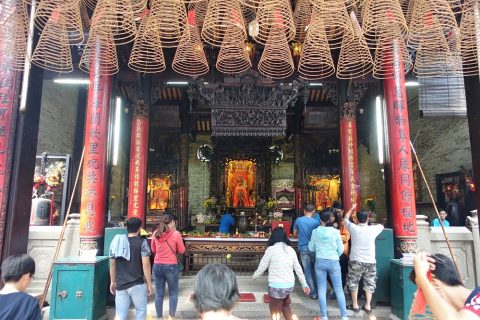 The golden Virgin statue is enshrined at the altar. I thought there were 3 goddesses on the left and right at …, but it is a rather rare altar with 3 vertically arranged in the center frame including Virgin statue and 2 chamberlains.
Slightly rare spiral incense stick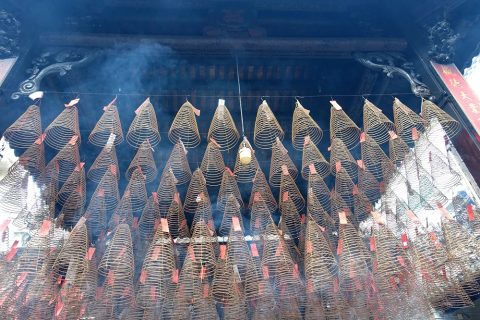 The main attraction of this temple is the spiral incense. There is a red paper strip attached, and the style is to write the name on it and dedicate it. I feel dizzy if I keep watching it.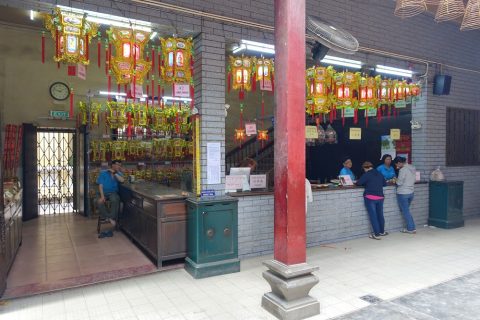 The incense coil is sold at a shop on the shrine grounds and costs 30,000 VND. According to word of mouth, there are many people who sell this at a high price on the surface of the temple, so be careful!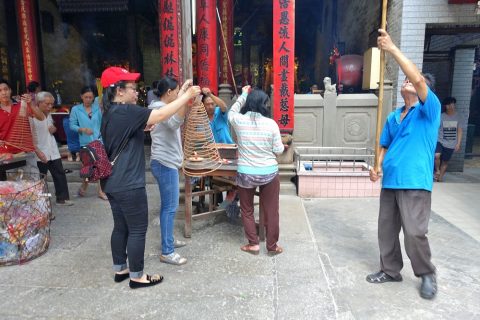 After you write your name on a strip of paper, the person in charge will hang it. Some people say that the fire on this incense stick will last for a few days, and it will last for two weeks to a month.
I prayed with incense!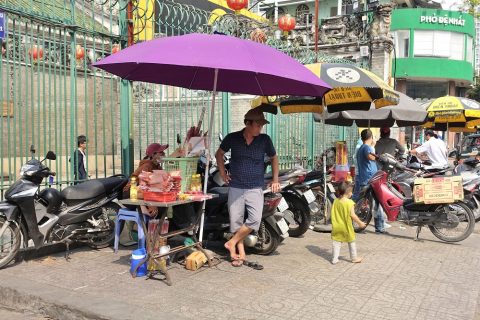 In addition, the normal straight incense sticks are sold at the stall with the parasol open near the temple entrance. It sounds a little dubious, but it's not an illegal scalper.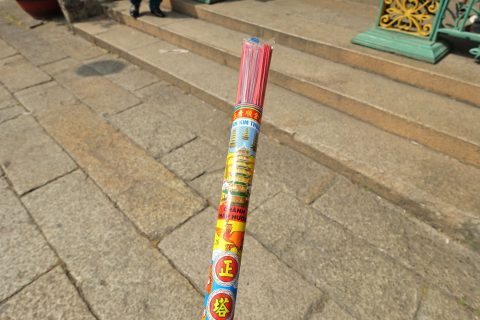 I went out of my way to buy one, but there was no price indication, so I handed 10,000 VND and they gave me incense with a smile! Maybe they don't sell them, but rather "endowment".
There were about 30 sticks of Senko per bundle, and there were also thicker Senko.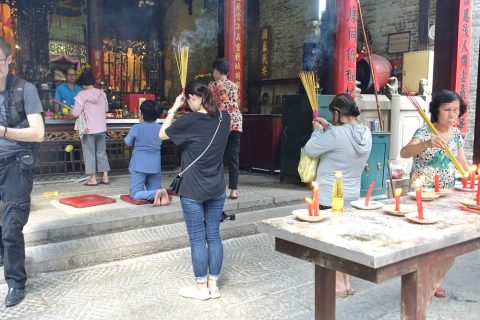 We take fire from candles in the precincts and pray in front of any altar. When I went to Hong Kong on a tour before, I learned how to pray from a guide. First, I put an incense stick up in front of my head, then I bow three times, and after I take my name in my heart, I pray my wish.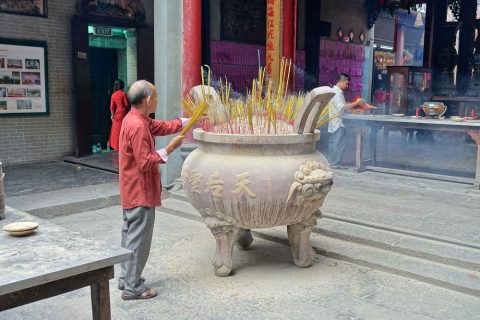 When the prayer is over, stick the incense stick into the incense burner, but this is quite difficult! Especially, ash falls from the tip of the incense stick in my hand, so it's very hot! I wonder why everyone around me looks so cool …。
Spiral Senko is a sight to see!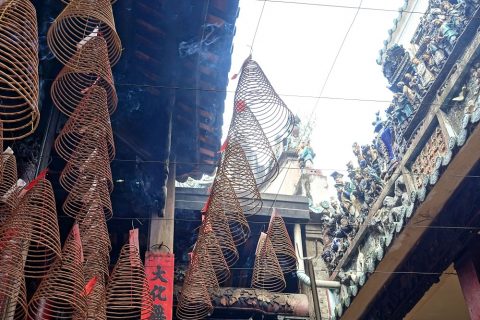 So I reported on the Chinese temple " Chùa Bà Thiên Hậu " in Cho Lon, and I felt it was a quiet but authentic Chinese temple. It is a good place to experience the spiral incense which is rarely seen in Japan!
When you visit Cho Lon, why don't you drop by?
♪Click here for a List of articles on "Ho Chi Minh City"