Hanoi, Vietnam is full of cheap and delicious B-class gourmet such as pho and Bahn Mi. The hamburger restaurant Chops which I visited this time was a luxury restaurant for Westerners which was a little stylish and focused on organic ingredients which was not suitable for Hanoi.
In Hanoi, Vietnam, where you can have delicious Bahn Mi for only $1.3, I was convinced that for only $9 you could have an excellent lunch …
an organic hamburger restaurant
This time I went to a hamburger restaurant in Hàng Bạc Street in Hanoi's old town. This area has many restaurants especially in the old town.
Hamburger Restaurant Chops. According to HP, this store opened in 2015, and they have 3 stores in Hanoi, and they use fresh ingredients that are particular about organic. It's a website with a design which is common in a fancy restaurant in a part of Tokyo in Japan, so you can expect a lot.
Address:12 Hàng Bạc, Hoàn Kiếm, Hà Nội, Vietnam
Opening House:8:00~24:00
Western-style restaurant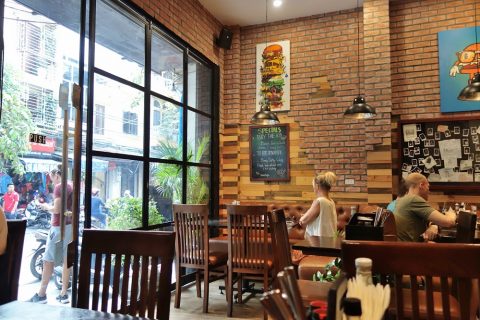 The interior of the restaurant has a modern design with a wall with a Brick taste and a ceiling fan. The restaurant is a little bit stylish, far from the image of Vietnam. The wall facing the road is made of glass, so it has a sense of openness and is bright.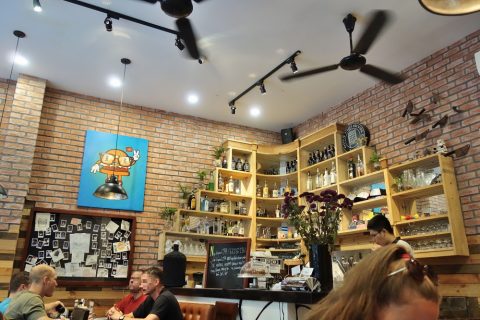 The employees are Asian, but the customers are all Westerners! However, it looks like everyone went to a nearby shop casually, so they might not be tourists.
It was past 3 PM at that time, but the shop was 70% full.
It is a menu of Chops, but the main menu is 17 kinds of hamburger menu. In addition to the starter, side, salad and dessert menus, you can also choose from 9 different menus at 8:00 ~ 12:00 on weekdays and 8:00 ~ 15:00 on Saturdays and Sundays "Branch".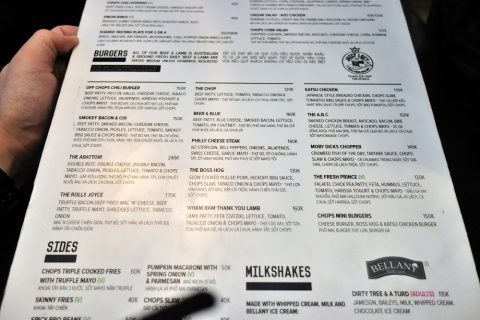 The style that the English name is written in Vietnamese is not completely for Vietnamese. According to the website, all the beef and lamb served at this restaurant are Australian.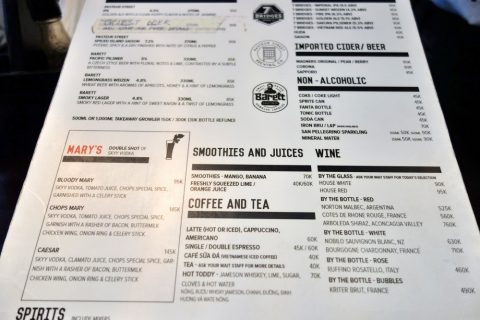 The price is mostly around 150,000 dong, which is quite expensive considering the price in Vietnam. 3 to 5 times more than Bahn Mi (30,000 dong) and Pho (50,000 dong) sold at stalls in the old city! It would be nice if it is that delicious. …。
3 mini burgers, taste …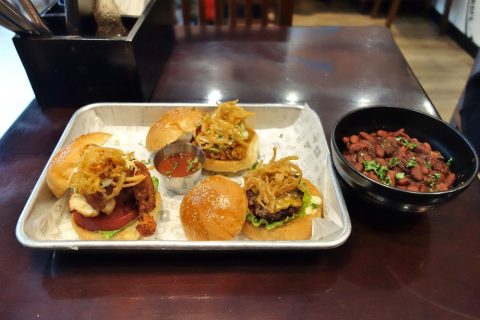 What I ordered this time was a menu called "CHOPS MIBI BURGERS". Price: 150,000 dong. When I ordered this dish, I was told that I could order a side dish separately because it didn't come with potatoes, so I ordered another dish called "BBQ Beans (40,000 dong)".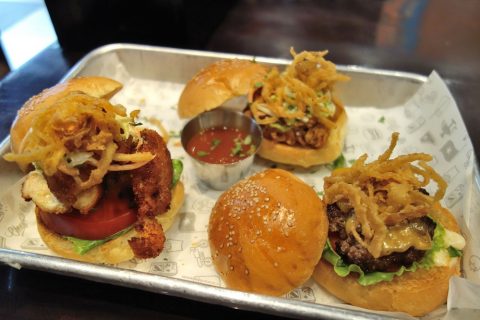 You can enjoy 3 different hamburgers little by little. Beef, chicken, or tuna? ) is the main ingredient, and there are some vegetables on top.
The flavors are for everyone, the Aussie beef is not particularly juicy and the chicken is dry. I feel thirsty just by eating.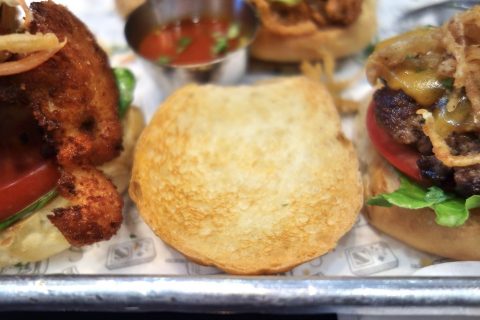 The bread is too toasted. It's thick and looks good, but it doesn't have a fluffy texture at all. It's like you're eating "rusk" instead of bread.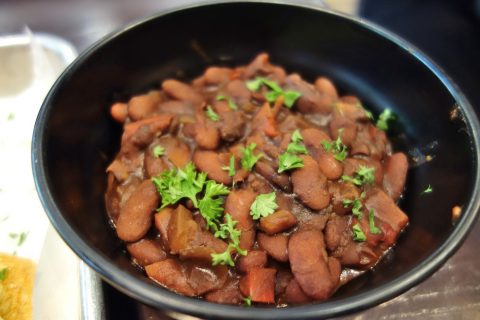 I ordered BBQ beans together, but this is cashew nuts softened and boiled with barbecue sauce. It is sweet and has a strong taste, and it may be good as a side dish to go with alcohol, but I cannot eat this much from lunch. Maybe I made a mistake with the choice. …。
Maybe I don't have to go all the way to Vietnam …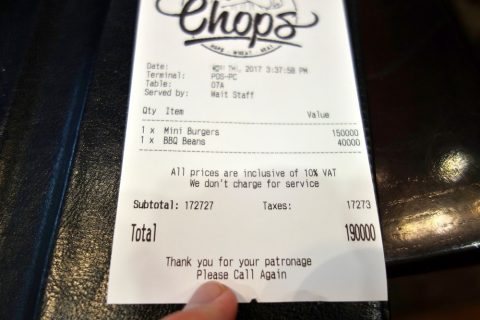 The total is 190,000 dong. In Hanoi, Vietnam where prices are low, it became a very luxurious lunch! In spite of that, the taste of the hamburger which is focused on appearance was disappointing …。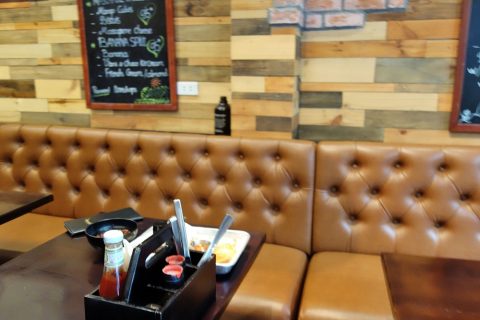 The service of the staff was good, and the clean and stylish interior was not uncomfortable, but it was not worth going all the way to Hanoi because there were many cheap and delicious B-class gourmet.
It was a report from Hanoi Hanoi's hamburger restaurant Chops which didn't say "There is delicious food in a stylish store."!
♪Click here for a List of articles on "Ha-Noi"