This time, we're taking a short trip from the center of Ho Chi Minh City to the Cho Lon (ñ?) area! This is known as Chinatown where there are many Chinese people, but when I went there, the atmosphere was totally different from other Chinese towns, and there were more deep streets!
I would like to tell you how to get to the Cho Lon area and what to see there.
About 30 minutes by bus
The Cho Lon district is located about 5.5 km west of Ho Chi Minh City. It's closer than the airport, so it's easier to go by taxi, but it's boring, so I'll go by bus this time.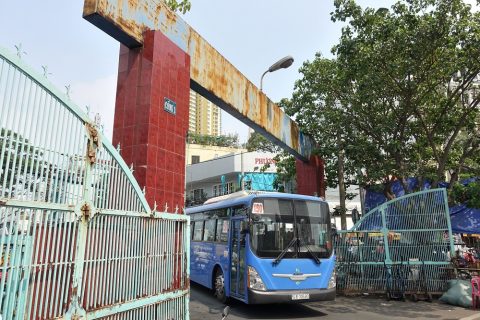 If you go by bus, it is convenient from the bus terminal of Ben Thanh because No. 1 or No. 56 goes directly to Cho Lon! It takes about 30 minutes.
You can ride with 6,000 VND, so it's easy on your wallet. For details on how to get on the bus, please refer to this article → The bus is a good deal in Ho Chi Minh City! Detailed route map and how to ride!
Cho Lon Bus Terminal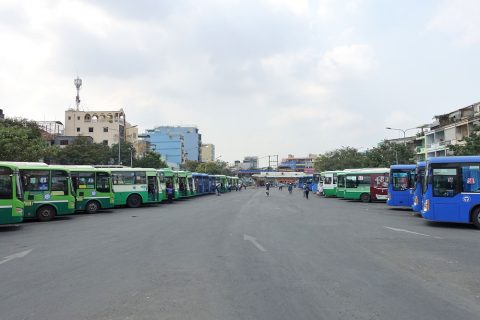 Take a bus bound for Cho Lon and get off at the last stop, and you will arrive at Cho Lon Bus Terminal. It is a key point of transportation in the Cho Lon area, and there are many buses going to various directions in the terminal.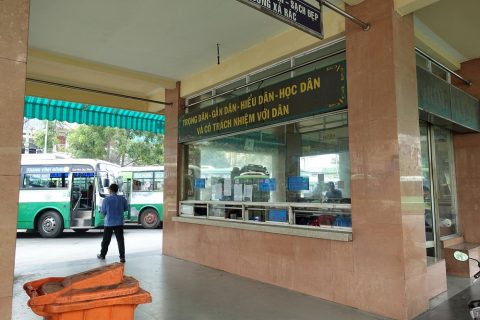 There is also a window in the magnificent terminal building. It seems that there are not only short-distance fixed route buses but also buses going to Long An which is several tens of kilometers to the west from Ho Chi Minh.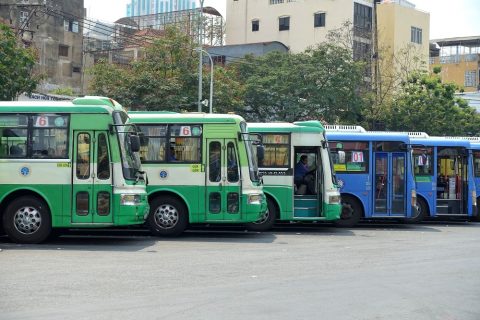 Also, if you take a bus on the way back from here, you should look for any bus from here and get on. You cannot get on the bus from where you get off, so you need to be careful.
walk through a deep street mall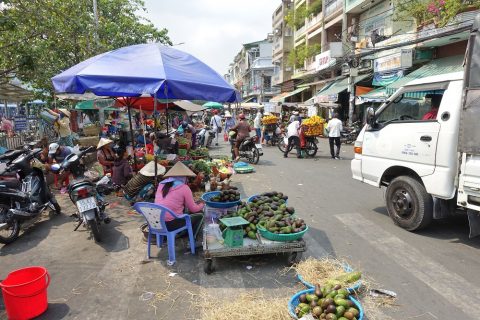 First of all, I decided to take a walk around the bus terminal. On the street surrounding this terminal, there are lots of stalls selling vegetables and fruits! The chaotic and deep world is spreading.
When I looked at the products for sale, there were a lot of fruits and vegetables I had never seen before! Due to the region, there are many gourd dishes, but the price is about 15,000 to 25,000 VND per 1 kg.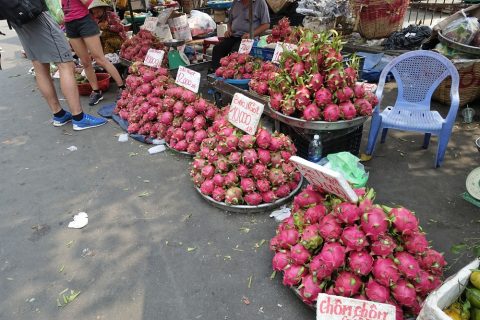 There are also dragon fruits, the price varies from 7,000 to 12,000 VND depending on the size and quality.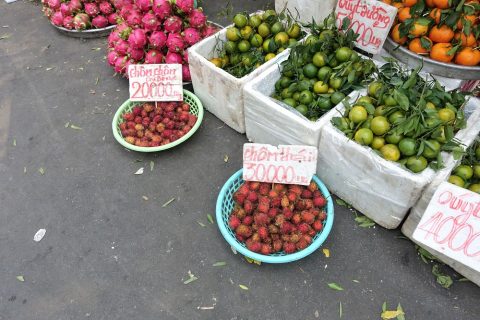 This little hairy fruit is a Chom chom. It looks and tastes like lychee. It's hard to get it at Japanese supermarkets, so if you have confidence in your stomach, you should try it.
Chaos of the Bin-Tay market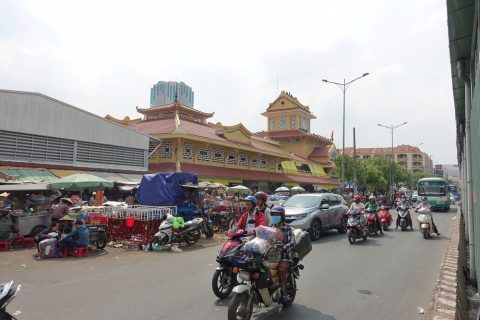 Next came the " Bin Tay market" right near the bus terminal. It is known as the largest central market in the Cho Lon area.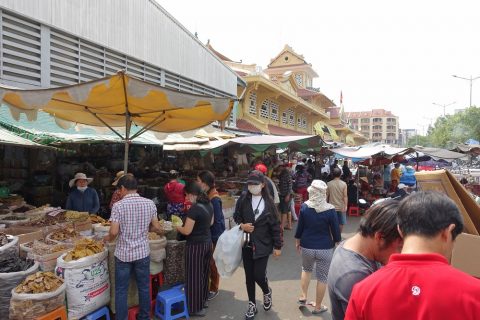 When I went there, there were also many people here! Not only in the market, but also around the building is filled with tents from street stalls.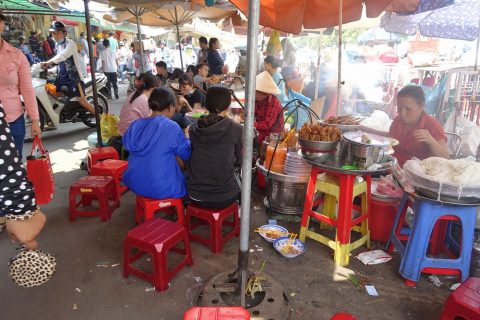 Some places serve meals. If you look at what people are eating, there is a variety of food from soup to grilled skewers, spring rolls, and desserts, but the menu and price tags are not attached, so it might be a little difficult for tourists.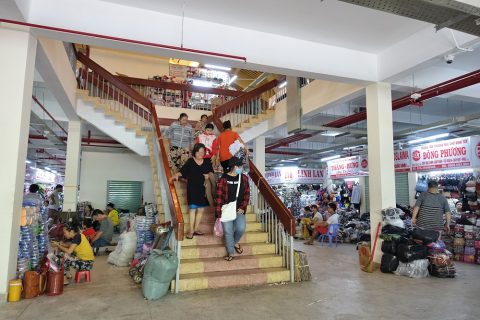 There are 2 floors in the market, and stores selling clothes, sundries, and ingredients are lined up on each floor.
In the chaotic market, that's nothing compared to Ameyoko in Ueno, Japan! There is no one who talks to me like Bin Tay market, but the air is bad, so it may not be good for your health to stay for a long time …
Chinese temple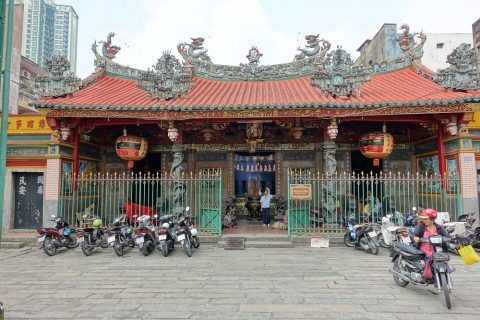 Walking eastward from bin Tay Market, Chinese temples can also be seen here and there. This is a temple called " Hội quán Hà Chương " where the god of safe navigation and prosperous business is enshrined.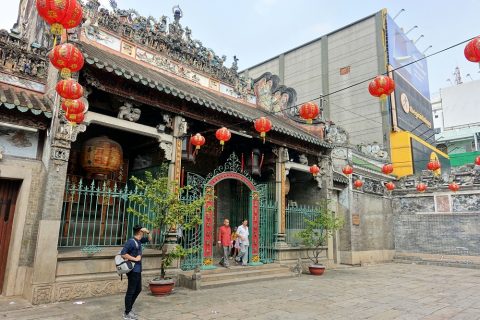 And one more thing that each guidebook mentions is " Chùa Bà Thiên Hậu ". It was built in 1760 and is one of the oldest temples in Vietnam.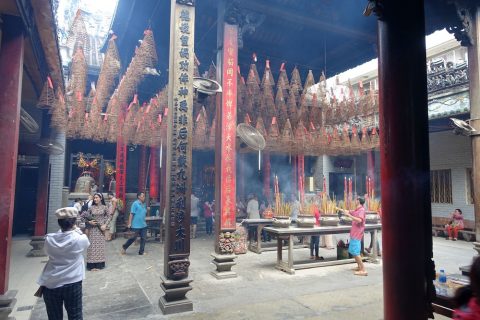 The inside of the temple is quite magnificent, and the spiral-shaped Senko hanging from the ceiling is unusual, and there are even a few visitors. I gave incense sticks here this time!
I'll tell you more about this palace in my next article. " Chùa Bà Thiên Hậu " to Vietnam's oldest Chinese temple!
♪Click here for a List of articles on "Ho Chi Minh City"