"JEWEL" opened at Singapore Changi International Airport in April 2019. I went to this new facility which is famous for its huge waterfall by transit this time!
This new facility is a subtropical space like a jungle in a huge glass-walled building. It is an innovative spot where you can enjoy forest bathing while staying at the airport!
※This article was written before the virus scandal. This will be updated.
How to get to JEWEL
JEWEL is located next to terminal 1 at Singapore Changi Airport. It is connected to T2 and T3 by a passageway, so you can access it on foot.
If you are going from T1, go out from the entrance of the departure floor and go to the place just across the road. If you are going from T2 or T3, use the passageway of the departure floor. For T4, you need to use the terminal connection bus to move to T2 once.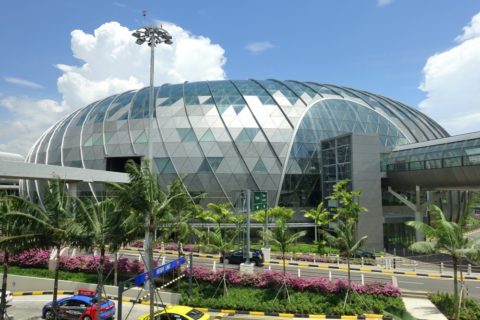 The JEWEL is a round, huge dome. The novel building that combines triangular panels and glass looks like a spaceship!
It was originally intended to be an extension of Terminal 1, but as the project progressed, the JEWEL concept emerged.
There are various commercial facilities and attractions.
Inside JEWEL is an open commercial facility with an atrium where various shops and restaurants gather. There are 7 floors, 5 floors above ground and 2 floors below ground, and it is directly connected to the arrival lobby of T1.
There are many famous chain stores from around the world, including American hamburger chains Shake Shack and Apple, as well as Tokyu Hands and Muji from Japan.
The top floor (L5) is a theme park called "Canopy Park" which has various attractions. Each attraction is charged, and tickets can be purchased at ticket vending machines or ticket offices.
There are thrilling attractions, such as MANULIFE SKY NETS – BOUNCING, which walks on a net in the air, and CANOPY BRIDGE, which looks down the waterfall from close up while walking on a promenade.
Ticket prices vary from attraction to attraction and typically range from $5 to $22.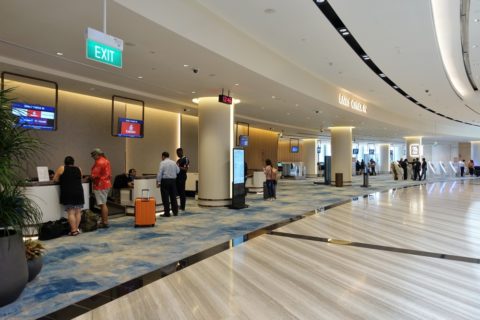 In addition, there is an early check-in facility on the 1st basement floor (L1), which is compatible with most airlines including JAL and ANA. You can check in more than 3 hours before departure, so it's convenient when you arrive at the airport early!
There is also a temporary baggage room (charge), so you can play comfortably even when you arrive. For more information about early check-in, see here → Super convenient! I used Singapore Airport [early check-in]!
Giant Population Falls, Named "Rain Vortex"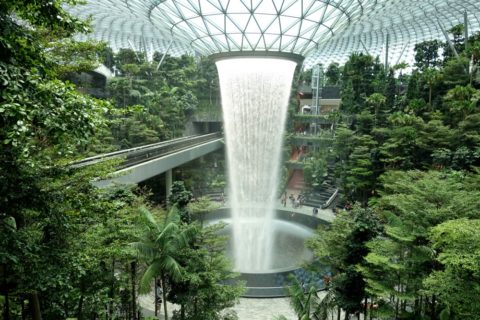 Now, JEWEL's biggest feature is here! A huge waterfall in the middle of a building surrounded by a shopping zone! It's a futuristic space surrounded by jungle.
This is part of the airport facility, so admission is free of charge, of course!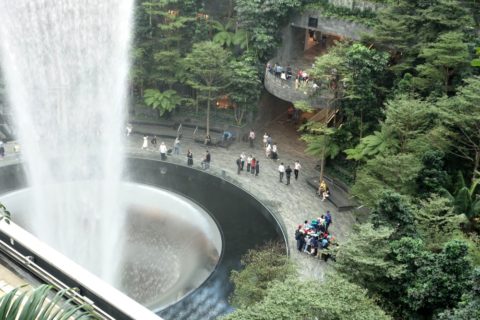 The name of the waterfall is "Rain Vortex". With a drop of 40 meters, it will be the largest indoor waterfall in the world. There are more than 900 palm trees around the waterfall, making you feel like you are in a subtropical paradise.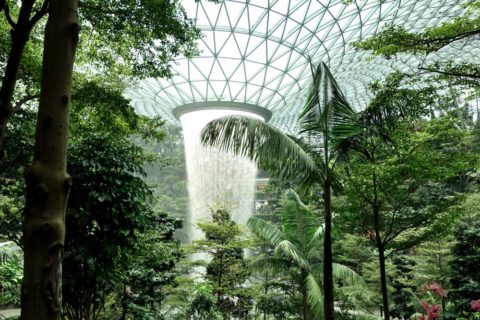 The area is named "SHISEIDO FOREST VALLEY" and is sponsored by Shiseido. JEWEL's total construction cost of 140 billion yen is actually supported by Japanese companies.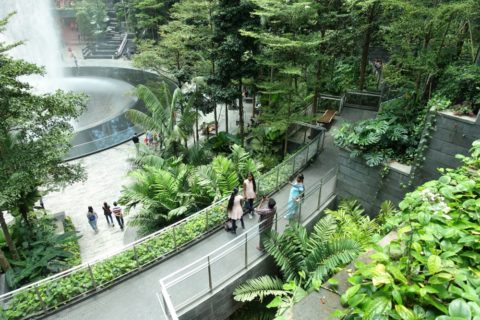 There is a promenade in the jungle and you can see the waterfall from various places. It was connected from L4 to L1, but there were some closed places.
The strange robot on the 1st floor …?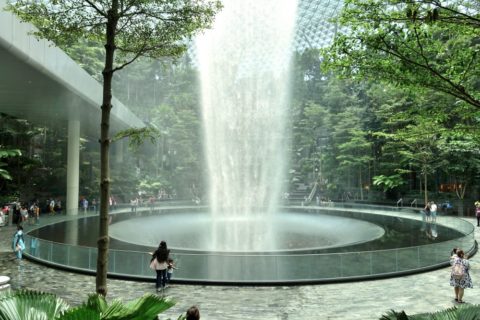 You can go to the waterfall from the first floor. This is a square surrounding the waterfall, and as you approach the waterfall, you can smell the fragrance of Southeast Asian perfume.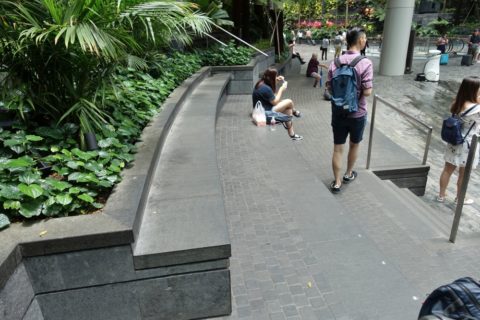 There are benches around the waterfall, so it's nice to sit here and relax! When I looked at other people, I saw some people bringing takeout fast food and having lunch here.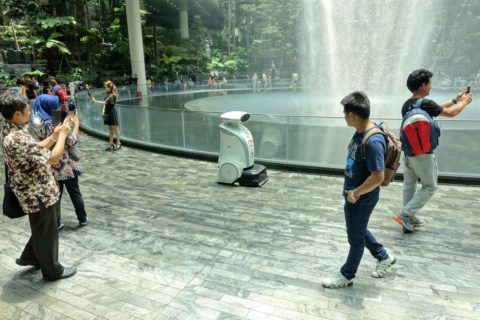 Also, when I was strolling around this waterfall, I came across a strange guy who spoke a language …。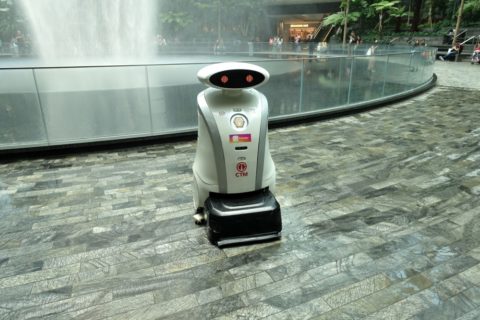 I wondered what it was, but it was a cleaning robot! There is a mop at the feet. If I block in front of this guy, he says "Sorry, can you move a little?" so I have to try not to disturb the cleaning … .
Where to see the waterfall …?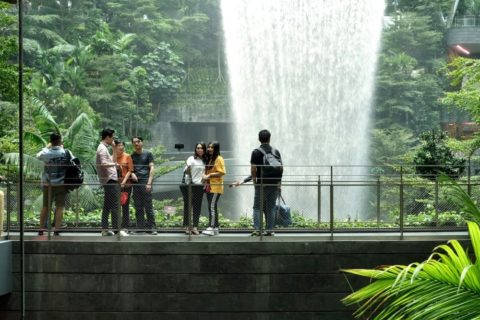 There are many places to view this waterfall, but I personally recommend seeing it from the promenade I mentioned earlier as a place where you can see the whole waterfall with a good distance. East Trail and West Trail.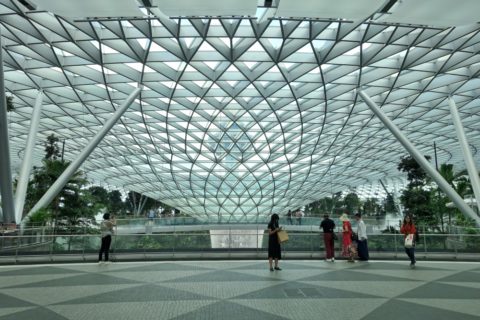 If you go to the top floor (L5), you can see the waterfall from the place near the glass roof, but the best position to see the waterfall is limited to the pay area inside the attraction at present …。
To see the waterfall up close, it may be best to join the previously mentioned CANOPY BRIDGE ($8).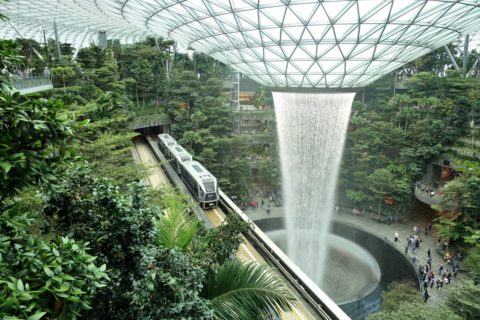 In addition, you can unexpectedly see the waterfall from the shuttle between the terminals (Skytrain). The Skytrain that connects T3 and T2 runs right next to the waterfall, so if you take this train, you can see the waterfall from a place closer than the first floor.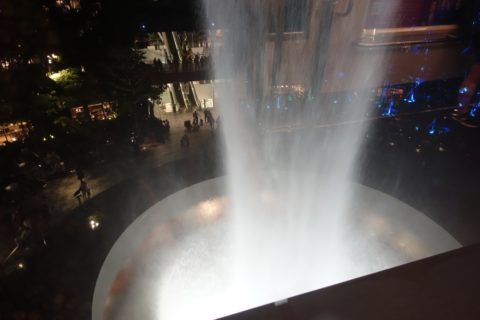 However, the windows of the Skytrain are made of smoked glass, so the visibility is not so good. If you want to see the …。 Falls, daytime with bright outside might be better.
The night illumination is fantastic! There's a show.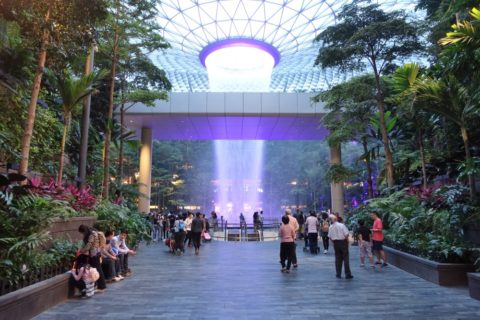 The waterfall is lit up at midnight! When I visited again at dusk, it turned into a fantastic world!

The waterfall is lit up in five colors other than white. It switches relatively frequently at 1 to 2 minute intervals.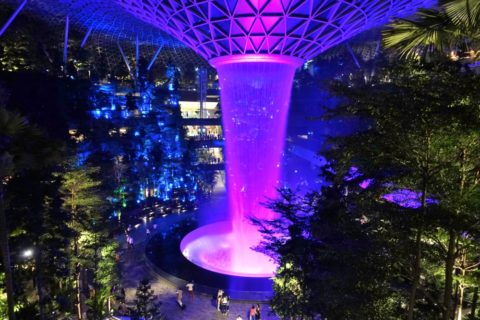 When the night is complete, the mood is even better! The lighting of the surrounding trees is also very nice! You can see a beautiful waterfall that looks like it is studded with jewels!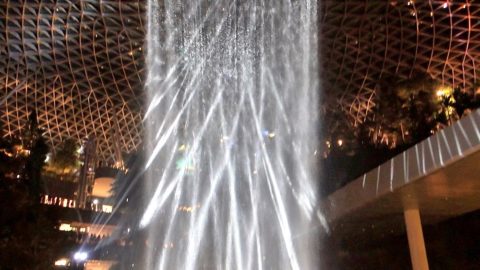 There is also a projection mapping show using the illumination of this waterfall, starting at 30 minutes every hour (19: 30 ~ 24: 30). It was an entertainment show of light to the music, and I watched it from the 1st floor of L to see it close to the waterfall, but it was too close to see it well …。
The basin of the waterfall also shines, so I think it's better to see it from a distance where you can see the whole waterfall.
The futuristic space is worth seeing!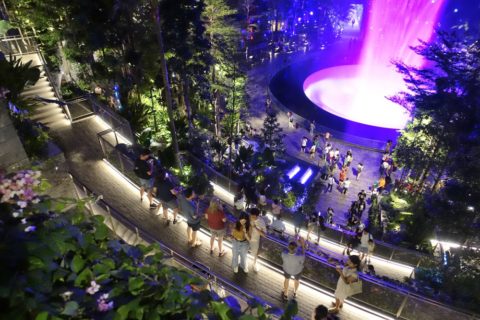 That's why JEWEL is an innovative airport facility that is unprecedented in the world. The futuristic space where nature and artifacts are fused is worth seeing! If you are planning to visit Singapore for transit, please stop by!
♪Click here for a List of articles on "Singapore"