Continuing from last time, I will report on the in-flight meal from Cathay Pacific Airways business class between Narita and Hong Kong!
I was surprised at the high level of the popular Cathay in-flight meal when I was in economy class before, but how about this time? Since it's business class, I was expecting a gorgeous meal, but …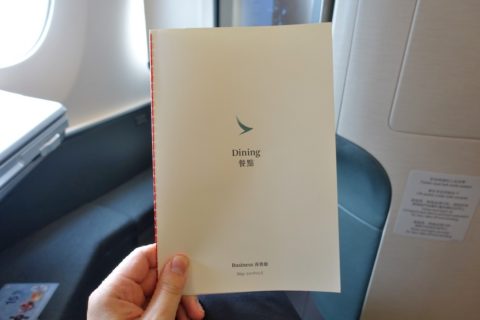 The flight to Hong Kong this time departs at 17:15, so the in-flight meal is dinner. The in-flight meal menu will be distributed before takeoff. This booklet on the menu is made of cardboard and is quite durable.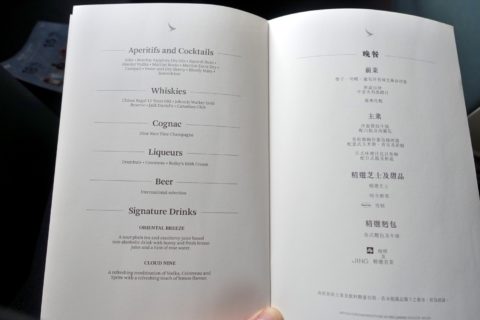 But I was surprised when I opened the menu! It is written only in English and Cantonese, but not in Japanese. This is a bit unlikely even though it's a Japanese business class. …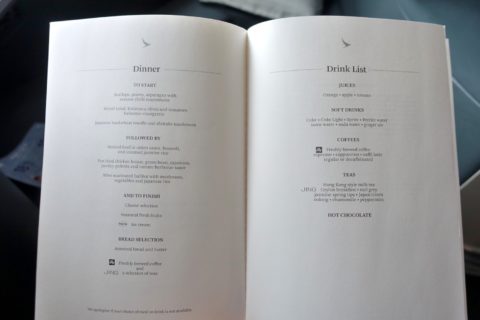 By the way, the meal menu consists of 3 courses of appetizer, main and dessert (Cheese). You can choose from three main dishes, beef, chicken and vegetarian.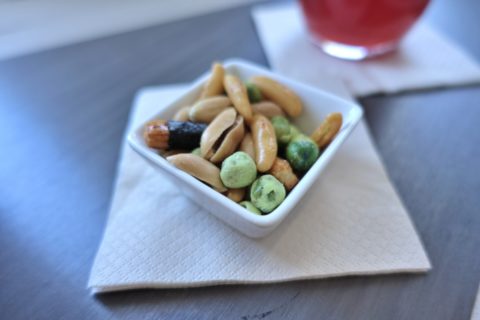 Arare mix for drink. I was hoping for a nice nut like Qatar Airways, but it didn't come true …
The appetizer is terrible … Soba and salad are at the economy level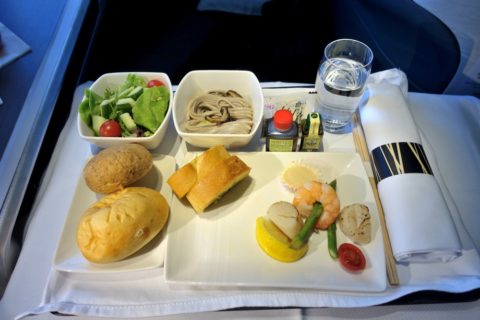 Let's start with appetizers. You can choose from a plate with shrimp, scallop, asparagus and cherry tomatoes, a small bowl of soba and salad, and a basket of bread.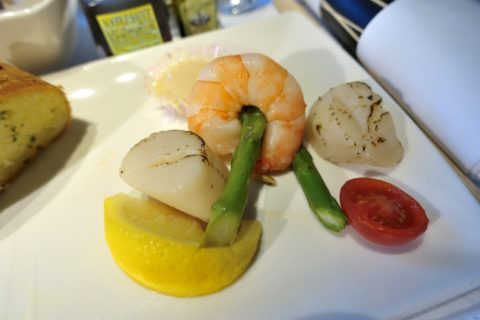 Scallops are not seasoned, so it is supposed to be eaten with the tartar sauce that comes with it, but the tartar sauce itself doesn't taste very good. … It is thick and chewy, and the quality is not bad, but it is not fragrant even though it is browned. …
Also, this soba is not chewy at all, it is not delicious at all, and the salad is not particularly fresh. It's just that the bowl has turned into pottery, both of which have an economic class level of … or even lower!
a surprisingly decent selection of bread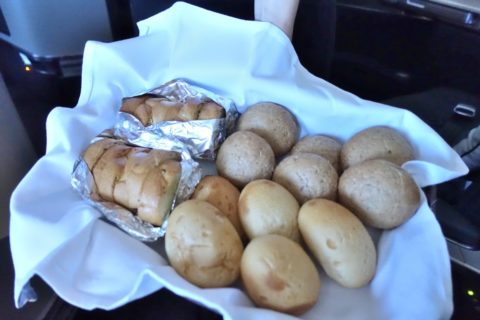 In such a situation, the unexpectedly decent selection was bread. You can choose from 3 kinds of bread, and it is moderately heated.
I tried all three, but all the breads are chewy and dry, and it feels good with butter. It doesn't have any special taste, but I think this is good for the bread that comes out of Japan.
Is the material cheap? beef for the main course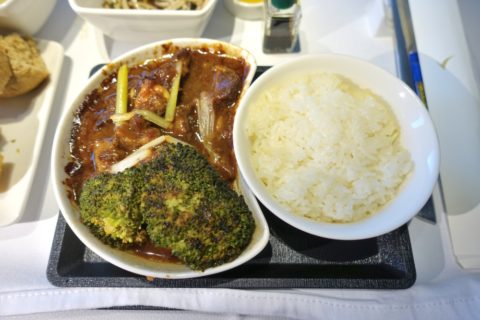 There are 3 main dishes to choose from, but I chose "Braised beef in onion sauce". It comes with big broccoli and jasmine rice.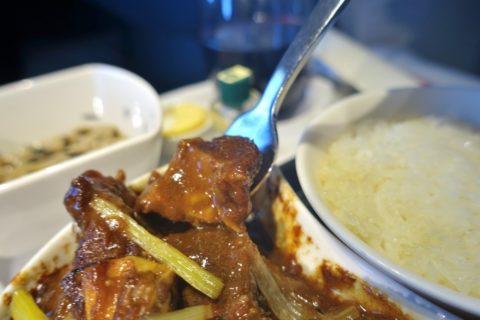 The beef is quite tender, but it leaves a lot of fiber in your mouth, maybe because you're using cheap meat. The sauce has a Southeast Asian flavor with a unique smell, and this is also not particularly delicious …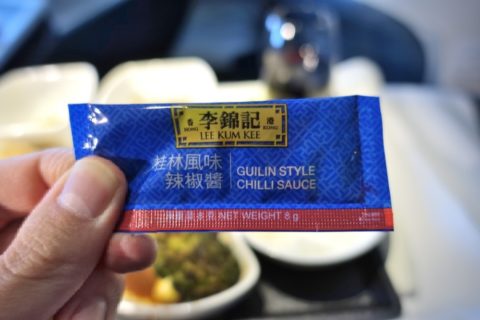 Do you need chili sauce? I was asked so I tried it, but I don't recommend it because it's just spicy.
The taste of the cheese selection is …?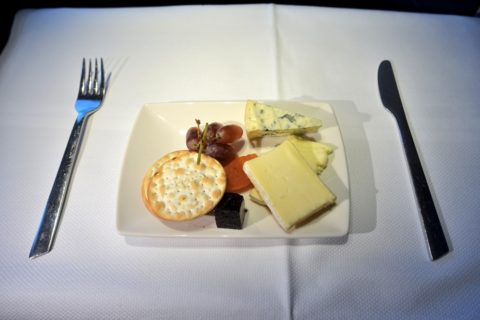 The cheese selection I ordered after the meal was a set of 3 kinds of cheese, apricot and crackers. All of the cheese has a taste adjusted to Japanese taste with no smell, but the flavor has been suppressed instead, so I feel something is missing. …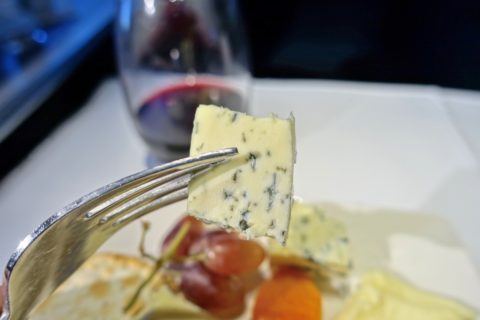 However, blue cheese with strong smell is easy to eat, so it might be just right for balance. Well, I think it would be good if cheese with this taste comes out on the flight from Japan.
Do you have any good wine?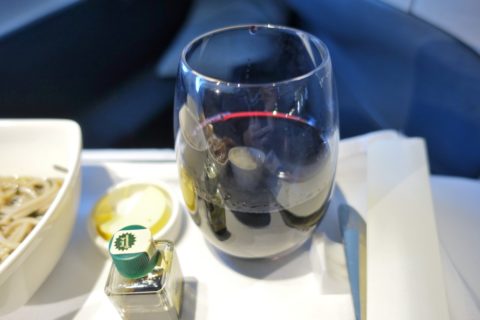 By the way, wine is what I look forward to every time I take business class! You can't drink expensive wine like first class, but each company has their own unique wine selection, and you can often find unexpected taste.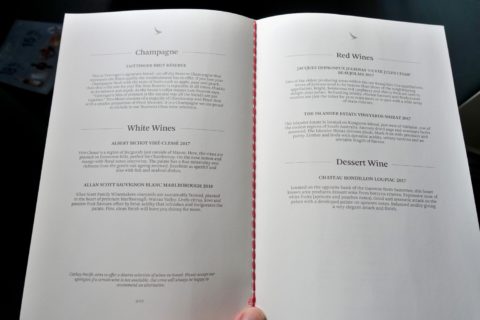 This flight's wine list includes champagne, two types of red and white wine, and dessert wine. When I checked the country of origin, white wine is France and New Zealand, and red wine is France and Australia.
Bottles of all brands were generally priced in the upper 1000s, but the most expensive was French white wine "2017 Albert Bichot Ville Cresse". Its market price is more than 2000 yen, which is a mid-size class among business class passengers.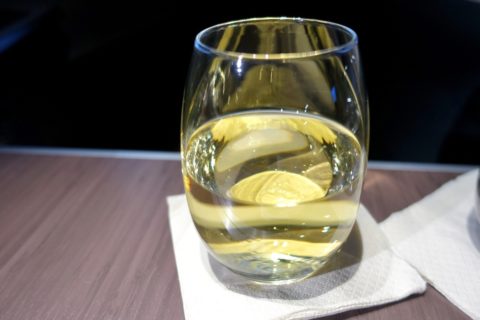 However, the taste was disappointing … It had a firm aftertaste, but the first touch was rather cheap, which was just like the 1000 yen wine you can buy at a supermarket. I have tried other wines as well, all of which were reasonably priced …
There is no performance to bring a bottle and pour it in a glass in front of me, so maybe Cathay doesn't put much effort into wine.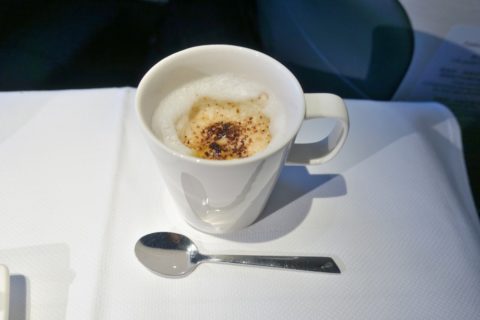 In addition, the cappuccino I ordered at the end was not particularly delicious, and it was completely the taste of the lounge. Maybe I made it a little, but it's a little cold and the bubbles are gone, so I can't eat this.
Full flat bed comfort …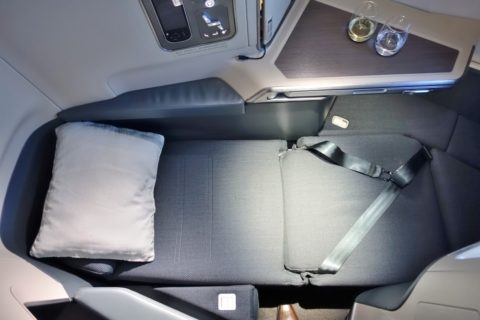 After the meal, I reclined the seat and checked the comfort of the bed!
This time, the latest model of Cathay is the A350. It's a herringbone seat, which is also used on long-haul late-night flights, but when you lie down, it's a little tight around your shoulders, but it improves when you lean over the aisle.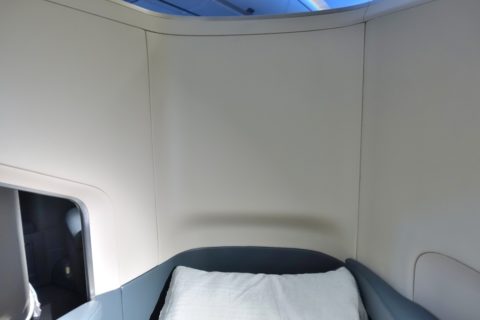 The head part is covered with soft material, so you can feel the effect of soundproofing a little.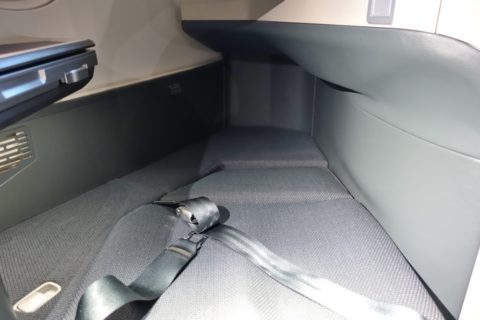 The feet are quite wide, and especially the monitor part has a deep structure, so you can sleep with your knees up. There is a slight difference in level at the leg rest, but it doesn't bother me at all when I lie down.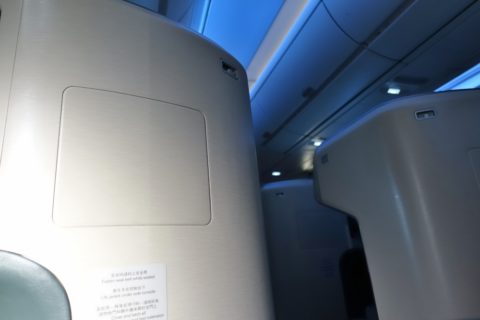 However, the feeling of a private room is quite limited. When I lie down, I can easily see the person passing by the aisle, and I can see the monitor of the seat across the aisle directly, so it's dazzling when I sleep facing the side.
It would be great if Herringbone could develop a seat with a door closing type, but that is still a long way off …
What a disappointment! Is this Cathay's in-flight meal?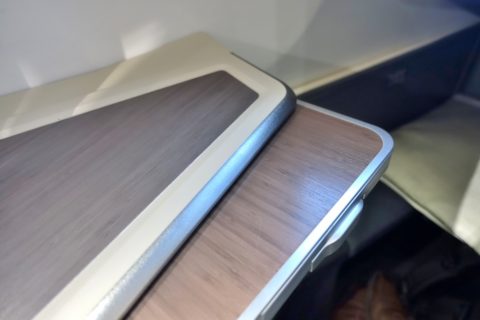 So, I tried the business class of Cathay Pacific Airways, but to be clear, I was disappointed except for the seat! Especially for the in-flight meal, there was a menu that was so relaxed that I couldn't believe it was a business class meal, so I was really disappointed. …
In this case, the devised economy class in-flight meal is much more delicious. I was impressed by the elaborate menu in the economy class of Cathay, which I used last year, but I never thought that such a meal would be served in the upper class. …。
It's obvious that they use the same soba and salad as the economy class, perhaps just by changing the container, but it's not good that they don't have any special menu for amuse bouche, main dish, or even dessert.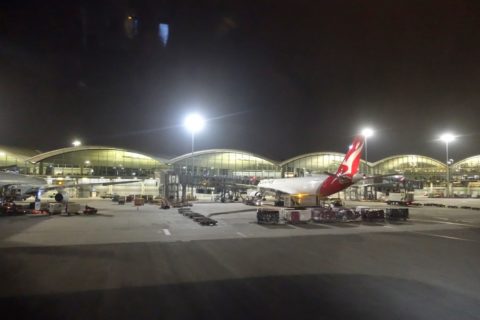 What was that reputable review …? It's a shame to think that Cathay has finally cut costs as well …
For seats of A 350, please refer to the previous article → Cathay Pacific Airways A 350 Business Class Boarding Record! take a closer look at the herringbone seat
♪Click here for a List of articles on "First Class & Business Class Airlines worldwide (Seat, In-flight Meal, etc.)"