For this trip to Hong Kong, I will use the business class of Cathay Pacific Airways which I took at JAL miles! I didn't expect much because it was a short distance train, but it was the newest equipment in Cathay, A 350 -900, and it was a comfortable travel!
This time, I would like to focus on the A 350 -900 business class seat.
Narita 17:15 departure is super empty!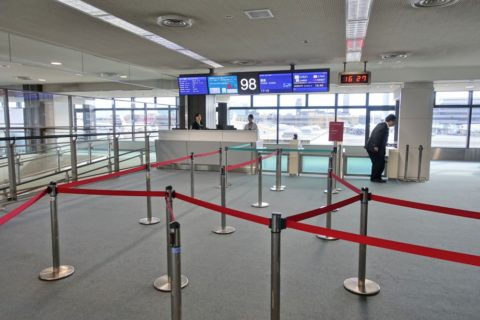 The flight this time is bound for Hong Kong from Narita at 17:15. As I mentioned in the local report, the airport was empty and the boarding gate was almost scary after Golden Week!
Between Narita and Hong Kong, Cathay Pacific flies six flights a day on a cash-cow route, so when it's off-season like this, it's a lot less crowded.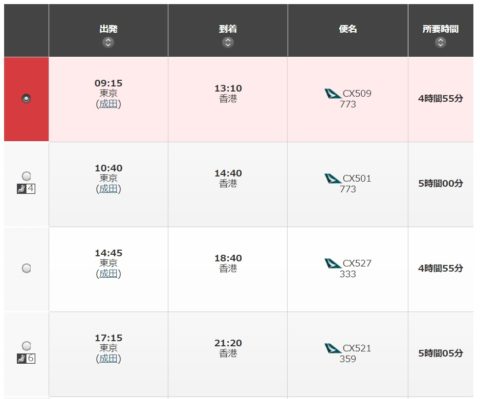 Probably because of that, it was easy to get award tickets, and there were empty seats in business class on my CX 521 flight from about 3 months before to right before the boarding. Originally, it's easier to get a special ticket to Hong Kong compared to a long distance flight, but this is a good time to schedule it freely!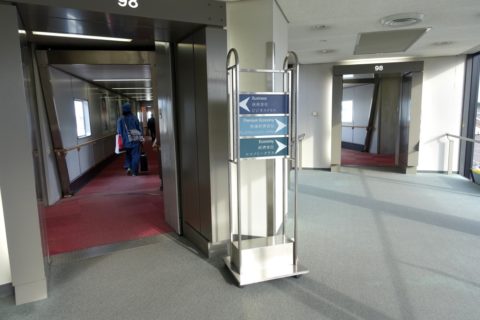 This aircraft also comes with a premium economy, but for some reason, it is not possible to take a pre-eco of Cathay with JAL. In terms of distance, premium economy is the most cost-effective, but it can't be helped. …
new herringbone seat

The equipment is A 350 -900. It is a new type of equipment among Cathay. It is a large airplane used for medium and long distance, and the number of seats is 280, C: 38/PY: 28/Y: 214.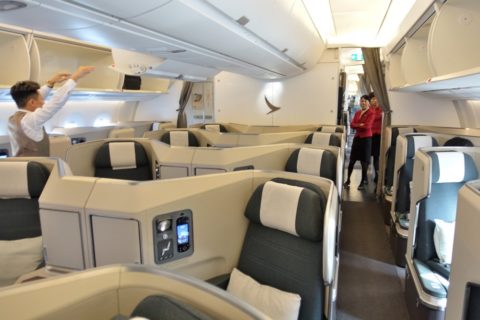 Business class is herringbone seat of 1-2-1 arrangement. It's a standard arrangement in any airline now. This is my first time in Cathay's business, but I feel strangely familiar with it.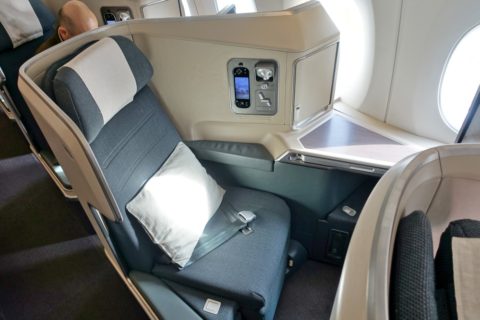 My seat is a window seat in row A. It is a completely independent seat without shared space with neighbors. It is so popular that all the window seats are filled even though it is so empty!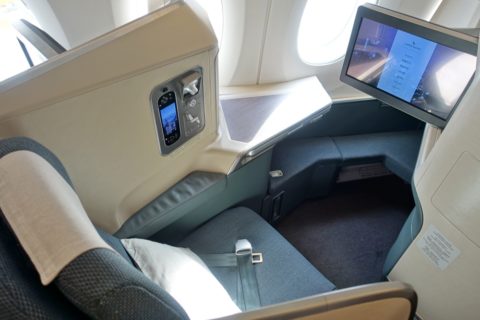 When I sit down, the space around my feet is perfect, but the armrests (Especially by the window) are a little small, and I can't deny that my shoulders and elbows hit the wall easily. The seat is wide enough, but it seems to be tapered toward the back of the seat.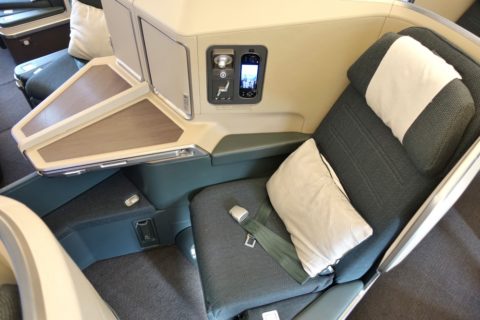 On the other hand, the seat in the middle row looks like this. It will be next to the next seat, but you won't be able to see your neighbor's face when you sit, and there is a clear line between the side table and the next seat at your feet, so you shouldn't feel so stressed when you sit alone.
Special specifications unique to Cathay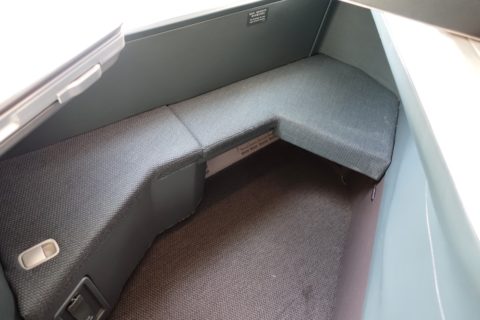 As it is a herringbone seat, the basic structure is the same as other airlines, but I thought it was a specification unique to Cathay, which is the table next to this foot. It is hard to see the specification that this is connected to the back in other airlines.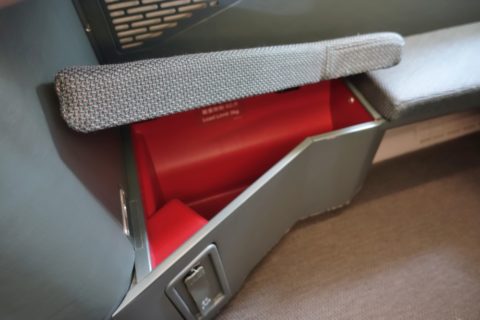 The front part of the table is a storage space. But the bottom part is thin, so it is difficult to even put shoes in …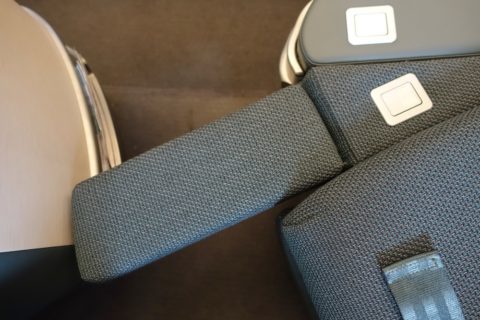 There's also a flip-up extension on the aisle that pops up as high as the bed when you press the button. I think this will be quite a wide bed when I make it a full flat bed.
However, this extension is not fixed even if it is flipped up, so it sinks easily just by pressing it from above. This is the worst specification …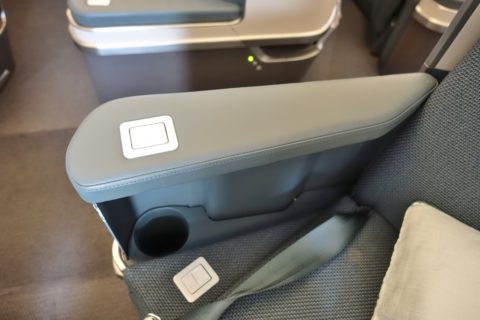 Next to the extension is a retractable armrest. It is convenient because it has a drink holder, but you need to store it when taking off and landing.
equipment around the seat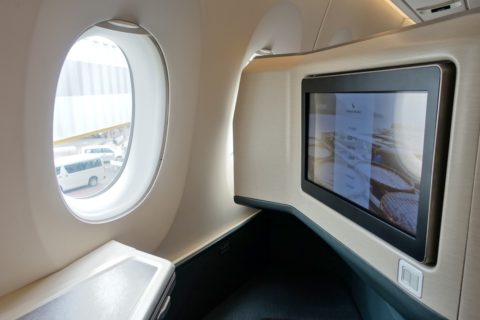 Next, check the seat area! First, the monitor is retractable, and when you watch it, you push the button and raise it to the front.
A storage space with a triangular side table and a mirror and outlet. Personally, I find the net-like holder under the mirror very useful!
Controller with monitor and reading light. The position of the seat controller is activated when the knob of each position is operated, but it is automatically changed to a bed or seat when the mark under it is pressed.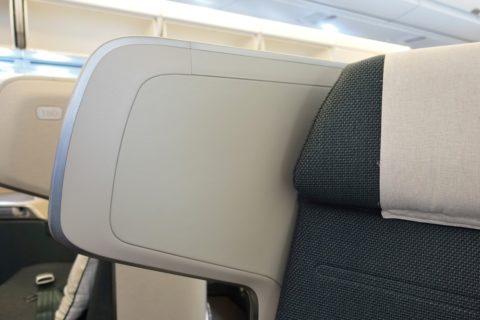 In addition, there is a simple partition on the side of the face. There are some airlines (Qatar Airways, Air France, etc.) that don't have this part, but it is helpful because it helps to avoid the wind of people passing by the aisle.
Signature drink and champagne taste …?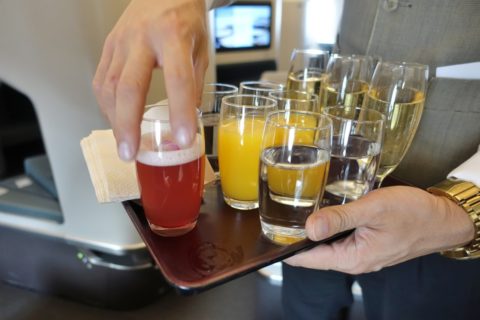 Now, after a while after boarding, a welcome drink is served! You can choose from 4 kinds including champagne.
I chose champagne and another red drink because I was told that I could have two. Neither is a special menu for welcome drinks, but it's the same brand as the in-flight meal menu.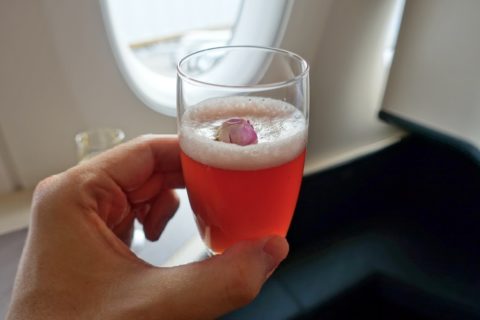 Called "Oriental Breeze" the red drink is a non-alcoholic drink based on sour plum (plum fruit) and cranberry juice.
It also contains honey, lemon and rose water, but the fragrance is soap and the taste is light acerola drink … Personally, it is a little bit subtle …
On the other hand, the champagne brand is Taittinger Brut Reserve. It is a cheap champagne which you can buy a bottle for 4000 yen on the internet. The taste is reasonable for the price, and there is little claim and no lingering feeling, but this is the last one!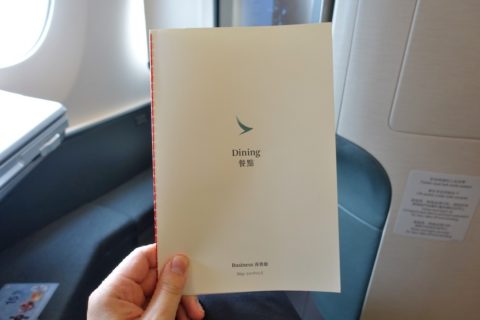 So next time I'll report on in-flight meals! Cathay's in-flight meal has a good reputation on the street, but it didn't taste as I expected … → In-flight meal report! Cathay Pacific Business Class CX 521 Narita – Hong Kong
♪Click here for a List of articles on "First Class & Business Class Airlines worldwide (Seat, In-flight Meal, etc.)"