"BAZAR" is a cafe with a nice atmosphere located along the river in Salzburg. I recommend this cafe where you can enjoy delicious lunch and coffee while feeling the comfortable breeze from the terrace seat!
Come to think of it, I visited this cafe a few years ago when I came to Salzburg, and I remember enjoying a delicious lunch at that time, but the high quality taste is still there! I would like to report the cafe BAZAR in Salzburg.
※This article was written before the virus scandal. This will be updated.
cafe at the entrance to the old town
The cafe BAZAR is located here along the Salzaha River. It's near the end of the bridge to the old city.
I came for the terrace seats along the river, but the entrance is on the road on the opposite side of the river. The building with pink walls is the cafe BAZAR.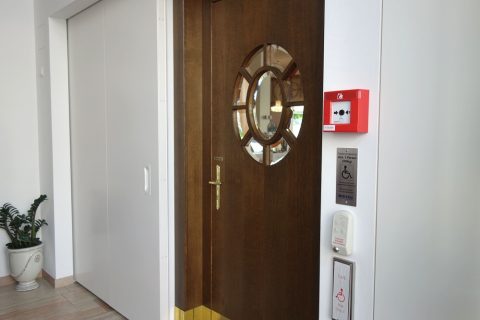 When you enter from the entrance, there is a door right next to it. If you open this door, you can enter the cafe. I may hesitate to go in, but you can open it and go in.
Inside and on the terrace along the river
The Cafe has a unified design of light wood grain brown and white. It is quite a big cafe, but the seat pitch is quite close, so the distance from the next seat is quite close. Because of that, the number of seats is large, and it looks like it can easily accommodate 50 ~ 60 people.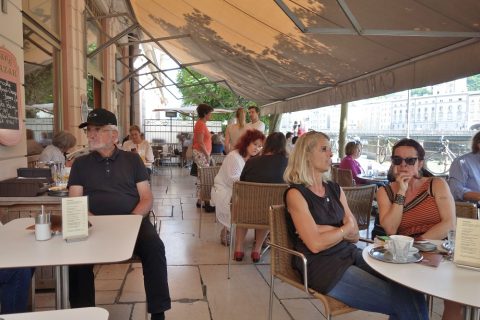 You can go to the terrace seat from the back of the cafe, but it is completely different from the rattle-rattled restaurant, and this place is full! Every café in Europe in summer is like this.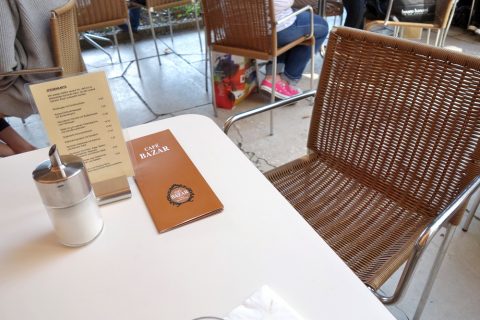 I was thinking of giving up the terrace seat because it was full, but just as I happened to find a seat where a guest went out and cleaned up, I got a seat right away! Some terrace seats are shared, so the competition for terrace seats in summer is fierce.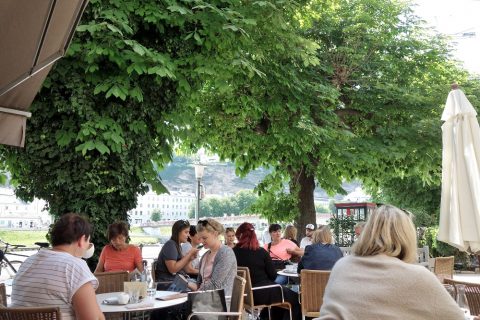 The terrace seats on a sunny summer day were comfortable, and there was a pleasant breeze blowing from time to time, so I felt great! On such a sunny day, I want to aim at the terrace seat even if I wait for a while.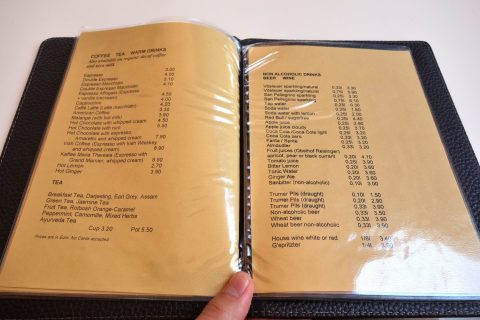 Looking at the menu, as it is a cafe, the drink menu is mainly served. But the variety is very substantial, with 16 kinds of coffee and 30 kinds of other soft drinks.
There is also an alcohol menu, and this also has a wide variety! We have wine, but we also have a variety of liqueurs.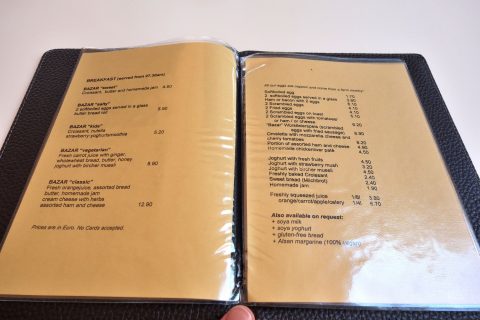 As for the meal menu, the breakfast menu is complete! In particular, there are many dishes using eggs, and it is written that they use organic ingredients that are particular about direct delivery from the production area.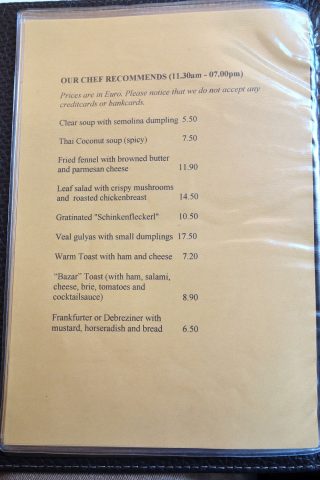 The rest of the menu is here. They mainly serve light meals such as soup and toast, but it was a shame that the "Thai-style curry" that I had before was gone ・・・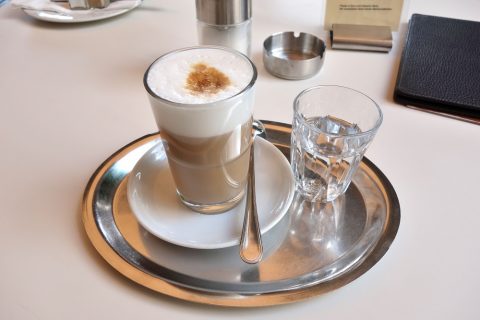 I ordered a cafe latte as a drink, and it was delicious with a well-balanced milk coffee with foamy foams! You can't taste this kind of taste in a Japanese cafe.
Full of volume! Delicious salad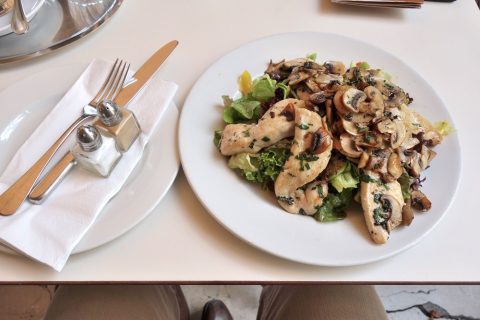 Here is what I ordered. I imagined a lighter dish with the menu of "Leaf salad with crispy mushrooms and roasted chicken breast" and salad, but there were a lot of mushrooms and big chicken in it, and it was quite voluminous!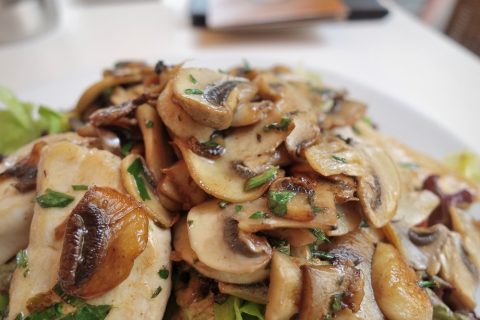 It's soy sauce-based, crispy chicken and flavorful mushrooms, and it's delicious! It's a salad that costs 1,800 yen, so if it's not delicious, I'll get angry!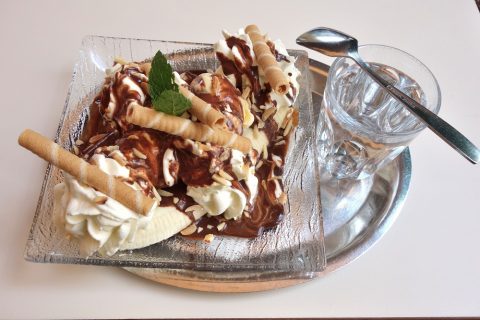 The food was delicious, so I got carried away and ordered more sweets! The "Bananasplit" menu costs €8.2.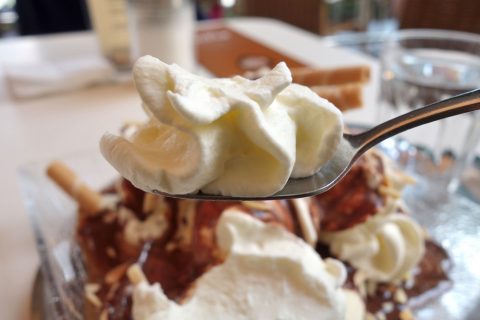 Fluffy whipped cream! It is light yet milky, and the vanilla ice cream has a rich taste! It was sprinkled with a slightly bitter chocolate sauce, and this was also very delicious!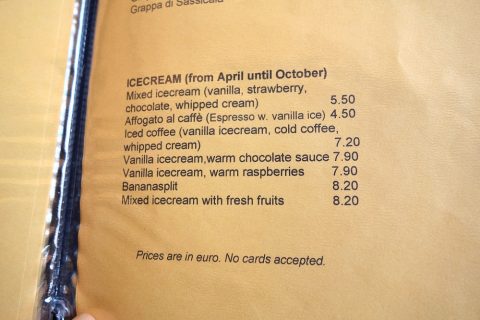 There are 7 kinds of dessert menu, but it is only served in summer from April to October. All of them use ice cream, so I understand.
It's not cheap, but I recommend this cafe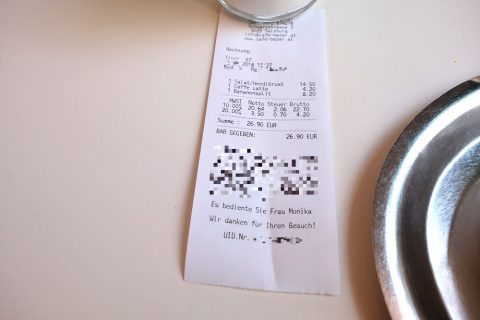 The total is €26.9. It's quite nice to see this, but it's not expensive if you think you could enjoy both lunch and tea time. More than anything, from coffee to dessert, I have no complaints with this delicious menu!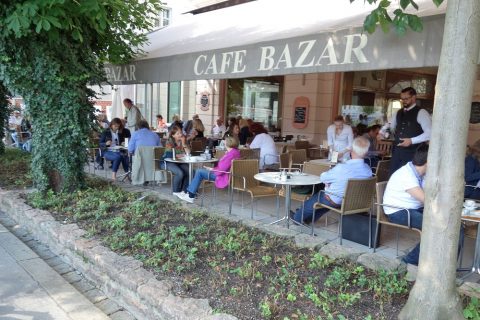 The taste is good and the atmosphere is great! The cafe BAZAR in Salzburg, if you have a chance, please visit.
Café Bazar
Address:Schwarzstraße 3, 5020 Salzburg
Opening hours: 7:30 ~ 19:30 (9:00 ~ 18:00 on Sundays and holidays, 24:00 every day from late July to late August)
website is here * Credit card cannot be used
For more information about Salzburg, click here →Salzburg