Continuing from yesterday, a report from NIA Business Lounge in Hanoi Noi Bai International Airport! I would like to report mainly on the buffet this time!
Speaking of Vietnam, it is "Pho", but when I tried pho in this NIA business lounge, it was delicious! I was surprised that it was more delicious than any pho I had in Hanoi city!
※This article was written before the virus scandal. This will be updated.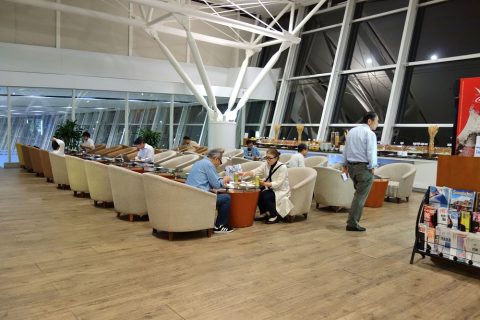 The buffet in the NIA business lounge is located at the very back of the lounge. This is the dining area and there are various dishes.
It was a buffet menu, but I was surprised that there were so many items! The menu using potatoes is noticeable, but there are curry flavored stir-fried vegetables, sweet and sour pork, spaghetti with meat sauce and pancakes.
There are 2 types of rice, and there is also a menu that uses coconut like Southeast Asian countries.
In addition, there are a variety of side dishes such as salad! Fruits include watermelons, mangoes, bananas and some petit cakes.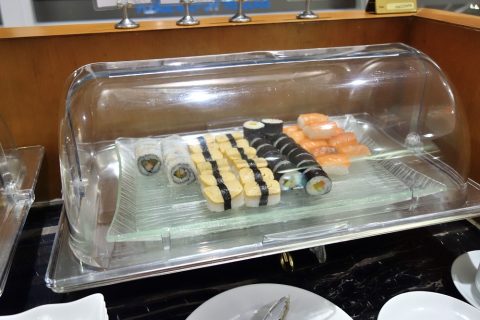 I discovered sushi with Japanese in mind! But in hot countries like Vietnam, we tend to avoid raw fish.
"Pho" is ordered separately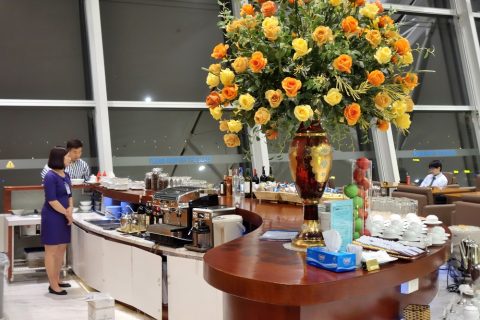 In addition to the buffet, this lounge also has a menu, which is "Pho". If you go to the back of the buffet, there is a special counter where you can order and the person in charge will make it for you (Warm it up.).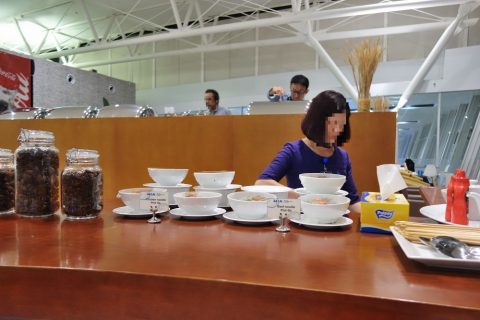 There are two kinds of pho, beef and chicken. You can just microwave the pre-wrapped pho, but it's still nice to have a warm menu.
Extremely delicious pho and curry!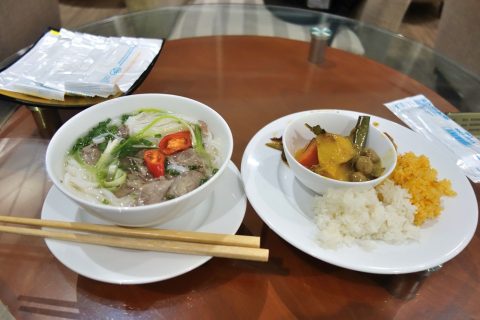 Let's try it! This time, I will have beef pho as a main dish, fried vegetables with curry sauce and rice.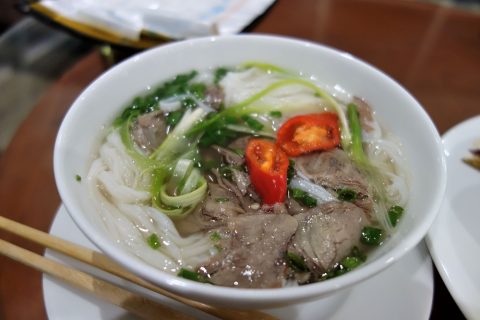 This beef pho is very delicious! This is much more delicious than the pho noodles I ate at any other restaurant in Hanoi! There is no coriander, and the meat is elastic and not hard. And the soup is very rich and good!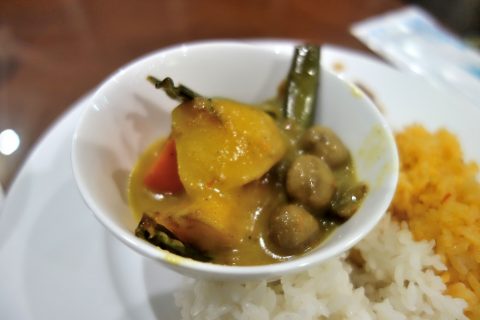 I prefer stir-fried vegetables, but this is also delicious! It has authentic Thai curry flavor, but it doesn't have any bad smell. The whitefish I put in with it was very tender and delicious, so what a high-level buffet!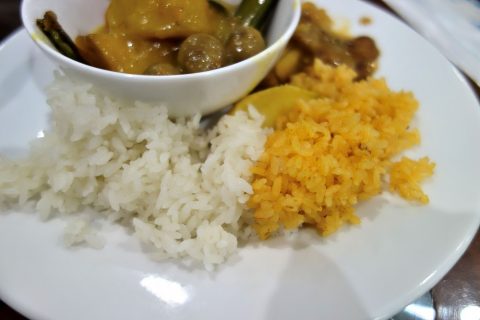 Also, the orange rice has a somewhat Southeast Asian flavor, so it's best to eat it with white rice!
On the other hand, I tried some desserts, but this one has a unique taste. There is nothing like a French lounge for cakes.
Check the brand of alcohol!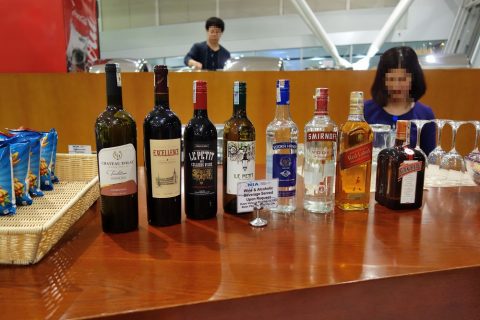 Next, check the brand of alcohol! As for hard liquor other than beer, they are on the same counter as the previous four, but you can't pour it by yourself, and this is also a custom order.
I don't think I can play freely like "proprietary blend" (laughs).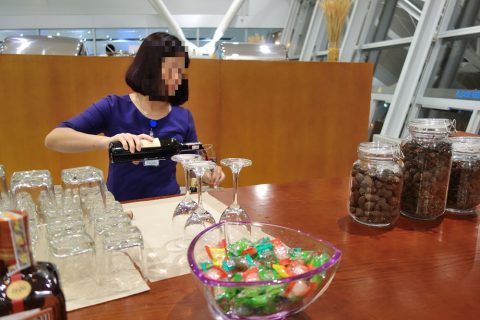 On top of that, there are many cheap brands that can be found in lounges in any country. White wine Chateau Dalat is a cheap wine with a market price of $4, and whiskey is the standard red Joni.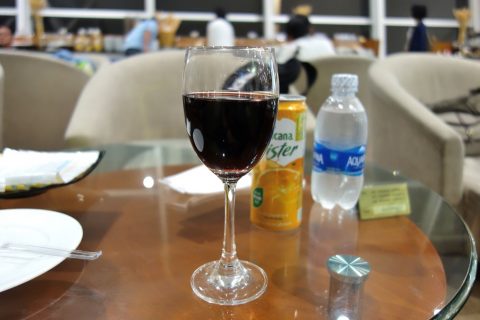 I had a brand of red wine called EXCELLENCE, but the taste was so-so. I don't know the market price because it is not widely available on the web, but I think it is a taste that is well grounded for its low price.
But wine is expensive in Vietnam, so it may be a good thing.
By the way, beer is in the fridge in the buffet. There are 3 kinds of Vietnamese beer, and it is refreshing to drink after all, and it is cheap but delicious!
Quality Hanoi airport lounge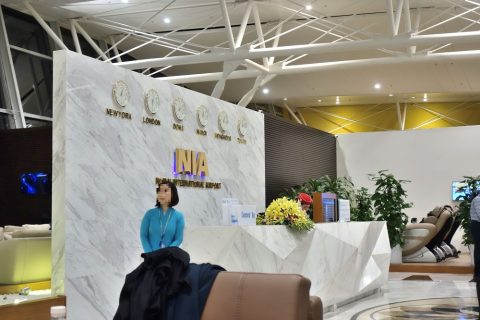 That's why I went to Noi Bai International Airport "NIA Business Lounge" in Hanoi, Vietnam, and there were a wide space with a sense of openness and many delicious buffets! The fresh and clean lounge was a really satisfying and lovely lounge from the bottom of my heart!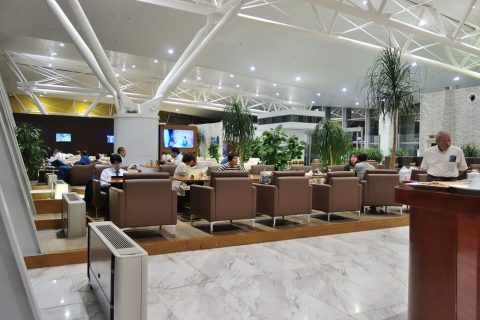 The only thing I'm concerned about is the congestion … The lounge is shared by all the companies, so it will be crowded during the rush hour. It was not crowded when I visited around 22 o'clock this time, so I recommend you to visit early when you use it!
That's the report from NIA Business Lounge! Regarding the shower in the lounge, please refer to the article from yesterday → Completely report on Hanoi Noi Bai Airport <<NIA Business Lounge>>!
♪I also recommend this link→Collection of AIRPORT LOUNGE Reviews Worldwide! Wine, buffet, Shower, etc.