They have many shops in depa-chika "Chocolat BEL AMER" in Tokyo. The chocolates are based on the concept of making chocolates that match the climate of Japan, but I went to this street shop in Kyoto of BEL AMER because it is a special shop called "Kyoto Bettei"!
There is also a cafe in the renovated Kyomachiya, where you can enjoy a bit of high-class creative sweets! It is a place where you can enjoy the unique "compromise between Japanese and Western styles" menu in Kyoto.
a store that has been remodeled from a townhouse
There are 2 "BEL AMER Kyoto Bettei" stores in Kyoto, and this time I visited the Sanjo store in Nakagyo Ward. It's a 5 minute walk from Karasuma Oike Station along Sanjo Dori.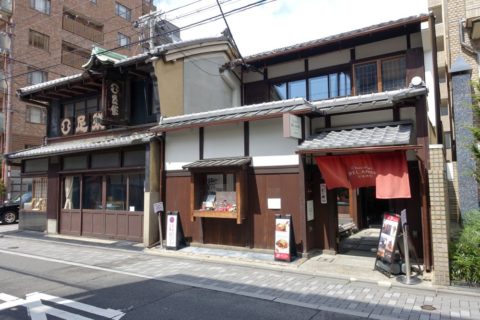 This area has many buildings with tiled roofs that are typical of Kyoto, but this BEL AMER store is also a renovated Kyomachiya store, and the appearance of the store is quite nice! It is open from 10:00 ~ 20: 00.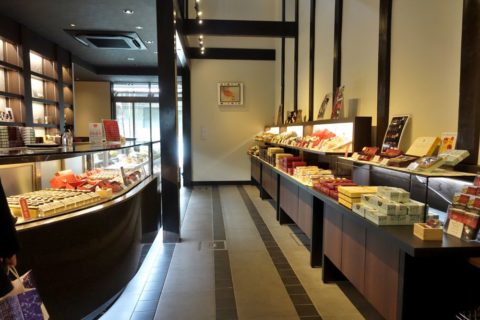 There is a shop on the first floor and a cafe on the second floor. There is a counter with a showcase on the first floor. It is Kyomachiya, and it is an interior with old pillars and beams left as they are.
Kyoto Bettei "Limited" Chocolate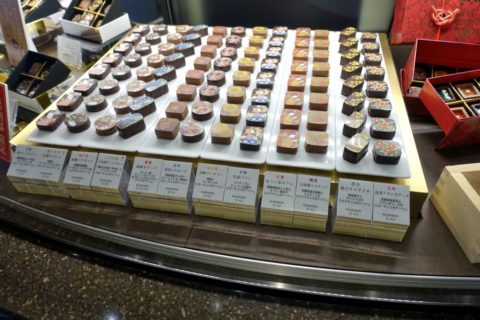 This BEL AMER Kyoto Bettei is in the news because it is a chocolate from Kyoto Bettei "Limited" that does not exist in the original!
There are also "Chocolat Miyabi" and "Chocolate Sticks" with Kyoto-like maiko and flower patterns printed on them, as well as a slightly rare chocolate called "Mizuho no Shizuku" with jelly poured in.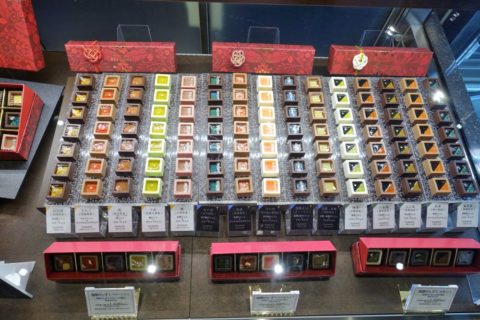 There are 15 types of "Mizuho no Shizuku". This chocolate looks cool as it has gelee made from carefully selected tea and fruits in a square chocolate that looks like a masu.
You can choose from 4 pieces (1,200 yen + tax) and 2 types of boxes, red and white, depending on the number of pieces. There is no distinction between the "Chocolat Miyabi" and "Mizuho no Shizuku" boxes, and you can choose any combination you like.
You can pay by credit card.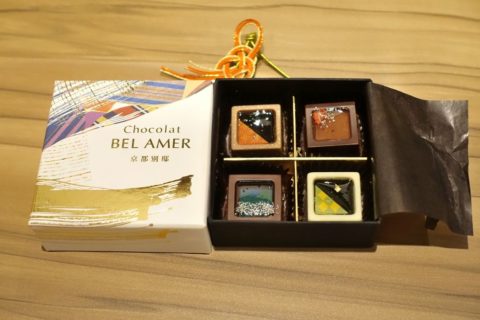 I bought "Mizuho no Shizuku" this time as a trial! Colorful appearance and reasonable size are perfect for a small souvenir.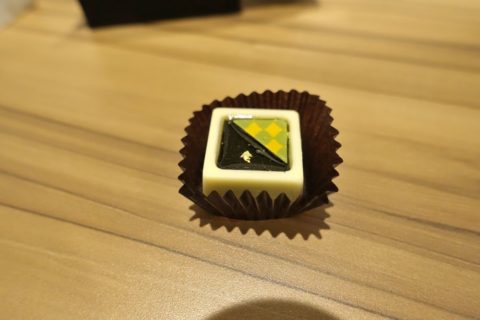 However, when I tried it, Matcha or black tea flavor didn't come out, and there was no citrus flavor in Hyuganatsu. The chocolate itself is not particularly delicious, but unfortunately the taste is Tyrol chocolate level …
It looks good, but it may not be suitable if you want authentic and delicious chocolat.
Cafe on the second floor "Chocolate bar"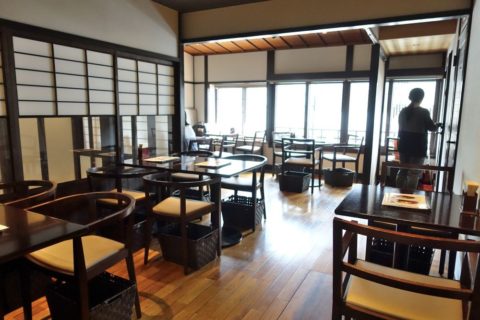 On the other hand, there is a cafe called "Chocolate bar" on the second floor of the store, and the interior is also unified with the Japanese taste of Kyoto.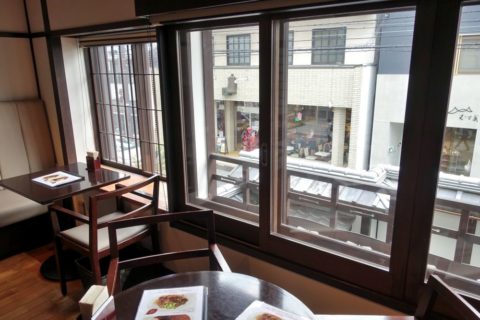 If you sit by the window, you can overlook Sanjo-dori Street over the tiled roof. In addition, this is not a general café style, but the same system as overseas, ordering at the table → table accounting.
Creative sweets and light meals are also available
This is a menu you can have at this chocolate bar, but the signature menu is a creative chocolate that uses lots of original chocolate! They have mille-feuille shaped pie crust, a Kyoto-like menu with roasted green tea taste with chestnuts, several kinds of parfait and British afternoon tea set.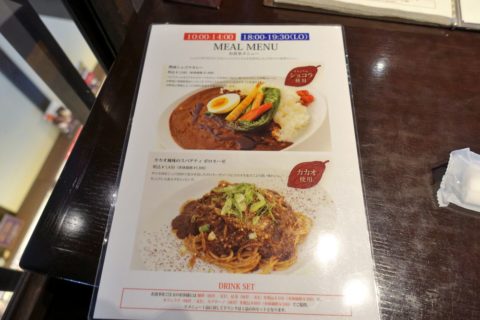 In addition to desserts and drinks, there are also two light meals available for lunch and dinner. "Chocolate Curry" and "cacao spaghetti" are interesting names.
Enjoy the rich and creative "smoked food" chocolate!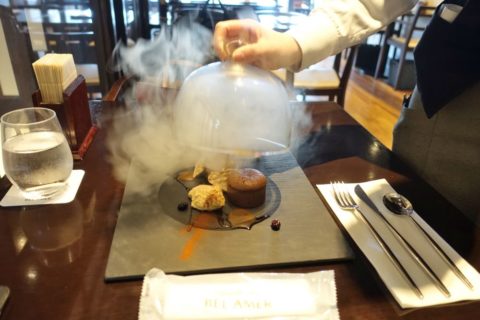 This time, I ordered a creative sweet called "Smoked Fondant Chocolate"! It is an attraction that you can enjoy even just by looking at it as soon as it comes! The smell of smoke was trapped inside.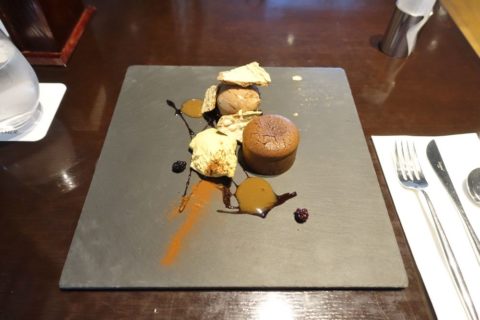 This original sweet is a column shaped chocolate cake with bitter chocolate ice cream, and a mixture of meringue, berries, and citrus sauce.
The combination of Japan and the West really gives the impression that "Works".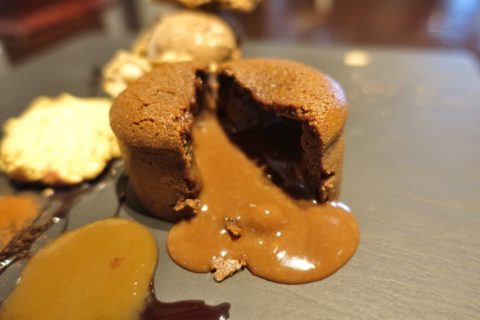 Thick and rich chocolate in the cake! This item has a slightly smoky taste as it says "smoked food". The cake has two layers, and you can enjoy both the crunchy texture and the fluffy texture at the same time. This is a very elaborate sweet!
Citrus sauce and berries are sweet and sour and delicious, and this is the best choice! It has an elegant taste, but the degree of sweetness is quite high, so it's better to have it with bitter tea.
Enjoy the luxury sweets of Kyoto!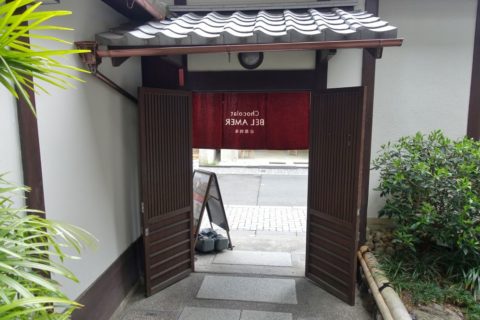 The chocolate you can buy at the shop doesn't taste good, but the creative sweets you can enjoy in Kyoto at the chocolate bar were delicious! I recommend it if you want to enjoy a bit of high-class chocolate sweets around Sanjo in Kyoto!
*In addition, please check the official website when you visit because the business hours may change depending on the social situation in the future.
Chocolat BEL AMER Kyoto Bettei (Sanjo)
Address: 66 Masuya-cho, north of Sanjo-dori Sakai-cho Higashi-iru, Nakagyo Ward, Kyoto City
Business hours 10:00 ~ 20:00 (19:30 LO)
The homepage is here.
The list of articles about sightseeing in Kyoto is here → "Kyoto"