We will continue to report on the comfortableness of a full flat bed and the taste of breakfast from the situation of Austrian airlines business class!
Summer Solstice can't sleep because of the midnight …?
By the way, for this flight, the season is around the summer solstice. In summer, the days get longer the further north you go, but since flights from Europe to Asia pass through northern Siberia, the days get longer in the air.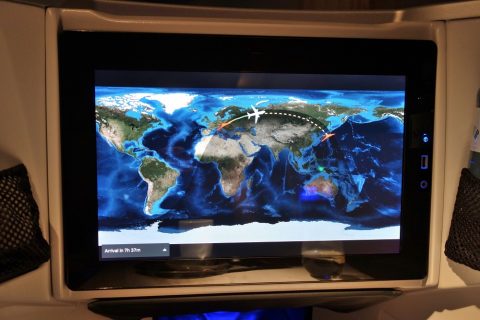 If you look at the flight map, you can see that most of them fly between day and night. It is now clear that there is little daylight on the plane between leaving Vienna at 17: 45 and arriving at Narita at noon the next day.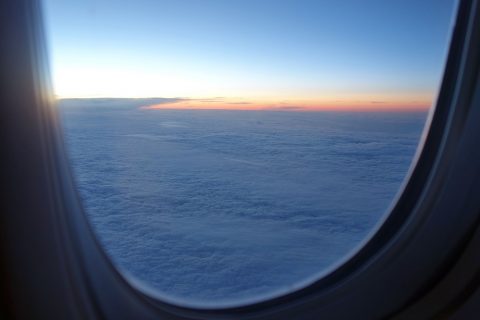 Even though it is the deepest time of the night, the outside of the window is white night! It's nice that the fantastic scenery continues, but I can't sleep as I feel the night is not coming. …
To reset your body clock, you might want to get the window shade down as soon as possible to create a "night".
How does a full flat bed feel?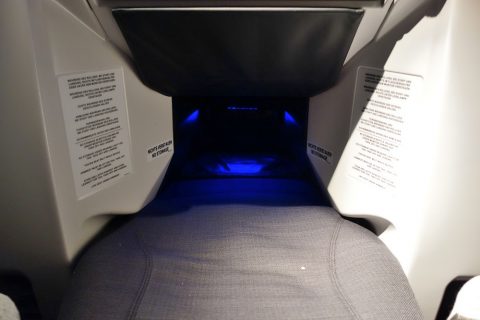 Now, I used the seat as a bed to check the comfort, but the foot space is small despite the appearance. The width of the sheet is about 60 cm, which is enough, but both the width and height are tapered towards the toes.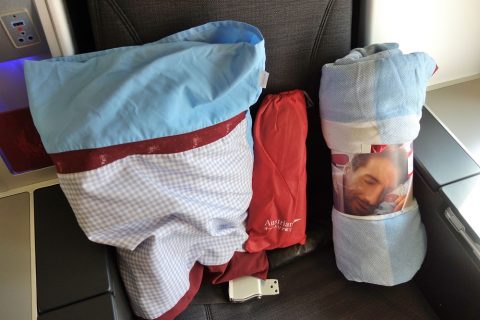 Bedding consists of only a cushion and pillow and a comforter. Unlike JAL and Tokyo Nishikawa ANA, which use AWEVE, I get an impression that this point is quite simple.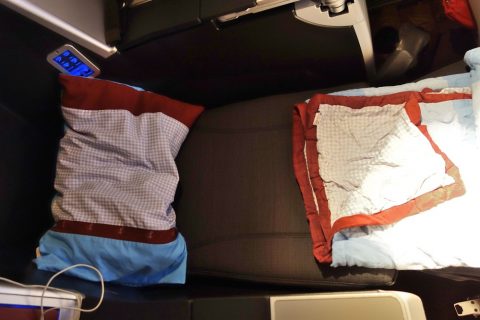 I tried to sleep in this limited bedding, but it was comfortable enough. Probably because of the shape of the seat, it was too hot to sleep due to the pressure on my back …。 As for the comfort of a full flat bed, I couldn't beat JAL's Sky-Suite I.
be served cake while sleeping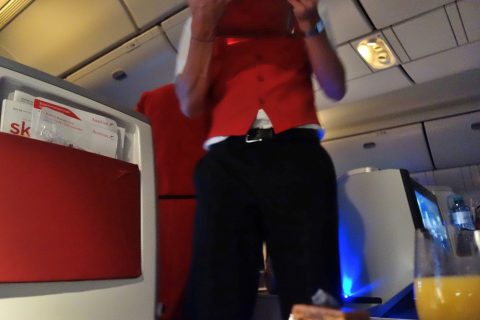 By the way, what surprised me was the service during sleep! When I was tired of watching a movie, CA suddenly appeared and served me a chocolate cake with a drink (Choose orange juice or water)!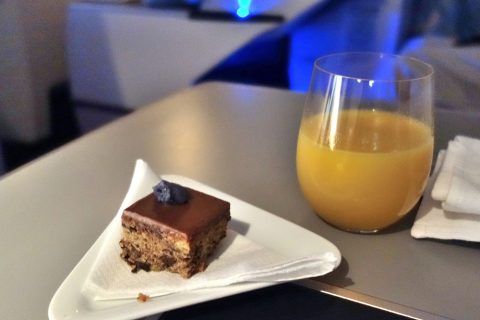 The size of the cake is about one or two bites, but the taste is just right and it tastes good to Japanese taste! It's not on the menu, so maybe you can't eat it whenever you want?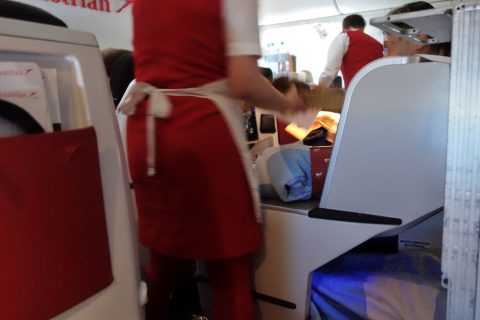 And two hours before arrival, the last service was launched! I wanted to stay in bed until the last minute if possible, but unlike JAL, they don't take a "whenever you like" stance, and everyone starts moving all at once, so it gets noisy all at once, so I can't sleep at all …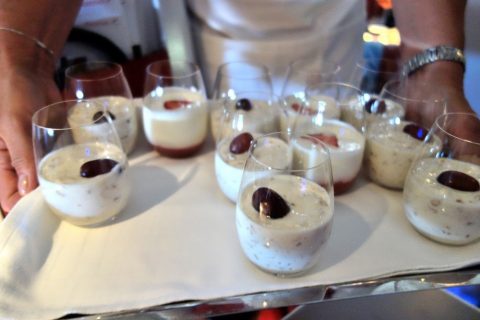 The breakfast menu details were detailed in yesterday's post (→ In-flight food report! Austrian Airlines Business Class VIE-NRT). You have a choice of yogurt and main, and CA will bring it on a tray later. As might be expected, there was no service by wagon during breakfast time.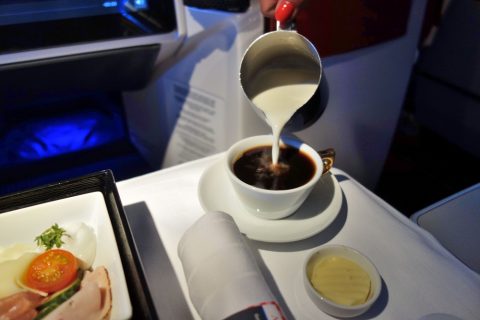 You can choose either coffee or tea, but you don't have to choose coffee from the coffee menu I told you about yesterday. It doesn't taste bad, but it's definitely not "Melange".
The taste is good! But eggs are a pity …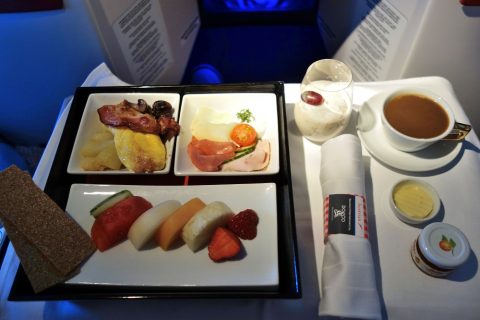 The whole breakfast is here! from top left to bottom
Omelet with Emmental Cheese, Sauteed Mushrooms and Potatoes
Ham and cheese
fresh fruit
Homemade muesli
You can choose the bread from a basket just like dinner, and croissants are also available in addition to the previous 7 kinds.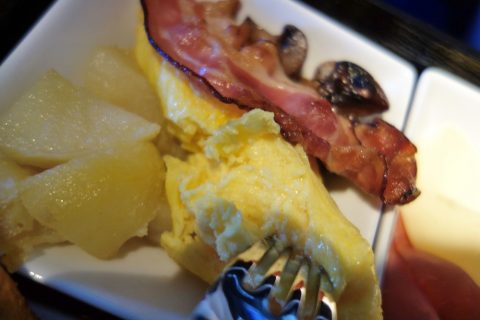 The main choice was "Caramel Pancakes" but I chose "Omelette with Emmental Cheese". The eggs are hot, but they are completely hard and not thick! I think this is a little demerit factor. …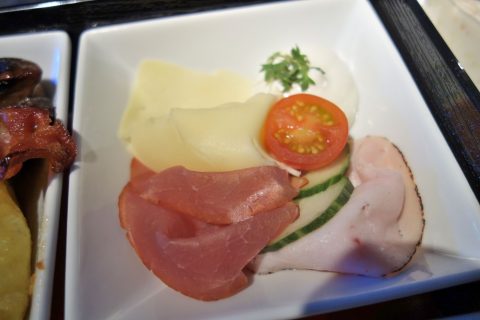 However, all of this ham is rich in flavor and delicious! The cheese is not the cheese with a bad smell that was in "Cheese Selection" but it can be enjoyed as usual.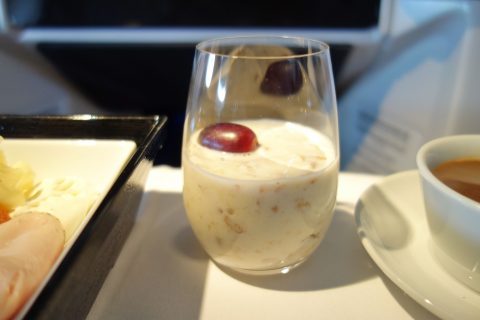 I chose yogurt "Homemade muesli". It contains cereal and white grapes, and the texture is similar to sour cream and the sweet and sour taste is perfect for breakfast! It's pretty good.
One step closer to a 5-star airline?
Finally, I'd like to give you an evaluation for this Austrian Airline Business Class service.
Seat: ★★★★☆ (4/5)
Range of in-flight meals ★★★★☆ (4/5)
Response and actions of CA ★★★★☆ (4/5)
All of them are 4 stars, exactly the same as the rating of Skytrax (lol)! As for the seat, I could get 5 stars if I sit in a solo seat, but a seat for 2 people takes up less space and I want a little more space.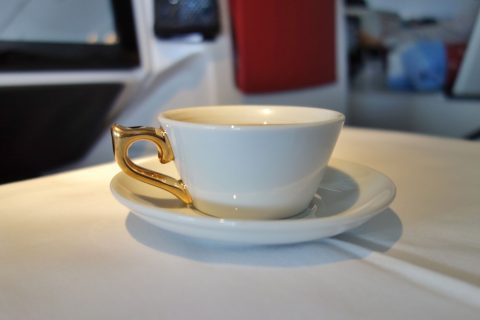 As for the in-flight meal, I was able to find a delicious menu, but I was disappointed that there was no a la carte menu where you can order freely anytime. I was disappointed that I could only order coffee at one o'clock after dinner even though I can choose coffee from the coffee menu which I am supposed to focus on.
I have a good service, but I feel that the way to provide it is bad.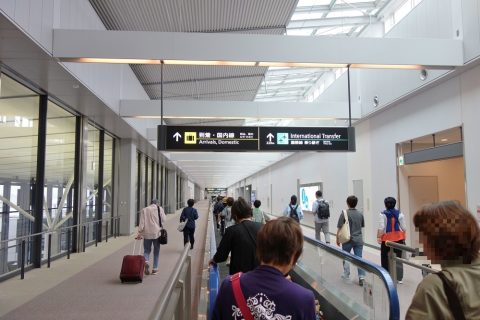 It's almost 5 stars! It was Austrian Airlines Business Class which made me feel like that. At any rate, this line is always full of Japanese tourists! I don't recommend it to those who change their mind and think about going to a foreign company for a change (lol).
For the Austrian business class, please also see the food reports for the seats and dinners.
♪Click here for a List of articles on "First Class & Business Class Airlines worldwide (Seat, In-flight Meal, etc.)"