BTS is a railway line essential for transportation in Bangkok. Just like in other countries, if you buy a ticket and go through the ticket gate, you can use it easily, but at first I was a little confused because the ticket machine was hard to use and there was a baggage check.
I would like to see how to ride Bangkok BTS, how to buy a ticket and a route map.
Bangkok BTS Route Map
You can download Bangkok BTS MAP from transitbangkok.com page.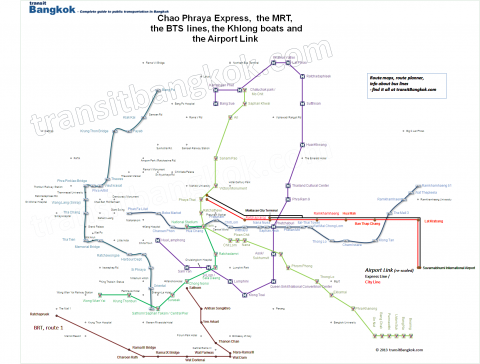 It's an official website, so there should be no mistakes, and the station name is in English, so I think it's easy for tourists to understand. In addition to the BTS and MRT, the Chao Phraya Express and the Saen Saep Express Boat are also listed, so you'll have plenty to see (Chao Phraya Express Boat is a little scary Express Boat ride! article reference).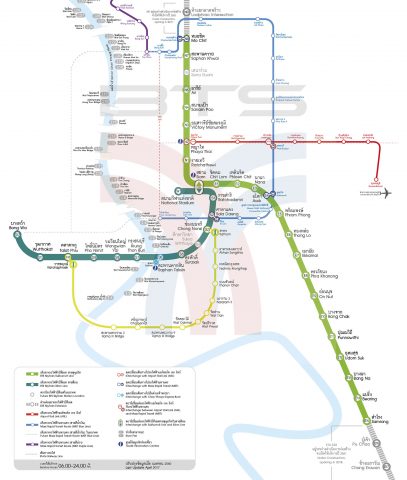 However, it doesn't have Thai in it, so I used this map. This is convenient for taxis that have difficulty communicating in English because you can say "To ○○ Station" while showing a map. Thai sounds like hieroglyphics, and it's not easy to read or even write, so this parallel writing with English is a great feature.
ticket machine that doesn't accept bills
There is nothing particularly difficult about how to buy BTS tickets, but I was a little confused at first.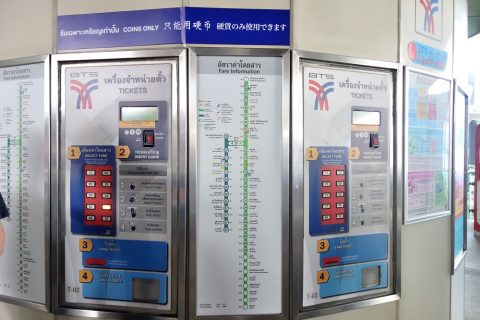 If you go to BTS station, there is a pole with a ticket vending machine in front of the ticket gate at every station. Probably because all local people have IC cards like Suica on Japan, there was no long line at the ticket vending machine even during the evening rush hour.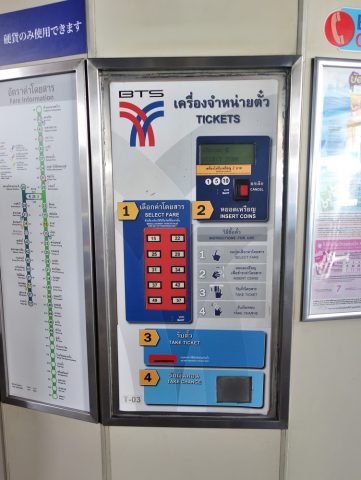 To use it, first check the fare on the route map on the left side, press the corresponding button and insert the money, then the ticket will be issued. If you put money in without pressing the button, everything will come out, so be careful.
Tickets are card type. The back is a route map in English, so it's convenient.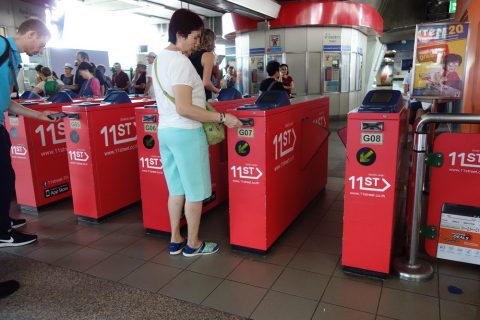 Insert this card into the slot at the ticket gate, and when you receive the card ejected from the upper part, the gate opens. If trains arrive and depart at the same time, the traffic will get a little jammed. … If the exit of the ticket is at the back of the gate like in Japan, I think the flow will be smoother.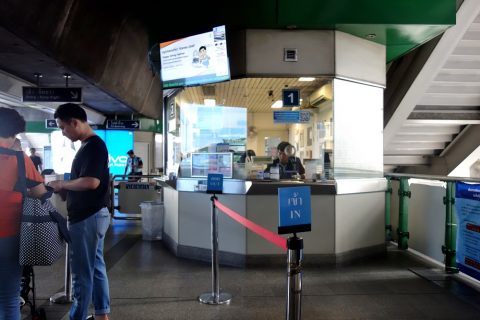 In addition, the ticket vending machine only accepts coins, so if you only have bills, you need to change them at a nearby counter. At first, I wanted to buy a ticket directly at this window, so I took out a bill with a paper on which the station name was written, but I was told to buy a ticket at the ticket machine.
But they break big bills like 500 baht or 1000 baht without complaining (In that case, 4 100 baht bills and coins.), so I think it's perfect for breaking big bills caught at the money exchange.
Loose? Strict? baggage inspection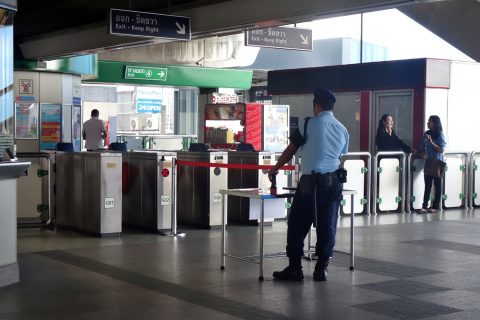 When you go through the ticket gate, there is a security guard waiting for you to check your baggage. Only bags could be checked, and after holding the metal detector over them, they were forced to open them and carefully checked with lights. I don't know if it's during rush hour, but there's always one guard. But I've never seen a line here.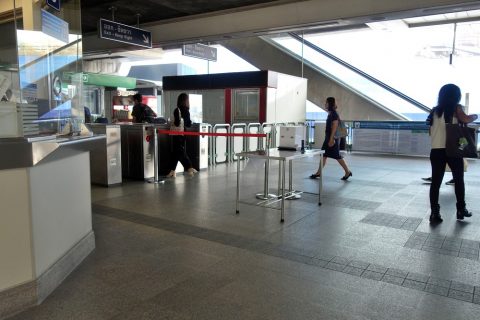 Therefore, depending on the station or the time of day, there are no security guards and the trains are often not inspected. Even if there were any, there would be local people who passed by other people when they were being examined … and you wouldn't know how serious they were.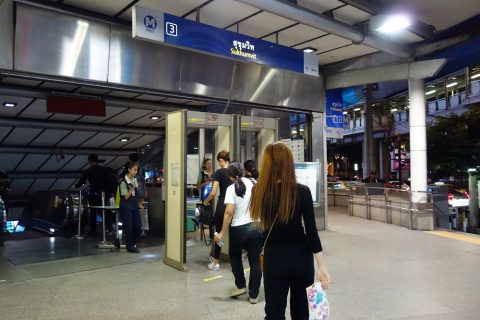 In addition to the BTS, the entrance of the MRT station was also inspected by the metal detector, but no one stopped it no matter how many sounds it made, and the credibility is unknown here …, but if it is peaceful, there should be no problem.
IC card "Mangmoom" coming soon?
The BTS in Bangkok, which is a bit of a pain to ride, will soon start operating a common IC card "Mangmoom Card" that can be used on all railway lines.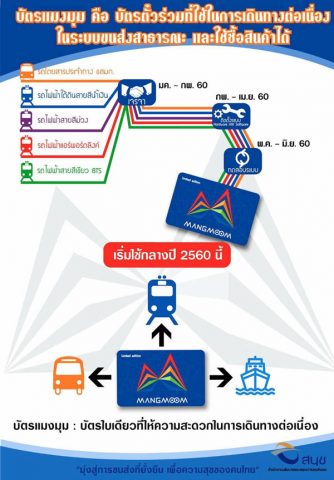 It's called " Mangmoom " and can be used for BTS and MRT in Bangkok, as well as buses and airport links from Suvarnabhumi Airport to downtown.
It was originally scheduled to go live in the summer of 2017, but that has been pushed back to 2018, according to … (As of 2020, only Thais can use the membrane card, and foreigners cannot use it.).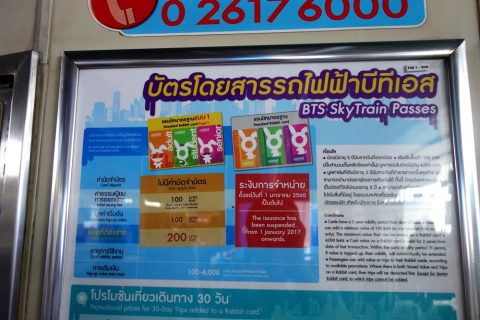 By the way, there seems to be an IC card which can be used only for BTS, and the name is called "rabbit card". However, since it costs 100 baht for the issuing fee and deposit, the expiration date is 2 years, and it cannot be used for other lines, it is not easy to use for tourists who stay for a short time, and I think there is no merit to purchase it.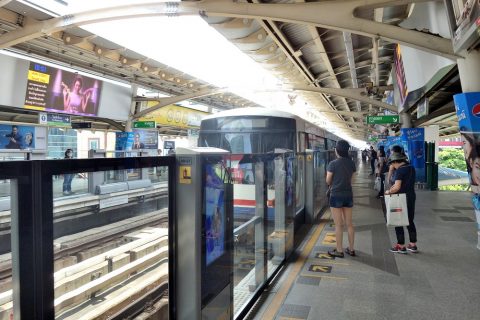 We have looked at how to ride the Bangkok BTS, but once the common IC card is available, it is desirable to extend the line to the old urban area. There seems to be a plan, but there is no sign that the construction will start, so I wonder when it will be.
♪Click here for a List of articles on "Bangkok"