I found a cute cafe in Lisbon, Portugal! Its name is "Banana Cafe". It's an impromptu cafe set up at a tram stop, but the tram shaped shop is pretty cute!
There are terrace seats around and the atmosphere is good, so I recommend this cafe!
cafe at the tram stop
Banana Cafe is located in front of the Mosteiro dos Jerónimos stop. You can come with a 15E or 18E tram.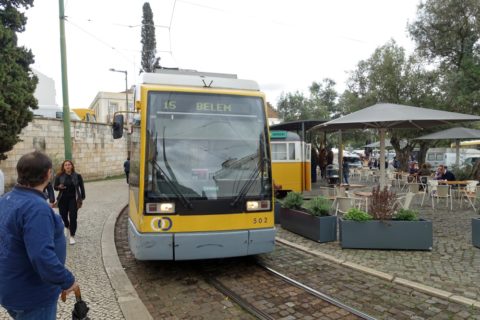 Just outside the tram is a little bit of a roundabout, surrounded by tracks and lots of space, where chairs and tables are lined up like a cafe …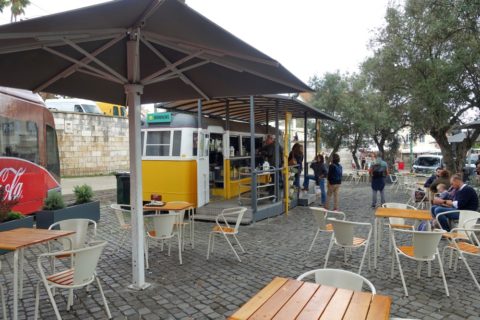 When I went there, I found a cafe in the shape of a retro tram! The yellow car body and "BANANACAFE" headmark make it look pretty.
This is a self-service cafe where you order at the store and take it to your favorite seat to eat and drink.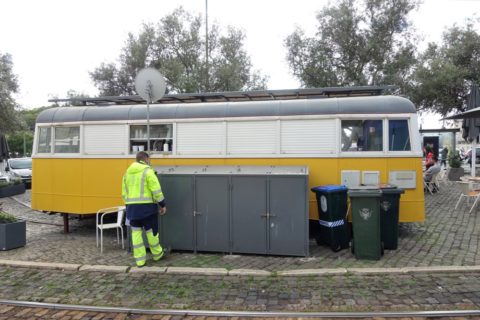 If you take a close look at this store, you can see that it is built on a railway that is not in use now! The car is staked, not on wheels, but in a nice atmosphere!
Nata is €1! We have sandwiches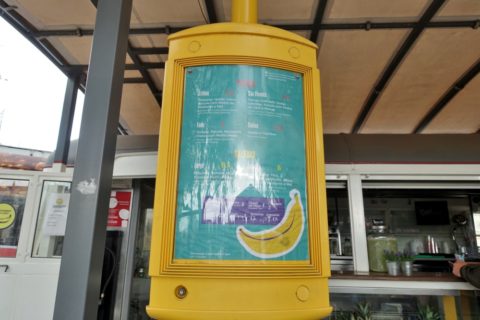 Banana Cafe has four sandwiches, two salads, pastel de natas and croissants, and milkshakes and fruit juices.
Since the price of Nata is €1, which is a reasonable price, it is not a store with special tourists in mind.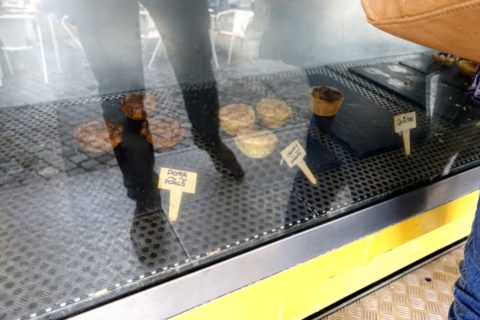 There are Portuguese style sweets in the showcase, but by 2 PM they were almost out of stock … Maybe it depends on the timing, but they may not be replenished very often.
Have a cup of coffee on the terrace with a nice atmosphere!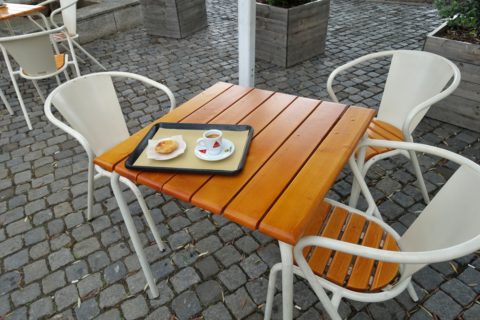 This time, I made a standard set of Nata and coffee! I didn't check the price of Nata for €1 and coffee alone, but I don't think I paid €2 for the set.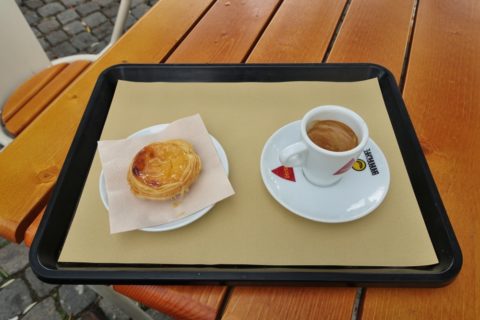 Nata is cold, but fruity custard cream is a little sweet, so you won't get tired of it. Espresso coffee also has a standard bitterness and sourness, and is popular among people.
If you can eat it fresh, your impression may change a little.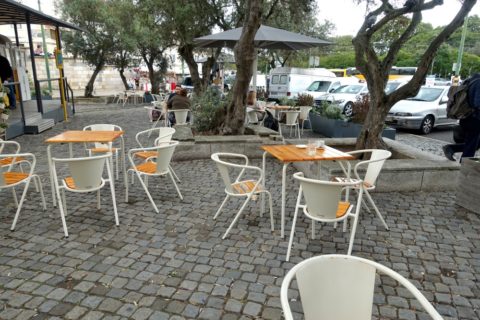 This terrace seat where you can enjoy such a coffee break is not a place where you can see a special view, but it is open and the atmosphere is good!
There is a church of Santa Maria de Belem right next to here, so it is an area with a lot of tourists, but only in this corner, there are few people and it is quiet and relaxing, and what makes me happy is that it is not crowded even during the afternoon tea time!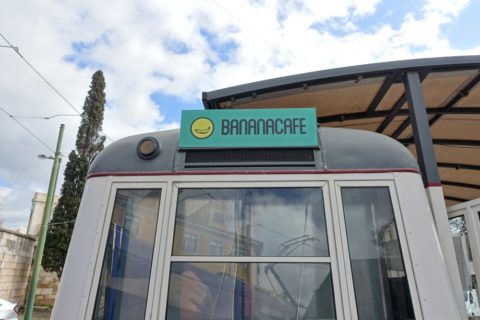 When I look it up later, it looks like Banana Cafe is a chain with several stores in Lisbon, but this is the only cute store! According to the reviews, you can drink beer and wine at a good price depending on the season and time.
If you have a chance to take a break during sightseeing, please try it!
★Please also try this → "Lisbon" article list