The flight from Vienna International Airport to Narita is Austrian Airlines business class! At one time, Austrian Airlines had suspended flights to and from Japan, but on May 15, 2018, it was restored only for the summer schedule!
I would like to tell you what kind of service Austrian Airlines has been able to resume its long-cherished dream.
※This article was written before the virus scandal. This will be updated.
priority seating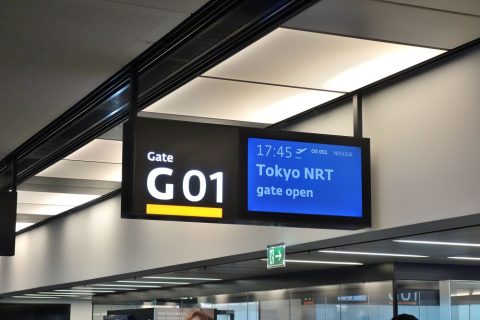 The flight is OS 051 for Narita, departing from Vienna at 17:45. The departure gate was G01, and fortunately the closest gate from the lounge was helpful!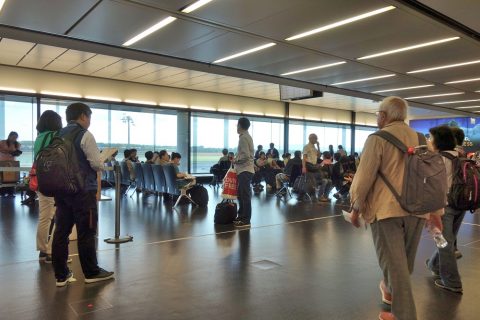 Looking at the waiting room, 90% of the passengers were Japanese. I felt it when I boarded many years ago, but there are many Japanese in Austria Airlines. Especially, there were many tour groups, and I saw many people who looked like tour guides.
There is a partition around the seat in front of the gate, which is the priority seat for Senator and Business.
Recently, I have seen the way to distinguish from the waiting room stage at airports in various countries, but there were a lot of people who couldn't get a seat probably because there were few general seats, so I feel sorry for them. …
B777-200er Business Class Sheet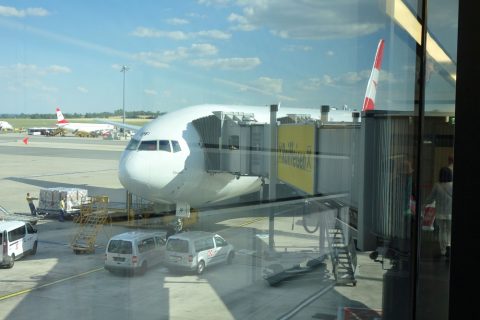 Boarding starts 30 minutes before departure! This aircraft is used for domestic flights by B777-200 er, JAL, etc., but it is the largest aircraft among Austrian Airlines.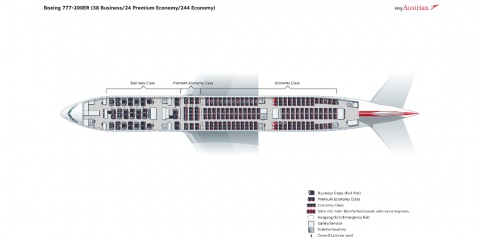 The sheet map is here. It has irregular staggered specifications and is similar to the business class of Malaysia Airlines.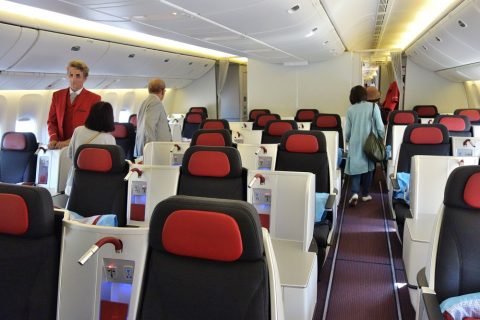 Business class has 38 seats and originally had 48 seats, but 10 seats have been upgraded to premium economy class. The seat with the characteristic contrast of black and red is the symbol color of Austrian Airlines.
Only 6 King seats!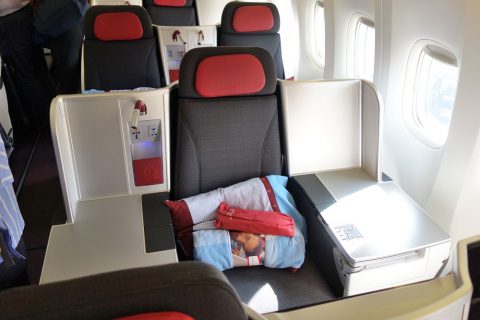 Here is the seat I reserved! This is the so-called "throne" which has side tables on both sides of the window 3A seat. As was the case with Malaysia Airlines, there are only six seats in the entire business class, and the competition is quite fierce.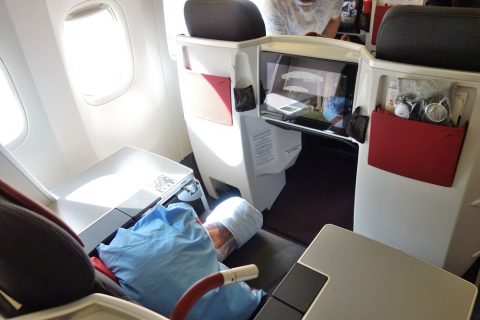 After all, it's good that it has a large footprint! The height of the partition with the front seat is a little low, and Malaysia Airlines wins in terms of the feeling of a private room. (Reference → Malaysia Airlines A 330 Business Class boarding record! Narita – KL)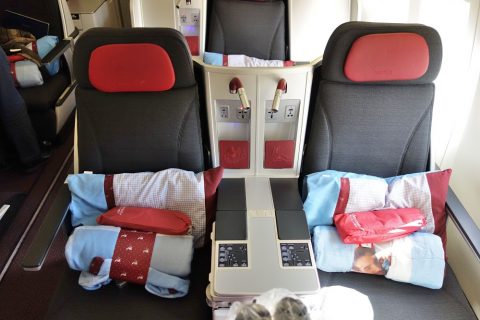 My front and back seats are for two people like this. Compared to my seat, the area for one person will be half. I don't mind if you are boarding with your family or a couple, but as expected, I don't want to ride with other people …
Equipment around large side tables/seats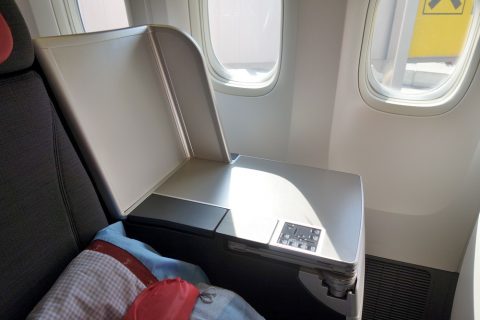 Next, let's take a look at the facilities around the seats! This large side table is really easy to use, convenient for putting your phone or camera down for a while, and useful when you want to put a spoon, fork or glass down for an in-flight meal.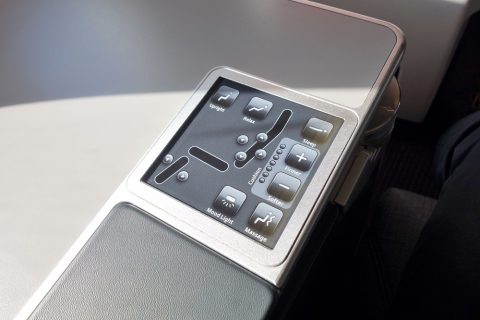 However, this seat controller is a touch panel type, and it is in a position where you can easily touch it when you don't intend, so I was surprised when the seat suddenly moved.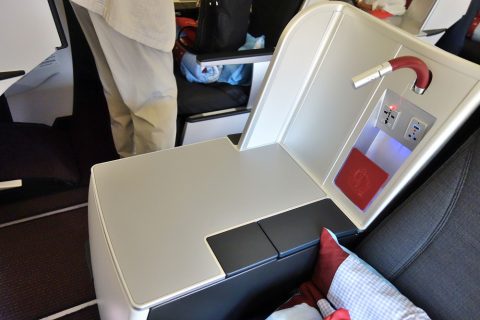 The table on the right has an outlet for reading lights and USB power. It is convenient that it comes with a holder to hold a smartphone, etc.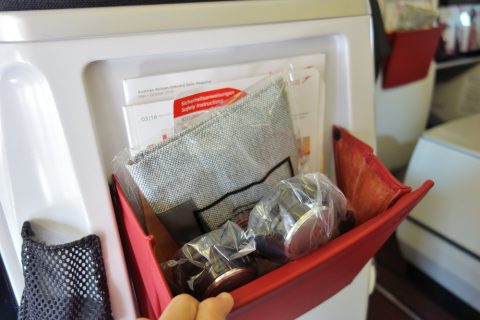 There are 2 seat pockets on both sides. Headphones and amenities were included from the beginning.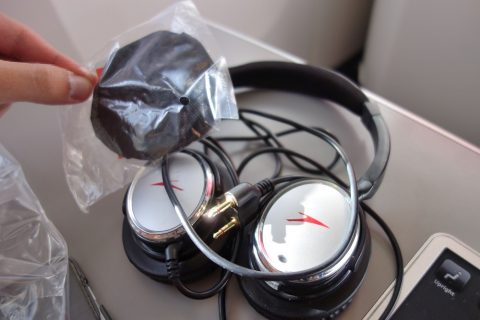 The headphones have noise cancellation. It's nice that it comes with replacement ear pads.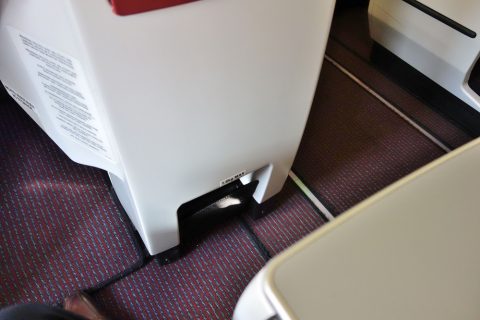 There is storage space at my feet, but I thought I could put my shoes in it, but it was shallow and I couldn't put them in at all …
The amenities are made by an Austrian manufacturer.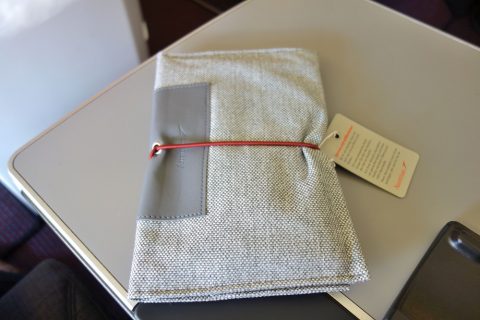 The amenity is a gray soft case. I think the size is easy to use. The fabric is thick and sewed well, so it won't sag even if you use it up.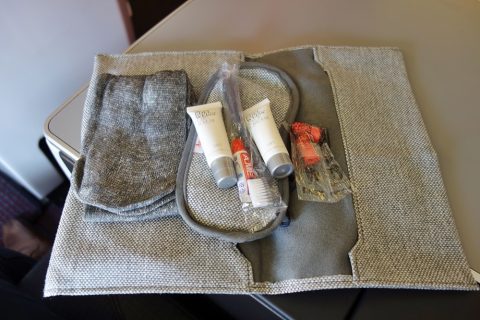 There are 6 items inside: eye mask, socks, earplugs, toothbrush, lip cream, and face cream. The eye mask is made of the same material as the case, so it is very durable and good!
The 2 types of cream are "Siin EDITION EDEL WEISS", an Austrian cosmetics maker.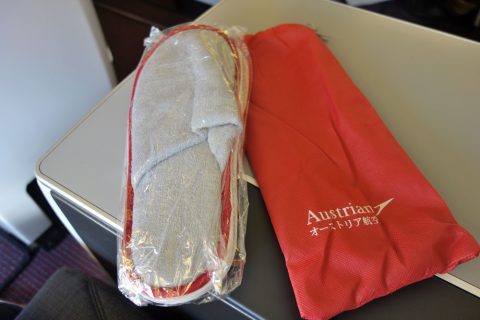 The slippers come with a carrying case with a Japanese logo. Thick-soled slippers are fine, but there is no shoehorn.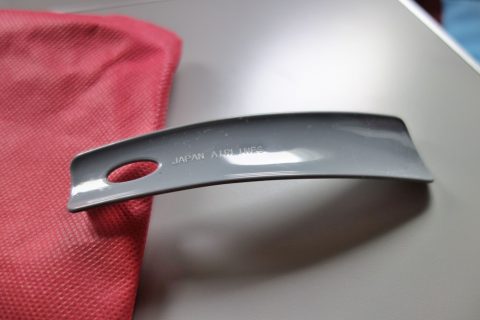 It is very convenient to have this when you take off and put on leather shoes in a small cabin. This shoehorn is always attached to the business class of JAL and ANA, so it is worth evaluating.
A little unusual? welcome drink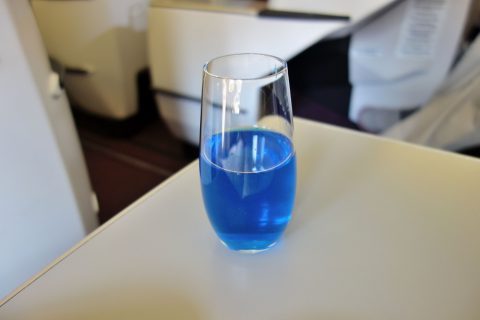 Well, a welcome drink was served just before departure, and there are two alcohol choices. One is regular sparkling wine and the other is this blue drink. I didn't quite catch the name, but this is an Austrian original sparkling wine.
It tastes not unlike Blue Hawaii, but it has a neutral taste in both sweetness and bitterness ….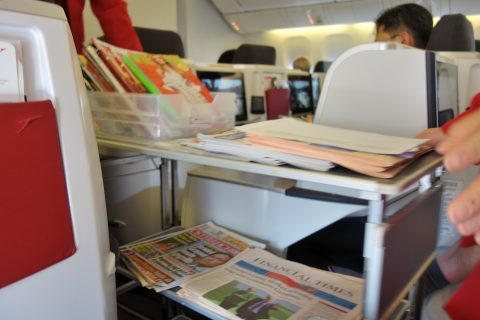 The newspaper service is only available in English and German, and there are no Japanese newspapers. It can't be helped because it's from Vienna, but other airlines are distributing printouts from the data, which is a little negative …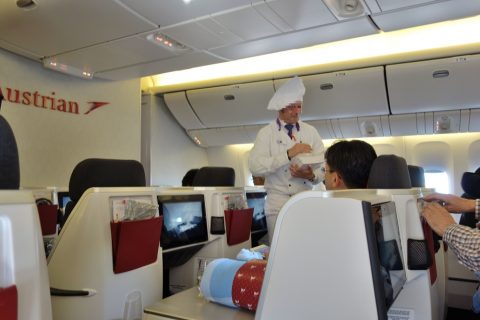 So, Austrian Airlines Business Class, next time I'll report on in-flight meals! → In-flight food report! Austrian Airlines Business Class VIE-NRT/Viennese for better or worse?
♪Click here for a List of articles on "First Class & Business Class Airlines worldwide (Seat, In-flight Meal, etc.)"