This article reports on the "Anytime Fitness" gym in Kuala Lumpur, Malaysia, which I visited in May of this year. "sports autumn". Anytime Fitness is the gym I go to now, but it is a very convenient gym that you can use all the shops in the world without any special procedures.
It was the second time for me to use an overseas store after Singapore, and the store I visited in Kuala Lumpur was spacious with very few customers. I was able to use it very comfortably!
Anytime fitness near KLCC
Anytime fitness with stores all over the world. We have some branches in Kuala Lumpur, Malaysia.
However, there are surprisingly few in the center of Kuala Lumpur, and only suburban residential areas exist. The only place I found was a store close to KLCC. It took less than 10 minutes on foot from the entrance of the KLCC station building SC, but I think it takes about 5 minutes from the monorail Raja Chulan station.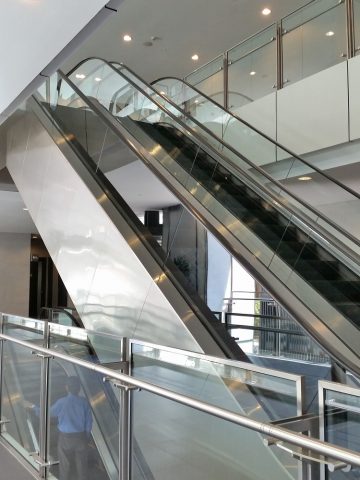 It's a whitish 30-story high-rise building, and the upper floor seems to be an office. I was a bit lost because there was no sign or guidance of Anytime Fitness, but there was an escalator on the 1st floor of the building (Grand floor?), so I use it to go up.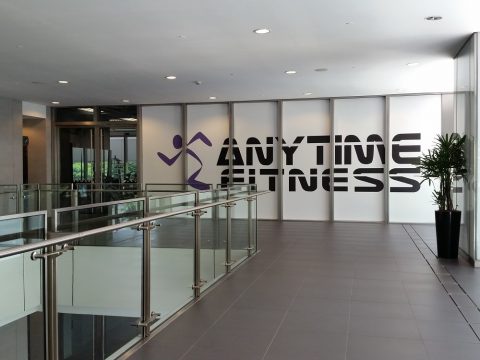 He found the (Probably on the fourth floor.) on the top floor, accessible by escalator. The whole area of this floor seems to be a gym.
It's so big! machine area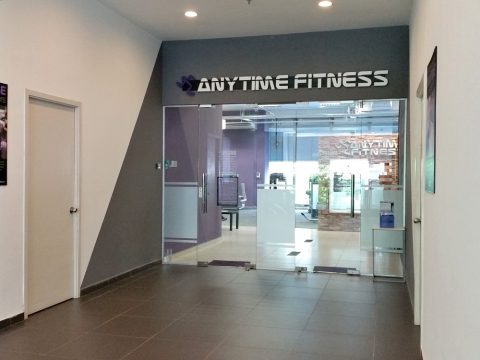 The store entrance is here. There is a reader on the left side of the door that holds up the electronic key, so if you touch the key there, the lock will come off and you can enter.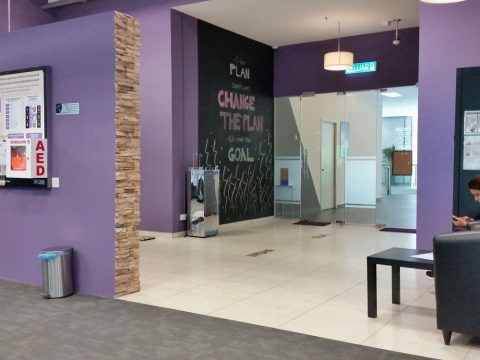 When you enter, there is an office next to the entrance. At that time, there were about 2 staff members, but they didn't say anything or write documents just because a foreigner came in, so it was a complete wait-and-see.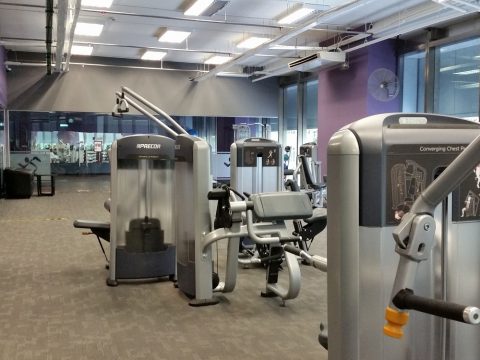 Machine area near the entrance. It's spacious enough to have too much space and the ceiling is high, so it has a sense of openness. There are all kinds of machines, such as leg press, leg curl, shoulder press and crunch, but each machine is only one for a large space.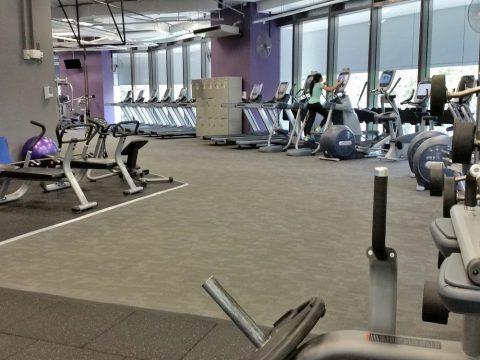 If you go to the back, there is a space where you can exercise by using an aerobic machine by the window across the aisle and a ball or belt by the wall. Machine area with a structure like drawing an arc along the shape of a building. It's so spacious that it feels like it lasts forever!
One bench press power rack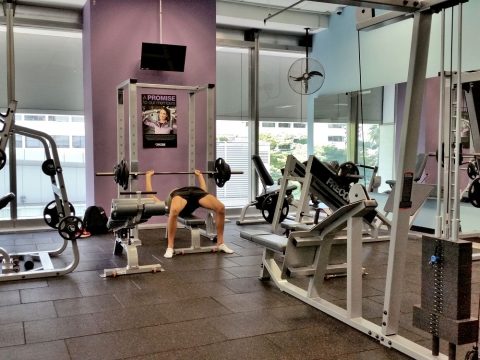 My main free weight area is at the very end of the floor. This is also the place where you can find a pulldown seed row. I think it is quite a large space among the free weights, but there is only one bench press and one power rack each.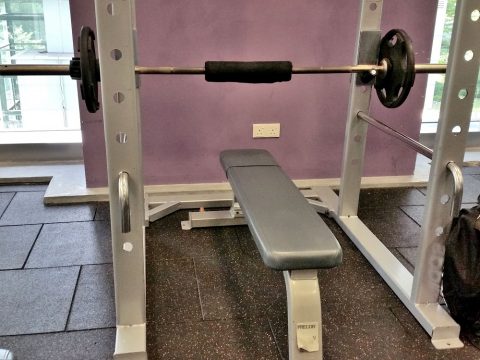 The competition for this power rack and machine gym is so fierce that they are competing for the first and second place, and there are times when I don't have an hour to spare even in my usual Anytime. It takes up a lot of space, so there aren't many stores that can store 2 or 3 cars, but it's a bit surprising that they only have 1 car at a time in such a big store …。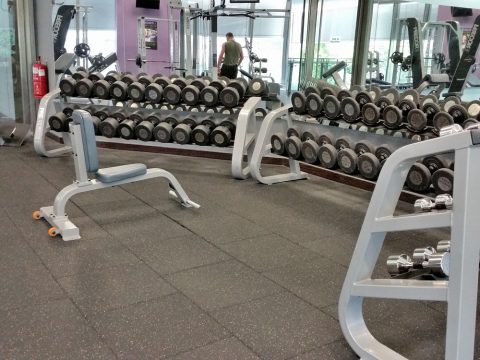 In addition, there are 2 pairs of dumbbells of the same weight. There is a lot of demand for this, but there is only one pair in my anytime, so I'm jealous.
The shower lockers are outside.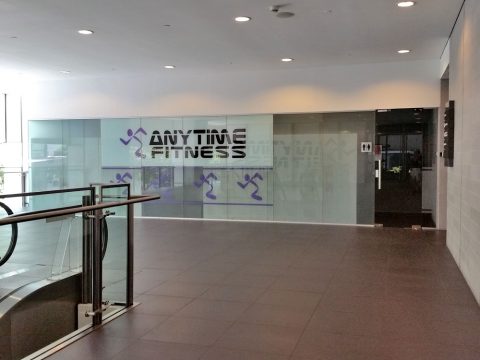 By the way, the shower room of this store is not in the area where the machine is, so you need to go out of the store and enter through a different door.
On the other side of the escalator hall is a door with a sign like "toilet sign" which is the entrance to the shower room. You need to hold the electronic key over here to unlock it.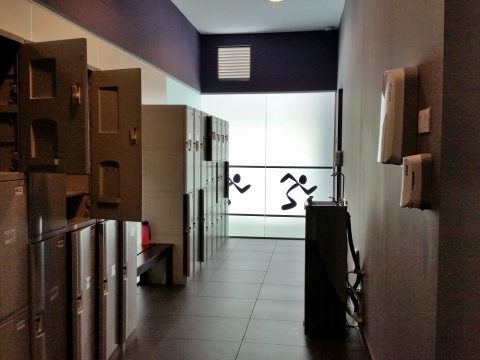 When you enter, there is a locker room, and there are separate shower rooms for men and women. Just like the machine area, you can wear your shoes here.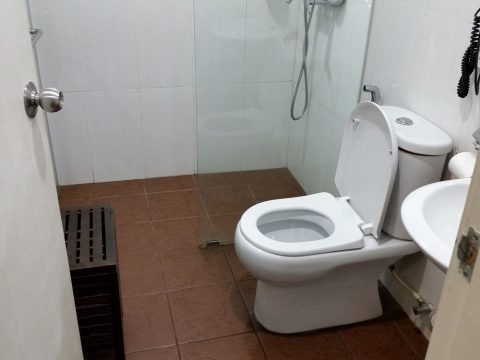 There were 6 shower rooms for men, half with a toilet and half without. There are no amenities, but there is a hair dryer. It seems to be cleaned, but it doesn't have a luxurious feel like an airport lounge. It might be a little annoying right after people use it. …
large machine gym in central KL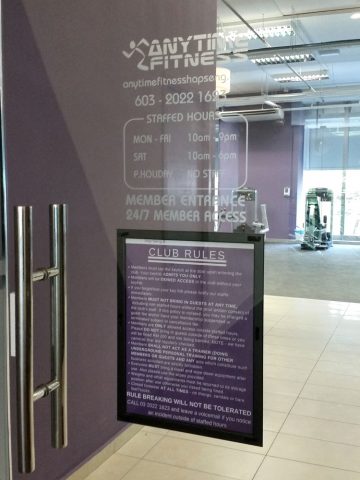 That's why Kuala Lumpur, an international Anytime Fitness store and the second experience store, was a comfortable machine gym with a large space! It is amazing that there is a gym of this size in the city.
♪Click here for a List of articles on "Kuala Lumpur"