"Anytime Fitness" is a fitness gym that is open 24 hours a day, 7 days a week. It is a chain store that has more than 3000 stores in Japan and all over the world.
Actually, after I quit Megalos and went to several gyms, I now go to this Anytime Fitness. Anytime Fitness doesn't require any special procedures or additional fees when you become a member and you can use stores all over the world, but I was skeptical at first whether you could really use it so easily. However, when I actually went there, I was able to enter the restaurant without any problems and work out without any problems.
※This article was written before the virus scandal. This will be updated.
Anytime Fitness – Upper Cross Street
Anytime Fitness has a number of shops in each city in Japan, but there are more than 10 in Singapore. At first, I went to Queensway store near the hotel, but Tenant building itself is not open probably because it was early in the morning, …。 and not all stores are open 24 hours.
So I went to the Upper Cross Street store. It's in Chinatown right near "Suri Mariaman Temple".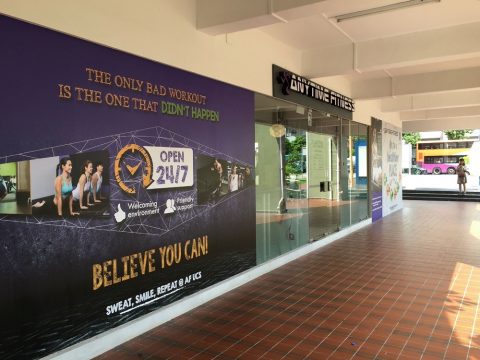 It is located in the building facing the main street, but it was a little hard to find because there was an entrance in the back. But it is located on the first floor, so you can enter without hesitation.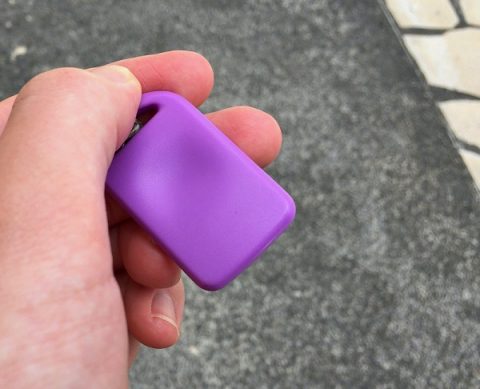 There is a sensor next to the entrance, and when the electronic key is held up, the lock on the door is unlocked and you can enter the store in the same way as in Japanese stores. I was worried about … what I should do if I couldn't enter because of the error sound, but the lock came off and I was able to enter the restaurant without any trouble!
two-tier store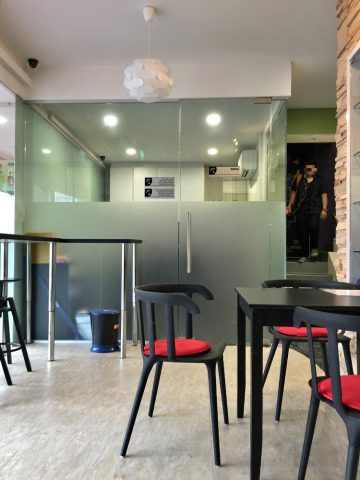 When I went inside, there was a lobby near the entrance. Inside the glass door was the office with staff, and as soon as I entered, a female staff came out to greet me. I was worried for a moment that I might be told something, but I said "Welcome!" which made me happy!
Also, you can enter the store with your shoes on in the Japanese store, but you can also enter here with your shoes on.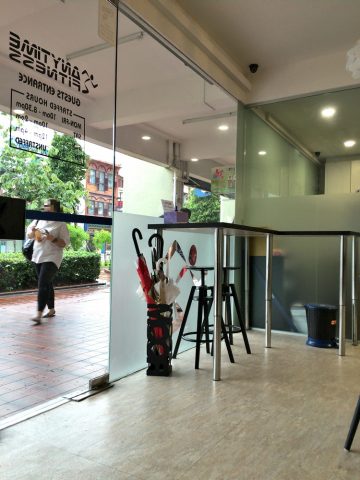 If you look at the glass door at the entrance, the opening hours of this shop are written. It is open 24 hours a day throughout the year, with staff at 10: 00 ~ 20: 30 on weekdays, 10: 00 ~ 14: 00 on Saturdays, and 12: 00 ~ 16: 00 on Sundays.
This store has two levels, the first floor is the machine area and the second floor is free weight. There were simple lockers on the first floor and key-lock type lockers on the second floor.
1st floor "machine area"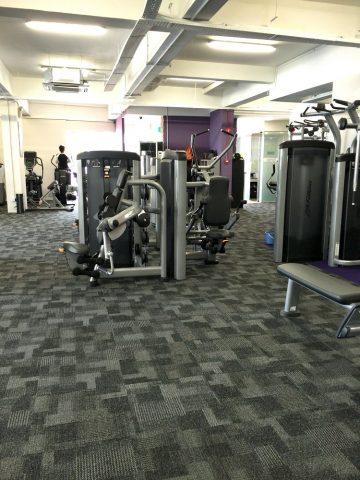 Then, I would like to see from the first floor first. The first floor is a machine area. There is a lot of space without machines, and it feels more spacious than the actual space.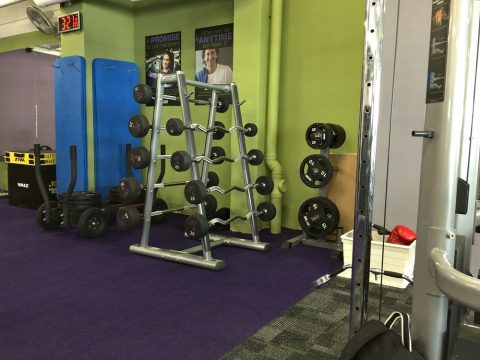 Some areas have barbells. There is also TRX.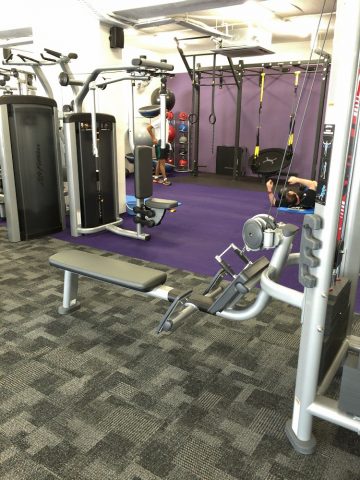 The machine manufacturer is the same as in Japan. There is one basic machine such as Abdominium, chest press, leg curl, and the combination of pulldown and sheet draw is exactly the same as in Japanese stores.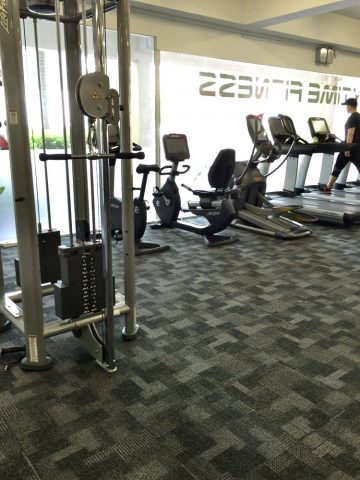 The number of running machines is rather small, only about 5 ~ 6. Instead, there was a wide variety of other aerobic machines, including several cross-trainers and step machines.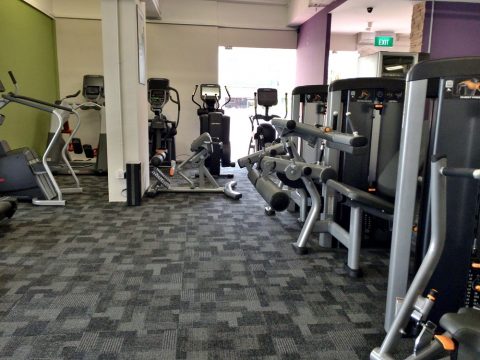 At that time, it was around 3 PM on a weekday, but there were only about 4 ~ 5 passengers on the 1st floor. I was able to train smoothly without waiting for the machine. Recently, it has become crowded even during the daytime on weekdays in our local Anytime, so I'm envious.
2nd floor "free weight"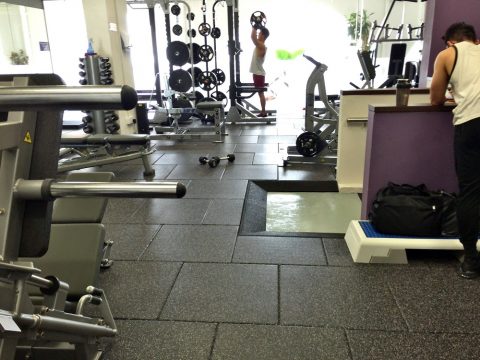 Next is the free weight area on the second floor. The 2nd floor has only free weights and a shower room (changing space), but it is quite small and about half the size of the 1st floor.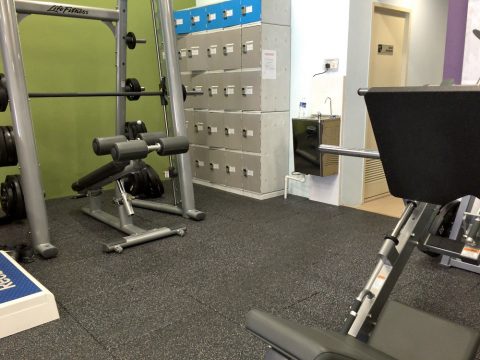 There is a bench press, a power rack, a Smith machine, and a real leg press.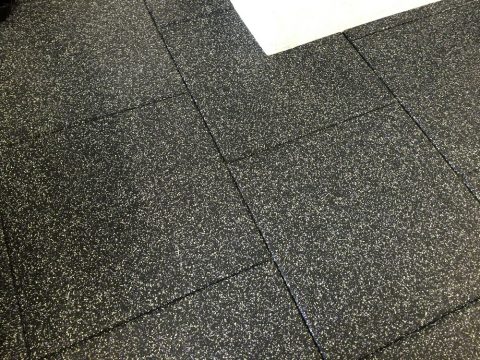 Different from the first floor, the floor is made of shock-absorbing material. It is softer and a little more fluffy than my local shop in Japan, but it is so good that it doesn't make any sound even if you drop the dumbbell from above! This should be adopted in Japan, too.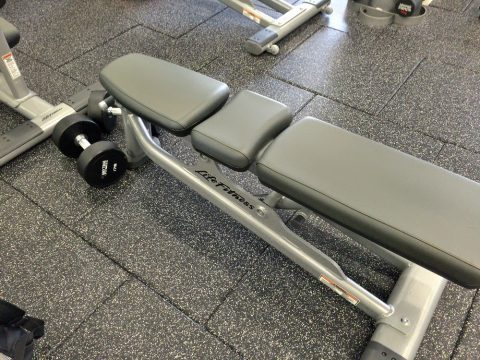 There are 2 training benches separate from bench presses and power racks, so you don't need to train with dumbbells.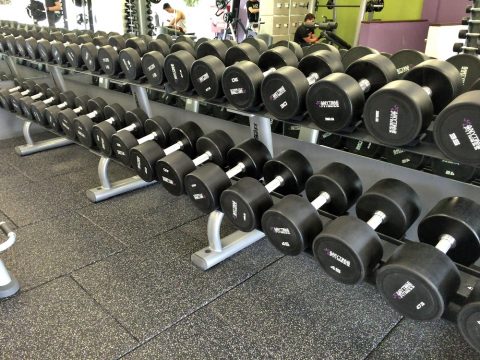 One pair of dumbbells for each weight. However, there are 2 pairs of light and heavy items that are in high demand, so I think you don't have to wait even in the rush hour.
I tried the power rack.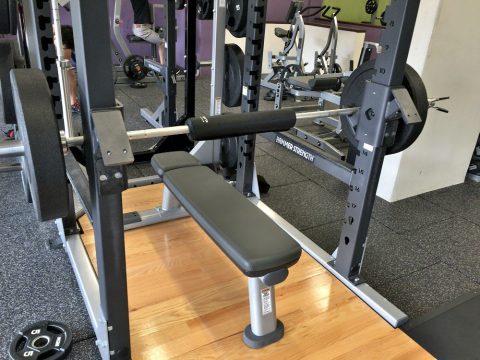 Then, I would like to do bench press using this power rack.
For some reason, only this power rack is covered with wooden boards. But I don't want it because the height of the safety bar doesn't fit because of this wooden board.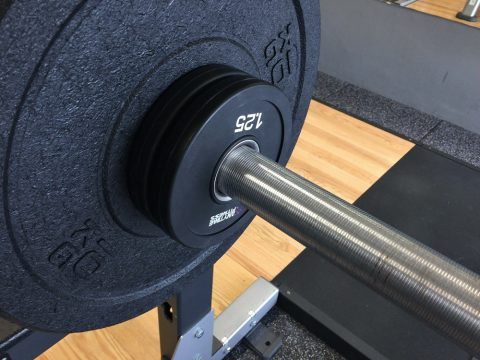 The manufacturer of the power rack is the same as Japan, but the specification of the weight is different from Japan. But it is kept clean and not difficult to use (Some gyms get greasy and sweaty and rusty and have difficulty putting it on a barbell.).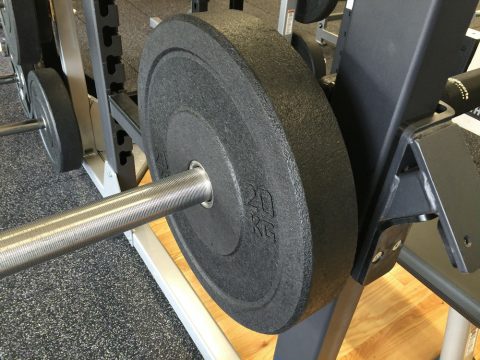 I usually do it with weight + α, but I'm on a trip now, so if I get injured, it would be terrible. I'll keep it at a light 60 kg.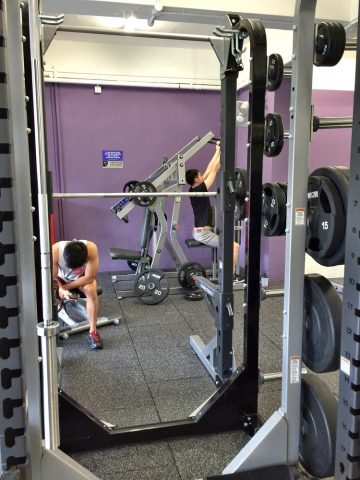 By the way, the customers of this gym are mostly Asian-Americans with fair skin, maybe because it is in Chinatown, although there are some Caucasians. Most of them are in their twenties, which is the same as our hometown.
shower room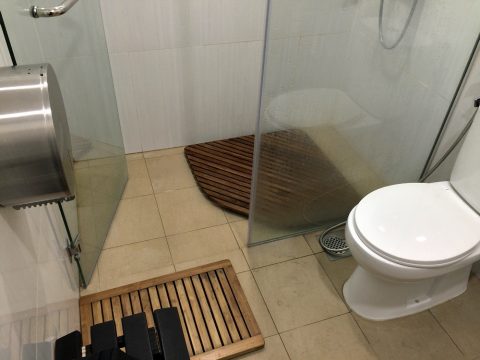 Finally, let's take a look at the shower room. It is unisex and has a shower booth and toilet. It is not as clean as an airport lounge, but it is not as dirty as a station toilet.
The shower has a rain shower. There are no amenities such as shampoo.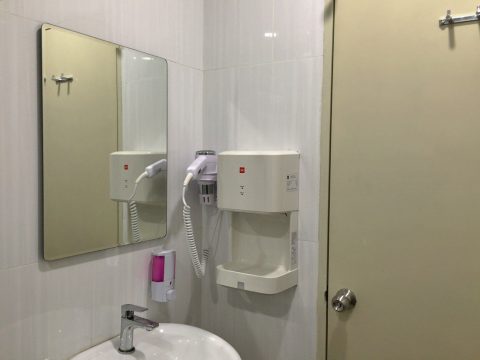 The washstand is compact, but it comes with hand soap and a hair dryer.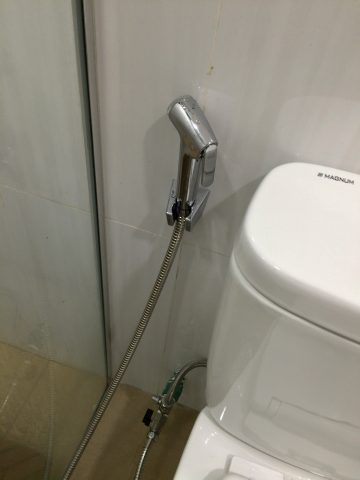 The toilet has a shower hose for those who do not wipe with paper. This kind of place is unique to multiracial Singapore.
The monthly membership fee is 7000 yen.
I used Anytime Fitness in Singapore this time, and it was no different from using a Japanese store, and I was able to do the training. You don't have to pay any additional fee, and you don't need any procedures. You can go in with your shoes on, so you can wear training shoes from the hotel, so you don't have to carry much baggage.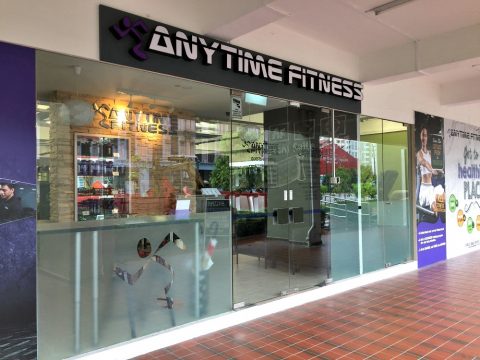 By the way, the monthly fee in Japan is about 7,000 yen to 7,500 yen including tax. It depends on the store you register, but it is the same that it is open 24 hours and you can enter other stores freely. There are many stores, so it's perfect for people who travel around on business.
♪Click here for a List of articles on "Singapore"