ANA Business Class used between Narita and Singapore. As for the in-flight meal, I used the "advance reservation" available on ANA's website, but I was able to choose the in-flight meal not only from the "Japanese or Western" but also from the menu provided on long-distance routes in Europe and America!
This cool service seems to have started recently. Which menus can I choose specifically? I would like to report in detail.
ANA business class in-flight meal "advance reservation"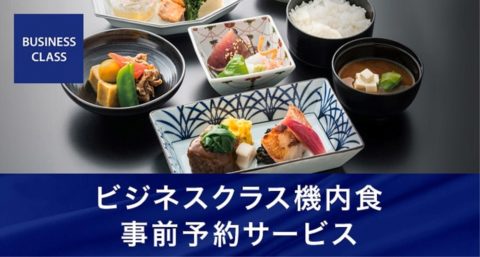 This time, I used ANA business class in-flight meal "advance reservation". You can easily make a reservation from the "in-flight meal" tab in the "Reservation management and change" menu of the ticket.
It is an in-flight meal in business class where you can mainly choose Japanese food or Western food, but if you make a reservation in advance, you won't be unable to eat the menu you want because it is out of stock, so you don't have to worry!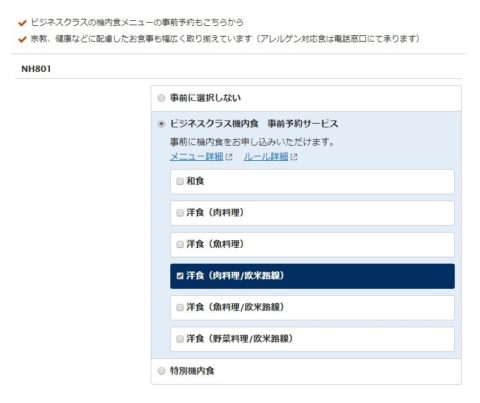 But what's surprising is that there are so many options. This time, even though I went to Singapore, I was able to choose from a total of 6 kinds of menu including European and American routes! I didn't have this option when I used it last year, but it seems to have improved recently.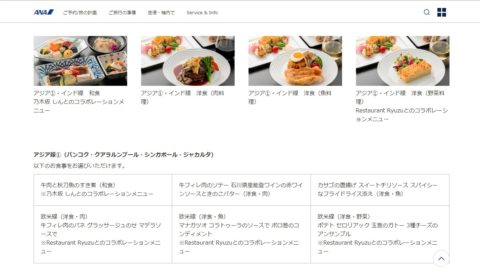 ANA business class in-flight meals include THE CONNOISSEURS, a menu created in collaboration with a famous chef, but it is only used for Japanese or Western meals on each route.
But with this advance reservation system, you can choose your favorite collaboration menu no matter which line you take (Excluding some routes, such as short-distance and late-night flights).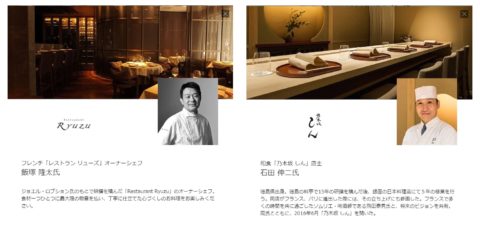 At this time of the year, the collaboration menu of the Southeast Asian route is the Japanese "Nogizaka Shin". But this time I really wanted to eat the western collaboration menu, so I chose the western collaboration menu "Restaurant Ryuzu"!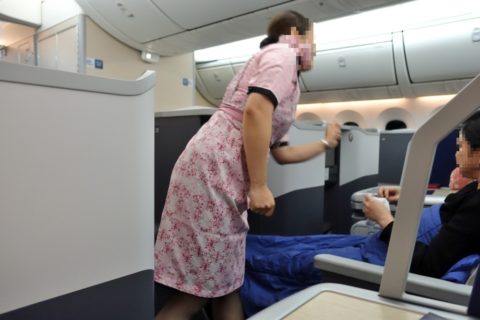 Let's report the actual in-flight meal!
As soon as we took off and the belt sign turned off, the service started. CA who changed into pink costume will bring the in-flight meal menu.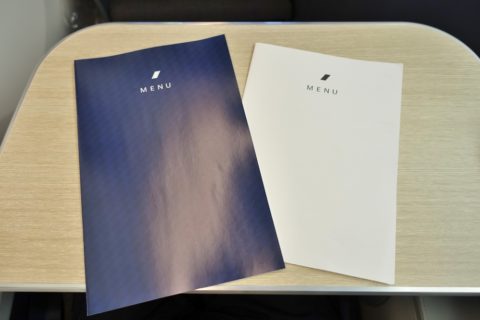 The in-flight meal menu consists of two separate booklets for meals and drinks. Meals are translated into Thai, Indonesian and Malay in addition to Japanese and English.
The quality of the paper is good, and we can see the high quality of ANA that has taken advantage of the current momentum.
Also, this time, I was given a separate menu like this because I reserved a menu for European and American routes which is not on the menu for Asian routes. A opera with only the collaboration menu of THE CONNOISSEURS.
I was only able to choose the main dish when I chose it on the website, but the appetizer is listed here, so maybe not only the main dish but also the appetizer will be changed to the menu for Europe and America …?
Upgraded? champagne brand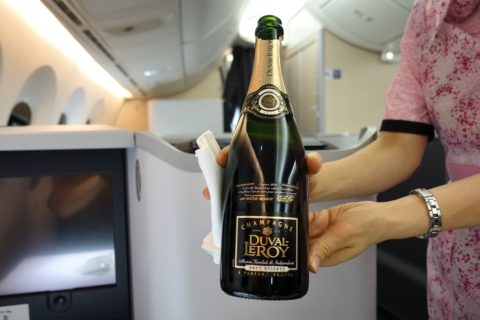 Drink service before in-flight meal! After all, when I ordered champagne first, the brand was "Duval – Leroy Brut Reserve". It used to be Lombardi Axiome, but it seems to have changed.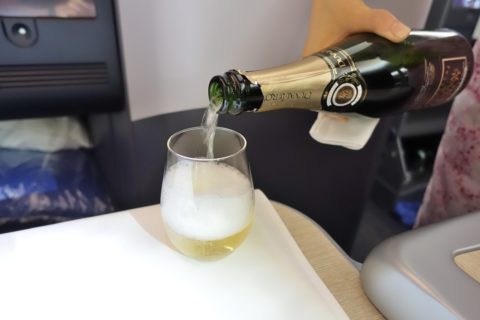 This champagne is used by Duval Leroy, Malaysia Airlines, etc., and it has a slightly sticky texture and a brandy-like flavor, and it is very delicious!This is an improvement since the previous Lombardy was not so good.
Looking at the market price of the bottle, you can buy the Lombardi Axiome for about 4,500 yen, while the Duval-Leroy is about 1,000 yen more expensive at 5 to 6,000 yen. ANA is doing well to upgrade champagne brand at this time of year!
4 kinds of delicious amuse bouche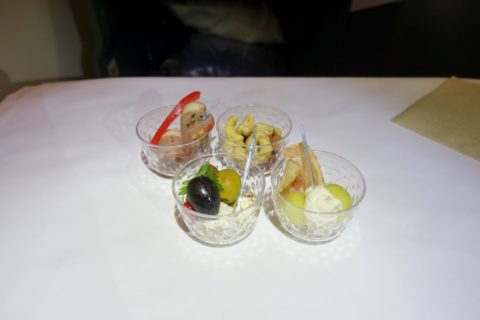 After the drink, there is an amuse bouche. 4 kinds of creative menu in plastic container. This amuse is an original menu from Southeast Asia, not from the West.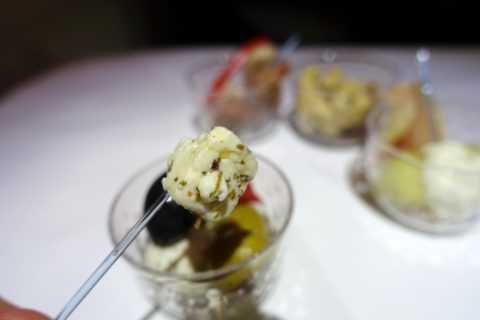 It looks very stylish, but the taste is also good! Flavorful cheese and olives, fragrant and aromatic nuts and almonds. ANA's amuse bouche is really delicious no matter when you eat it ~!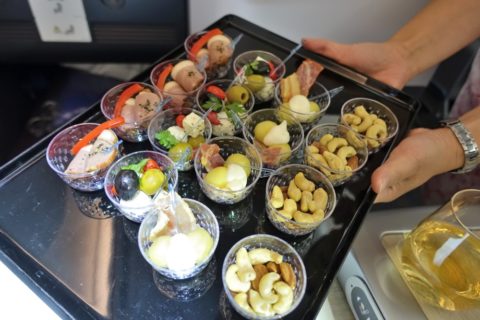 These 4 kinds of amuse are available to choose what you like from the tray, but maybe because this flight is not crowded and there are some left, I was able to get another one later! I would like to have a drink with this kind of amuse on a regular basis.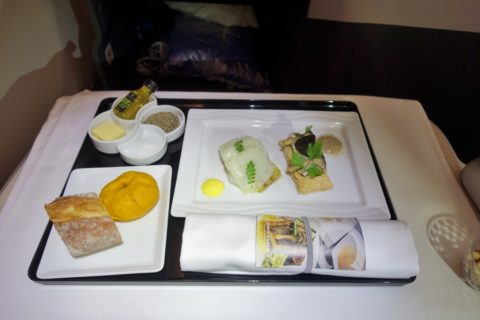 After the amuse bouche, it was "Appetizer", but what was brought was a Western menu! As you can see in the attached menu above, if you choose a menu of European and American routes, even appetizers will switch to that menu.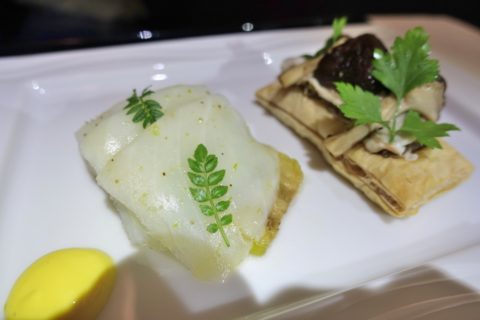 This menu is "Shitake mushroom tart Marinated red sea bream on the eggplant and vegetable condiment ". The fresh red sea bream has a smooth texture and is delicious, and the mille-feuille with a crunchy texture has a rich mushroom flavor to the inside!
This is another elaborate and delicious dish! I was right to choose the menu for European and American routes!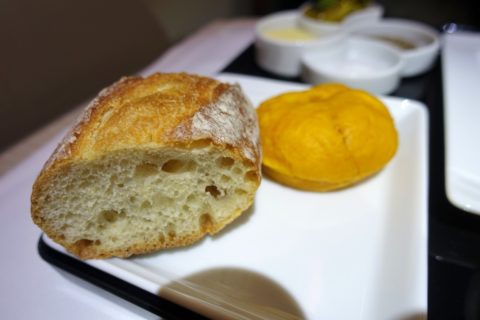 There are two kinds of bread, moist pumpkin bread and baguette. The baguette doesn't have any flavor, but the butter that comes with it is delicious, so it's pretty good to eat with it!
The main dish is meat dishes from Europe and America.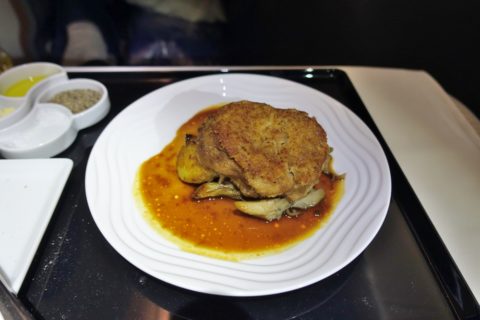 And the main one is "Glacage on fillet of beef panee with Madeira wine sauce". "Pane" refers to a dish covered with bread crumbs, but the batter is much thicker than what I saw in the photo.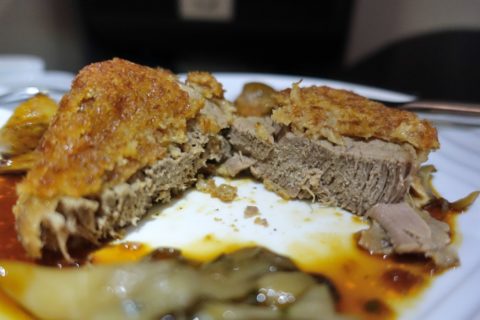 When you eat it, the meat is so tender that a knife can easily go through it! However, I cannot deny the dryness on the tongue, and the quality of the meat is not so good …
The thick Dance mushrooms are covered with fruity sauce and the taste is not bad, but this might be the limit for business class meat.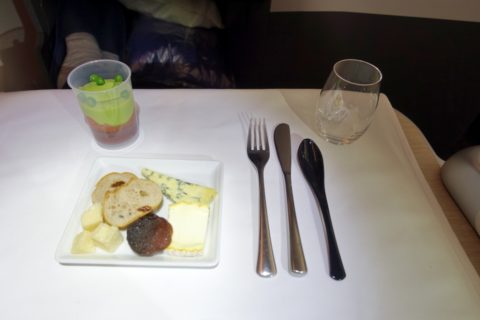 Dessert is an original menu of Southeast Asian routes. However, this Pierre Herme collaboration menu is the same as Europe and America.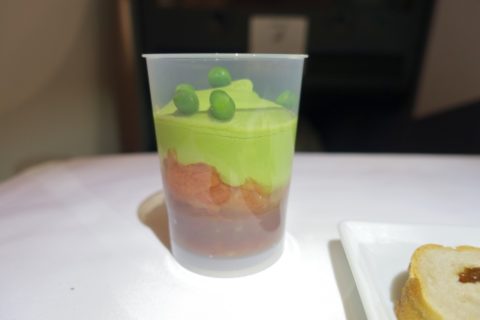 The mousse is called "Emotion Depayse" and the bitterness of the matcha is felt on the tongue, but the flavor of the adzuki beans is not brought out, and the compatibility with the fruits in the middle layer is not good. …
I expected it because it is a famous store in Paris, but I am not impressed by it at all …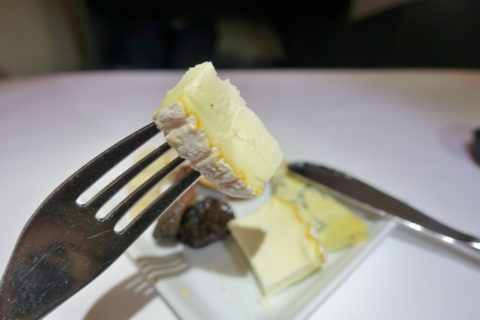 On the other hand, I had cheese with dessert. All of them have no smell and are liked by Japanese people. They are creamy and have a nice texture. I think they are very delicious if you eat them on the ground.
That's why I enjoyed the in-flight meal menu on the European and American flights to Singapore. The level of taste was high, and I was able to have a very satisfying meal!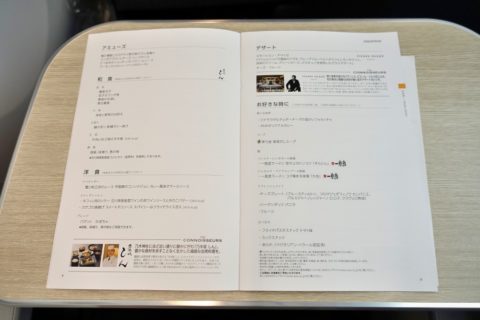 In fact, I could only choose 2 dishes, "Appetizer" and "Main", but with this reservation, I can choose from Japanese and Western collaborations of "The Connoisseurs" at any time, whether in Asia or Europe.
Even if it is impossible to decide depending on the mood of the day, I am glad that there are many choices!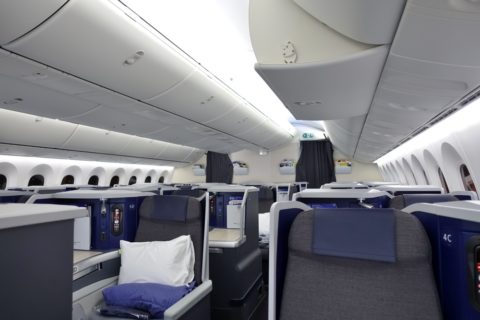 I would like to use it next time. The above is the report of ANA business class (Narita – Singapore)! For the seat of B 787 -10, please refer to the previous article → ANA [B 787 -10] Business Class boarding record! NH 801 Narita – Singapore
♪Click here for a List of articles on "First Class & Business Class Airlines worldwide (Seat, In-flight Meal, etc.)"