Following the seat amenities, we will introduce the ANA business class (Haneda to Munich). This report is about in-flight meals (first meal)!
ANA received the highest five star rating from Skytrax for the sixth consecutive year. I was hoping you would provide me with the in-flight meal and excellent taste and service …
※This article was written before the virus scandal. This will be updated.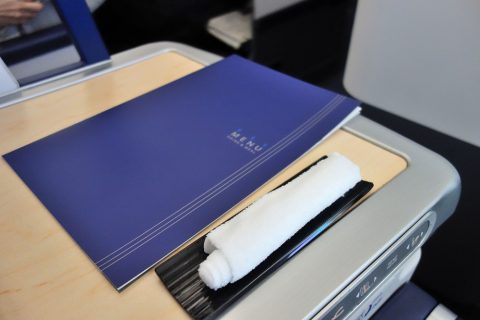 Shortly after we took off from Haneda Airport, we were served a menu of in-flight meals and towels. Foreign airlines often serve the menu before takeoff.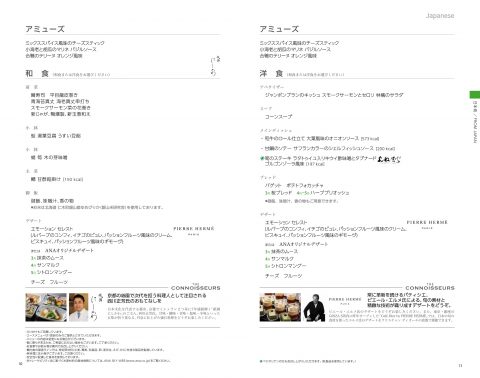 ANA's in-flight meals can be broadly divided into "Japanese cuisine" and "Western Cuisine". Furthermore, you can choose from 3 main dishes for Western food. JAL is one of them, but they also publish collaboration menus with high-class restaurants in Tokyo.
*You can reserve the business class in-flight meal menu in advance! For details, click here → You can select the menu for European and American routes on Asian routes! ANA In-flight Food [advance reservation] Report! NRT to SIN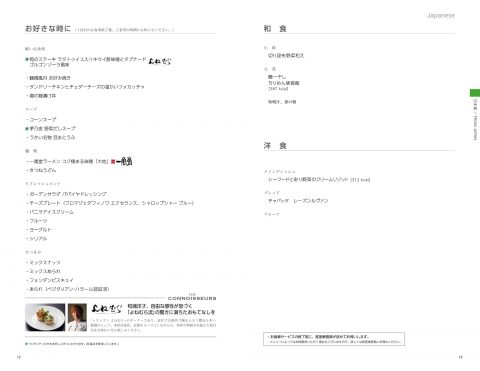 It is the same as JAL that they have a la carte menu that you can order at any time after the first meal. The number of dishes you can choose is in proportion to the flight distance, but the selection of Japanese and Western dishes, as well as the selection of appetizers, main dishes and desserts, is truly a long-distance route.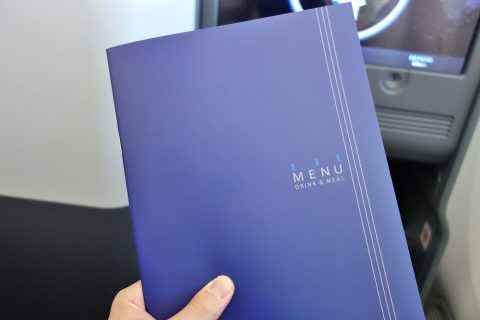 What surprised me was the paper quality of this menu. It is glossy thick paper and very high quality paper is used. It is very different from JAL-style paper like business class!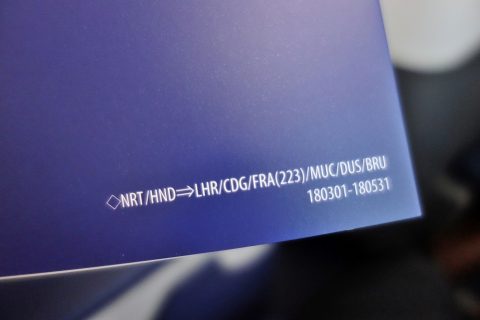 It also has a wide range of support for foreign languages, including French as well as English and German. This menu is compatible with flights to London and Paris, so I think it's designed with that in mind.
ANA's Cheap Champagne "Lombardi Cuvée"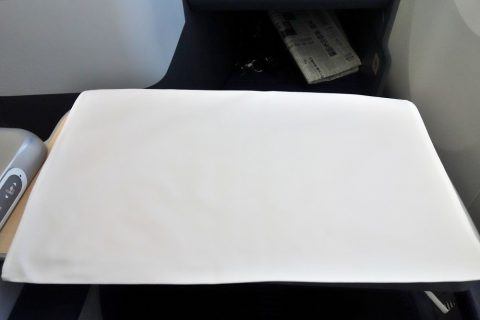 One hour after we took off, the tablecloth was finally pulled. Especially, the belt sign didn't turn off because of turbulence, and I don't know what took so long. …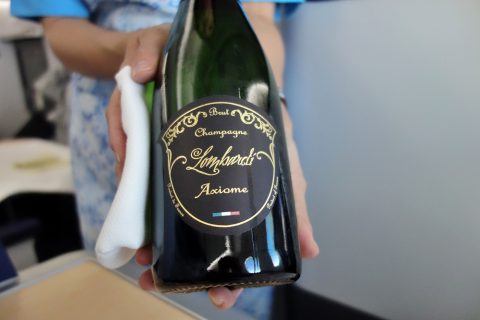 As for the first drink service, I will always have champagne first! ANA's champagne is "Lombardi Cuvee Brut".
When I checked the market price, it was about 4,500 yen. This is a landslide victory for JAL's Delamotte.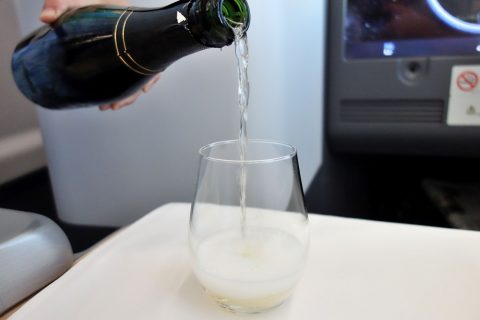 According to the menu's description, the champagne has a faint aromatic aroma, strong bubbling, moderate acidity and a refined taste. It is said that the bitterness that comes from aging adds to the wonderful taste.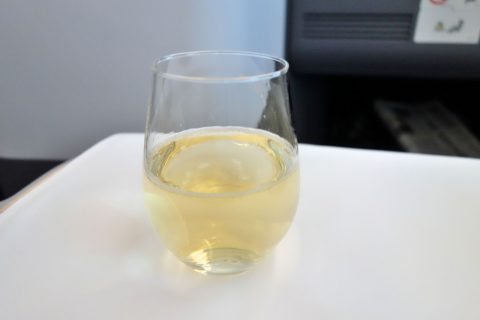 When I drink it, it feels a little sticky on the tongue. The pungent flavor of Brut is gone, but it is far from bubbling up strongly, and it is a quiet champagne that sometimes seems to be carbonated.
It doesn't taste bad, but it doesn't have any gorgeous elements. I was not impressed, and I don't think I will come back again …
Quite delicious amuse bouche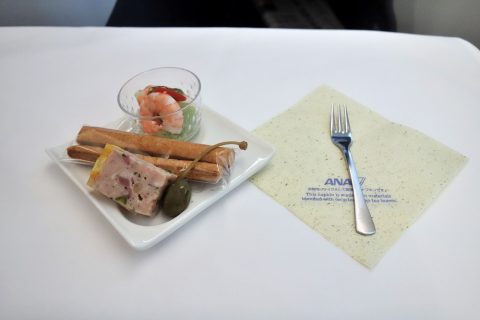 Then, the in-flight meal will start! First, an amuse bouche was brought. Amuse bouche is a common menu for both Japanese and Western food.
Cheese stick mixed spice flavor
Marinated shrimp and cucumber with basil sauce
Duck terrine orange flavor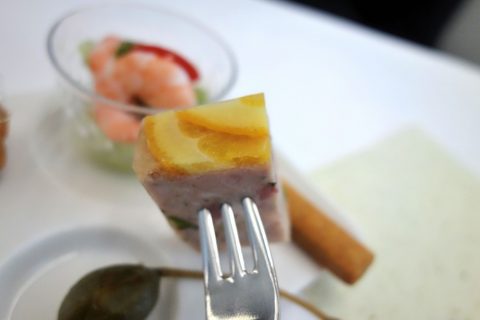 Although it is a small plate, there are many names of dishes! The orange flavor of the duck terrine effectively eliminates the fishy smell and is quite delicious! Marinated basil sauce is good, but cheese sticks have a special taste with Southeast Asian flavor.
Japanese food produced by "Chef in Kyoto's Gion district"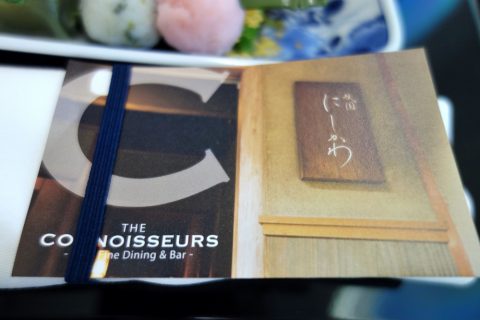 ANA's business class Japanese menu at this time is produced by a Michelin-starred restaurant in Kyoto called "Gion Nishikawa". If you look at the website, you can see that the Japanese kaiseki for dinner is from 15,000 yen, which is quite like a high-class Japanese restaurant.
This time I chose Japanese food because it was from Japan! First, an appetizer and two small bowls. It was brought on a black tray.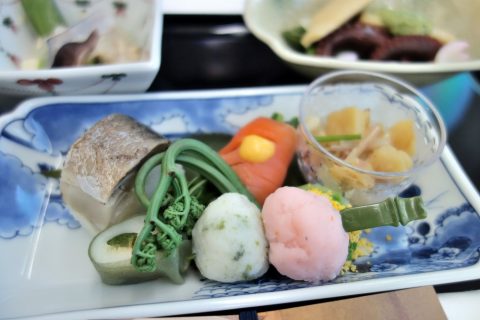 Mackerel sushi Flounder and vegetable rolled with kombu kelp
Dried green laver fishcake and shrimp fishcake on skewer
Field mustard rolled with smoked salmon
Dressed new potato, smoked duck and spring onion
All of them are elaborate dishes and you can enjoy various textures, but all of them are very light taste and I don't know what is what. … Does it mean that the taste of the restaurant is not suitable for in-flight meals? …?
The 2 small bowls are "Common orient clam and yuba bean curd tofu with green bean sauce" and "Octopus and bamboo shoot with sansho leaf miss". The crisp asparagus and kinome miso underneath the octopus are rich in flavor, and this dish can also be enjoyed as a "Works".
I think all of them are very delicious if you eat them on the ground.
Main dish and miso soup/rice changed to bread
Then comes the main dish, the main dish "Grilled Sea Dream with Soy-based Sweet Vinegar Sauce", miso soup and pickles. It comes with rice, but I had them change rice to bread again this time.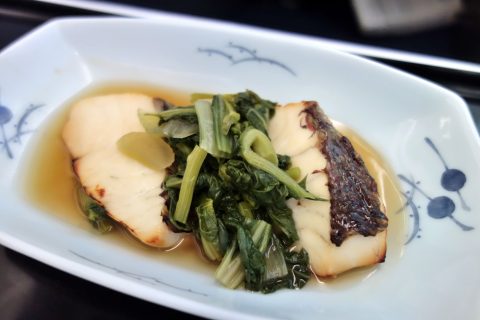 As it is a main dish, I would be happy if it looks a little more gorgeous, but it is quite a simple color. The sea bream meat is not moist, and it is a little dry, so the seasoning of the sweet vinegar ankake ・・・。 is just normal and delicious.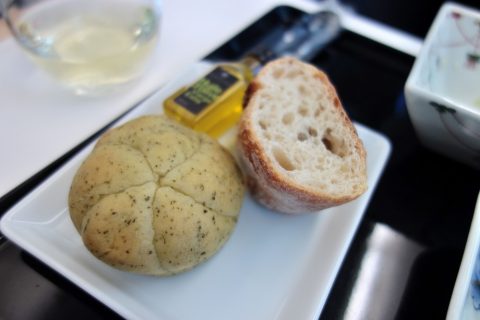 There should have been 2 breads "Potato focaccia" and "Herb brioche" served before the main dish arrived, but one was somewhat like French bread … round brioche tastes like basil.
It didn't come with butter and CA who brought the bread said "I'll bring it later.", but I had to wait for a while and the bread got cold …
The special wine is "Chablis Premier Cru"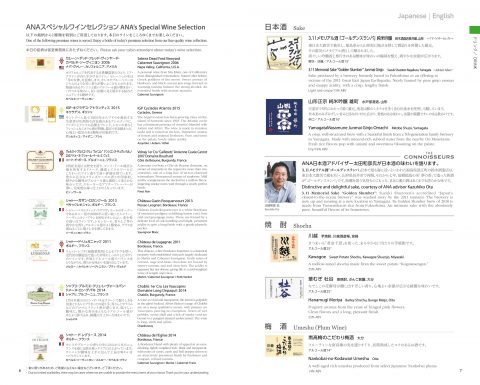 I ordered a second glass of alcohol here. ANA Business Class wine is available in 2 types of red and white, but there is also a special wine called "special wine selection" and only 1 type is available from the list.
According to the research in advance, there are more expensive brands listed here than the usual red and white wines, so I was aiming to drink this one on the plane!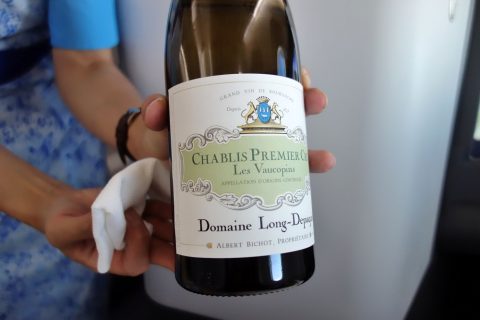 The wine on board that day was a brand called "Domaine Long Depaquit Chablis Premier Cru 'Les Vaucopins' 2014".
When you drink it, it feels a little sticky like champagne. There is almost no aftertaste, and it is a wine with a delicate line that is neither dry nor sweet, but it is not cheap.
The market price is about €30. You can get this "Chablis Premier Cru" in a bottle for 3,000 to 4,000 yen, but it's pretty expensive for a white wine.
However, if it tastes like this, the cost performance might not be good. …
high-level dessert cheese coffee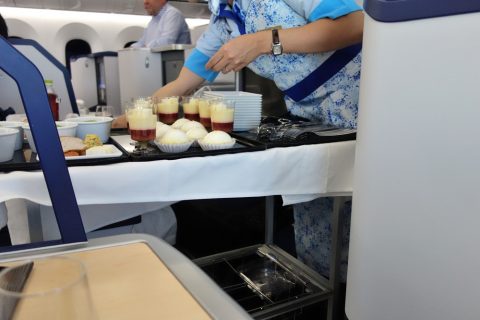 Finally, dessert, this is a Japanese and Western menu. This is the only in-flight meal served by a wagon.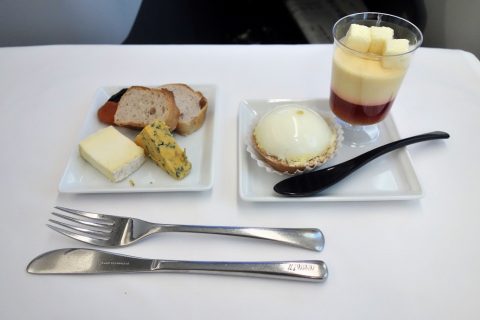 I also had cheese! The dessert is a collaboration menu with a French pastry chef called Pierre Herme. There seem to be several types, but when I said "Please give me a collaboration menu.", I only got these 2 …
Bavarian cream brings out the sweetness of passion fruit. Strawberry jam is used for the base layer, and it has just the right sourness and gorgeousness, and it's quite a delicious sweets!
On the other hand, I was surprised when I broke the round one! The egg like content has a mysterious sweet and sour taste. It was a sweet that I could enjoy both taste and appearance! As expected, the French pastry chef has a high level!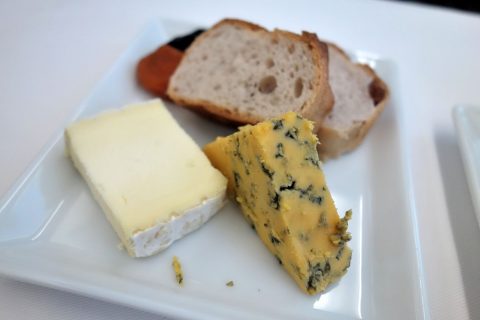 There are 2 kinds of cheese, both of which have little peculiar taste, creamy and rich taste, and it is filling. I would be happier if there were two more kinds.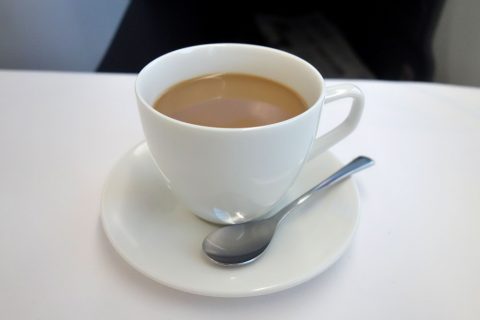 The coffee I had at the end was ANA's original "Pour Over The Sky". It is a coffee made by a unique roasting method assuming drinking in the sky. I had it with milk coffee, and it tastes bitter.
The dessert, cheese, and coffee after the meal were quite satisfying!
3-hour in-flight meal …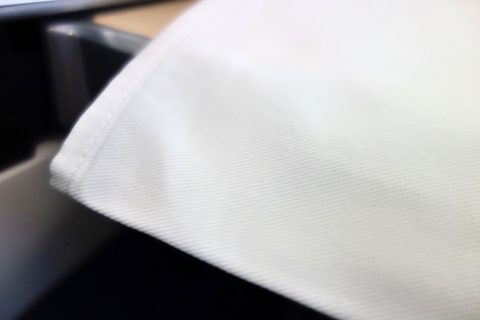 Even so, this time's in-flight meal. It took three hours to finish the dessert coffee after the tablecloth was first drawn! In general, business class and first class are courses, so it takes more time than economy class, but the food is served too late!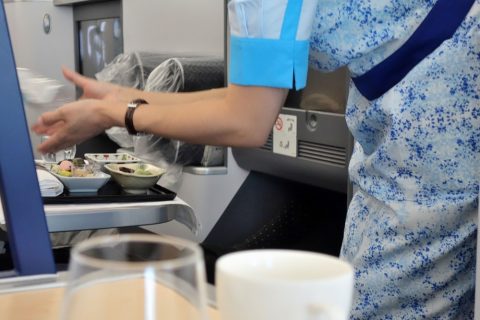 Since this flight was full, everyone in CA was busy moving around, but considering that, it was the first time for an airline to take so much time. There may be a fundamental shortage of personnel.
It's been a long time, so I'll continue next time. Next time, the 2nd meal, wine, and "Umm…" surprise! → Birthday Surprise! ANA Business Class Registration/Haneda – Munich
♪Click here for a List of articles on "First Class & Business Class Airlines worldwide (Seat, In-flight Meal, etc.)"