As we did last time, we would like to ask about the quality of ANA's service, focusing on the 2nd in-flight meal, from ANA Business Class (Haneda to Munich).
ANA business class entertained with wine, liqueur, delicious sweets and birthday surprise. But I always felt that the service was not perfect because there was always something missing. …
※This article was written before the virus scandal. This will be updated.
Get the in-flight "Murao"!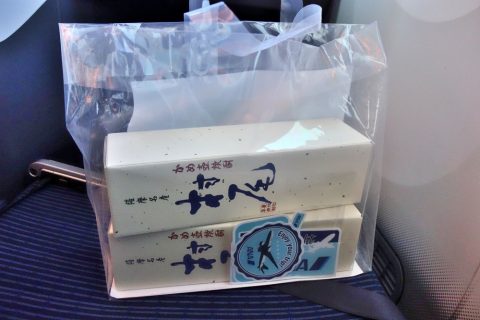 By the way, this time, I reserved a premium sake "Murao" from ANA's in-flight sales, and CA brought it to me after the first in-flight meal!
Murao is one of Japan's 3 major shochu (3M). It is a rare shochu that is rarely sold in stores and is traded at a premium price (These days it's not much, but …). Like JAL's "Moriizō" ANA will be available for a limited time only at this time (Generally between April and June).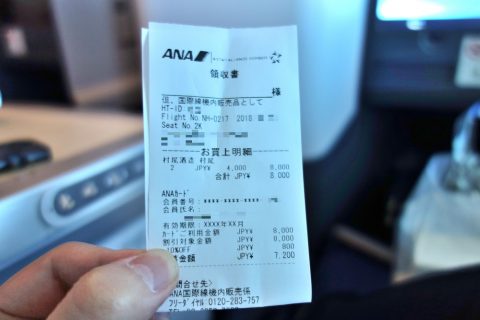 The price of 1 bottle is 4,000 yen, but if you use ANA card (Sorachika card), you can get 10% discount. JAL's Mori Izo is limited to first class and business class, but you can buy ANA's Murao in economy class, so please try it if you have a chance!
I will tell you about Murao's tasting next time.
The taste is good! Red wine and 3 kinds of liqueur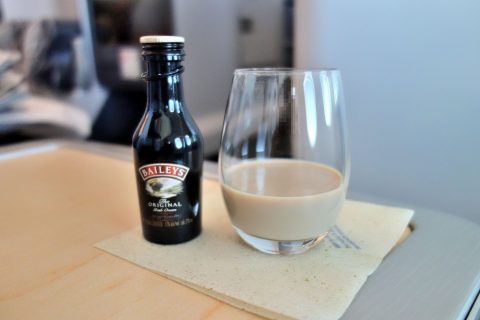 By the way, I had this liqueur as a digestif. It is an Irish dessert sake called "Bailey's Original Irish Cream", and although it is a sweet chocolate drink, it has a pungent alcohol taste for adults!
There were other "digestif" written on the menu, and I also had the standard "Camus VSOP" and "Cointreau", and this one was also sweet, but it had a punch with strong alcohol, and it was quite delicious!
I really recommend the 3 liqueurs that you can drink like a dessert after eating as it is written.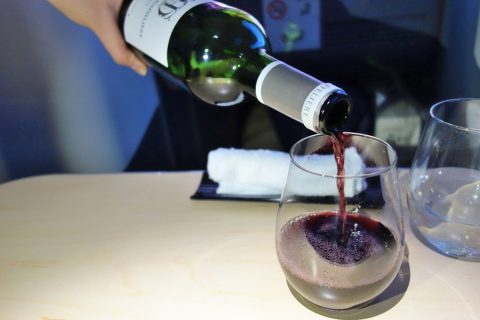 Also, the Bordeaux wine "Les Hautes de a Gaffeliere 2014" that I ordered additionally has a good balance of sweetness and sourness, and it tastes quite good! I felt the flavor spread later, but it was a bit disappointing to close it before it completely spread.
The market price of the bottle was in the low 2000 yen range, and I was surprised by the unexpectedly expensive wine! Champagne is disappointing ANA business class, but other selection of foreign wine is better than JAL.
Popular Menu Sells Out …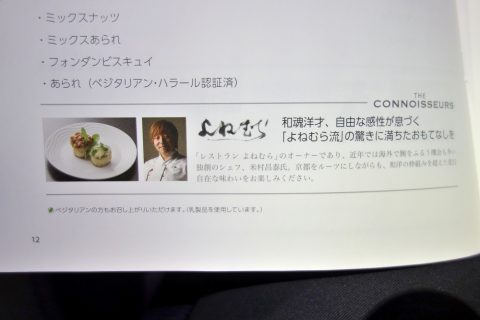 Next is the second in-flight meal! 4 hours before arrival, I ordered a la carte menu, but surprisingly, the western menu produced by "Restaurant Yonemura" which I thought "I just want to eat this." was already sold out ・・・
This menu is also one of the main dishes for the first Western food, so you have to order something like this first.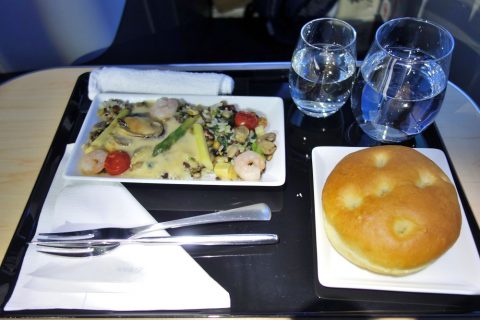 I had no choice but to order these 2 dishes.
Hot focaccia with tandoori chicken and cheddar cheese
Cream risotto with seafood and colorful vegetables
It took 25 minutes from ordering (lol). The tablecloth won't pull, and it feels a little rough …
Both of the menus are good, but the focaccia needs a little more volume for the chicken. It is good that cream risotto has a lot of ingredients, but the way to serve it is B-grade …, so I don't feel uplifted.
The new taste sweets are delicious!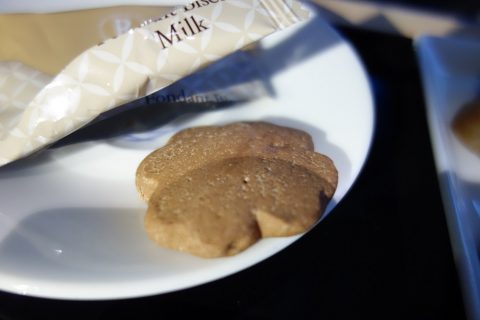 I also received "Fondant biscuit" from "Snacks". It looks like a cookie, and when I ate it, it was more moist than a cookie, and it had a texture and taste like chocolate, which was quite delicious!
This is the product of the famous Reman. It seems that ANA offers it in the premium class of domestic flights, and it is very popular in many areas according to the reviews.
Since I can buy it at a reasonable price, it is good for a regular snack, and I will get it soon after I go back to my country! It is divided into small portions, so I think it is perfect as a gift for a place where many people gather.
"Surprise" is nice , but …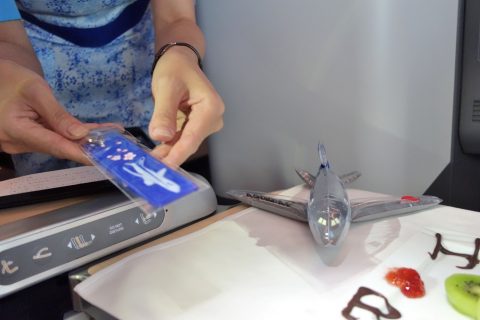 I'm full …! Less than 1 hour before arrival, when I was relaxing at my seat, CA suddenly came to …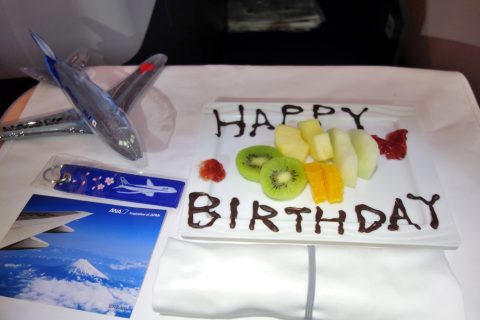 What a surprise birthday surprise! I received an airplane model, a strap and a warm letter! According to the story, this CA who brought it is close to my birthday.
Come to think of it, … (Reference → JAL first class boarding record! Haneda – London – Part 3: In-flight Food Report and Birthday Surprise!) which I had in JAL first class 2 years ago. I'm not really aiming for this season.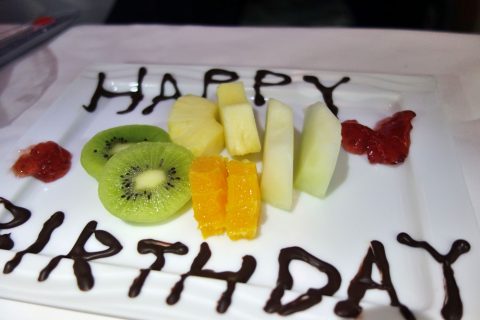 I was so full that I could not put anything in it, but I received it as a courtesy … Even so, it was … that I brought it when I was in such a hurry until landing, I am happy but I feel a little grateful and annoying …
Something is missing … ANA service
As for ANA Business Class, which I have reported three times, although I think it is generally good in terms of the taste of in-flight meals and the selection of alcohol, I often wonder about the quality of the overall service.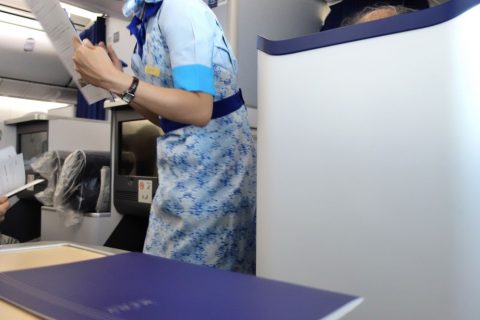 CA's manner of dealing with customers is polite, and their behavior is not bad at all, but I have to say that they are working for CA's convenience without considering customers' convenience, judging from the in-flight meals that take too much time (With the first and second meals), forgetting to pull the table cloth (second meal), and the birthday surprise right before arrival.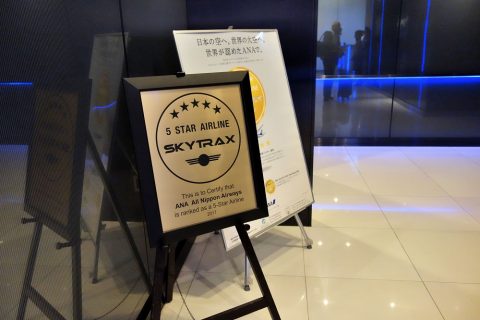 By a curious coincidence, ANA is rated five stars by Skytrax. Compared to the in-flight meal and service quality of Qatar Airways, which are also 5 stars, I don't think they are the same rank.
If ANA is 5 stars, Qatar Airways needs 7 stars to be worth it. (Reference → Delicious a la carte from Doha! Qatar Airways business class in-flight meal)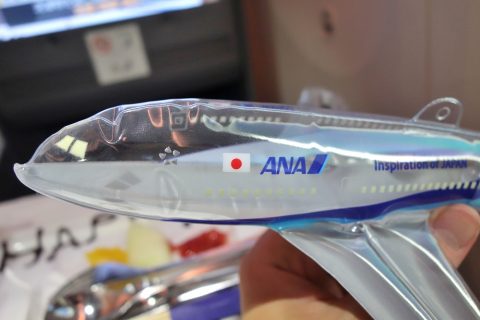 The quality is good but something is missing …, it was an ANA business class report that made me think so! Please also refer to the sheet, amenities, and the article of the first meal report.
♪Click here for a List of articles on "First Class & Business Class Airlines worldwide (Seat, In-flight Meal, etc.)"