After leaving ANA Lounge, I will finally board my first ANA business class! For members of the Star Alliance Group, this is an ANA flight that is "now" but as a member of JAL (One World), I would like to report on the quality of ANA services and the taste of in-flight meals from a unique perspective.
NH217 from Haneda to Munich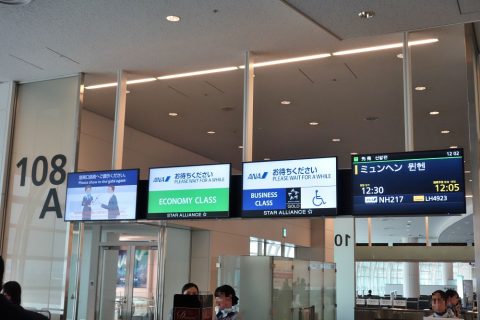 This flight departs from Haneda Airport at 12: 30 bound for Munich, Germany. I will transfer to Lufthansa at Munich and go to Madrid in Spain.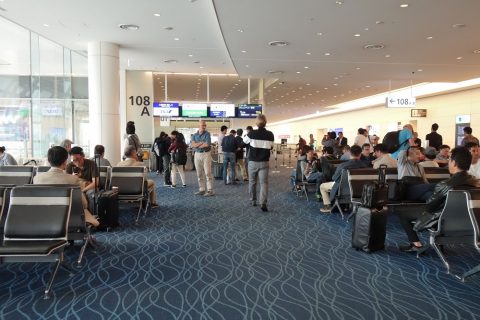 Most of the passengers are businessmen and only a few tourists like me! ANA operates three daily flights to Germany, including Frankfurt and Düsseldorf, in addition to Munich, so business demand must be strong.
As expected, there are many people on the priority flight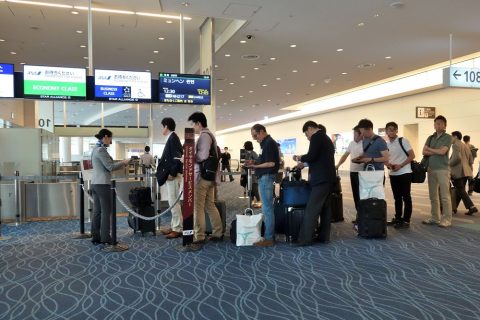 I counted the number of priority passengers, and there were 20 people at first glance in the first priority line. There is no first class on this flight, so all the people in line here are ANA Diamond members.
ANA's "superlative" status is probably more accessible than JAL's, but still about 10% of all passengers are covered, and ANA has many senior members!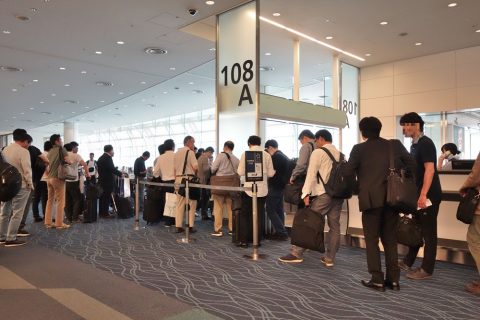 On the other hand, my line of business class and Stara Gold members is about 40 people. All of these people have the right to use the lounge, so the lounge will be crowded.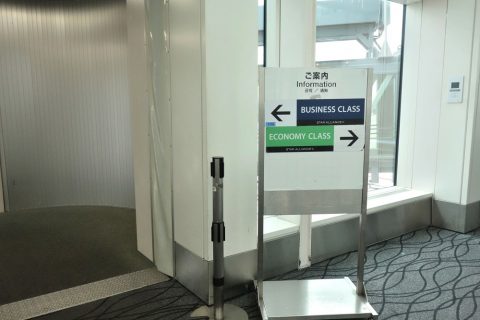 10 minutes after the diamond started boarding, I finally got to the gate! Really, I don't know what the priority boarding is. …
Does it feel like a private room? seat of B787-9

The plane for Munich was a Boeing 787-9. The business class seats are staggered in the front and back rows, a standard arrangement of ANA these days.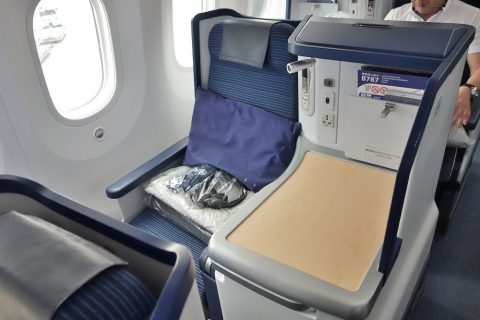 My seat is here, 2K. I chose an aisle seat with a side table and a window seat. Like JAL, the window seats with semi-private compartments are popular, so they seem to have been filled early this time too.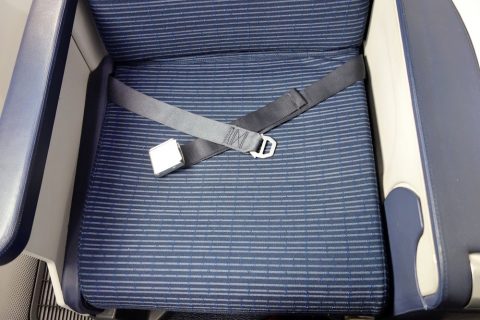 Sitting down, the seat width is not bad. It weighs about 50 centimeters.
The seat belt is a standard type. Recently, extra-thick seatbelts and three-point seatbelts are proliferating mainly in foreign airlines, but they are very difficult to use, and they are stiff and uncomfortable to wear.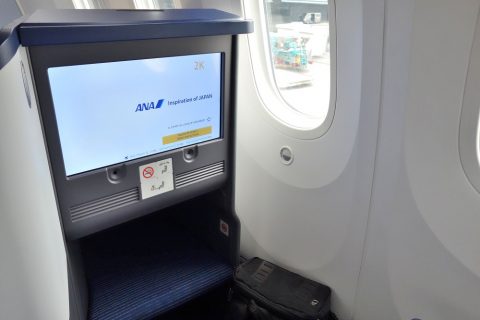 The distance to the monitor is closer than JAL, but I don't feel any pressure. However, JAL-Suite 1 is higher in the partition height of the whole seat, so the feeling of a private room is not so good …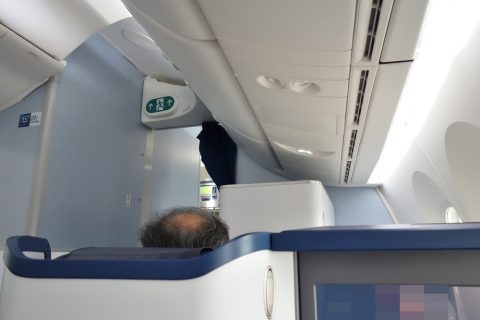 In particular, this ANA seat is quite low around the backrest, so you can see the head of the person in the front seat well, and when you come down, you can see the eyes of the person in the back seat. In that sense, it is not a perfect seat.
Are you a little old? equipment around the seat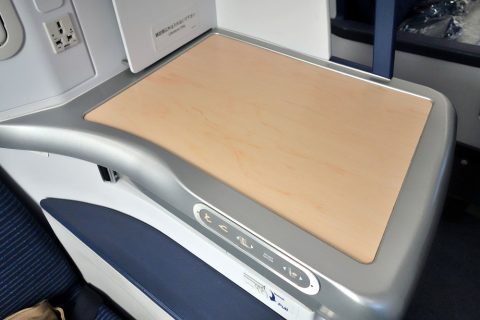 Looking around the seat, the side table has a wood-grain design with a silver frame. Unlike the plastic ones like the B 777 -300, it's a bit classy (Here is the sheet of B 777 -300.).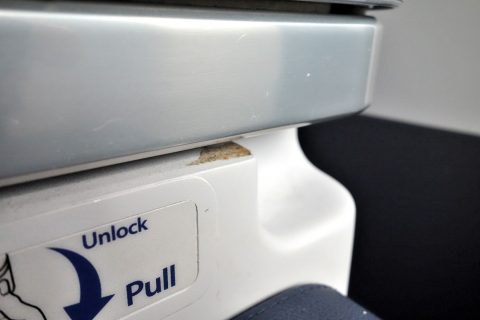 However, if you look at the details, the scratches and dirt stand out, and it is a sheet with a feeling of use. I think ANA's B787 has been in service for about 5 years, but is it because I use it so often …?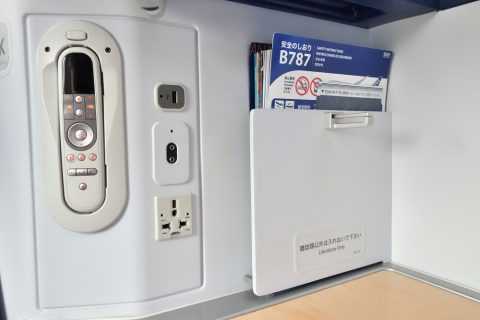 There is no special mention about the equipment on the side table, but this outlet is loose and it comes out soon after I plug it in. Also, the contact is bad, and there are many cases that it can't be charged without noticing, so this needs to be improved.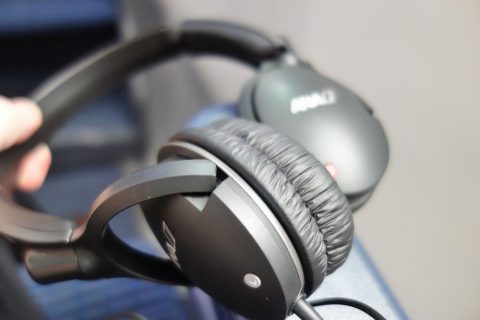 The headphones are Sony. It has noise cancelling function, but I can't tell whether it is working or not by listening to music with this. …
Bed comfort and the front and back of the mattress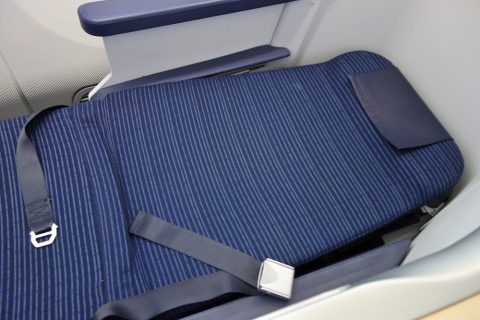 Next, I reclined the seat and checked the comfort of the full flat bed! It's about the same width as JAL's Sky-Suite 1, but with a partition of this size, it's easy to make eye contact with people walking down the aisle.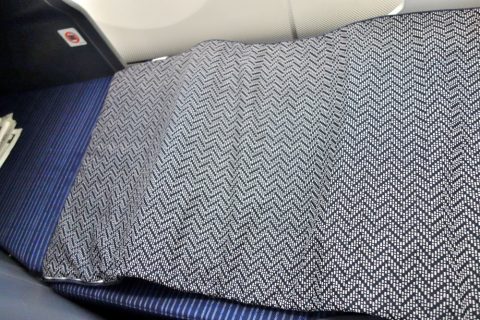 The mattress is "Tokyo Nishikawa". It is the same as JAL that the length is not enough to cover your feet. Comfortable sleep … hum, neither good nor bad …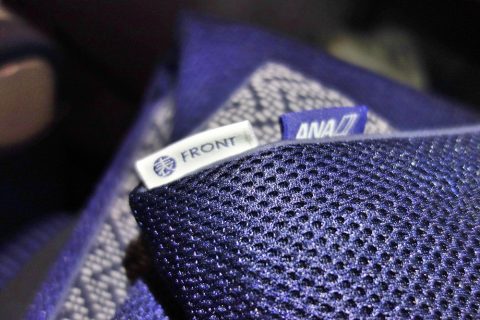 But this mattress has a blue side on the front and a gray side on the back. At first, I slept with the back side up by mistake, but even if I turned it over later, the feeling of sleep did not change.
It would be better if the hardware and software can be selected from both sides like JAL's Airweave. Can I say that JAL is superior in this point?
The case of amenity goods is shabby …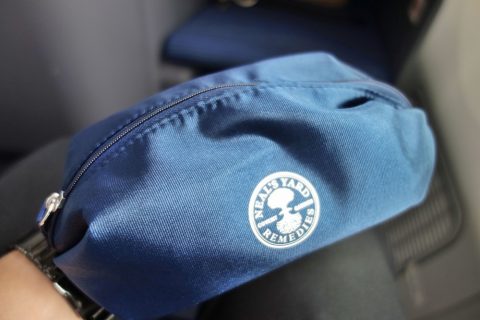 The amenity goods are soft cases. It's better than a hard case that's hard to use, but the problem is the quality of the case. It's a synthetic fiber made of twisted material and it's quite simple.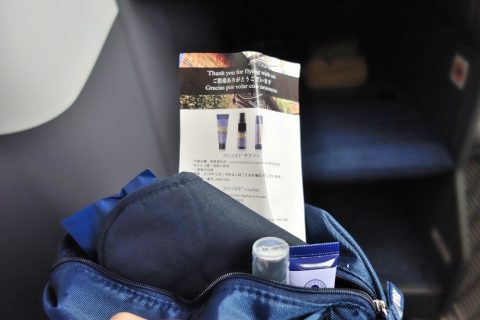 Neal's Yard Remedies is a British cosmetic brand. As the fastener is firmly sewn in, I think it is a firm manufacturer, but I have to say it is a little cheap. …
Lip balm, facial mist, etc., the contents are standard.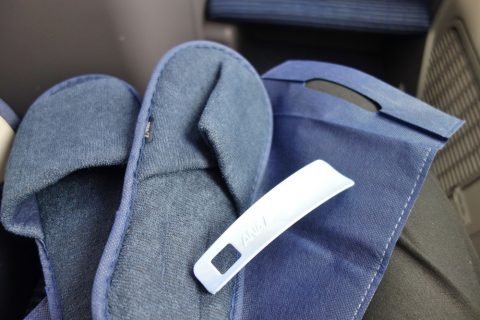 The slippers come with a handbag cover. It is convenient and good that it has a shoehorn like JAL.
The glass of welcome drink is salty …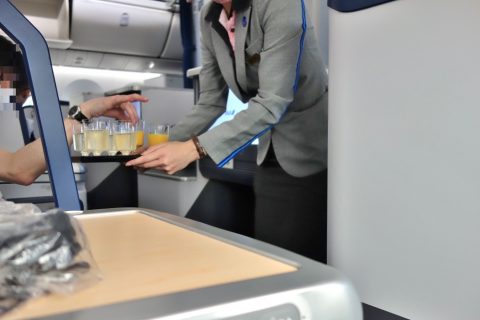 As soon as I got on board, Mr. CA came to greet me. When I first say that I am going to ride ANA, I just say, "Please enjoy ANA's service."!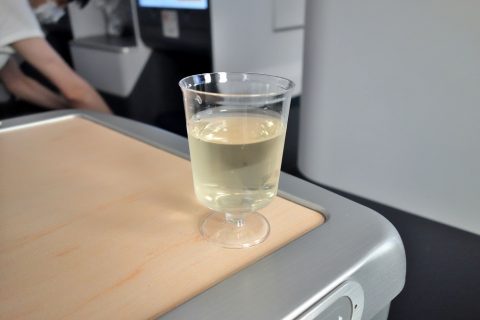 The welcome drink is orange juice and sparkling wine. I had a sparkling wine, but it was certainly a cheap taste of white wine with carbonation.
The glass is super lightweight plastic! Do you have any better glasses …?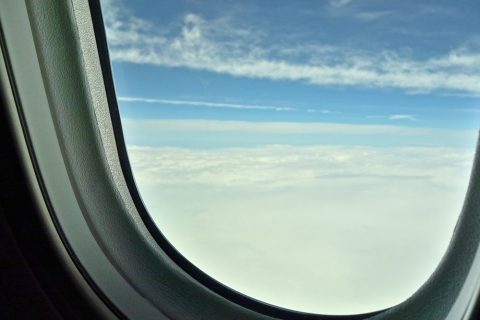 Of course, ANA was chosen as the "5 stars" airline. Let's expect the in-flight meal! I will continue next time → it comes out too late! ANA Business Class In-flight Food Service and the Taste of "Japanese cuisine"
The business class report of the B787-10, which was launched in 2019, is here → ANA [B 787 -10] boarding record for business class! NH 801 Narita – Singapore
♪Click here for a List of articles on "First Class & Business Class Airlines worldwide (Seat, In-flight Meal, etc.)"