American Airlines Lounge in the main building of Narita Airport Terminal 2. I had lunch at Sakura Lounge during my last trip, but it was disappointing except for the mild taste of beef curry, so I decided to have lunch at American Airlines Lounge this time!
I would like to report the taste of this lounge, which has a small buffet menu but also an American menu such as handmade hamburgers.
have time for lunch
American Airlines Lounge at Narita Airport Terminal 2. If you have a status of One World Sapphire or higher, you can use it when you board JAL. The article I visited last time is here → sneak into American Airlines Lounge ADMIRALS Club! Narita Airport T2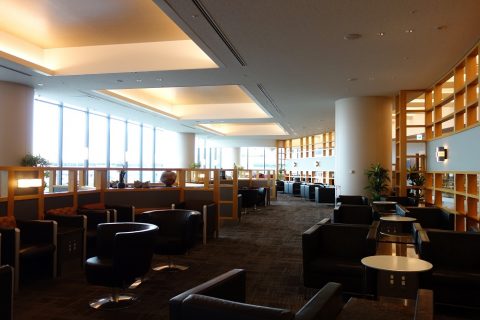 As I mentioned in the previous article, the American Airlines lounge is often empty at lunchtime, so I can relax and it's good. Well, most of the lounges at Narita Airport are not crowded at this time of the day, but I personally like the large windows, the spacious structure, and the stylish interior.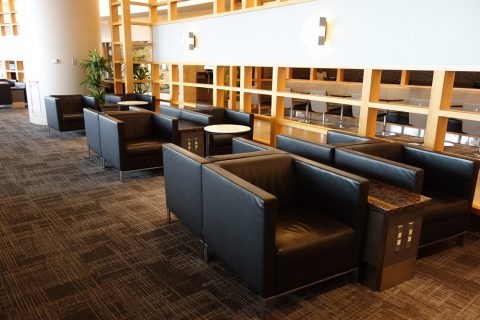 Most of the seats are sofa type, but most of them are facing seats for 4 people, so you may have a little trouble to get a seat during busy time in the evening.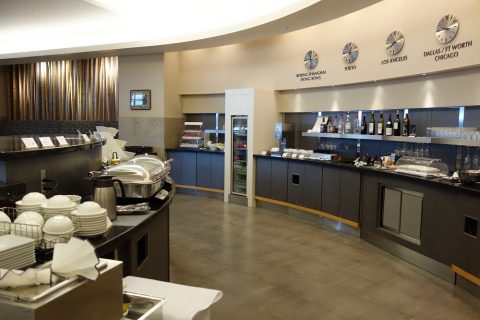 Let's take a look at the buffet menu! I checked the menu at breakfast time in the previous article, but this time it was lunch time. The dishes were different from those served at breakfast.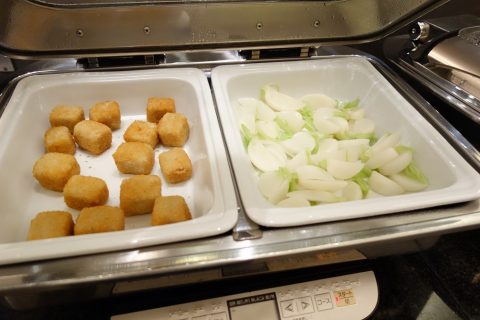 However, there are still only a few kinds of dishes, and the main dish is about 4 dishes. But the "Agedashi (deep fried) tofu" on the left was crispy on the outside and thick on the inside, which was different from the taste of ordinary deep-fried tofu, and it was quite delicious!
Paprika and beef. This beef has buns and vegetables on the side so you can make a hamburger. There are not many kinds of ingredients, but thick sliced tomatoes, pickles and lettuce are crispy and there is no problem with freshness.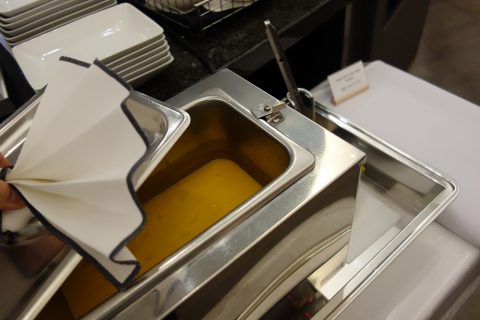 The soup is "Pumpkin puree". I tried this too, but it's creamy and not bad.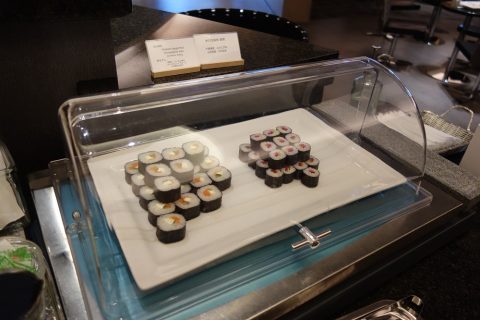 Other than that, there are these two kinds of sushi rolls and cheese. There are very few dishes on the menu, but if you make a hamburger and eat one, you will get quite full.
How's your homemade hamburger?
I made the hamburger with all the ingredients on top! I didn't have any toothpicks to pierce the hamburger, so it was unstable, and if you tilt it a little, the buns fall off! The thick buns are not put in the hot plate, so it is a shame that they are cold.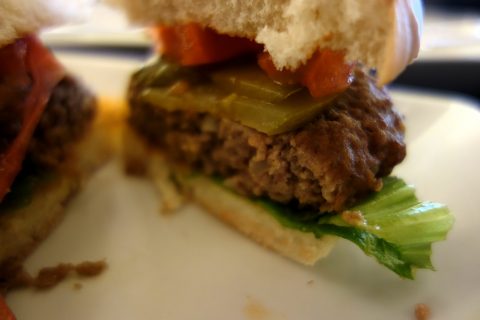 I can't bite into it directly, so I will cut it with a knife. The meat was in the hot plate so it was warm and juicy. I didn't expect the taste of beef in the lounge at all, but it was surprisingly delicious!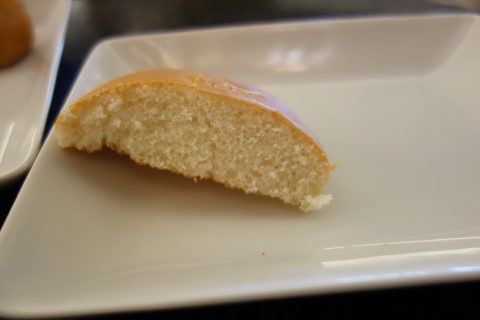 However, what was disappointing was that the buns were dry. Personally, I prefer buns that are a little more plump and moist. But American hamburgers are usually like this …?
The cake is delicious too!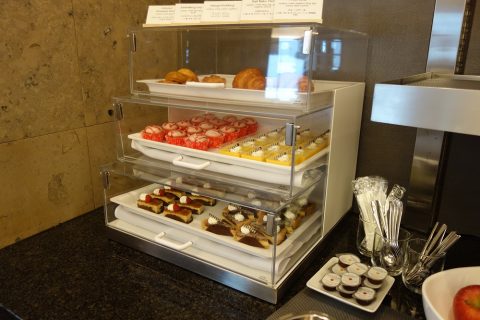 Finally, I'll try the dessert. "Strawberry cake", "Mango pudding", "Ogura Tart", "Fruit cake", all are bite-sized, so you can try them in various ways.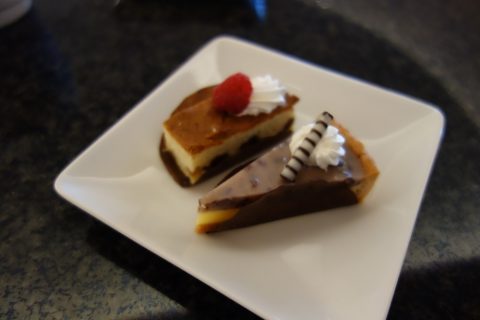 These 2 kinds were delicious. The moderate sweetness of "Ogura Tart" and the rich flavor of "Fruit cake"! Both of them have a good balance with the sweetness of the whipped cream as a topping, and I think I can eat this as much as I want!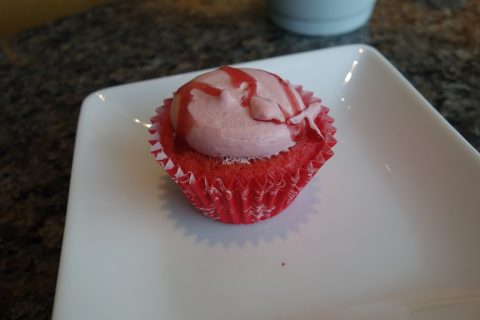 I also tried "Strawberry cake", but this is normal. However, it doesn't have a heavy sweetness like overseas, and it doesn't taste bad.
American airline lounge with hamburgers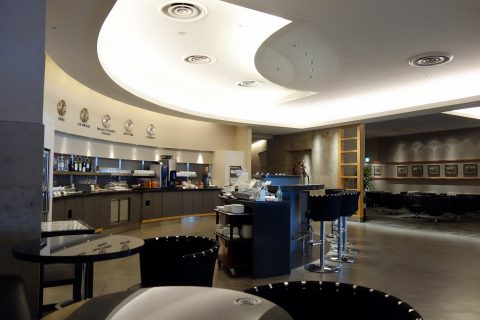 So, the menu at the Narita Airport American Airlines Lounge at lunchtime, although there are few kinds, the hand-made hamburger that you can easily eat was just so-so! It's not particularly tasty, but at least it's a far cry from the sakura lounge's salad bar, which uses wilted vegetables.
♪I also recommend this link→Collection of AIRPORT LOUNGE Reviews Worldwide! Wine, buffet, Shower, etc.