My first dinner in Dubai was at the Lebanese restaurant AL SAFADI. It is a Lebanese cuisine that is not familiar in Japan, but here, it was authentic yet well seasoned, and I enjoyed it very much!
It is also good that it is easy to choose with a menu with pictures. I would like to report such restaurant AL SAFADI.
Popular store one stop from Dubai Mall
The Lebanese restaurant we visited this time is located one metro stop away from the Dubai Mall, and the Financial Centre on the Red Line is the closest.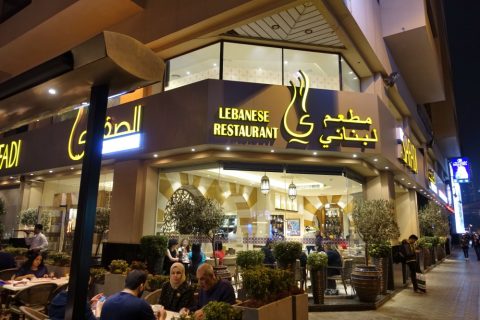 AL SAFADI is a restaurant with yellow letters along the sidewalk of the main road, about 6 minutes' walk from the station. The exterior and interior of the restaurant is new, and it's a pretty restaurant! According to the website, there are 3 other same stores in Dubai.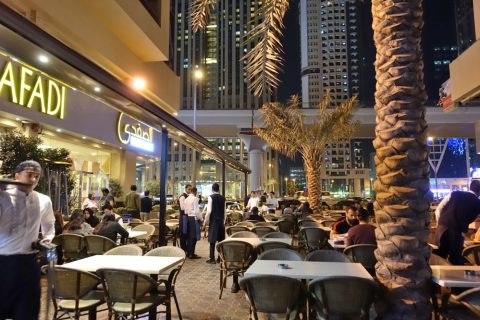 At first I went to the seat in the store, but it was so crowded that I went to the terrace seat. The inside of the restaurant is spacious, but the terrace seats are more spacious, so I would say there are 100 seats only here.
It seems that there are non-smoking seats and smoking seats separately, but the person I was shown to was a smoking seat …. I thought I told him I wanted to quit smoking, but it seemed to be full because it was crowded.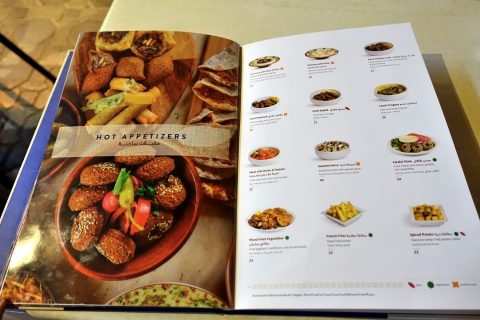 If you look at the menu, you will find a wide variety of dishes from appetizers to soups to main dishes! There are hors d'oeuvre on a large plate, and also many vegetarian menus because of the regional pattern.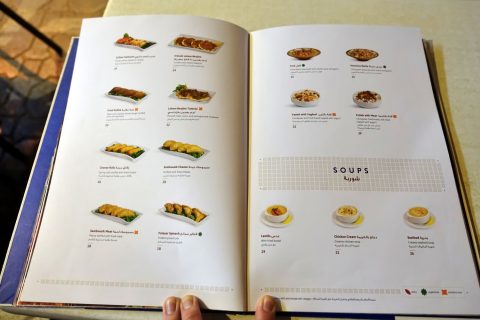 All the menus have pictures, so it's easy to order with your fingers! The price is around 40 DH for the appetizer and around 50 ~ 60 DH for the main dish, which is the same as a general casual restaurant.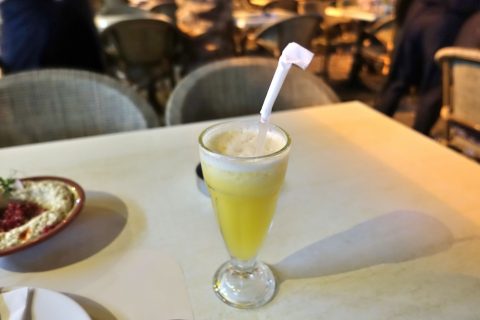 I chose pineapple juice (23 DH) for the drink. This fresh juice has a strong sour taste, but you can fully feel fresh pineapple! However, it is a pity that it is not cold at all …。
Delicious Moutabal and freshly baked bread!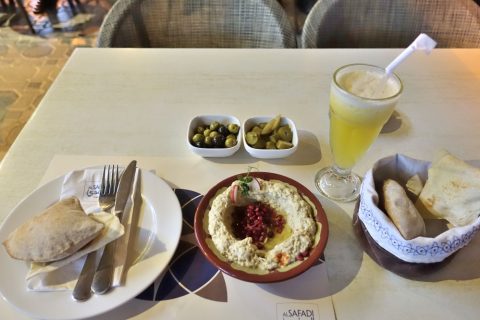 I ordered one appetizer and one main dish this time! The hors d'oeuvre is (Moutabal), which I have ordered at various restaurants recently. It comes with olive and pita bread.
This is a dip dish made from eggplants, but the moutabal here is a soft paste like tuna and yogurt, and it is quite delicious! It's a cold cold meal, but it's even better if you put it in a bag of hot pita bread!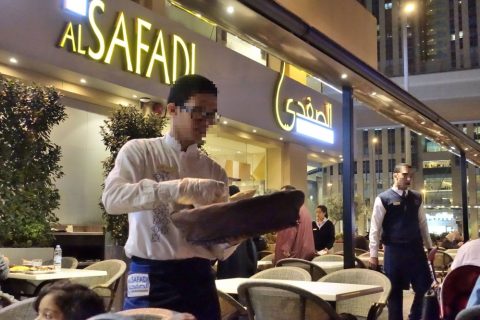 The pita bread was already warm, but the waiter brought us some freshly baked ones!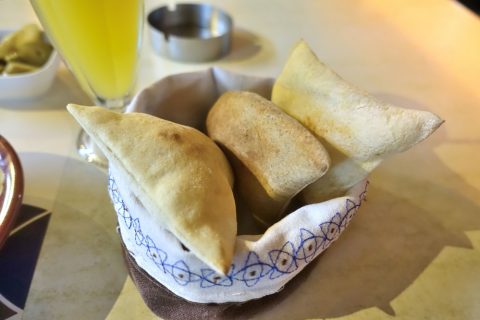 Pita bread that has been baked fluffy! It is even more fragrant when freshly baked, and of course it is delicious!
Hearty Chicken Rice
The main dish is a dish called "Stuffed Chicken". It's chicken rice with a big chunk of chicken, cashew nuts and almonds.
When I ate it, it was a rice with a hint of coconut flavor, and while it had a unique Asian flavor, the nuts on top served as a nice accent.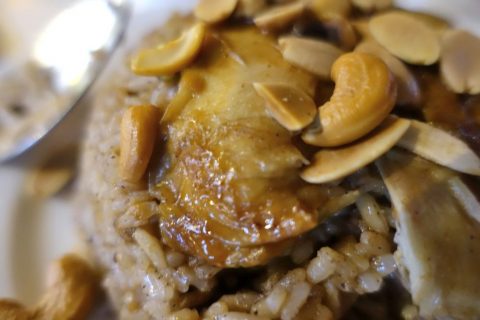 Above all, this big chicken is tender, fragrant and delicious! It was more voluminous than it looked and I couldn't finish it, so I left almost half of it. …
$25 for dinner, relatively reasonable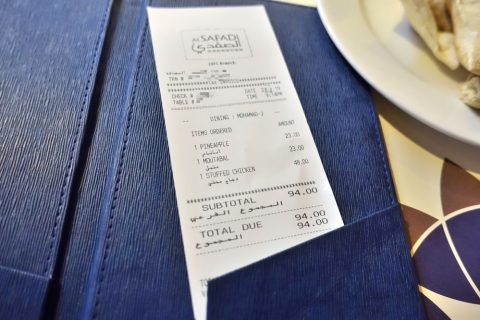 The payment this time is 94 DH. Although it is a casual restaurant, I think it is quite reasonable as a dinner to eat in advanced countries. The taste is good, and the atmosphere of the restaurant where you can casually enter is good!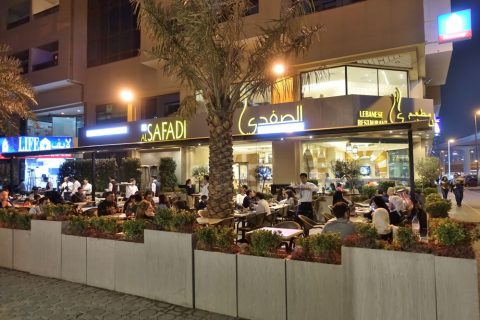 The terrace seats that were available at the time of our visit (Around 20:30) are popular as 90% of the seats are filled after 21 o'clock! If you want to eat slowly, I recommend you to avoid the peak time.
AL SAFADI(Sheik Zayed Road)
Address:127 Sheikh Zayed Rd – Dubai
Opening House:8:00~25:30
♪Click here for a List of articles on "Dubai"