Following on from yesterday, this is a visit to "Al Mourjan Business Lounge", a business class lounge at Doha Hamad International Airport. This time, I would like to report the buffet menu when I visited at lunchtime.
For the lounge area other than the restaurant, see yesterday's article → The greatness of Al Mourjan Business Lounge in Doha Hamad International Airport!
※This article was written before the virus scandal. This will be updated.
restaurant at the top of the stairs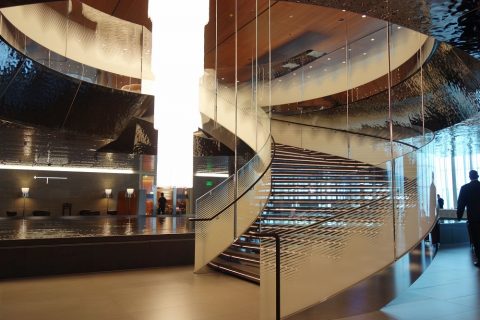 The buffet area of the Al Mourjan Business Lounge is located on the upper floor of the spiral staircase. There is only a drink server on the ground floor on the first floor, so if you want to eat, you need to go upstairs.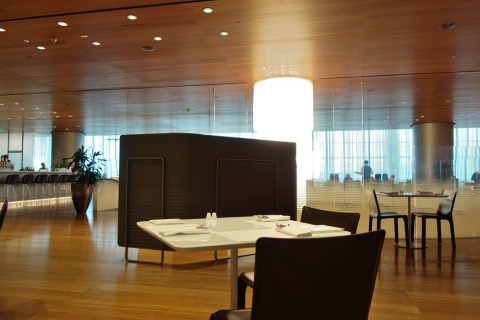 If you go up the stairs, you will find a buffet area, which is also spacious! There are many two-seater tables and sofa seats by the window. In addition to the two buffet areas, there is also a bar counter. Like JAL Sakura Lounge, there is no counter like a beef bowl restaurant.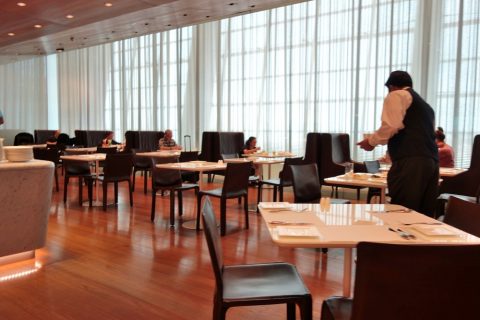 The information board in the lounge in this area says "Restaurant", but it doesn't have the order-made service like the actual restaurant, it is buffet-style like other lounges. I saw word of mouth that there was an order-style menu before, but unfortunately it was gone at this time.
As soon as you get in, Garson comes up
As soon as you enter the restaurant, Garson will show you to any available table without having to decide which one to sit in. Each table comes pre-loaded with knives, forks and napkins so you can start eating right away.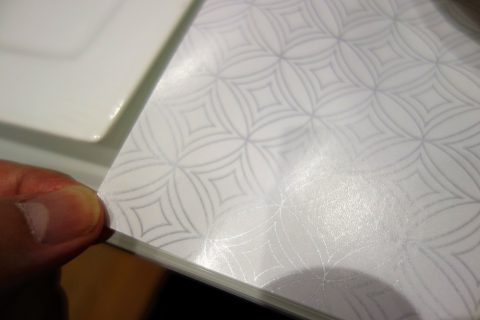 This tablecloth is made of paper, but the ceramic plate stops perfectly! This is the first time I've seen such a high quality product with a slip stopper even though it is disposable.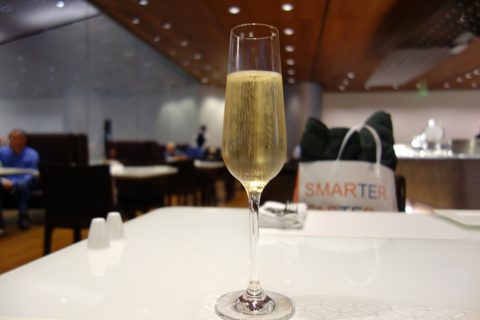 At the same time as we were seated, Garson asked us what we wanted to drink, so we had champagne. The taste is just the same as the champagne I got here in business class …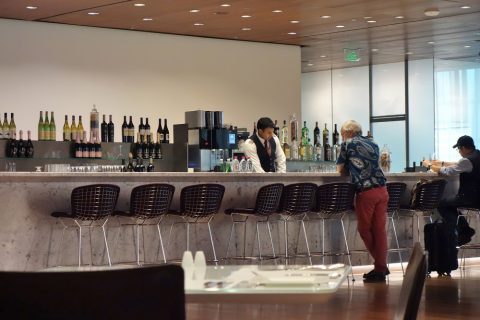 When I looked at the Bar, I saw the exact same brand "Lanson Black Label" and its rose. I'd like to expect something a little more special here, but it might be difficult without going to the first class lounge. Please refer to "Qatar Airways business class/Arabic in-flight meal and disappointing champagne (Narita – Doha)" for the taste of this champagne.
Lunch time buffet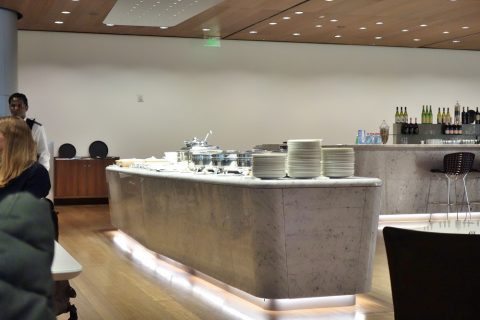 There are two buffet counters and one counter for soft drinks and desserts. The two buffet counters have exactly the same menu.
The menu is surprisingly small, with hot meals "Asparagus, Spinach and Corn Gratin" and "Mi Goreng (South-East Asian fried noodles)", white rice, and 2 other soups "Mediterranean fish soup" "Potato soup with leek sauce".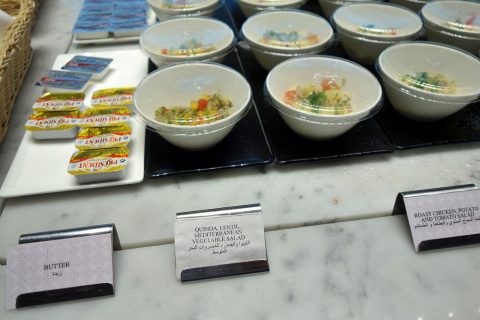 Other than bread, there are many cold meals which are divided into small bowls. Many are salads, such as "Mediterranean salad with quinoa lentils" and "Roast Chicken Potato and Tomato Salad".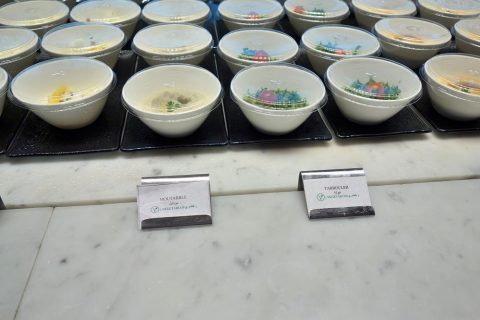 Arabian vegetarian foods such as "MOUTABBLE" and "TABBOULEH" were also available. This "tabbouleh" was served in Qatar Airways business class cabin, and I think it looks pretty much the same (Reference → Qatar Airways business class/Arabian in-flight meal and disappointing champagne (Narita – Doha)).
I had some cold meals this time, and all of them were elegant but lightly seasoned, so they were perfect for appetizers or sake. It's a shame that there aren't many hot meals, but is it like this at lunch time …?
Variety of desserts, taste?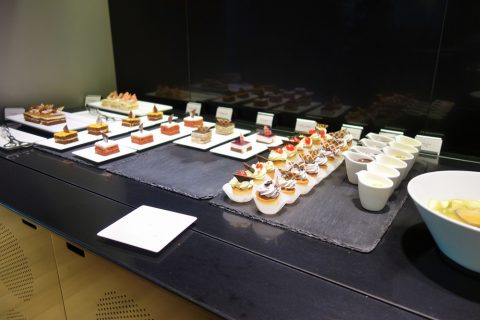 Next, let's look at desserts! Dessert is not at the buffet counter in the center of the restaurant, but at the counter with a coffee server. At this time, there were 8 kinds of cakes and 2 kinds of bavarois, and there were a few other fruits, so there were plenty of kinds!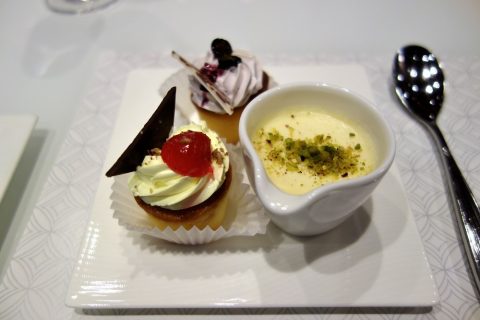 However, the taste of all the cakes is …, although they are decorated in a stylish way and they look beautiful, only the custard is topped with fresh cream and the taste is not satisfactory.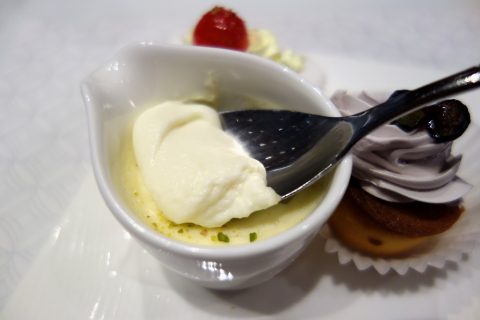 But this bavarois is delicious! It is very rich and creamy, and the right amount of sweetness is good! It's bite-sized, so I had 2.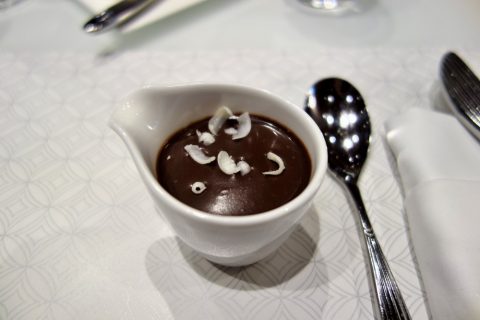 This chocolate bavarois is also delicious! It has a rich and strong flavor of bitter chocolate, and the sweetness is just right, so I like it. It's a shame that I can't eat so much because I have a meal in business class after this.
huge space of peace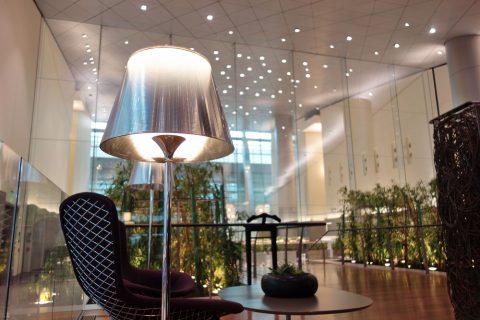 This is the Al Mourjan Business Lounge at Doha Hamad International Airport, which I reported twice. The high quality lounge, which spreads out in a vast space, boasted an overwhelming presence that is incomparable to airport lounges in other countries.
But it's not a luxurious lounge, it's simple and functional. Because of that, I was supposed to be in a very luxurious space, but I felt calm as if I was relaxing in a room.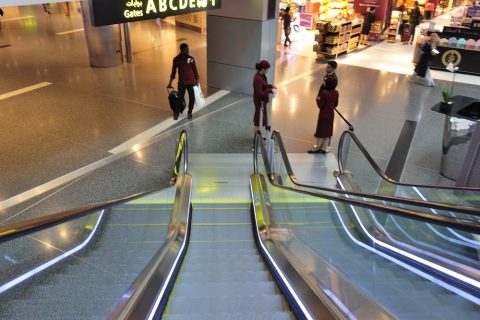 This is the end of our lounge stay. I would like to report the breakfast menu when I come back next time. Next time, I will go to Vienna on a herringbone seat of B787-8! Qatar Airways Business Class B787-8 Seats & Amenities/Doha ~ Vienna Boarding Registration!
♪I also recommend this link→Collection of AIRPORT LOUNGE Reviews Worldwide! Wine, buffet, Shower, etc.