Here is the boarding report of Air France Airlines which I used when I went to Geneva the other day! This time I was boarding for business class, but I was able to experience the seat by visiting the first class seat before departure!
First class of Air France called "La Première". I would like to take a closer look, comparing with the business class seats.
Flight AF293 from Haneda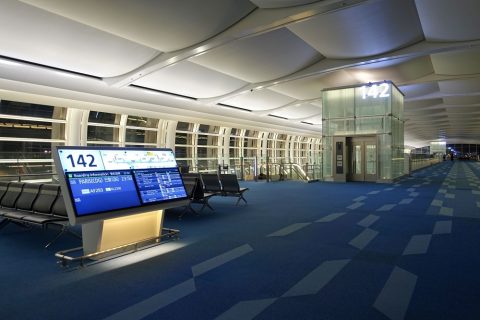 The latest flight is AF Flight 293 bound for Paris, departing from Haneda Airport at 23: 50. It's a late night flight that arrives in Paris early in the morning. It took about 12 hours and a half to get to Paris and I had a experience flying this same route over a few years ago in a fully booked economy with JAL, but at the time it was a really long and difficult flight …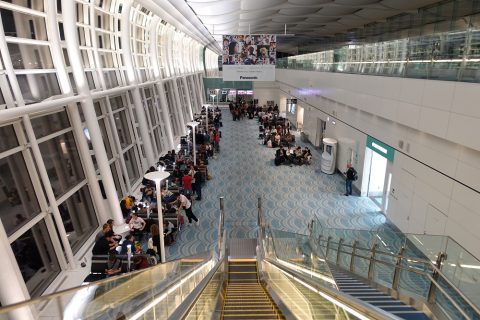 The boarding gate is the 2nd from the back of the satellite "Number 142.". Unlike the main building, the entrance to the boarding gate is on the lower floor.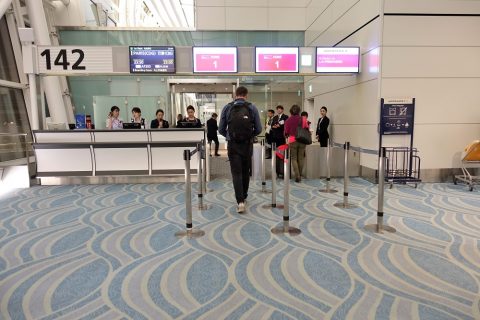 Priority boarding (ZONE 1) had just started, but the other ZONE people were sitting on the bench waiting for us, as if they weren't even allowed to line up. Unlike airports in Paris, which are zoned by countless partitions.
B777-300 Business Class Seat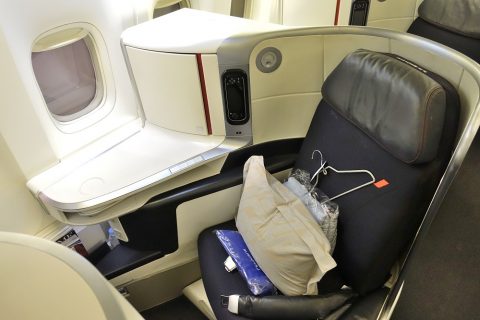 My seat this time is 3L. It's the first seat in business class. 1-2-1 herringbone array sheets.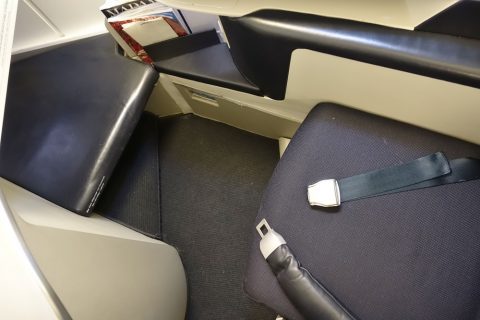 As I told you on my flight from Paris, this business class seat has a very spacious foot space and is comfortable. I think it is probably the biggest class among many business classes.
But just because you're at the front doesn't mean you have more space than you have behind you.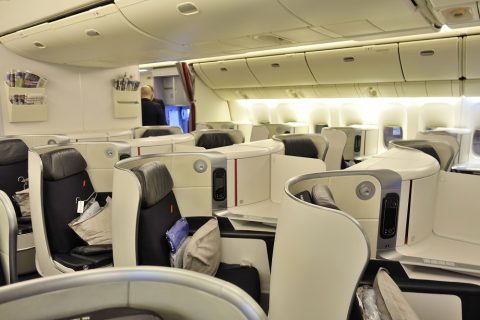 There are 60 seats in business class, but only the 16 seats in the front are on the same first floor as in first class. The center two-seater seat has a movable partition in the center.
Aisle armrests can be raised and lowered by button operation. It seems to be necessary to lower it so that it will not interfere with emergency evacuation during takeoff and landing.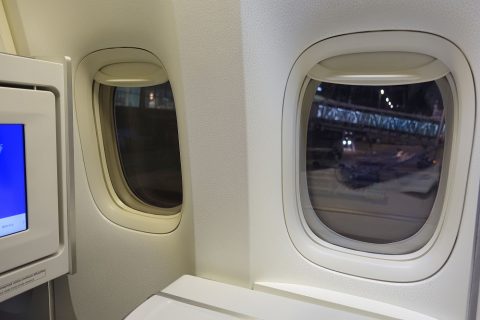 Two windows. It is perfect without being in a half-finished position!
Only 4 seats! La Première seats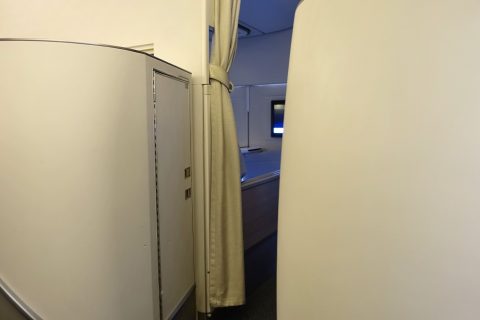 Now, in front of my seat, through a gap in the partition, you see the first class in the realm of God! There seems to be no passenger yet, so I would like to take a look inside now.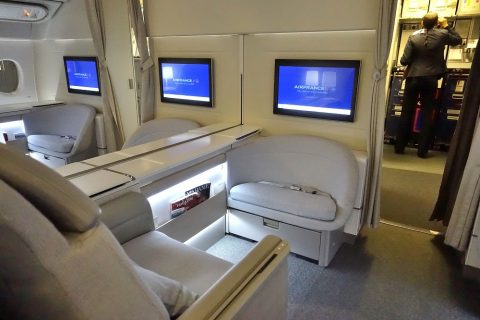 The first class (La Première) of Air France B777-300 has 1-2-1 array seats. It is the same as business class, but the length is very wide!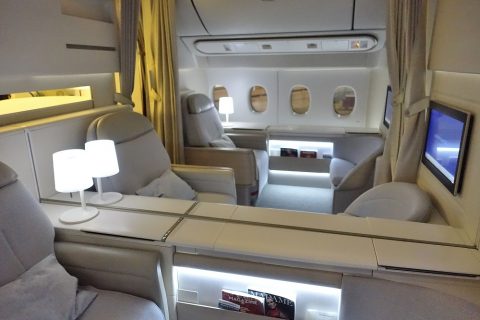 There are only four seats in the first class. The front and back are partitioned, but if the space per seat is so big, I don't feel it's busy. At this time, the ceiling light is not on, and the white and bright indirect light creates a unique luxurious feel.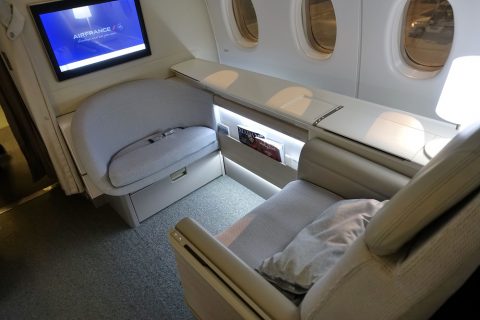 I was taking a picture when CA appeared so I bowed! When I asked if I could try sitting in the seat, they happily agreed!
When I sat down, it was completely different from the business class of herringbone and had a sense of openness! By closing the curtains at bedtime, you can make it like a semi-private room.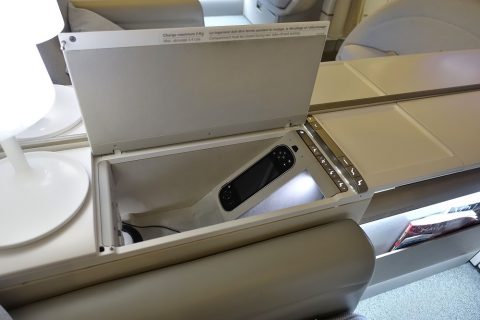 Also, Mr. CA told me about the facilities around the seats in detail about the first class specialized CA. There is no big difference between business class and seat controller, but this one has massage function.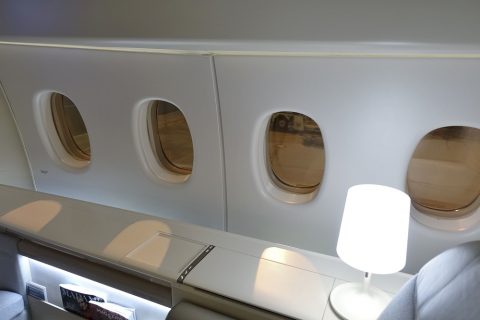 The four windows are specially designed with 2 types of electric curtains with different brightness. I thought the electric curtains were only for Airbus, but Boeing also had them!
I have experienced this electric type in a business class of Qatar Airways before, and it works quickly and is very convenient! (Reference → The facilities of Qatar Airways A 350 are amazing! business class boarding record)
Is it cheaper than you think? first class fare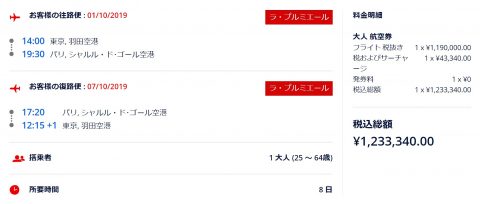 Air France's first class "La Première" is surprisingly reasonable, costing around 1.2 million yen between Tokyo and Paris. JAL costs 2.5 million yen, so it's less than half the price (Well, JAL is just too expensive, but …).

By the way, if you take JAL's miles, you need 165,000 miles to and from Paris. The first flight with JAL is only 160,000 miles, which is a little less, but if you take it with Air France, you can get not only a simple round trip to Paris, but also a connecting flight from Paris, so it's a good deal!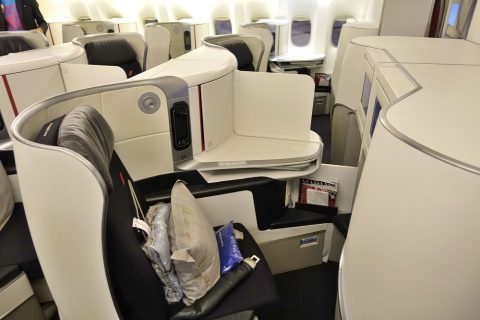 So, say goodbye to your dreams and go to the real world …? No, I'm in business class this time, so I feel like I'm in a dream.
Next time, I will report about in-flight meals on this flight. → Air France HND ~ CDG Business Class In-flight Food Report!
♪Click here for a List of articles on "First Class & Business Class Airlines worldwide (Seat, In-flight Meal, etc.)"