The flight from Paris to London is again Air France business class! I would like to report the seats and in-flight meals of A320.
This time, I expected a luxurious dinner because of the flight departing at 18 o'clock, but the delicious bread and superb sweets are still available even at the unexpected light meal …!
Boarding first before senior members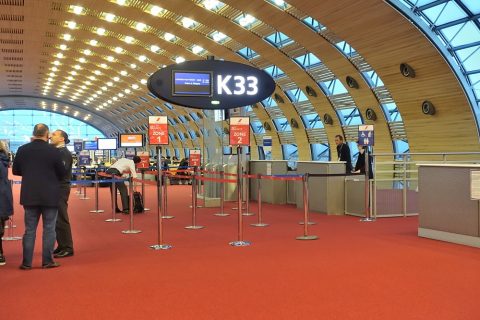 The boarding gate for the flight was K 33 at CDG Airport Terminal 2E. It's only an hour's short flight to London, but since it's outside of Schengen, it leaves from the same terminal as the long-distance flights.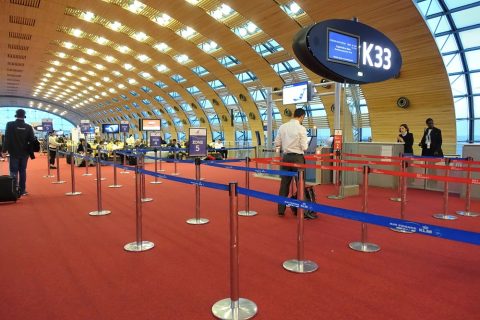 The fact that there are boarding lanes from ZONE 1 to ZONE 5 is a characteristic of the terminal for long-distance flights. In fact, all these lanes were not used in this flight.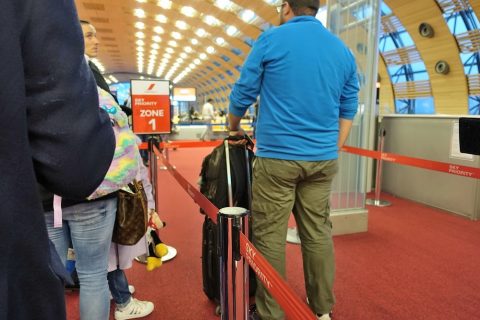 For business class and SkyTeam senior members, ZONE 1 is a priority. However, for some reason, when the boarding time came, only business class passengers were called, and boarding started before senior members!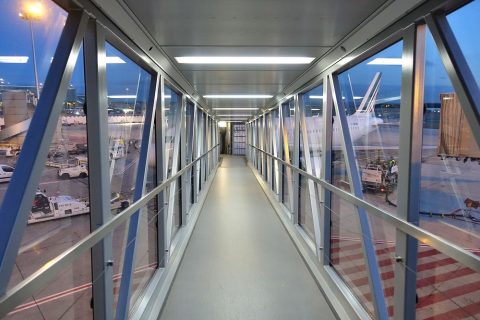 It is very different from Star Alliance that business customers are given priority over senior members. Thanks to you, I was the first to board! This may be the first time someone has crossed the unoccupied boarding bridge.
Seat MAP of A320

Now, the plane for London this time is A320. It is slightly longer than the A 318 that I have boarded so far, and the capacity has increased.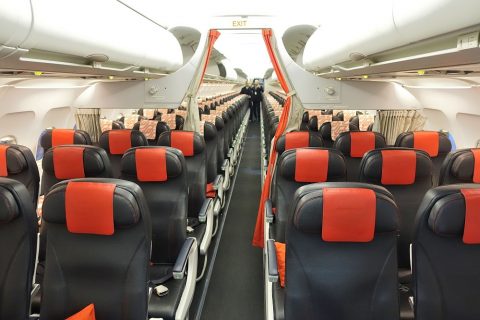 The seat arrangement is the same as 3+3, but the leather is different from before. The seats and armrests are shiny, maybe it's just been introduced!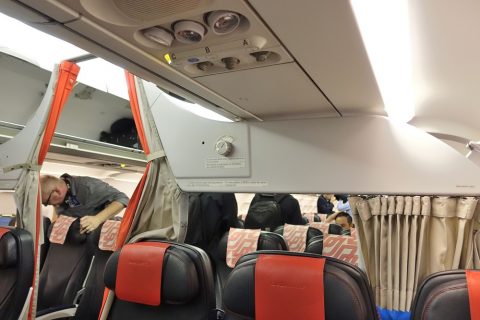 Business class is in the first three columns. There is a partition between the economy and the airport, and the curtain is drawn when you go up.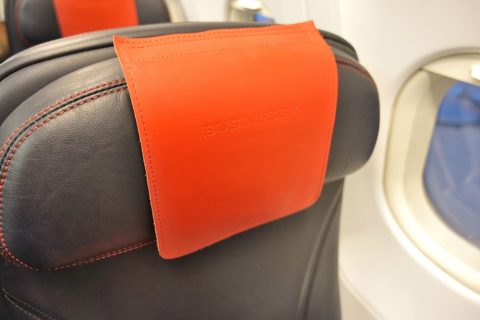 The head cover is also covered with leather. But if it's not made of cloth, I'm afraid it'll be a lot of work to wash. … I can't believe it's used for many times. …?
Seat width, pitch, and equipment around the seat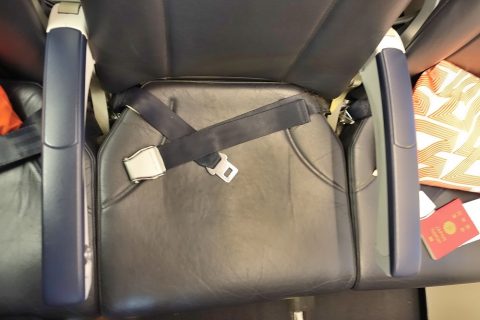 The seat is fairly wide, about 47 cm between the armrests. It is a size that cannot be realized by Boeing.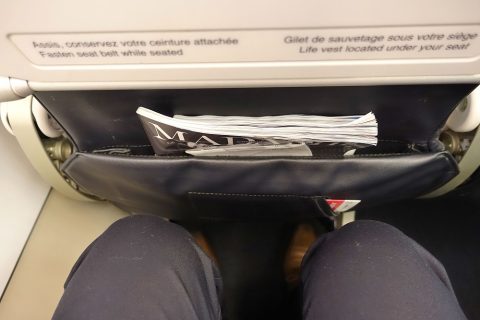 However, the front and back seat pitch is very narrow, and there is little space around the knees when I sit normally. That might be smaller than JAL's domestic economy …
On the other hand, the facilities around the seats are quite substantial! Comes with a cup holder on a large table. Also, the armrest has a USB power source, but I'm not sure if economy passengers have one.
The polite service is the same!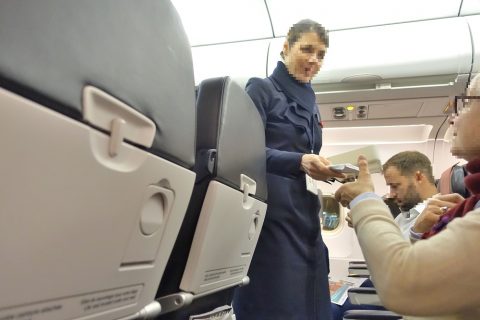 Air France provides pleasant service every time, but the kind and polite service is the same this time too! CA is friendly and friendly with a smile.
After boarding for a while, there is a service of wet towel and water. The wet towel is not like a tissue but made of durable cloth.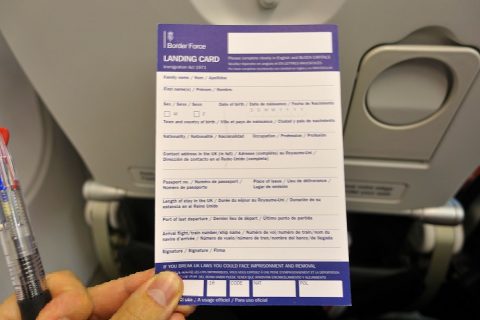 In addition, this time you will be given a British entry card for going to London. It takes a lot of time to write, so it's better to write as soon as you get it! There is a space to write the address of the hotel, so I think you should check it in advance.
The in-flight meal was unexpected "light meal".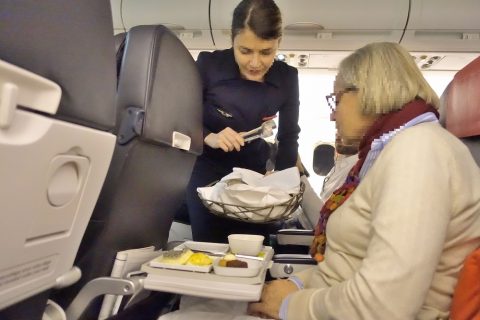 Now, as this flight has only one hour left, the service will start as soon as the belt sign is turned off! Drinks, in-flight meals and bread are served at the same time.
Here is the in-flight meal menu. The menu card is not handed to me and I am on the plate of the in-flight meal. This time again, there are 2 types of desserts, cold plate.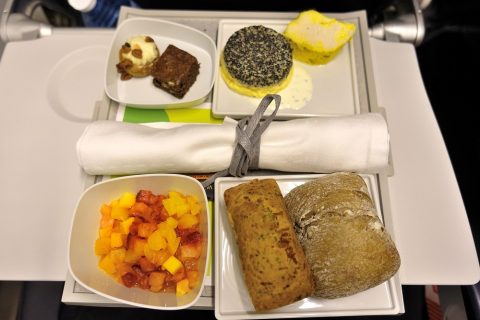 As this flight departs at 18:05, I thought dinner would be served, but since the dinner time of the light meal … CDG airport lounge is from 19 o'clock, maybe the in-flight meal will be in Afternoon Slack before 19 o'clock …?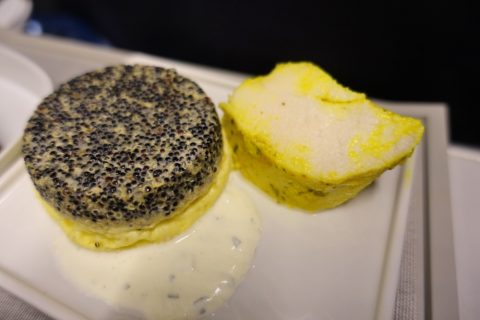 The main dish here is lemon flavored chicken? Mediterranean vegetable cake containing black Quinoa. The name of the dish doesn't make any sense, but once you try it, you won't be able to understand the taste. …
The texture is good, and I understand that it is an elegant and high quality dish, but I would like it to be more clear in black and white.
The deliciousness of bread and sweets is still alive!
However, the bread you can choose from the basket is delicious! Both pumpkin bread and walnut bread are fragrant and rich in flavor. I don't think it's good that there's no butter at this time, but it's delicious enough without butter.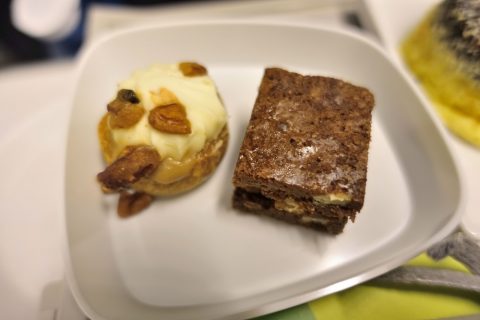 And as for the usual dessert, this is really delicious! Peanuts and salt caramel on the left and rich chocolate flavored cake on the right. When you put both in your mouth, various flavors come one after another.
I was really impressed to see such a big world spread in such a small bite-sized sweet!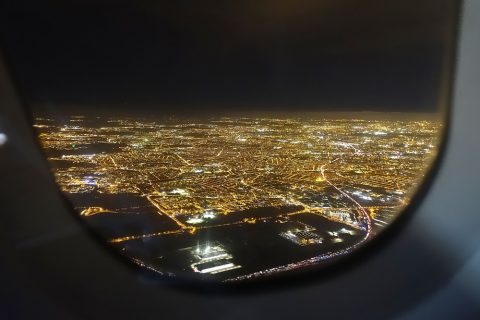 As expected, Air France from Paris! I can always enjoy sweets. Even if you can eat the best sweets, it is worth riding.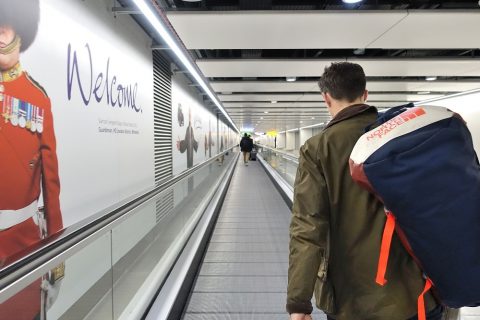 This is Air France Business Class from Paris to London! Please refer to "Air France Business Class" for information on other routes you have boarded.
♪Click here for a List of articles on "First Class & Business Class Airlines worldwide (Seat, In-flight Meal, etc.)"