The first flight from Geneva to London will be Air France to Paris CDG Airport!
I am using business class this time as well, but the service is limited compared to the long-distance lines because it is a domestic flight in Europe. But all the in-flight meals were delicious! It was such a flight that we could see how Air France is working hard!
AF Flight 1743 from Geneva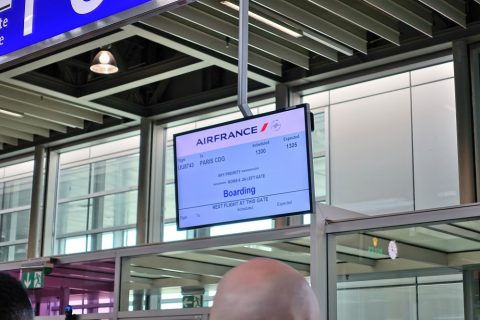 The report is from Air France, a flight from Geneva at 13:00 to Paris. Continuing from the last time, it is a part of the special ticket issued at JAL Mile.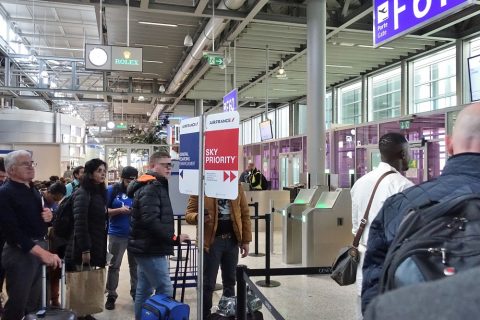 Since it is business class, we use priority boarding, but unlike long-distance routes, there is no detailed classification by status from ZONE 1 to ZONE 5, and the boarding lanes were only Sky Priority and normal 2 types.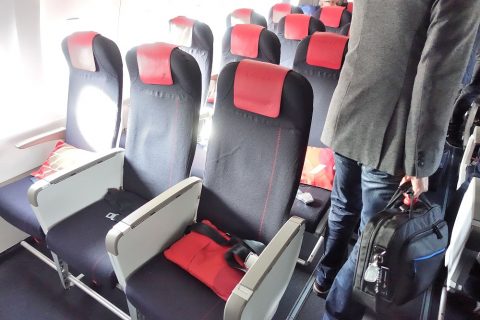 The aircraft will be equipped with A318, the same as on the outward route (Paris – Geneva). The seats are 3+3, and the business and economy seats are the same. For Business Class, the middle column (Columns B and E) automatically becomes vacant.
The front and back seat pitches are the same as those of the economy class, but this time we secured a 1K lead with wide feet.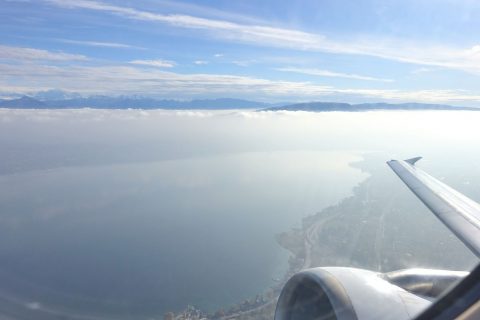 This seat is a window seat on the right side in the direction of travel, but right after taking off, I could see Lake Leman and it was beautiful! A view of the Alps from a distance, which is unique to Geneva.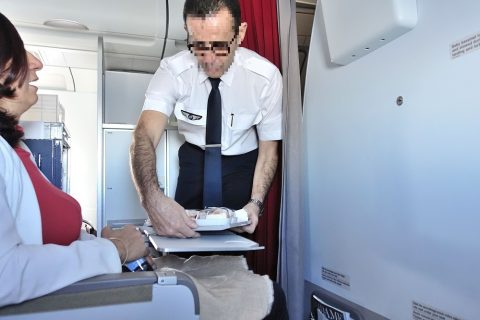 When the seat belt sign is turned off after taking off, the in-flight meal service starts immediately! A very polite male CA will serve you. Since it is only a short flight of 1 hour and 15 minutes, the work is very fast!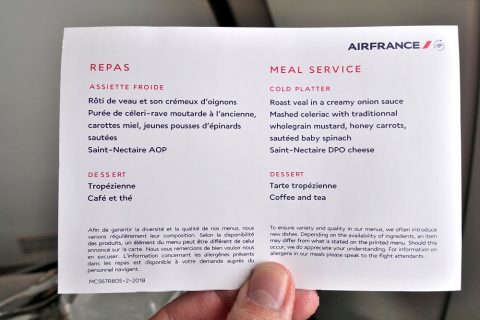 Here is the in-flight meal menu this time. It comes with 5 cold plates, dessert, bread and drink. I expected a hot meal because it was lunch time, but unfortunately it didn't come true …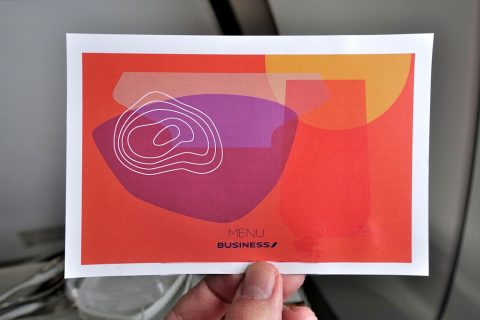 The back of the menu is designed like this. It was yellow green on the first flight, but this time it was orange. What a French artistic pattern!
All of the dishes are delicious.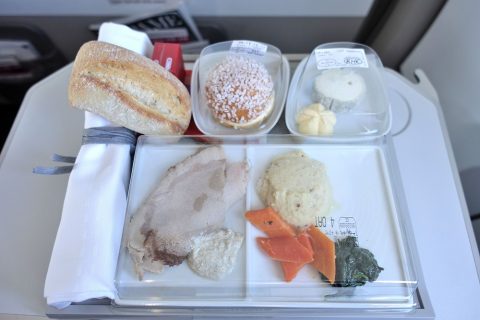 And here's the in-flight meal! At Air France, each plate comes with a transparent cover. You can choose the bread from the basket, but there was only 1 kind at this time …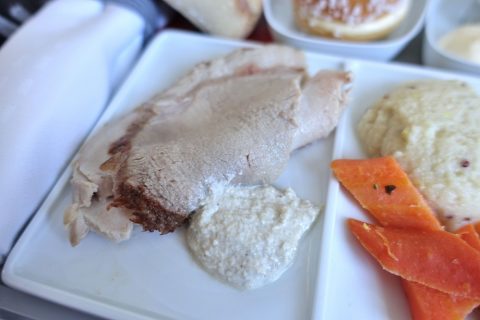 But all the dishes are delicious! This Confucius roast is juicy, juicy and flavorful, and even better with a paste of onion sauce!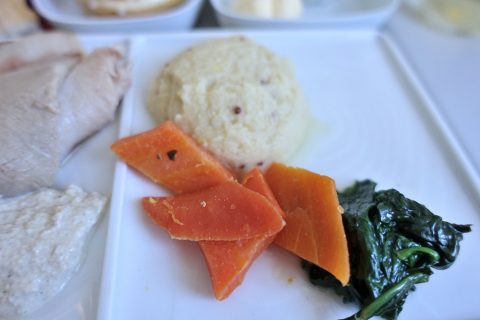 Something like white mashed potatoes "celeriac". It has a lighter texture than potatoes, and it doesn't have a peculiar taste, and this is also quite delicious!
The cheese, butter and dessert are also excellent!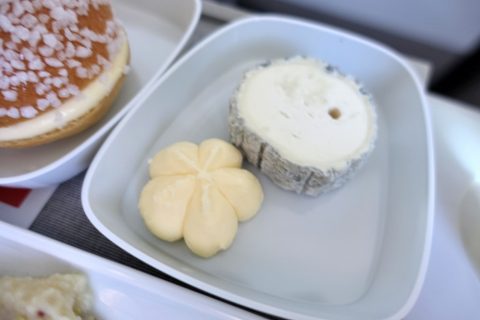 The cheese is soft, but it doesn't have any smell like Camembert, so it's creamy and easy to eat.
The side dish is butter spread on the bread, and this butter is superb! The perfect saltiness and milky taste, I should have asked which butter it was …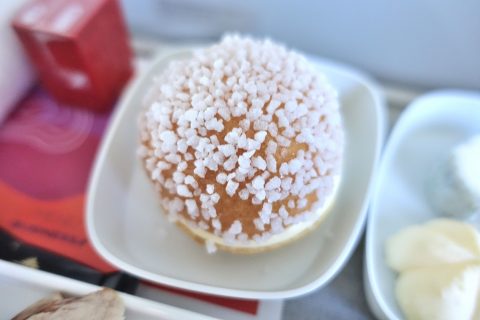 And the dessert is "Tarte Tropézienne". I had never heard of the name before, so when I looked at it, it was one of the local sweets based on brioche and originated in southern France, and there was butter cream inside.
Not to mention the taste, it has a light and fluffy texture and the rich cream is exquisitely sweet! It's amazing that you don't cut corners on such a simple sweet! Excellent!
Great for short distances! Air France in-flight meal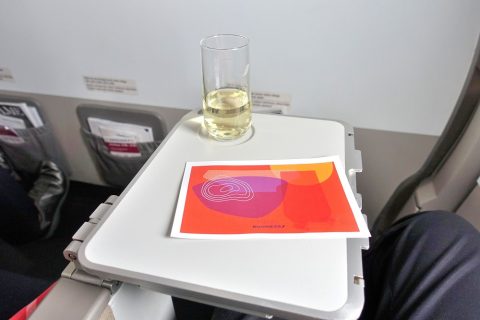 It was delicious! I was able to finish it in about 10 minutes due to the time, but I was very satisfied with many delicious dishes! It's great to have such a good meal on a short flight!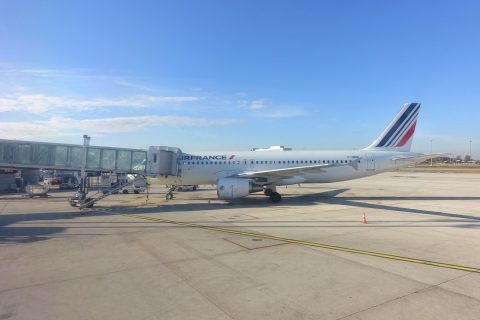 I definitely want to ride it again! It was an Air France business class flight that made me think so!
♪Click here for a List of articles on "First Class & Business Class Airlines worldwide (Seat, In-flight Meal, etc.)"