Continuing from the previous report, Air France Airways Business Class Report from Haneda to Paris will report the sleeping comfort and breakfast of a full flat bed this time! See our previous coverage of in-flight meals and seats for the first meal.
simple seat controller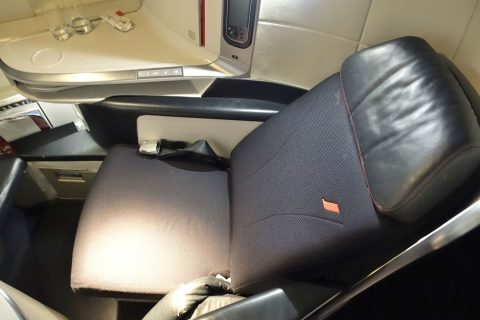 Now, after the in-flight meal, I'll recline the seat and make it a bed. The seat is operated by the seat controller on the side table, but it has only 3 buttons (The reading light on the far right).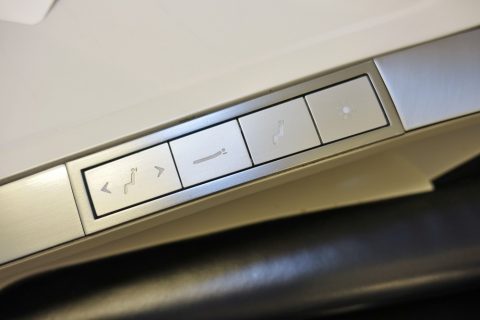 If you keep pushing the mark on the bed, the seat will fall down, and if you stop in the middle, it will become a relaxed position. If you move the seat forward at this time, you can put your feet on the ottoman at your feet.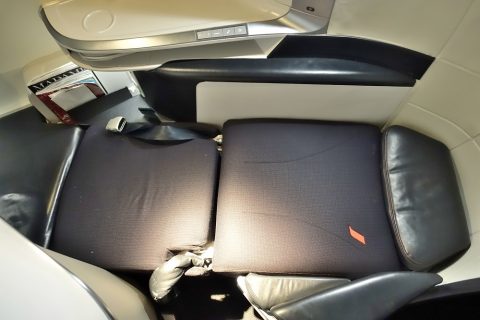 If you push it all the way, you'll get a bed like this! You can also lower the armrest on the aisle to the same height as the bed. This seat has wide feet, so it's easy to cross your legs and change your posture while sleeping!
No pillows, no blankets, no mattresses.
The bedding consists of a pillow and a blanket. There is no mattress like JAL or ANA. I can't deny that the pillow is a simple cushion, but it is much easier to sleep than the hard type like JAL!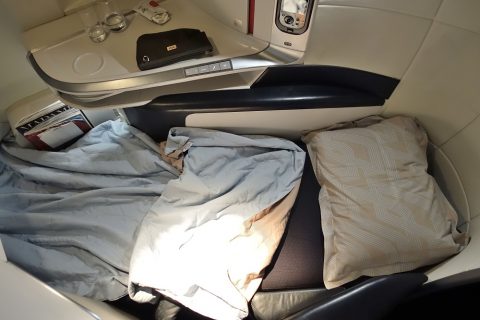 Good sleeping comfort! Even if I don't have a mattress, my shoulders don't hurt, and most of all, it's wide so I'm glad I can turn over easily! The temperature in the plane is just right, and if I had to say, it's a bit chilly, so if you cover it with a blanket firmly, it's warm just right.
I was a bit nervous, so I couldn't sleep well (lol), but I think it's more comfortable than other airlines.
Night snack is cup noodles and rice balls.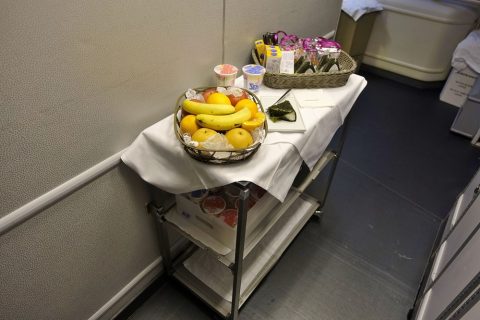 After sleeping for about 4 hours, I looked into the galley when I was standing in the toilet, and there was a mini bar, so I checked it! The menu is different from the one from Paris.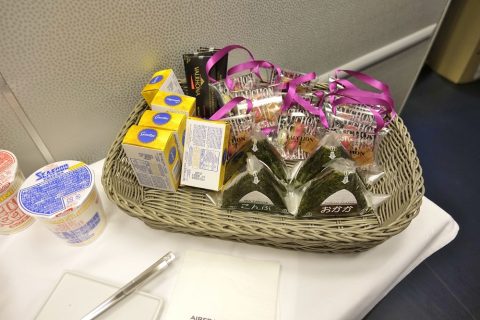 In addition to cup noodles, there are chocolate and cookies in the basket as well as kelp and bonito rice balls! This is a menu unique to Japan, but the fact that there is a knife to cut onigiri on the side is a characteristic of France.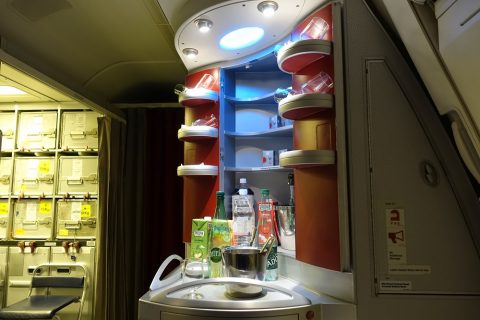 There is a nice drink bar, but the alcohol is champagne only. I think it will look better if they have a little more brandy. Well, it's an irresistible space for champagne lovers!
Looks poor? But a delicious breakfast.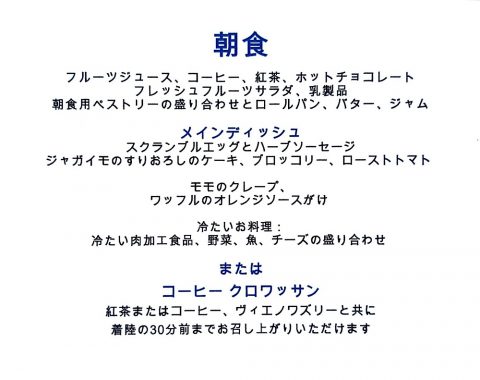 Now, before we arrive at 1:50, the lights will turn on, and the last in-flight service will start! You can choose from 3 menus for breakfast, but I chose "Peach crepe with orange waffle sauce".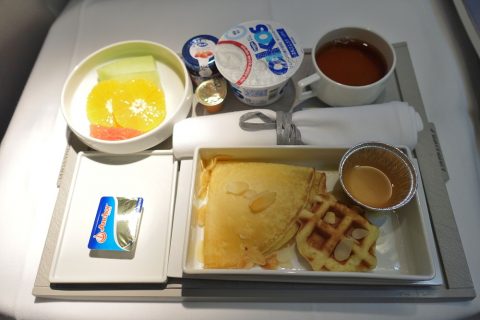 This breakfast was served as a second light meal, but still a bit lonely line-up … bread will come later, but I would like at least one more dish such as vegetables.
But this waffle is crunchy on the outside and fluffy on the inside! Crepes are creamy with lots of peach fruits, and they are quite delicious.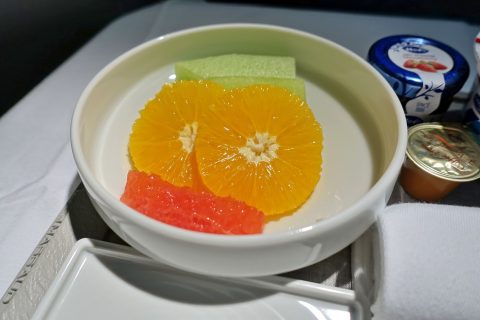 The fruit is so juicy that just a little knife splashes the moisture! It's juicy and delicious fruit.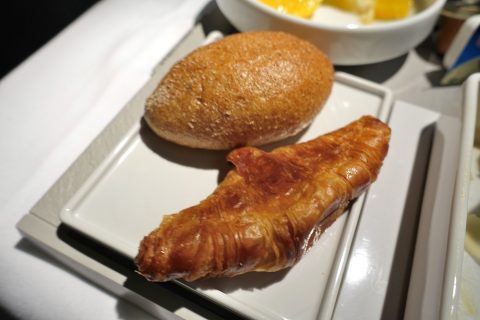 You can choose from 4 kinds of bread, but croissants were delicious! Crispy texture, chewy inside, and rich flavor of wheat. This is a really high quality croissant.
Even though it is from Japan, this taste is as expected from Air France!
Do you underestimate "4 stars"?
Air France Business Class from Haneda to Paris, which I have reported three times. It was a very satisfying flight with a spacious seat and delicious in-flight meal!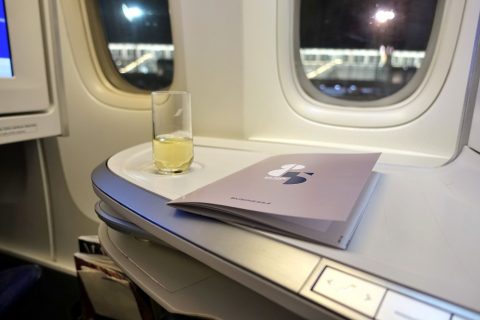 CA's response is generally good. However, maybe because I was very busy with the service of the business class customers with 60 seats, the dishes were served extremely late, and I was able to forget to serve bread for breakfast only in my seat, so I was a little dissatisfied, but there was no problem with the individual service.
Despite this, Skytrax's 4-star rating is a bit underrated. I felt that Air France should give the same rating when I think about JAL getting 5 stars.
So we arrived at Paris CDG Airport earlier than the scheduled time! Next time, I will tell you about early morning transit. For more information on the first meal on this flight, check out the full post below.
♪Click here for a List of articles on "First Class & Business Class Airlines worldwide (Seat, In-flight Meal, etc.)"