The flight from Paris is again Air France business class! This time it is a short distance flight to Geneva in Switzerland and the travel time is 1:10, but as it is a business class flight, it provides an in-flight meal which is not available in economy class. I would like to report in detail including the menu and taste.
※This article was written before the virus scandal. This will be updated.
The boarding gate is very crowded and it's dangerous!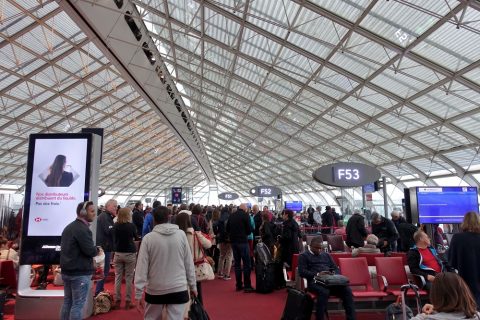 The boarding gate for Geneva is F51. It is located at the very end of the terminal 2F, but when I went there, it was so crowded that I couldn't move around the gate which was filled with people!
The terminal around gate F51 is tapered, and the distance to the adjacent gate is extremely close, so the space is very narrow. …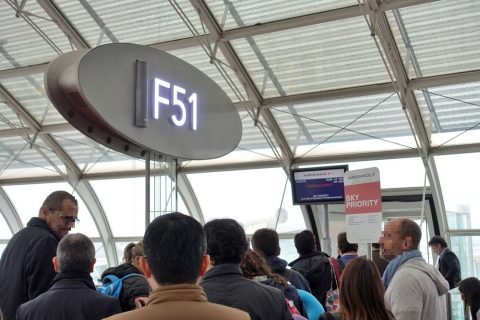 We managed to get to the gate, being mobbed! It was supposed to start boarding at 9: 35, but it had already started 8 minutes ago. Air France usually starts boarding early, so it's better to come early if you are aiming for a luggage rack.
A318 business class seat

Now, this plane for Geneva is called A318. It's a small plane for 131 people. I don't often see them in Japan, but they are popular equipment in Schengen domestic flights.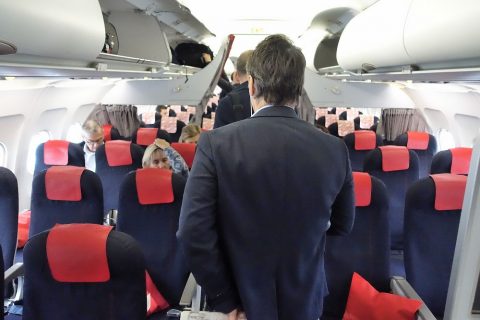 The front five rows are business class, and a curtain is drawn at the border with economy class. It is distinguished by the color of the head cover, red for business and pink for economy.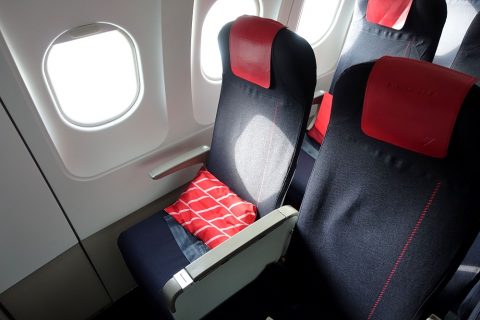 I got a window seat in the first row this time! The foot is wider than the back row, but there is a screen which is not shown on the sheet MAP, so there is not enough space to stretch your legs.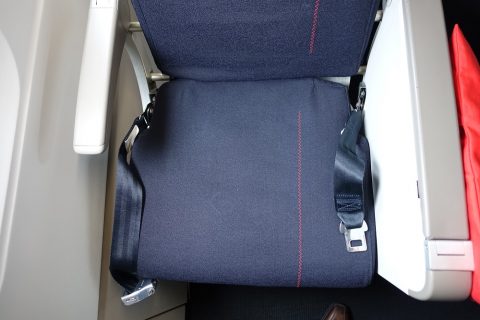 When I sit down, it has a good cushioning property and is comfortable to sit! The width of the seat is about 46 cm with armrests. But the draft? ) and my feet were freezing …。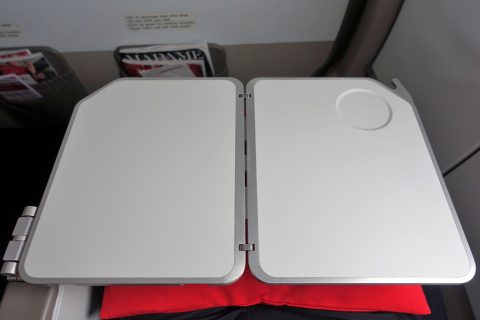 The table is in the first row, so you can take it out from the armrest. It is fairly stable and clean and clean.
Welcome drink and hot towel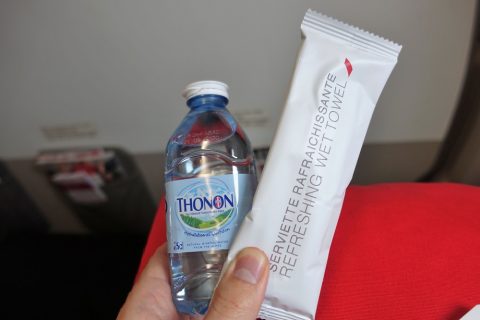 After a while after boarding, a bottle of water and a wet towel were distributed as welcome drinks. This 250 ml plastic bottle is the same as the one in the lounge.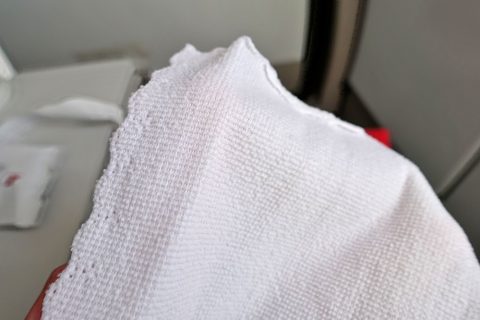 Towel are not cheap like kitchen paper, but made of thick cloth with frills. I've never seen such a decoration on a disposable wet towel! Could it be reused?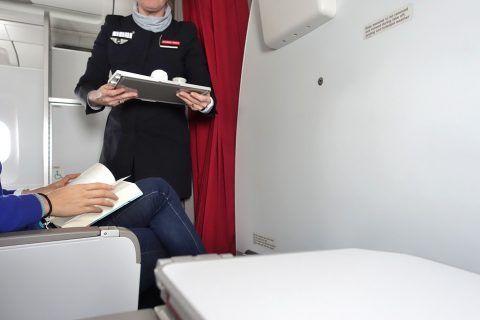 It left at 10: 05 on time, and as soon as the belt sign was turned off after takeoff, the meal was ready, and only 5 minutes later it was already served! It is a short distance route with a required time of 1: 10, so the service is fast around here.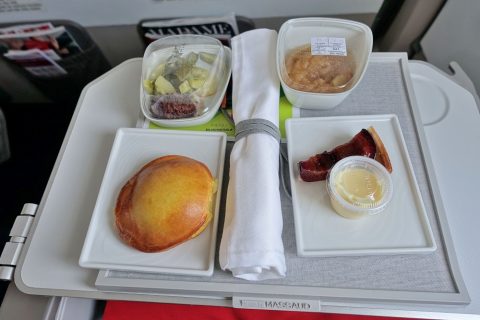 Here is the in-flight meal. I thought breakfast would be served because of the 10 AM flight, but there were 4 dishes in total, cold plate, pancake and dessert. Well, this is completely a 10 o'clock snack.
This kind of in-flight meal menu was on the tray! The front cover has a typical French design, and the name of the dish is written in French and English on the back.
Zucchini and kalamata olive Tapenade
Emmental cheese brioche bread
Damson Tart & Cream Anglaise
Apple Compote
Is the in-flight meal …?
"tapenade" is a paste dish originated in France. It tastes sour like plum. "Apple Compote" is just an apple jelly, but it is fruity and pretty good!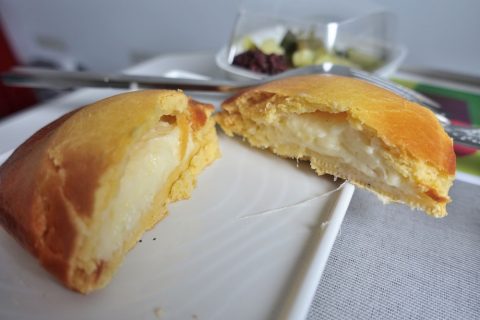 The in-flight meal was cold, but the only thing that was warm was brioche. It has a bit fragrant and flavorful Emmental cheese in it, and it feels like a delicious pancake.
Bread was not served on this flight, so this will be substituted for bread.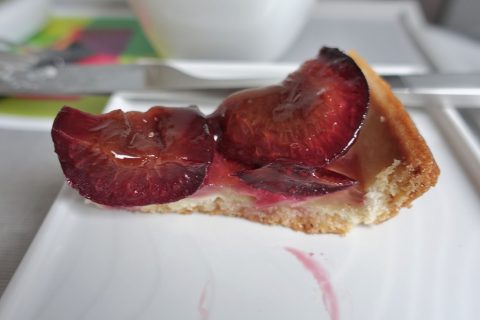 The dessert "Damson tart" is a kind of plum fruit called Damson, but it tastes strange. The tart crust is a bit dry and doesn't look good for a dessert from Paris. …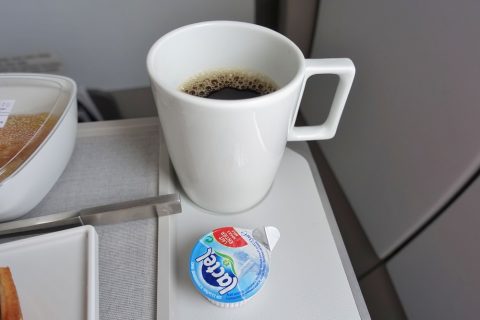 Also, the coffee has no particular bitterness or flavor, and is very ordinary coffee. It was a flight from a country with delicious desserts and coffee, which was quite surprising …
Meals last 10 minutes.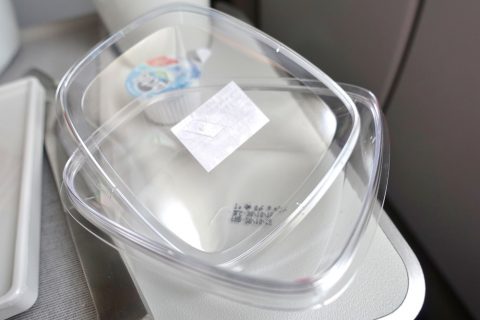 The in-flight meal was cleaned up within 10 minutes of being served. I managed to finish it, but I ate it after shooting, so I had to hurry up and finish it …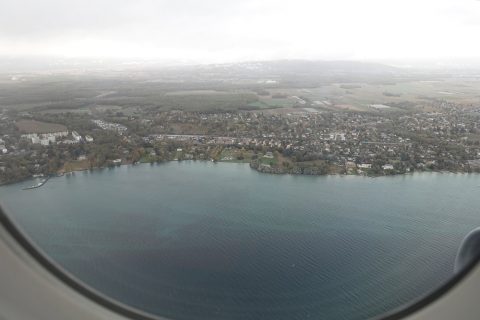 Well, on short distance routes, if the air current is not stable for a long time, in-flight meals may not be provided, so it might be better to eat as much as possible. CA's service was good, and I think it was quite a comfortable flight.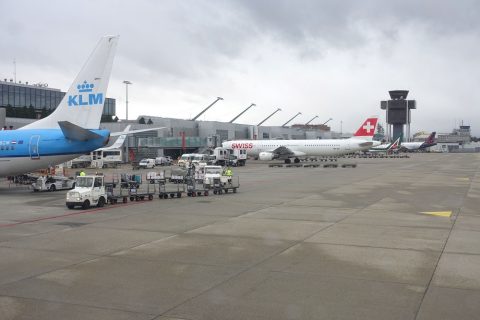 So we arrived in Geneva, Switzerland! From next time, I plan to tell you about sightseeing in Geneva.
♪Click here for a List of articles on "First Class & Business Class Airlines worldwide (Seat, In-flight Meal, etc.)"