On New Year's Day, "Vienna Philharmonic New Year's Concert" a big event in the classical music industry, starts and it is broadcast live by satellite. This time, I would like to tell you about the ticket arrangement and the price of the New Year concert.
※This article was written before the virus scandal. This will be updated.
hard to find ticket
Every year I watch the show, I want to be on the stage surrounded by those flowers, and someday I want to be in the hall where the applause comes from. But you know how difficult it is to get tickets. Tours that promise to see concerts often cost more than 1 million yen, which is hard to come by.
Even the "Eve Concert" on the eve of the New Year's concert, and even the "Sylvester Concert" tour 2 days in advance, is unbelievably expensive.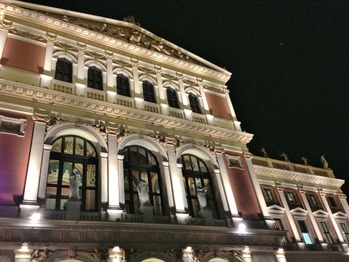 Even if you are personally arranging tickets, there is a high probability that you will be able to get "commitment" tickets if arranged by an agency, but the price is several times the list price. Some places charge 30,000 yen for standing room and 200,000 yen for the lowest price for a seat with a chair.
Wealthy aristocrats may not mind at all, but as an ordinary person, I always wonder if I can somehow get a fixed price ticket.
I was stunned by the difference from "list price"!!
The prices for tickets to the New Year's concert on January 1, 2017, which is scheduled to start on January 2, are posted on the Vienna Philharmonic Orchestra's website.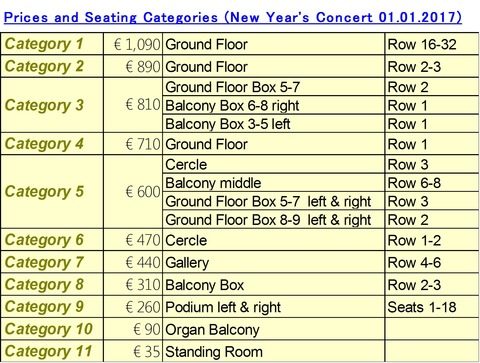 It is still 3 ~ 5 times more expensive than a regular concert, but I think many people can afford it at this price. This "list price" ticket is sold by lottery every year, and I have tried 3 times so far, but it didn't get looted including "Eve" and "Sylvester".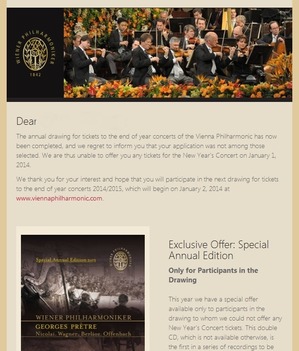 The odds, according to the source, are in the tens or hundreds, …。 and it's not even clear if that's really luck. It can be resold at auctions, so you can see how many applicants there are. I'm sure many people drop their shoulders every year.
Is it possible to arrange on-site?
At the Chopin International Piano Competition held in Warsaw in October, the tour fees of each company were as high as 500,000 yen, and in spite of the fact that there were platinum tickets, when I actually went there, I found that I could appreciate it simply at "same-day ticket" and I felt somewhat disappointed.
For example, as with JAL's award tickets, no matter how platinum the ticket is, there is a good chance that the person who obtained it will give up the ticket later due to schedule reasons, so it is quite possible that there will be some kind of ticket left just before the performance. Also, according to a blog post, I went to Vienna at the end of the year without a ticket and was able to purchase New Year's concert tickets from the local "salesgirl".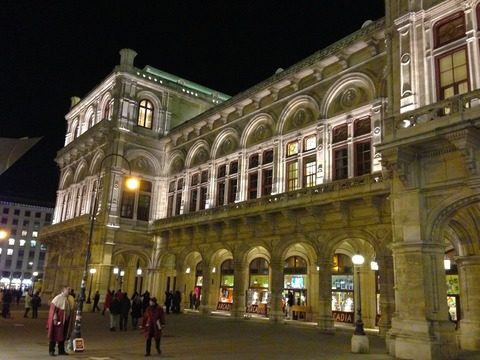 On a previous visit to Vienna, there were men prowling about the streets dressed in red "Kursalon" to imitate Mozart, who sold tickets to concerts (Mainly same-day tickets) at nearby venues, from whom I had purchased concert tickets for "salesgirl".
I don't know if this is a scalper or not, but at least I didn't have to pay for it, and I was able to buy it at the same price or a little cheaper than what I bought in advance on the website. Of course, it didn't seem to handle tickets for major halls such as the Rakuyu Kyokai Hall or the National Opera, but if the information on this blog is true, some "salesgirl" might handle platinum tickets like New Year's concert.
"commitment" expensive
In the end, just as "Chopin Contest" was, the travel industry's "prior commitment" strategy may be driving up prices. In the agency arrangement, even standing room was displayed at a ridiculous price of €250, so it would be wise to go to Vienna without a ticket and pick up the spill.
Now is the time when "scarcity business" is involved in everything, so I want to start taking action after assessing the value of things.
♪Click here for a List of articles on "Opera House & Concert Hall around the world"