From Hanoi, Vietnam, to the satellite city of Hai Phong in the east, this is the boarding record of Vietnam Railway! This time, I will use the 1st class car (soft sheet), and I will report in detail about the seat, ride quality, etc.
Please refer to the article yesterday regarding the purchase of tickets for the Vietnam Railway – > How to purchase tickets for the Vietnam Railway/How to purchase tickets at the counter of Long Bien Station
Rolling stock of Vietnam Railway
The Vietnamese railway is run by Vietnam's only state-owned railway company. The city covers a length of 2,600 km.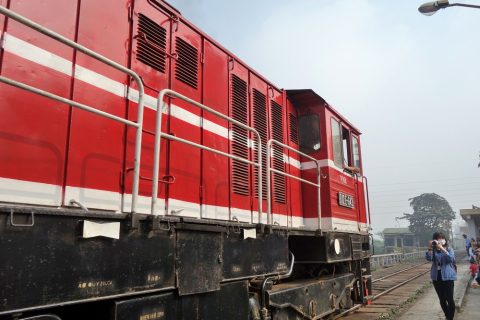 Because the entire line is not electrified and there are no mobile cars, such diesel locomotives pull passenger cars.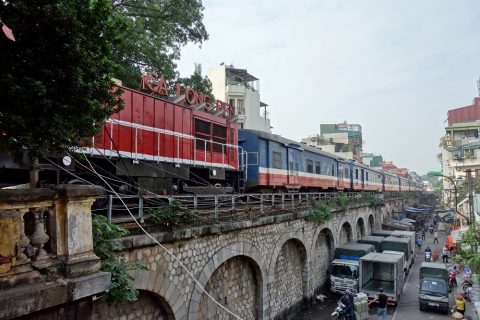 The trains operated between Hanoi and Hai Phong are often made up of five to seven cars, depending on the day. Among them, only 2 cars have 2nd class cars (hard sheet), and all other cars have 1st class cars (soft sheet).
Trains on the same section make four round trips a day. Take the 9: 17 train from Hanoi to Hai Phong city, 80 km away!
It's hard to get on!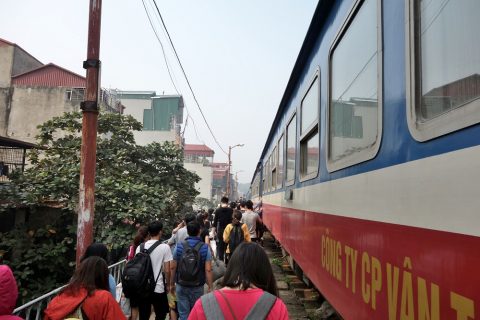 As we reported yesterday, the train arrived at Long Bien Station, northeast of Hanoi's old city. Even though it is a station, there is no specific platform …。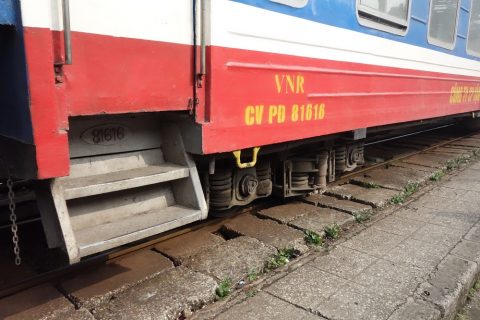 For this reason, I climb up such a ladder to get on the train, but it is more steep and difficult to climb than it looks, and the ladder is located at a very high position, so it's hard!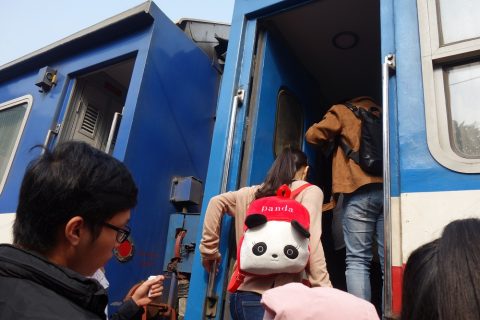 I managed to get on the train holding the handrail with both hands, but since the position of the handrail is slightly behind, I can't put strength in my arm and it's really hard to get on! There's no such thing as barrier-free, how do the elderly get on …?
The worst blind date …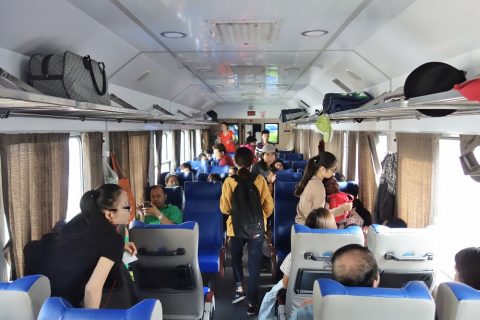 This time, it is the 1st class car (soft sheet), all seats are reserved, and you have to sit in the designated seat when the ticket is issued. I was hoping that there would be some empty seats, but this flight was fully booked!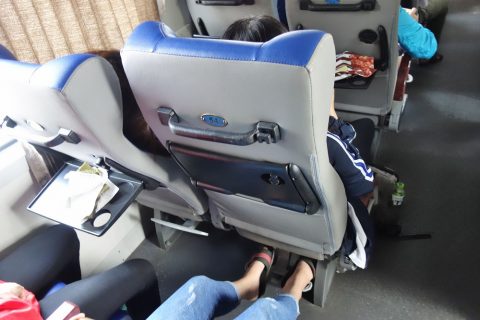 Your seat number is written on the back of your seat. The seat with this number is the one in question, but at first I mistakenly thought it was the next one and tried to get someone else to move …。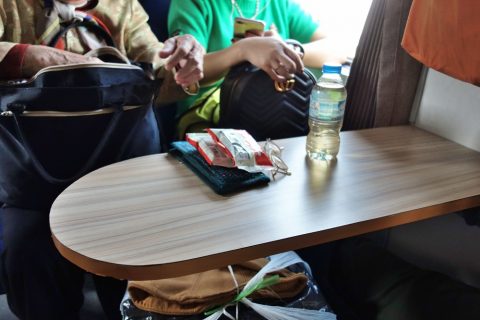 And what a terrible blind date! This 1st class soft seat car has "Group Matchmaking seats" seating arrangement, so there are only 2 Matchmaking seats in 1 car, …, what a bad luck …。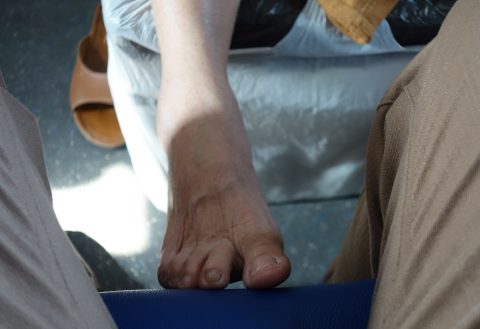 And this is the ultimate! The legs of an old woman sitting in front of me while the train was running were between my legs! If you put your foot on a chair where someone else is sitting, that would be a lawsuit in Japan.
In a way, it's amazing that this kind of thing happens normally!
a seat on a soft seat (first-class car)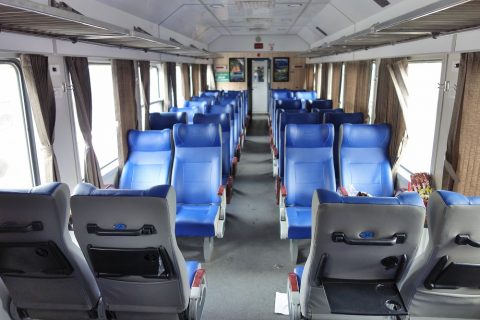 Then, I will take a closer look at the seats and equipment of this first-class soft seat. As mentioned above, the train was full, but as Hai Phong approached, the number of people decreased and it became possible to take pictures!
The soft seats are arranged so that the whole faces the center of the vehicle "group Matchmaking seat".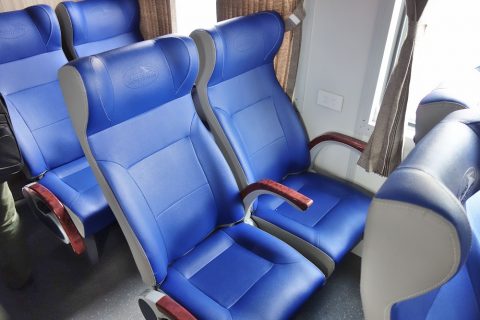 The seat is covered with cheap blue leather. But I thought it was an older seat when I imagined from the appearance of the train, but it is unexpectedly clean.
The width of the sheet looks narrow, but it is about 46 cm measured by eye. It is slightly wider than the armrest of JAL class J.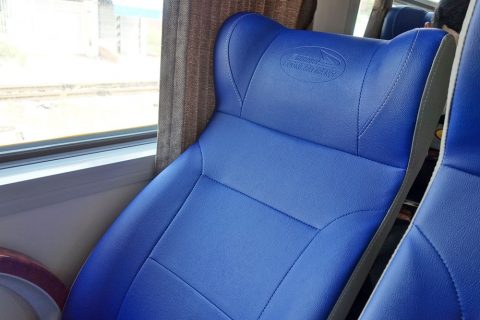 The seat has a reclining function. This angle is so deep that if the person in the front seat were to pull it all the way down, there would be almost no space behind it.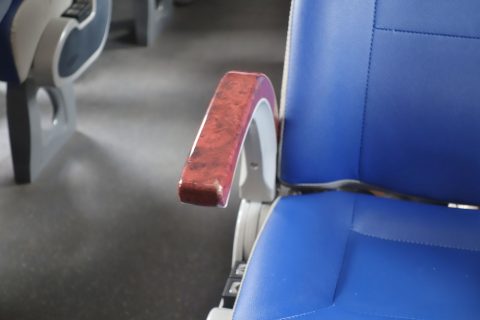 The armrest is movable including the aisle side. As with partitioning, you can lift it up and then lower it to lock it, and lift it up a bit to drop it.
It comes with a removable table with a drink holder, but it's made of cheap plastic you've never seen before. In addition, some seats were so dirty that I couldn't tell when they were cleaned.
It's a little hard to put a lunch box on it and eat it, isn't it? …。
Toilet and lavatory, air conditioning, hard seats (second-class car)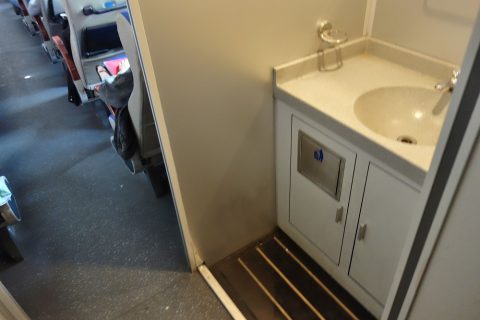 Next, let's take a look at the equipment in the car. The soft seat has a washroom like this at the end of the car and a trash can beside it. Maybe because I don't use it often, it feels cleaner than I expected.
Next is the toilet. … is not as dirty as I thought, but I don't feel like sitting here and doing my business. Well, it's better than a public restroom in a park.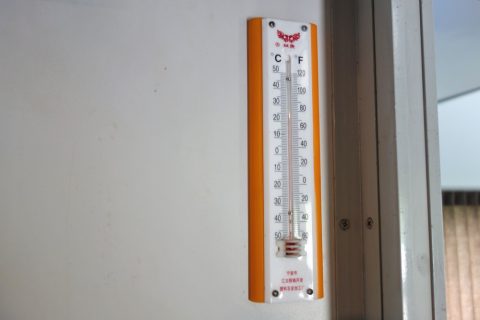 If you look at the thermometer on the soft seat car, the room temperature is 23 ° C. It was not hot or cold, and the air conditioner was working just right.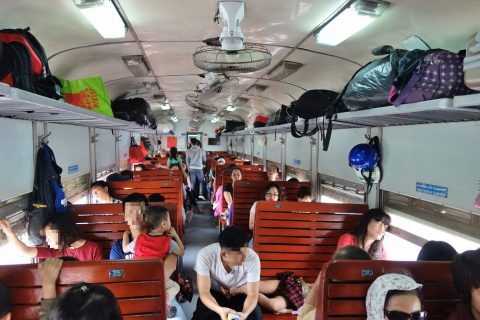 On the other hand, when I went to the hard seat of the second class car, there was no air conditioner and only the fan. However, perhaps because a large number of fans produce the right amount of air conditioning, I don't feel the heat that is fluffy and the discomfort index is small.
Hanoi area doesn't get extremely hot in this season (November), so it might be okay to use hard seats in autumn and winter.
food wagon sales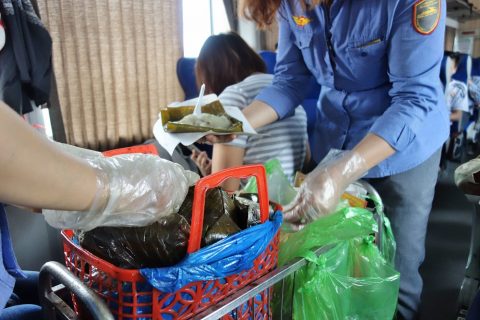 Some wagons came in for about 2 hours and 40 minutes from Hanoi to Hai Phong. The first thing I came to was this bamboo leaf (? food wrapped in).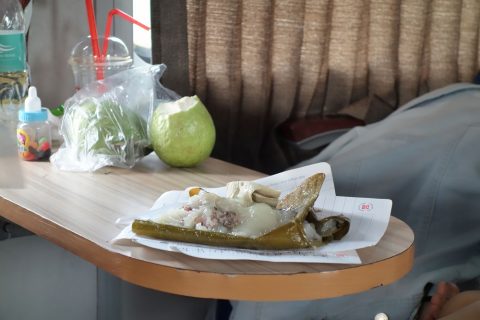 I tried it on my way home, and I was surprised that it was so delicious! Please see this article about this food report – > It is cheap and delicious! I tried the local cuisine of Vietnam Railway [food service]!
In addition, a drink wagon and a snack wagon were sold three times in total. We also sell plastic bottles of drinks, but none of them are cold, so please leave a message at …。
The riding comfort of 50 km/h is …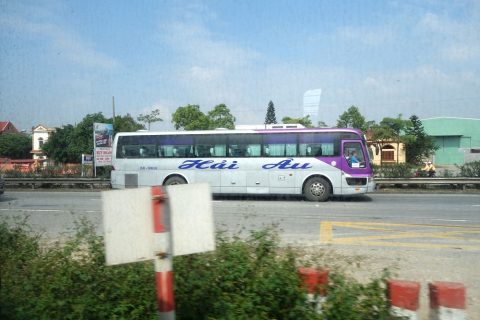 It takes about 2 hours and 40 minutes to get to Hai Phong. As mentioned above, the maximum speed of this Vietnamese railway is 50 km/h, so it is very slow when you look at the train window. On the way, I was pulled by a bus and a motorcycle many times.
In addition, the shape of the railroad might be bad, but it wobbles in spite of the speed! Especially the end of the car shakes a lot, so if you want comfort even a little, a seat in the center of the car is better.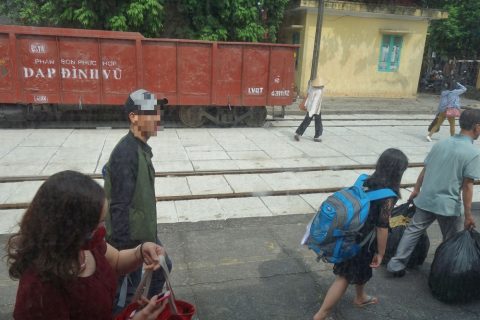 The train will stop at several stations on the way, but only the main stations (Hai Duong, Hai Phong) will be announced. There was no ticket inspection in the car, and everything was really loose.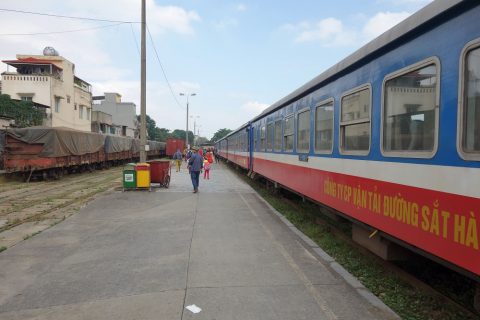 We ended up arriving at Hai Phong 5 minutes behind schedule! Even so, if you think about this looseness, you might be able to do well even if it's 5 minutes late.
It took more time than coming by bus, but considering that it was a reclining seat with air conditioning and a toilet, and it was 70,000 dong, I think the content was acceptable.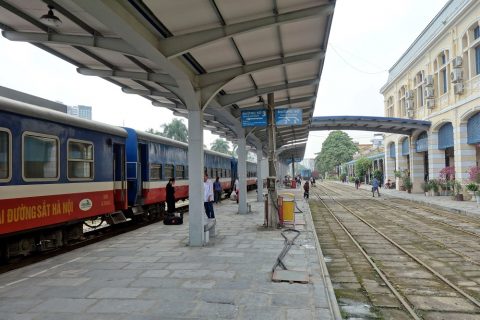 It is undeniable that getting on and off is a little inconvenient, but in the good old days (? I think it's a good idea to try a train trip in Southeast Asia that reminds you of this. Please refer to yesterday's article regarding the purchase of tickets for the Vietnam Railway – > How to purchase tickets for the Vietnam Railway/How to purchase tickets at the counter of Long Bien Station.
♪Click here for a List of articles on "Ha-Noi"