The Qantas Airways Lounge with spacious rooms and shower rooms. This time, I would like to do a buffet food report that I can eat in the lounge. Also, the report of living area and shower room is summarized in yesterday's article → spacious and comfortable! Take a shower in Singapore "Qantas Airways Lounge"
At the Qantas Airways Lounge in Singapore, besides the buffet, there was an order-made menu where you could enjoy freshly cooked dishes, and I was surprised at the variety of dishes and the high level of taste from salad to a la carte, dessert and wine!
※This article was written before the virus scandal. This will be updated.
I came to the dining area to eat. Like the living area we covered yesterday, it's spacious and open! There are counter seats, tables and sofas.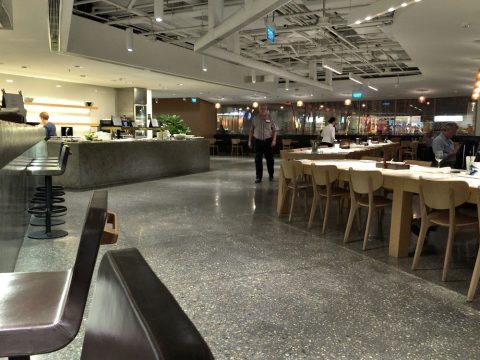 There is also a buffet here, but I heard there is an order-style menu made on the spot, so I would like to try it first.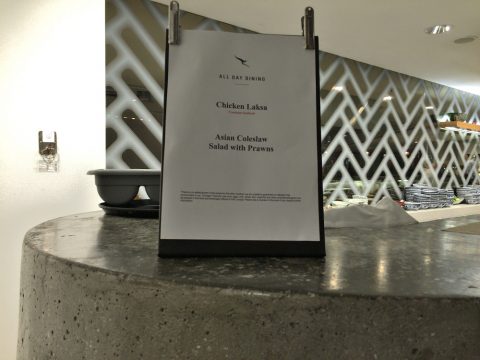 When you look at the menu on the counter, it says "Chicken Laksa" and "Asian coleslaw salad". "Laksa" is a Nyonya cuisine representative of Malaysia and other regions, and refers to noodle dishes that are often eaten in Southeast Asia.
I have had a lot of noodle dishes while I was sightseeing in Singapore, but I remembered the deliciousness of the noodle I had at the Cathay Lounge at Haneda, so I would like to try "lounge flavor" here too.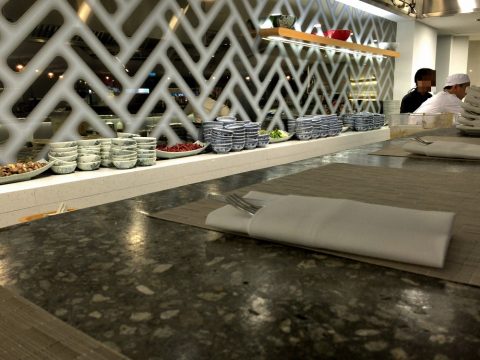 The way to order here is to decide the seat first and then tell the staff. If you are lucky, they will come to take your order at the table, but I sat at the counter and ordered from the staff nearby.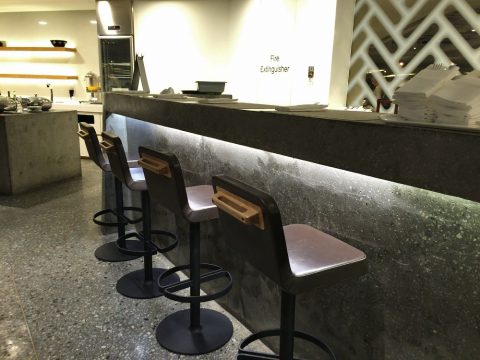 However, the chair of this counter seat is low compared to the height of the counter, so it is very hard to eat … It is designed for large Westerners. I noticed it when I sat down after I ordered, so I couldn't change my seat now, …
How does Chicken Laksa taste?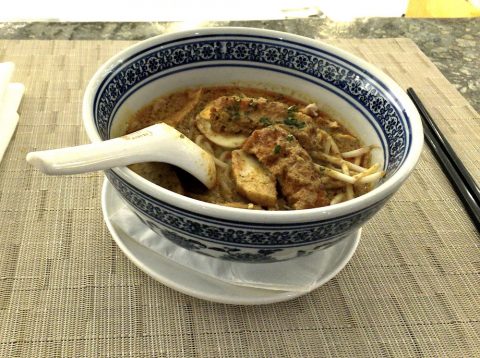 And this is chicken laksa. It doesn't look high-class because it is Asian food, but it has a lot of ingredients such as kamaboko, egg and bean sprouts.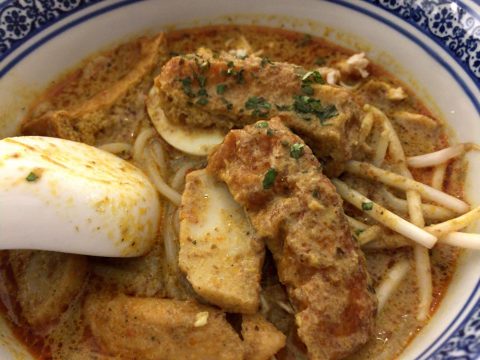 When I tried it, it was a bit spicy. I didn't feel "Asian odor" due to the unique spices at all, and it was quite delicious with sesame sauce. In addition to the ingredients listed above, there are lots of minced chicken. Maybe it was more delicious than any noodle dish I had in Singapore.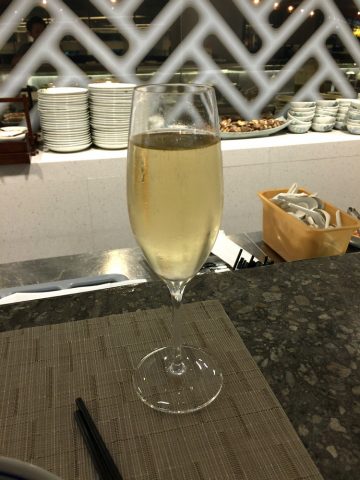 Also, they asked me to order drinks. When I asked if they had champagne, they said they had sparkling wine. The sparkling wine filled a glass and I will explain the brand later, but it is dry which goes well with meals.
Check the brand of Aussie wine!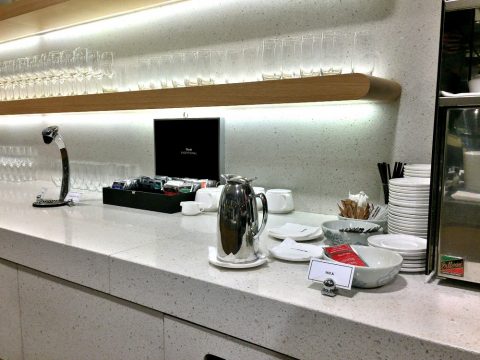 Next, I will look at the drink corner next to it. Whiskey and cocktails can only be drunk at the bar counter near the entrance of the lounge, but there are soft drinks such as Coca-Cola, various tea packs and Aussie wine, and you can drink them freely.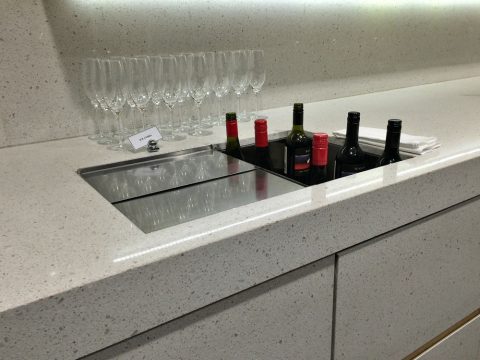 Qantas is Australian wine. There are some at Qantas Airways Lounge in Narita Airport. What is the grade of the wine you have here?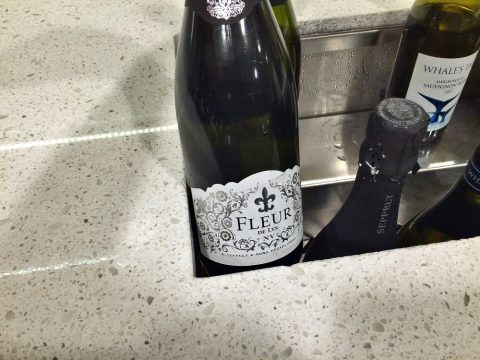 First, "Seppelt Fleur De Lys". I think the sparkling that I drank earlier is probably this. The market price of the bottle is about 10 AUD. Personally, I prefer Shandon, but I think this is not bad.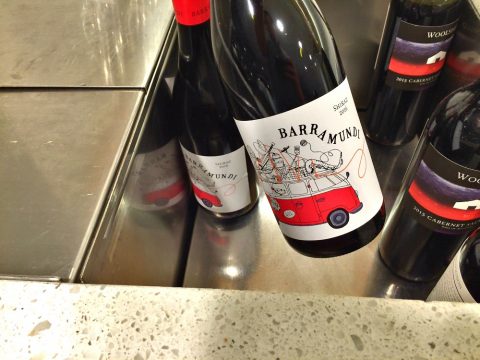 Red wine "BARRAMUNDI SHIRAZ 2016". The market price of this bottle is 900 yen. I tried it once, but it tastes good.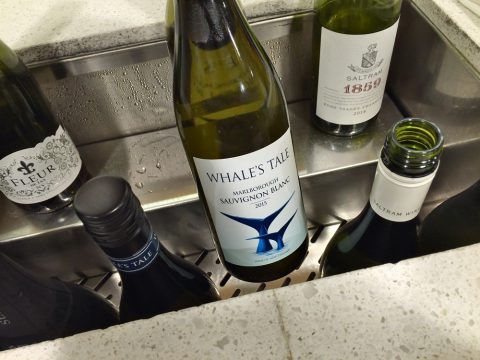 White wine is "WHILE'S TALE MARLBOROUGH SAUVIGNON BLANC 2015". The market price is about 1.5 times higher than the above red wine. It's a little fruity and I think it's a good brand for a drink after a meal. But is this New Zealand wine, not Aussie?
variety of buffet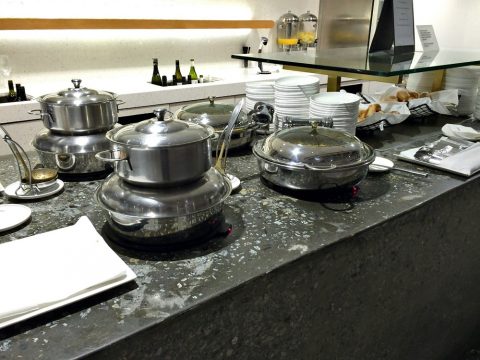 There are various dishes in front of the drink corner! They are all heated on a hot plate, so you can eat them hot.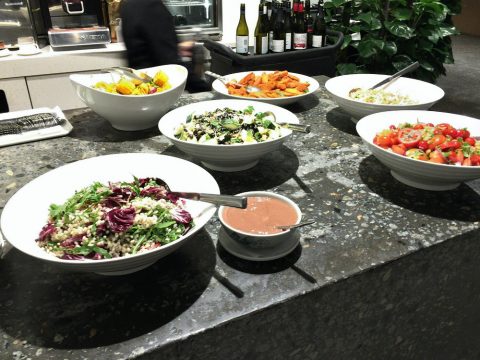 The salad is also colorful! By the way, this pink sauce had an Asian taste with strong sourness, so the taste is different.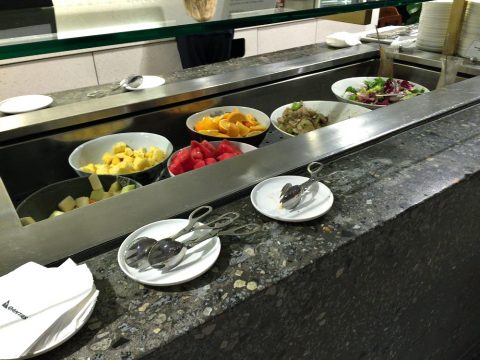 The fruits are pineapple, melon, watermelon and orange. There is also a leafy vegetable salad here.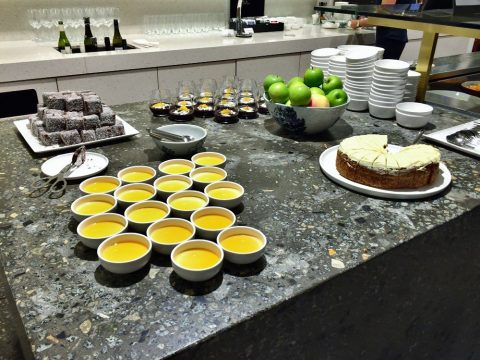 There are also plenty of desserts! It's hard to decide with so many, but it's one of the pleasures of the buffet that you can enjoy a little bit of various flavors.
The taste is good! The vegetables are subtler …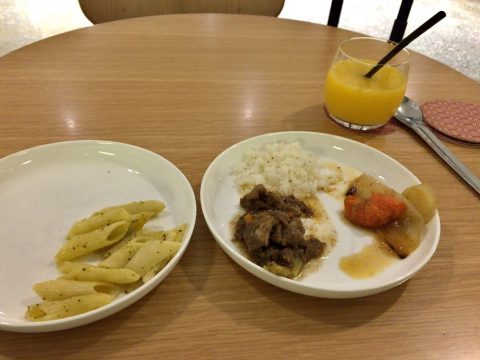 I just gave it a try. It doesn't look delicious as it is served in a dirty way, but …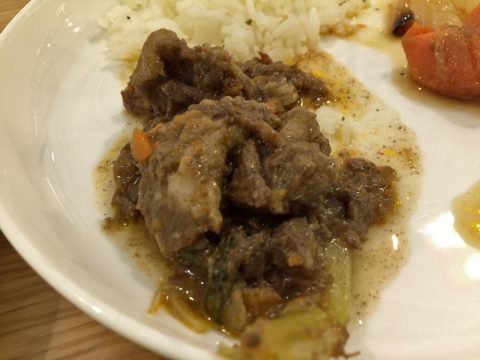 This beef is delicious! It's soft and the more you chew, the more the flavor will come out. No matter how many bowls of rice you have, it will not be enough!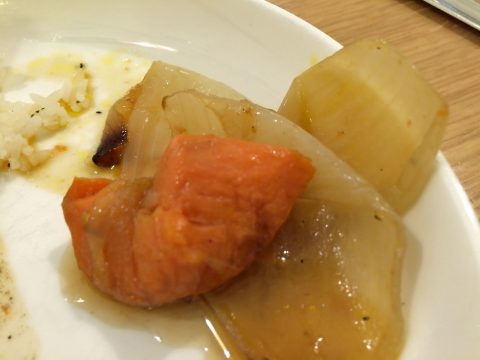 Simmered vegetables. When you eat carrots overseas, they always have a unique smell, but this one is delicious and has no smell. Onion is also sweet.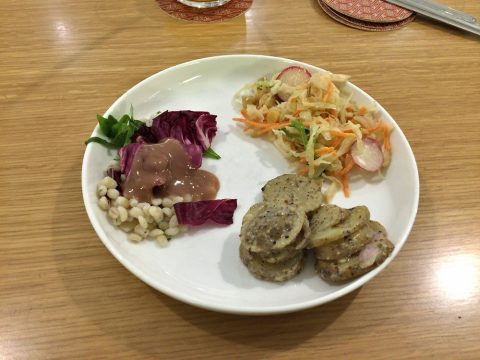 I will also try vegetables. These potatoes are fluffy and delicious! The pink sauce on the purple cabbage is as described above. It has an Asian flavor with strong sourness, and has a taste that is not found in Japan. The cabbage itself is not bad.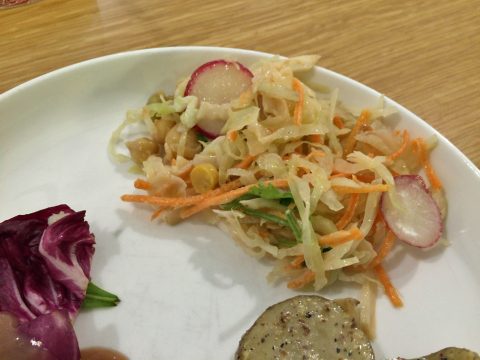 However, this vegetable and bean salad had a strong smell, so I gave it up in one bite! It's a typical Asian smell that goes through your nose and stays in your mouth forever. I don't recommend this.
Sweets are good and bad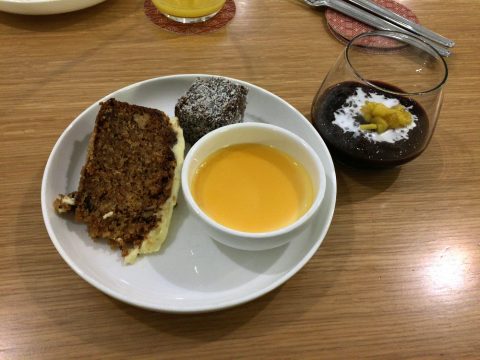 Next, Sweets! I tried one of each of the four types of sweets. There is also a menu list, and you can see the detailed names.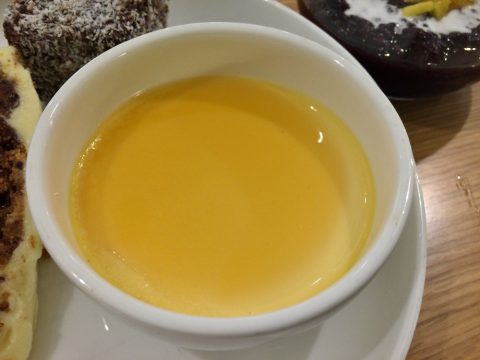 First of all, "Claim Caramel". It is a custard-based caramel confectionery baked on a grill, and it is very sweet like a pudding, but the aftertaste is surprisingly refreshing. It has a very rich texture and is delicious.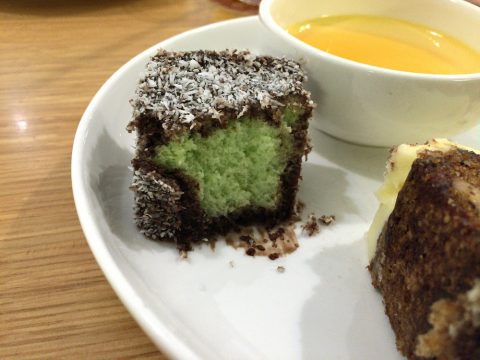 Then, "Lamington". This dessert originated in Australia and is named after a sponge cake coated with chocolate. It has a light texture and doesn't have a heavy taste, so you can eat it as much as you want.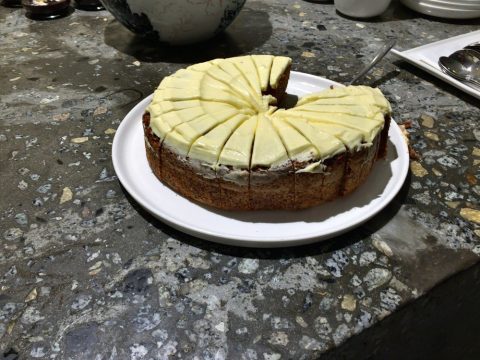 The other is "carrot cake". It's fruity and a little heavy, but it's not bad.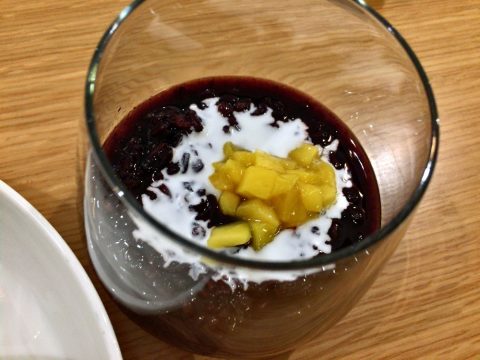 Finally, there is a sweet called "Black Sticky Rice with Mango". This is an Asian sweet made by boiling down black glutinous rice with coconut milk sweetly and sweetly. It looked like "Ogura bean jam" so I was happy to bring it to my mouth. …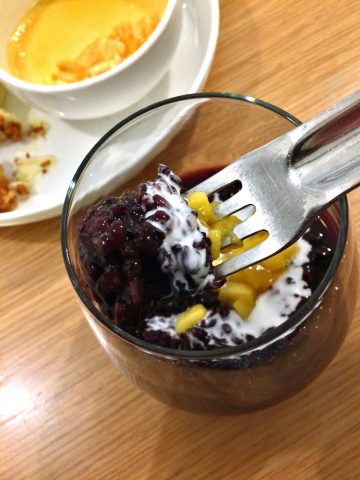 This tastes like a sweet of a strange sweetness I have eaten in Malaysia some day. I don't recommend this either.
We are open until 24 o'clock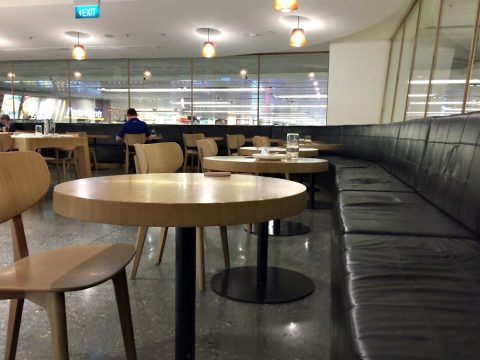 So, there were some things that I didn't like, but it was a buffet that I was very satisfied with both quality and quantity. I passed immigration 5 hours before my departure in order to fully enjoy this lounge, but time passed so quickly! As a result of being stuck in this Qantas airport lounge for 3 hours and not being able to get to the BA lounge that closes at 23 o'clock …
Also, this Qantas Airport Lounge closes at 24 o'clock, so if you take the 2: 05 JAL flight, you will need to come very early, but the large buffet and order-made dishes are worth a try. I will give priority to using this lounge next time. Please take a look at the shower room as well → spacious and comfortable! Take a shower in Singapore "Qantas Airways Lounge"
♪I also recommend this link→Collection of AIRPORT LOUNGE Reviews Worldwide! Wine, buffet, Shower, etc.