On the way back from Siam Niramit, I visited "Train Night Market Ratchada", a street stall on the other side of the road from the MRT Thai Culture Center Station. I would like to report on the street stalls that are unique to Thailand, such as the street stalls that are bright like daytime even though it is late at night, and the taste of the big white fish I ate there.
A short cut through the parking lot!
The nearest station to "Train Night Market Ratchada" is the Thai Cultural Center Station of the MRT (Thailand Cultural Centre). It is the same station as "Siam Niramit" which I introduced yesterday.
There are some big street stalls in Bangkok, but all of them are inconvenient and far from the station, so I couldn't go there easily, so I went to … and this time, Train Night Market Ratchada was close to the station, so it was easy to access!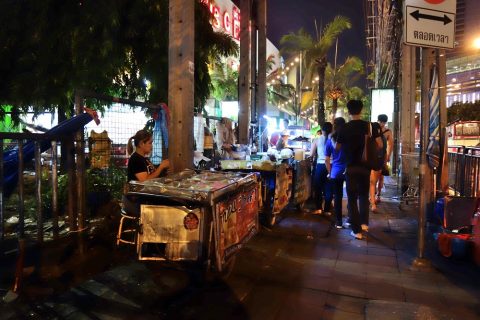 However, the location is a little hard to find … It is located behind the SC called ESPLANADE, but the back road leading to it is on the opposite side of the MRT station, so I was a bit confused especially when I visited this night.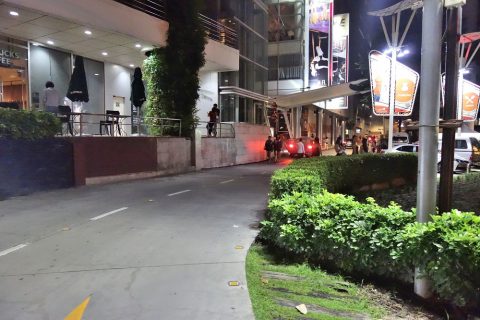 I went through the parking lot of this shopping center. Follow the car lead from the main entrance of the shopping center to the parking lot, and go through the parking lot to the other side of the shopping center, and you will see the street stall.
It was not an irregular route, and there were many local people who used this route. This is convenient as it is close to the MRT station. However, it's dangerous if you don't walk carefully because cars come in frequently.
Colorful tent street stall
We arrived at the street stall after passing through the parking lot! I heard that this Train Night Market Ratchada is characterized by colorful tents, but it is true that there are colorful tents such as red, yellow and green. I heard that it was beautiful from the upper floor of the shopping center, but the shopping center was already closed, so I couldn't go to the upper floor.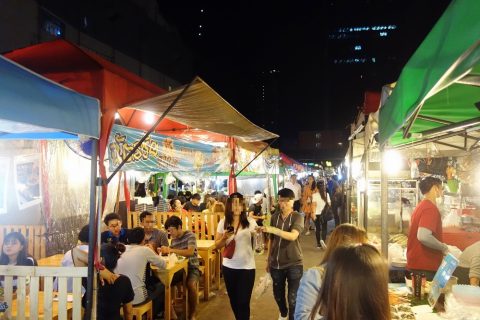 It was already 23 o'clock, and I thought some shops had started closing, but now it's the peak, so all the shops are very lively! It is bright like daytime only here in the dark.
And it's bigger than I expected! If you go to the back of the street stall street, there are many bars with an outdoor stage, and this was also a part of the street stall.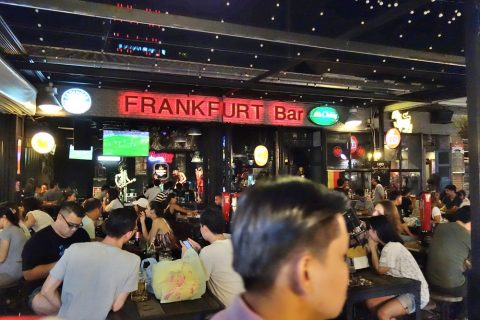 Amazing volume! I thought there were many white people in these places, but most of them looked like local people.
How to order at a stall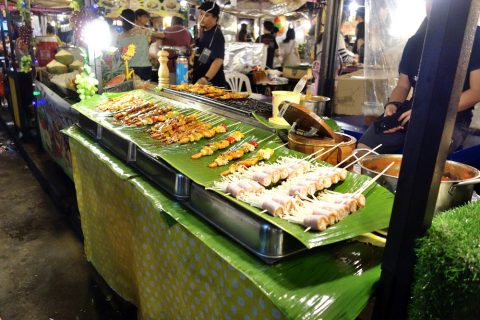 There are two types of food stalls, takeout and eat-in, and the takeout menu consists mainly of BBQ-style menus that are skewered like this. Many places sell 1 skewer for about 50 baht, which is quite expensive for Thailand where prices are falling.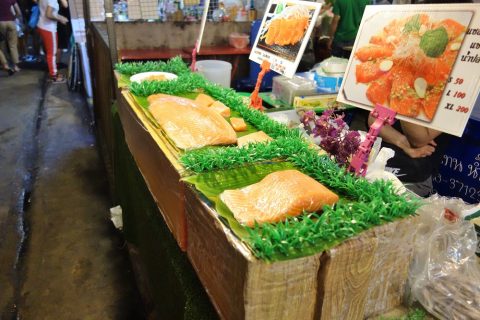 Some shops sell raw fish fillets for takeout. With the temperature over 30 degrees Celsius, I don't think people would feel like buying this to eat …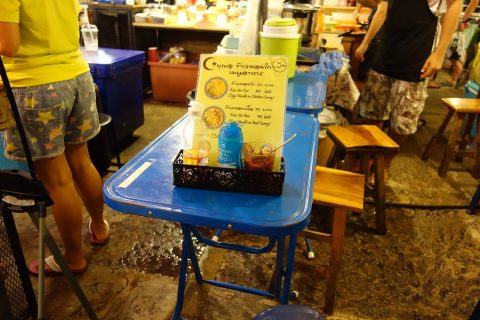 An eat-in style restaurant has a menu table on the table like this, and when you sit down, a clerk comes and takes your order. The fare adjustment is done at the table, so it feels like a normal restaurant.
I tried a big fish!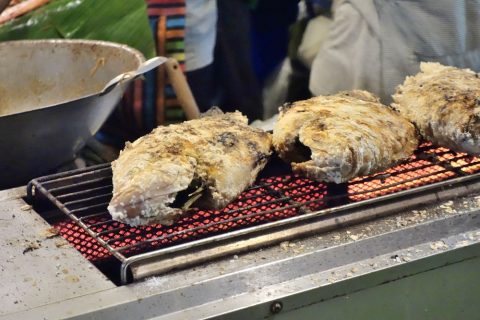 What caught my attention was this big fish. When I walked this time, I saw them grilled in 5 ~ 6 shops, but when I saw people eating them nearby, they seemed to be a kind of white fish. It's a good opportunity, so I'd like to try one.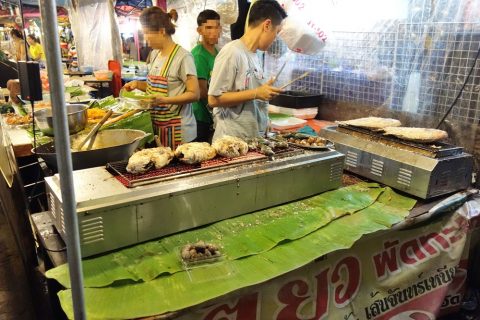 There were some restaurants that grilled this big fish, but the size and the way of cooking are not inferior. When I was looking at fish at a certain shop, one of the staff approached me and said, "Big Fish?" Yes! And they took me to my seat.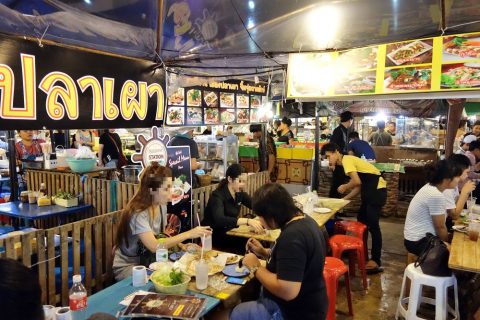 I don't know the name of the restaurant since it is in Thai, but maybe it was a family business, a young couple cooked and the children were in charge of the hall. The store seems to be 90% full.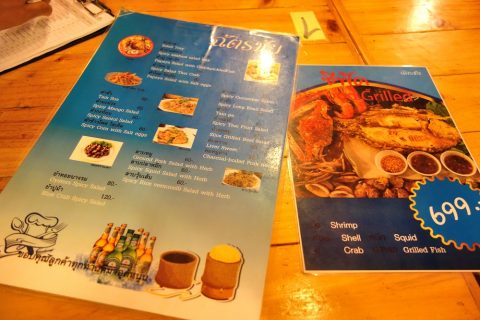 Just in case, there was a firm menu. It's written in English, so I can understand the food somehow. Most of them are a la carte dishes served on small plates and the price is around 60 ~ 80 baht. But a salad plate costs 260 baht.
Is the white fish …?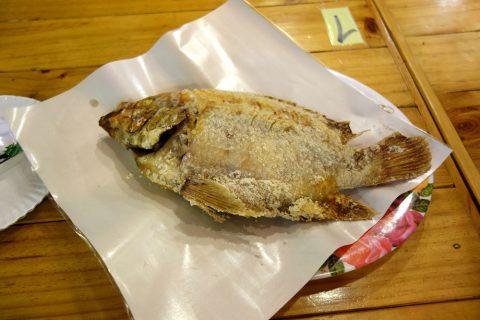 And this is what I ordered "Big Fish". The menu said "Salt-Cruted Grilled Fish". The price is 260 bahts, and I can't tell from the picture, but it is quite big!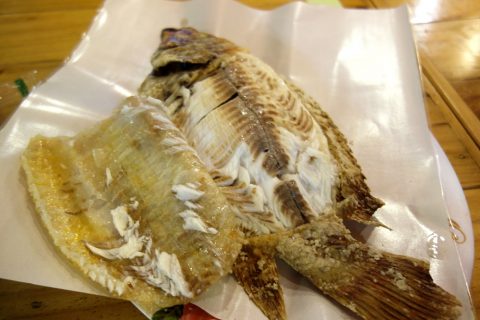 Like this, they serve it peeled so that it is easy to eat from the beginning. It's fresh from the oven, and the inside and outside are crunchy! When I tried it, the meat was tender with just the right amount of salt! It has a light taste, but it is thick and good! This is enough, but soy sauce would be better.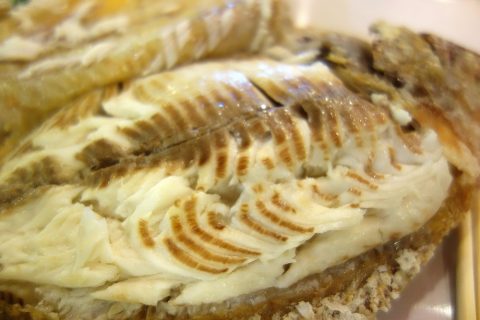 When I looked into this whitefish, it seemed to be a fish called "Planin". It is also called "Nile Tilapia" and is said to be a national food of Thailand. However, it is said that the origin of the dish was that the Japanese Emperor, who was concerned about the food situation in Thailand, gave young Nile tilapia to the King of Thailand in the Showa period, which made the dish popular, so it is not a traditional dish existing from an older period.
But it doesn't have a bad smell and is delicious and voluminous. Can't I eat it in Japan? I was full with this fish for dinner that day!
Cleaner than Malaysia?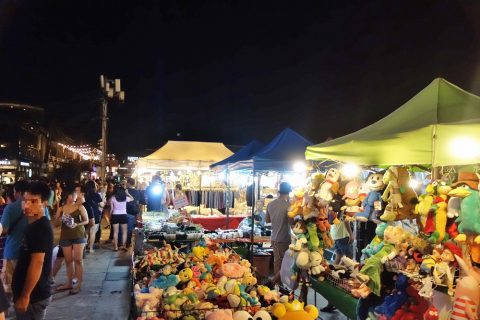 That's why I went to the street stall "Train Night Market Ratchada" in Bangkok. The price is a little high, but it is close to the station and I am glad that it is open until late at night. Also, compared to the street stalls in Kuala Lumpur, Malaysia, I felt that the cleanliness was a little better. But if you're concerned, don't forget to bring wet tissues!
♪Click here for a List of articles on "Bangkok"