"Hermitage Museum" in St. Petersburg, Russia, is considered one of the "world's three major museums" along with the Louvre Museum in France and the Metropolitan Museum of Art in the U.S. As it is one of the best museums in the world, there is a rumor that there will be a queue of more than 1 hour just to enter, but this time I was able to enter in just over 10 minutes from the ticket purchase!
Based on my experience, I summarized the details of how to buy tickets, how to get in and what to see in the building!
♪ Here you go too → "Saint Petersburg" article list and travel guide
※This article was written before the virus scandal. This will be updated.
a huge museum of five buildings
The Hermitage Museum is located in central St.Petersburg, Russia, along the Neva River.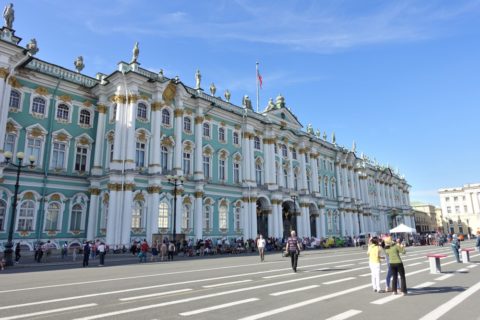 There is a large plaza in front of the palace in front of the museum, but it is crowded with people day and night as it is the center of sightseeing. It seems that military events are held here, and depending on the timing, there were times when I couldn't get close to them because of the physical atmosphere.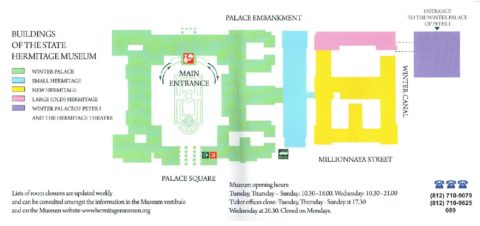 This large light blue building is the Hermitage Museum, which consists of 5 buildings in total, and the huge building in front of this square is only one of them "Winter Palace (Зимний дворец)". Just by looking at this, I can see how big the museum is.
Winter Palace (Зимний дворец)
Small Hermitage (Малый Эрмитаж)
New Hermitage (Новый Эрмитаж)
Old Hermitage (Старый Эрмитаж)
Hermitage Theatre (Эрмитажный театр)
Four of them, except the Hermitage Theatre, are connected inside and constitute one large museum.
Buy a ticket at the ticket machine and avoid waiting in line!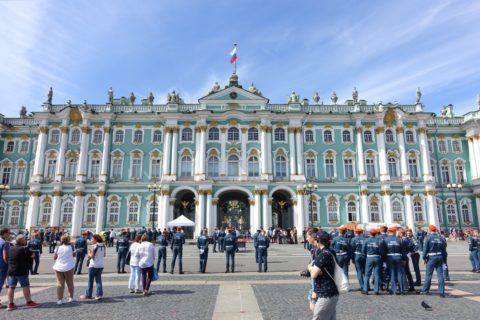 Now, let's go into the museum! There are several entrances to the Hermitage Museum, but this time I would like to enter from the main entrance of the most popular way.
Go through one of the three passages in front of the center of the building, first toward the courtyard. There is no baggage inspection here, and anyone can enter freely.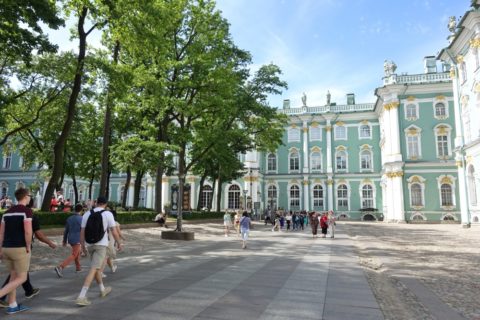 The entrance is located at the front end of the courtyard. There is no ticket office outside the building, and everything including the entrance gate is inside the entrance.
I thought it would not be crowded as it was after 15 o'clock this time, but unfortunately there was a long line of over 50 people from the … entrance which was sweet …
But this line was for ticket buyers, and the "With Ticket" line next to it was empty.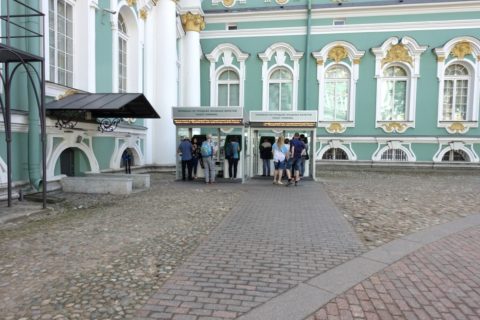 There are two ticket vending machines in this courtyard, and you can buy tickets for the Hermitage Museum by operating the touch panel. In other words, if you buy a ticket at this ticket vending machine, you don't have to wait in line.
The ticket machine supports English switching, and you can only buy 1 type of admission ticket of 700 RUB. If a screen like a note appears, you can go to the next screen by touching somewhere.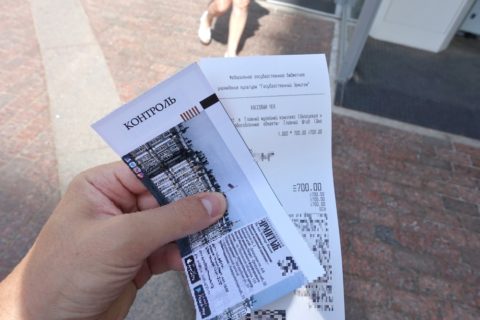 Get tickets in no time without waiting in line! After that, you go inside from the lane of With Ticket, looking sideways in the line. For some reason, there are a lot of "useless queue" in Russian sightseeing spots, so you need to do a thorough homework.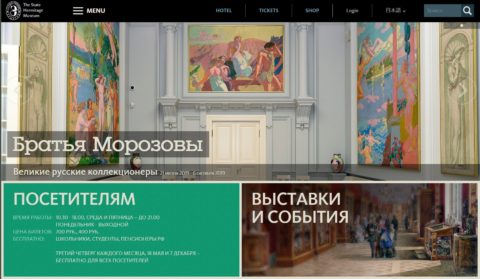 Also, there is a way to buy an entrance ticket in advance from the official website, but in the case of online tickets, the entrance gate is located at a different place from here, and there was also a review that people lined up for more than an hour, so it doesn't seem to be a good idea to buy in advance.
There are many ways to buy tickets, but in the end, it might be best to buy simple tickets without thinking too much.
Entrance Hall/MAP, Cloak, Audio Guide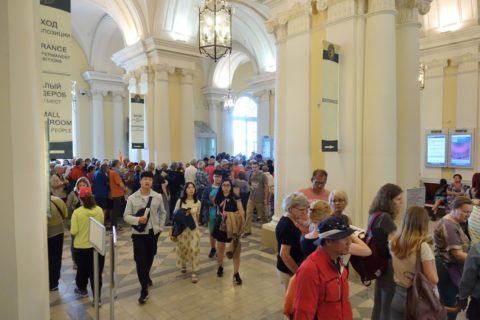 When you go inside, there is an entrance hall, and there is an information counter, an audio guide counter, and a cloakroom down the stairs. I could get in without waiting in line, but it was even more crowded outside …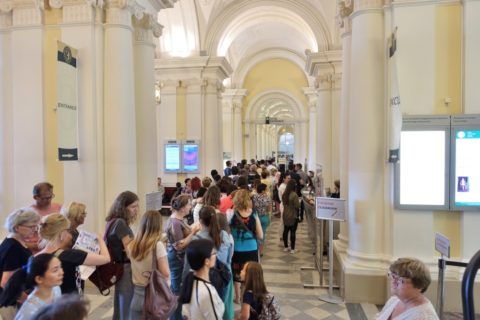 There was a long line from the entrance, so I was scared, but I was able to pass through in about 5 minutes because the rotation was faster than I expected! There is a security check by a metal detector, and then check the ticket.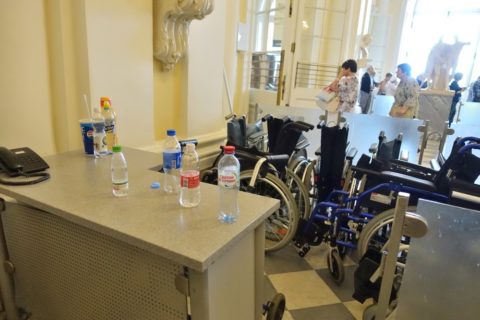 If you have a backpack, you won't be told anything about your baggage unless it's a very big one, but you need to be careful because if you have water such as a plastic bottle, it will be confiscated.
Also, there is a map of the building on this floor, so don't forget to keep it. Unfortunately, there is no Japanese version. There is a Korean version, but …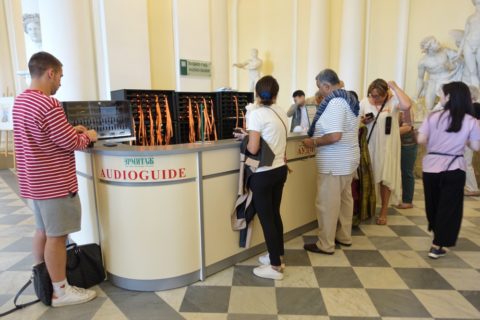 However, there is a Japanese version of the audio guide, so if you want to hear a detailed explanation, you can sign up here and the price is 500 RUB.
Walk around while looking at MAP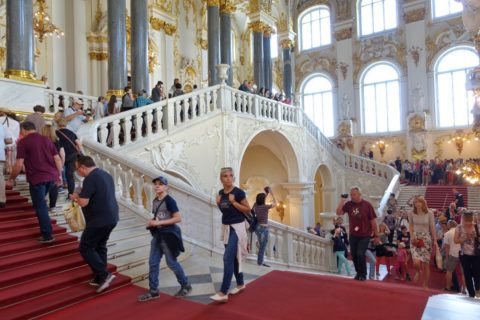 Now, the Hermitage Museum starts with a grand staircase as gorgeous as the Opera. From ancient Egyptian ruins to French impressionist paintings, the collection spans over 3 million pieces.
The exhibition area consists of 4 buildings. According to the documents, there are more than 1500 rooms and the total travel distance is 20 km! It certainly makes sense that "I can't go around all day.".
This time, I decided to look around the famous paintings and places of interest in MAP.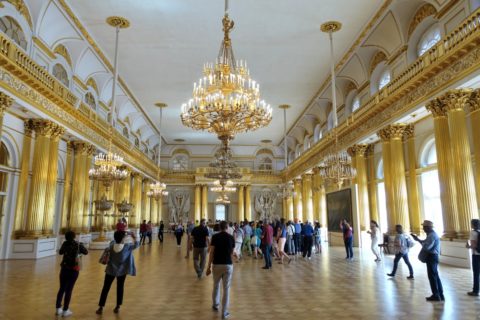 I walked from the big stairs (MAP = 191) in order, taking a route that I could go with a single stroke, but the inside of the building was "royal palace" itself rather than "art museum"! A gorgeous room with beautiful chandelier continues forever.
The beauty of the exhibits is just the same! There is a very precious exhibition of "peacock clock" during the Pavilion (MAP = 204), but anyway there are too many people to get close to …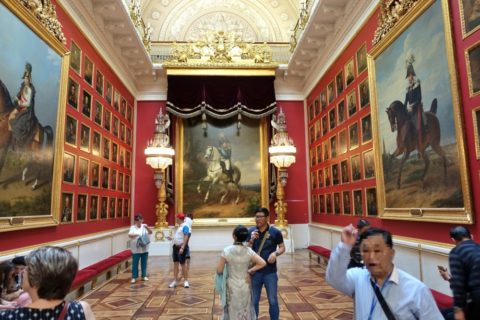 Overall, it didn't seem like there were many paintings on display, but if you go to the new Hermitage, you can see many Spanish and Dutch paintings. There are fewer people on this side than on the winter palace side, so it's nice that you can see it relatively slowly!
There are 3 rooms that are worth seeing!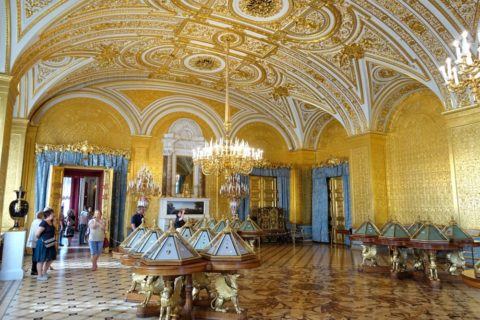 Among these exhibits, I was particularly impressed with 3 places (Works). First, it is located on the southwest side (MAP = 304) of Winter Palace "Golden Parlor". This is considered to be the most beautiful room in the winter palace, and the decorations of the walls and ceiling filled with gold are amazing!
According to the documents, the original drawing room was renovated by Russian architect Andrei Stackenschneider in the 19 th century, and gilded all over the doors and edges. Gold color is really gorgeous!
Also, the "study of Nicholas II" in the same winter palace (MAP = 178) is good because the mismatch between the wood grain and chandelier is quite bitter! The gray object is a fireplace made of sandstone.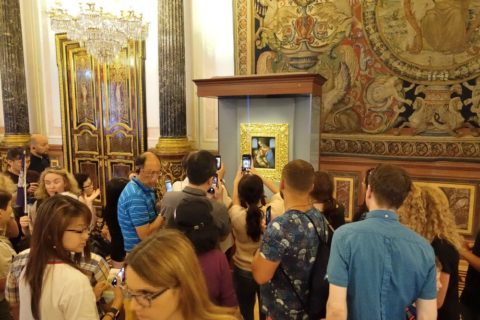 In the painting category, this one is a must-have! Leonardo da Vinci's iconic work "Madonna Litta" is not really from the 15 century, with its beautiful complexion and vivid attire.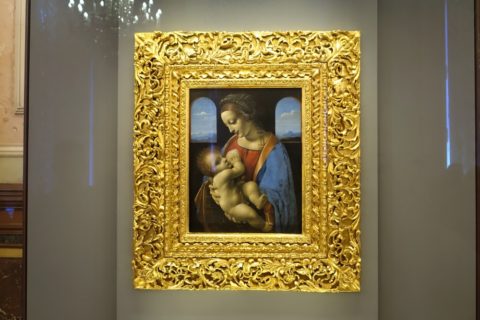 The gold frame is also gorgeous! There are always crowds of people around this work, but if you get closer little by little, you can see it easily.
Watching is a match with physical strength!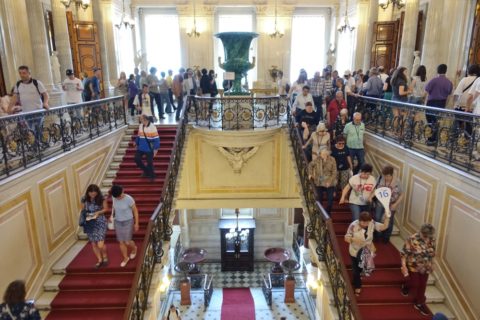 So, in the meantime, I took 2 hours to go around the 1st floor (second floor) of MAP, but it was so big and crowded that I got lost even though I was looking at MAP!
And it was a very fast walk, so if you watch it carefully, you will need twice as much time. With this, … is about half of the total distance, and the total travel distance of 20 km is out of date!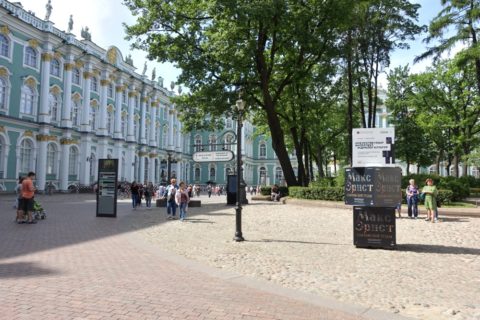 The walking distance is long, and on top of that, the crowded …, the performance after watching is amazing! It is relatively free on Wednesdays and Fridays when the closing time is extended, so if your schedule permits, I would like you to visit at that time.
4 branches for free admission
The Hermitage Museum ticket purchased at the 700 RUB allows you to enter the new Hermitage Museum, the Menshikov Palace, the Peter Emperor's Winter Palace, and the Imperial Ceramics Factory Museum on the same day, so it might be a good idea to visit them if you have enough energy left.
However, it is impossible for ordinary people to go around 4 museums after walking 20 km (laughs)! If it's a perk knowing that, it's kind of crazy ・・・。
Hermitage Museum
Opening hours: 10:30 ~ 18:00 (Until 21:00 on Wednesday and Friday)
Admission: 700 RUB (Free for students and below), free on the 1st Thursday of each month
♪ Here you go too → "Saint Petersburg" article list and travel guide