Today I'm going to show you a Hindu temple in Singapore called "Sri Mariamman Temple". What kind of world is waiting for the odd roofed building in the city? I would like to report in detail.
※This article was written before the virus scandal. This will be updated.
Hindu temple in Chinatown
The temple is in Chinatown, Singapore. The reason why there are Hindu temples in Chinatown is because there were many Indians living in this area until around the 19 century, but Chinese businessmen are an emerging power.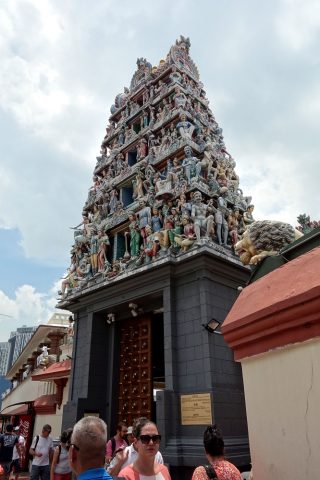 This is the appearance of a Hindu temple! When I first saw it, I thought it was disgusting, but once I get used to it, it starts to look artistic.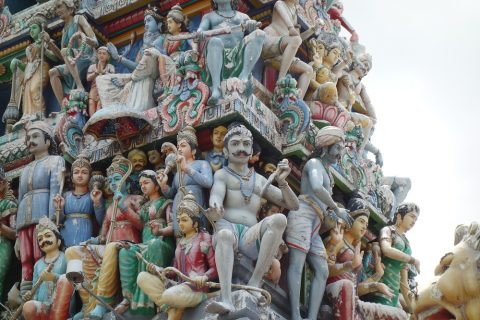 How many of them are there? The facial expressions of the figures are all the same, but the variations of the characters are amazing. When I look at it from a distance, it's a little creepy and disgusting, but when I look at it closely, I'm surprised at the clarity of each individual.
take off one's shoes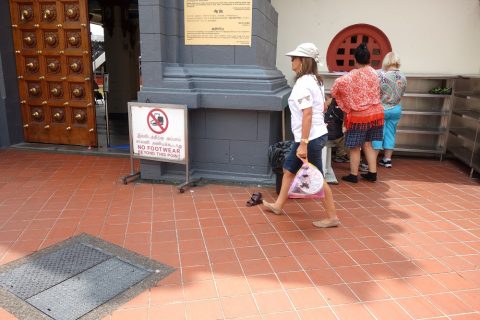 Then I want to go inside right away, but the Hindu temple is "No shoes allowed" so I take off my shoes next to the entrance.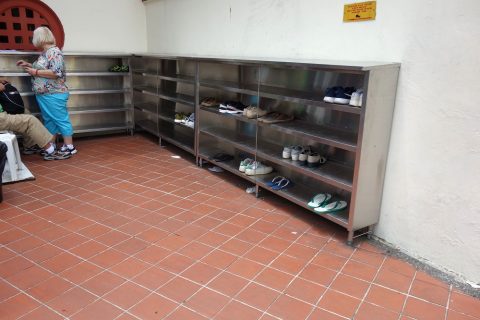 There are lockers where you can put your shoes, but you have to worry about things like wrong shoes or theft. It's probably because Singapore is a safe country, but I think there are many people who are anxious overseas. My shoes are not a big deal so I left them here, but if you are worried, I recommend you to bring a bag.
Entrance door of Sri Mariamman Temple (Singapore)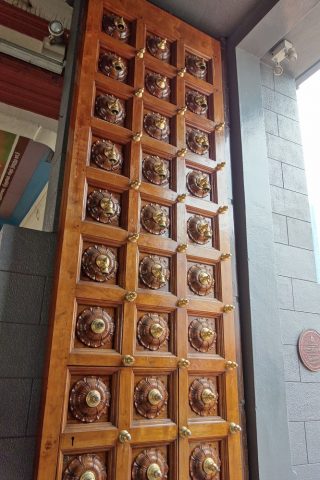 The entrance door is quite heavy. There are many bells from the half to the top.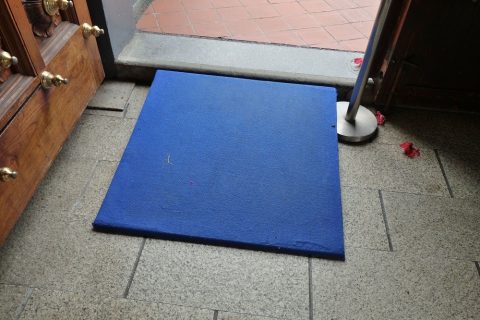 There is a slope at the entrance to compensate for the difference in level. It seems to be barrier-free.
$3 for photography, dress code included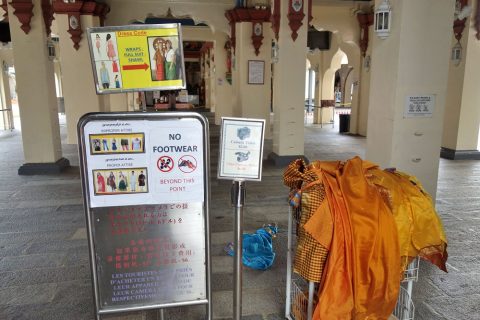 As soon as I got inside, I wrote a note. In addition to shoes being strictly prohibited, tank tops and shorts are prohibited, and women are not allowed to wear revealing clothes or skirts, in which case they are required to wear the robes placed beside them.
Entrance is free, but if you want to take a picture, you have to pay for it: $3 for the photo and $6 for the video camera. "Please buy a ticket." is written in Japanese!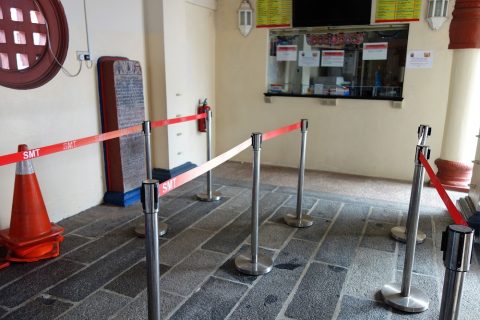 Go in and buy camera/video tickets at the counter on the left. At first, when I looked into the window, there was no one there. I was at a loss, and after a while an elderly man came out.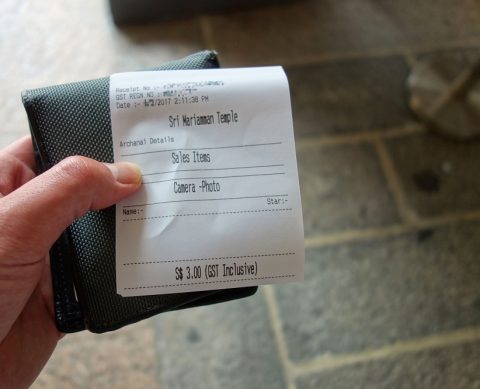 "Ticket" but only a receipt is given. In other countries, people put a sticker on their clothes to show that they have paid for their clothes, but it may not be necessary because it is small here.
Main altar and colorful ceiling
The room layout is very simple. There is only one floor building with a main altar and a courtyard around it.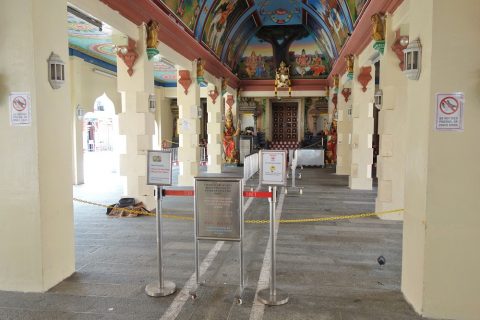 There is a main altar in front of the entrance, and here a Hindu goddess called "Mariamman" from southern India is enshrined. It is said that if you pray, you can cure your disease. Only believers can get close to the altar, so they look at it from a distance.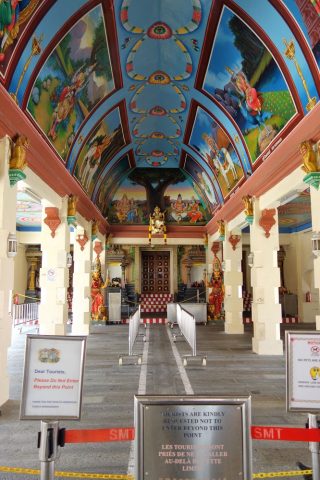 The ceiling is beautiful. Unlike the brilliantly decorated temples of Christ, they are colorful! Like the decoration on the roof of the entrance, the characters drawn are very unique.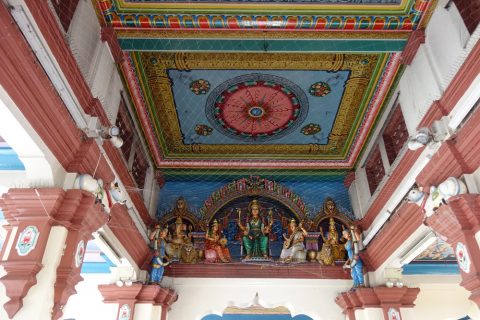 You can see other decorations around the ceiling. Many people have four arms.
No shoes in the courtyard.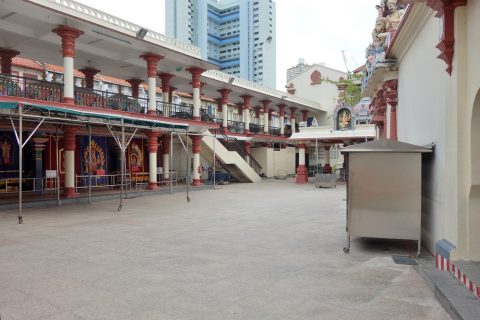 Next, let's go out to the courtyard outside the building. It is outside without a roof, but shoes are still prohibited here.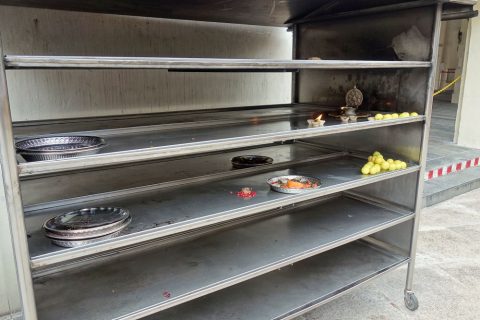 When I look at the side of the wall, there is something on the shelf which was placed casually. Any offerings …?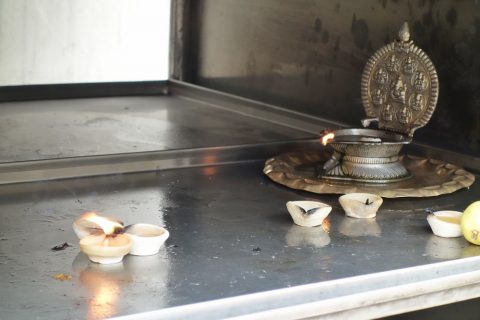 There were still some candles on the wall,. This is a candle made out of an unglazed ware called a "Diya" which, according to my research, celebrates the night of the new moon when there is no moonlight.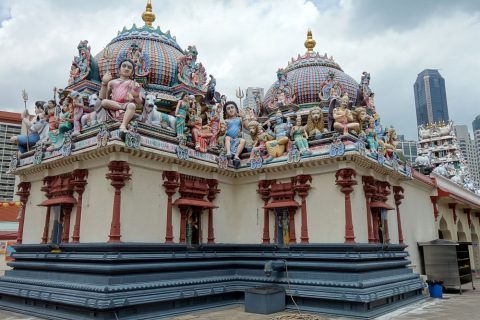 When you look at the building of the main hall from the outside, you can see many decorations on the roof. Both humans and animals, large and small, represent Hindu gods.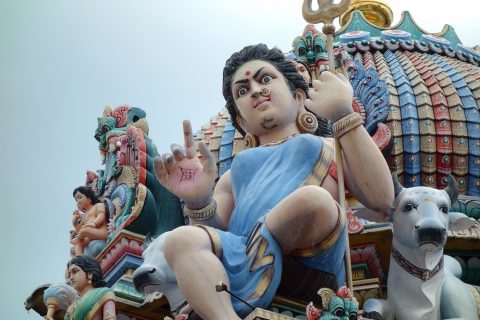 Some gods are a little intimidating! I thought it was a male, but it has breasts, so is it also a goddess?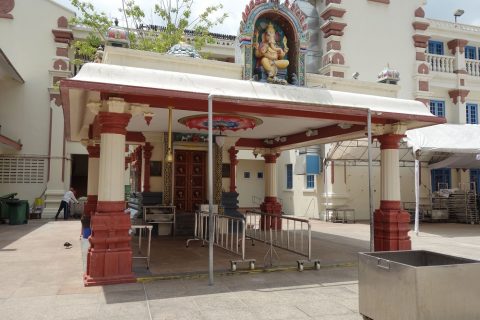 In addition, there was a building like an independent temple. Since it is daytime, the lights are not turned on at all, but I am a little concerned about what kind of lights are turned on at night.
It might not be enough as a tourist spot …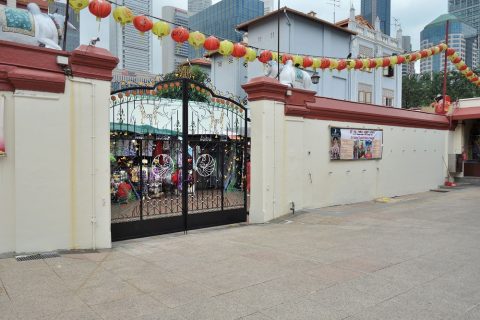 Sri Mariamman Cathedral is said to be the oldest temple in Singapore, but there were very few tourists at that time, and there were only a few of them including me. It may not be a very popular sightseeing spot. You can get in for free, but it certainly doesn't have any glamorous attractions, and some people may think taking off their shoes is bad.
Also, there were no people who looked like believers at that time, and I had an impression that it was not enough as a foreign temple. Even so, the inside of the temple is windy and cool, so it might be a good idea to take a look at it during a short period of sightseeing.
♪Click here for a List of articles on "Singapore"