Singapore has many theme parks full of creatures like "Night Safari" "Sea Aquarium" and "Juron Bird Park". There are also normal zoos "Singapore Zoo", but at first I thought this was the same facility as the night safari.
Actually, it's a different facility with completely different entrance area and exhibition method, but it's especially confusing for first-time visitors. I would like to compare these two facilities with photos this time.
※This article was written before the virus scandal. This will be updated.
Same access!
The Singapore Zoo and night safari are located in northern Singapore on the banks of the Upper Seletar Reservoir pond.
Since it is far from the city and there is no train station nearby, you can access by bus or taxi. I heard that a new facility called "River Safari" opened in this area a while ago.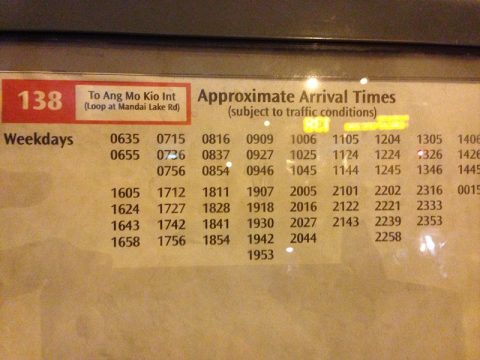 To get there by bus, I took bus number 138 from Ang Mo Kio (Anne Mo Kio) station of MRT, but somehow there was a notice saying that it ended at 17 o'clock on this day, so I couldn't take it, …。 and had no choice but to go by taxi (About $25).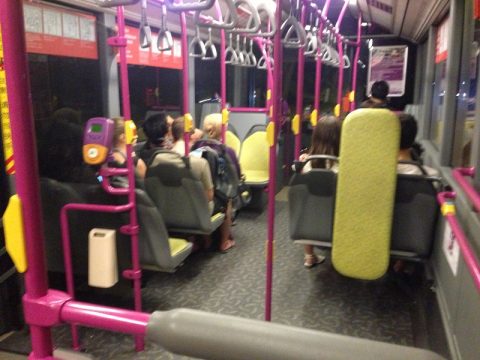 But there was no problem on the way back from the night safari, and the bus number 138 was leaving, so maybe it was a misunderstanding …? The bus stop at Ang Mo Kio Station is quite difficult to find, so you need to be careful.
A night safari that tickles your sense of adventure.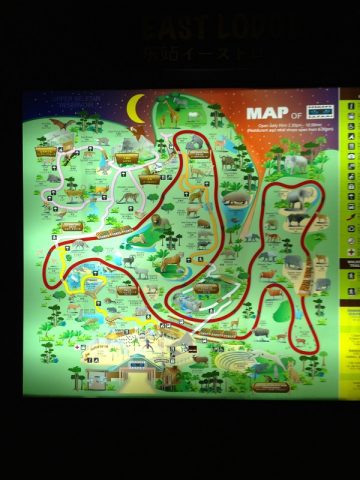 Then let's start with the night safari! On a 40 hectare site, about 2500 animals are on display, and you can observe their night life. The park is open from 19: 15 ~ 24: 00 (Last admission is 23: 15.).
In addition to the walking route, there is also a 45 minute tram ride that you can observe. It is amazing that there is a tram explained in Japanese!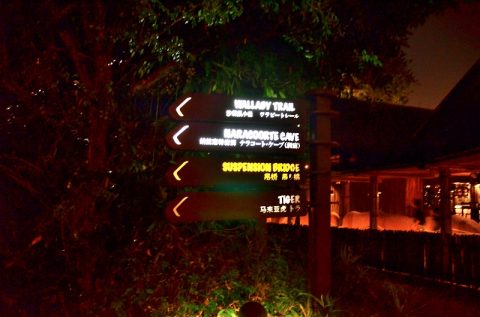 There is no need to worry because Japanese is written on the guide board in the building. This is why Singapore is recommended for beginners traveling abroad.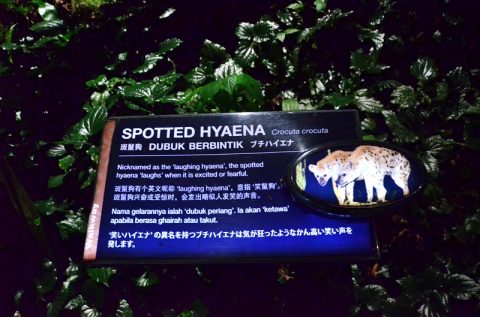 The explanation of the exhibition is also written in Japanese. Most of the animals on display are nocturnal like hyenas.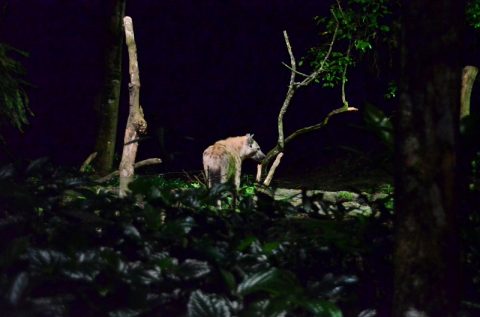 Oh, there he is! The display of the night safari is elaborate and makes you feel as if you were lost in the jungle.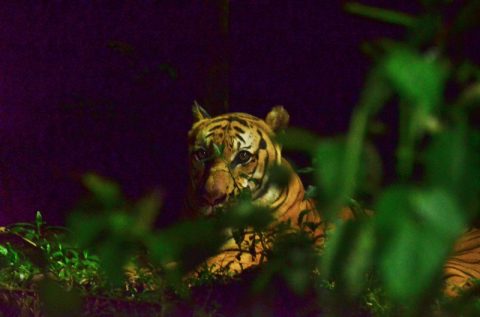 In addition, there are few wire netting among carnivorous animals, so you can observe them with a sense of reality. At that time, my eyes met with the tiger …!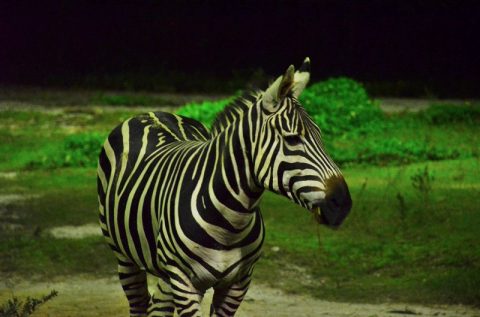 There are zebras, too. Needless to say, flash photography is strictly prohibited, but the amount of light was so small that I had a hard time taking pictures! You can't stand up a tripod, so high sensitivity shooting is essential.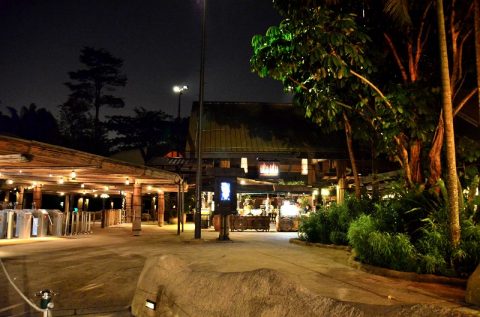 Overall, it feels like I'm visiting Disneyland at night. It tickles your sense of adventure and makes you excited! Night safari may be the best recommended spot in Singapore.
A zoo with a beautiful garden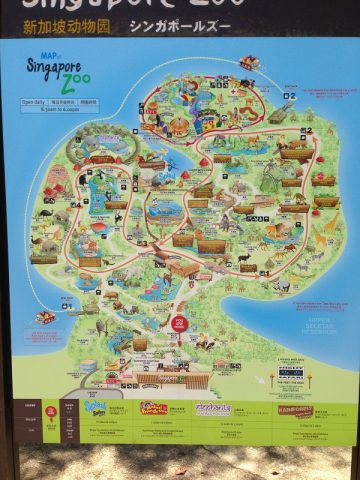 On the other hand, "Singapore Zoo" spreads on the east side of the night safari. The show starts from 8:30 to 18 o'clock. The night safari opens just as this place closes.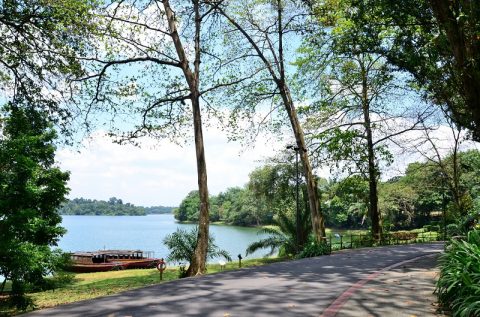 The inside of the building is not only spacious but also very clean. I feel good just by taking a walk without seeing animals.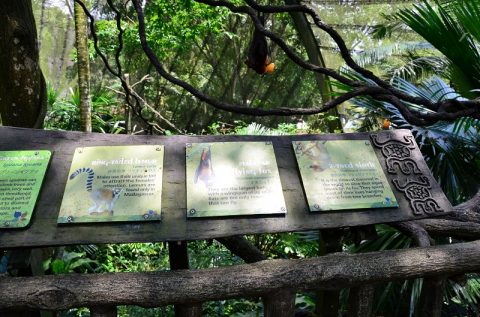 The Japanese writing is the same here. The highlights are rare animals that are rarely seen in Japan.
"proboscis monkey" is a rare monkey found only in Borneo, Malaysia. You can see it in Japan if you go to "Yokohama Zoo Zoorasia".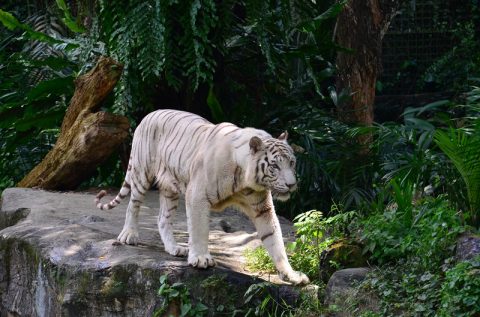 The exhibition method here also has a sense of reality. The white tiger has no iron bars at all, and the distance is quite close, so you can almost reach it by jumping with a sprint!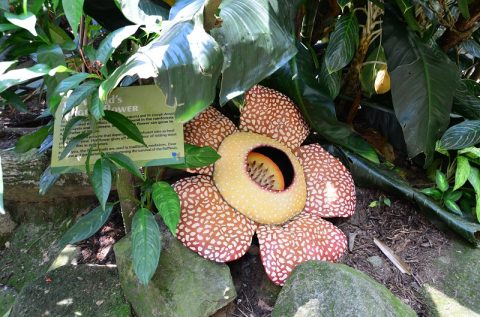 Also, there was an appearance of "Rafflesia" though it was not an animal!
the advantage of being able to see both day and night
In this way, it is good to be able to observe both day and night by crawling 2 facilities. In some cases, the same animals were exhibited in both facilities.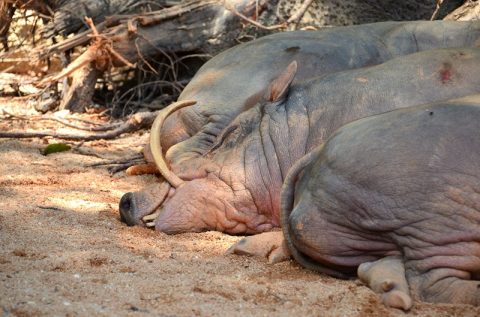 A rare wild boar with deer antlers "Babylusa", for example, was one of them, sleeping in the zoo during the day but moving around actively on the night safari. In this way, it is a great advantage to be able to see the animals that die in the heat during the day and are unable to move.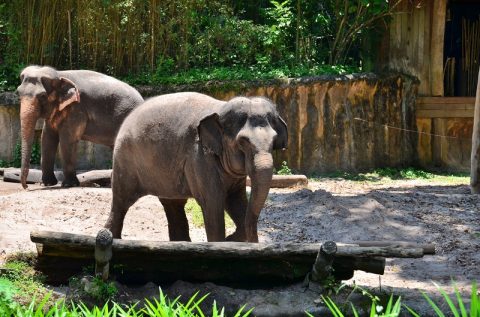 You can see a standard elephant in both places. You cannot see it from the walking route on the night safari, so I recommend you to take the tram!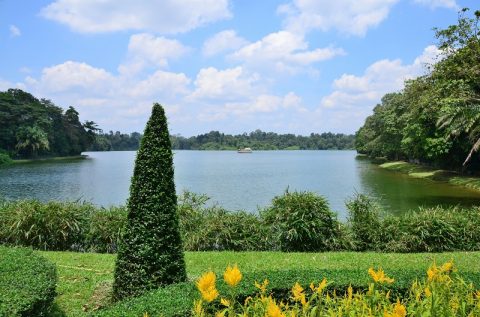 Two animal theme parks, especially the night safari, are enjoyable for adults, children and even solo travelers like me. When I visit the month after next, I would like to infiltrate River Safari.
♪Click here for a List of articles on "Singapore"