At Singapore's Changi Airport, we followed the Qantas Airport Lounge to the "SATS Premier Lounge". When I use JAL flight, this lounge is designated (The designation was changed to Dnata Lounge on July 27, 2017.), but I fully enjoyed the luxurious buffet and order menu of Qantas Airways lounge in the beginning, and the well-cleaned shower room, so I am already full …
The buffet menu of this SATS Premier Lounge was satisfying to some extent, but the shower room was quite disappointing … I would like to report that as well.
※This article was written before the virus scandal. This will be updated.
There is also a first-class area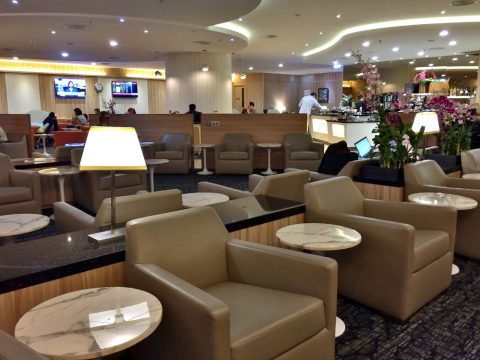 When I passed through the reception, there was a buffet area in front and a lounge space in the back. It is a slightly wide floor, and the indirect lighting on the ceiling is a bit stylish.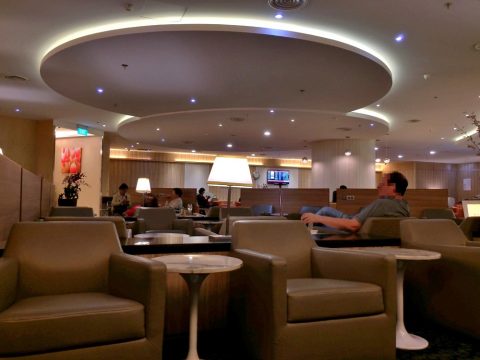 The lounge has a layout with mainly private sofa seats. There are some counter seats near the buffet area where you can eat easily, but the number is limited. Also, the seats with outlets were a bit small.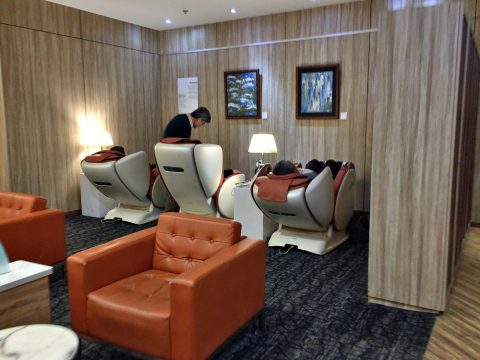 There are 3 massage chairs. I couldn't use it because it was always full …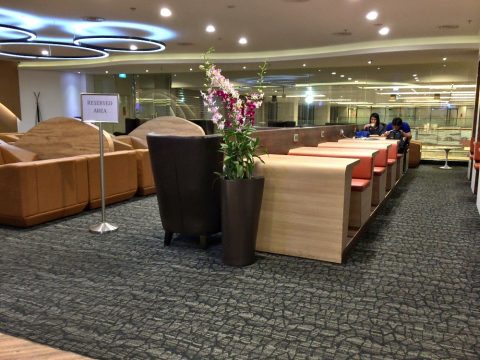 There is a space labeled RESERVED AREA at the back. At first I was wondering what the seat was, but it seems to be a First Class (emerald status holder) exclusive area. It's not particularly big, but there were private seats like semi-private rooms, so I guess it's like first class.
Pork Free Buffet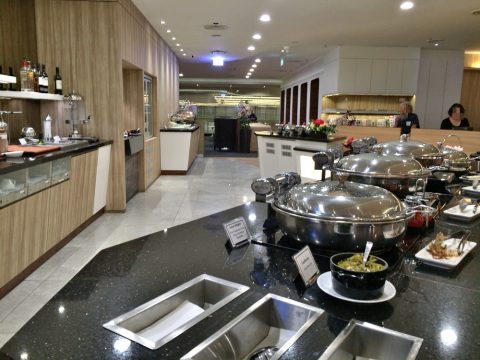 If you look at the buffet, there are 6 kinds of silver plates for the main dishes. Some of the plates with the names of the dishes are written in Japanese, which means this is the designated lounge of JAL (As of 2019, the JAL designation has been changed to the Dnata lounge.).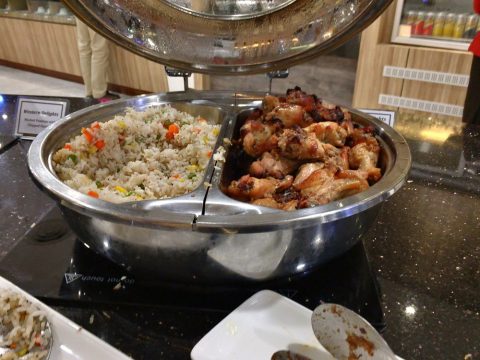 This dish is marked "broiled chicken". It seems to go well with the rice next door.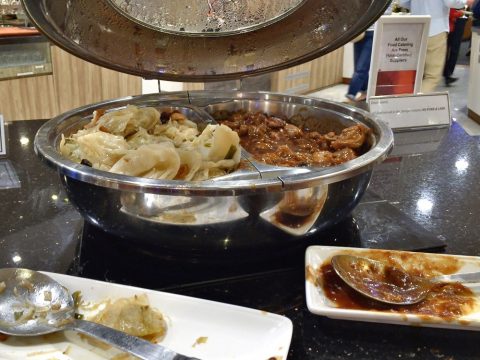 There is also something like dumplings. Overall, Chinese food stands out.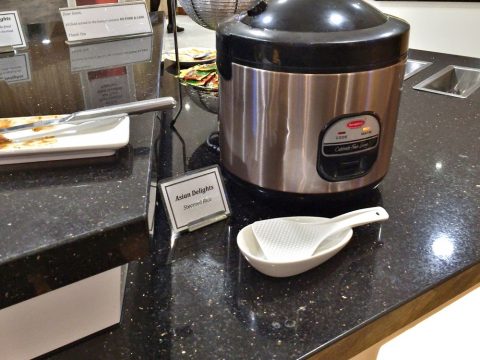 Rice was served in an iron pot.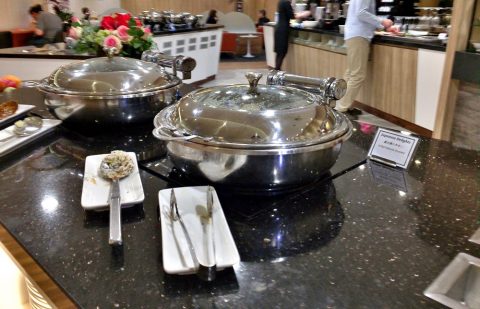 Also, there was a plate saying "All food served in the lounge contains no pork & lard." at the buffet corner. If I remember correctly, it is Islam that you can't eat pork. I think it is a consideration unique to a multiracial nation.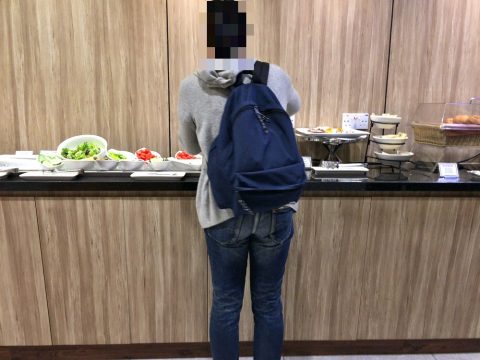 Other than that, there are salad, fruit and bread, but there are few kinds.
Is LAKSA self-service?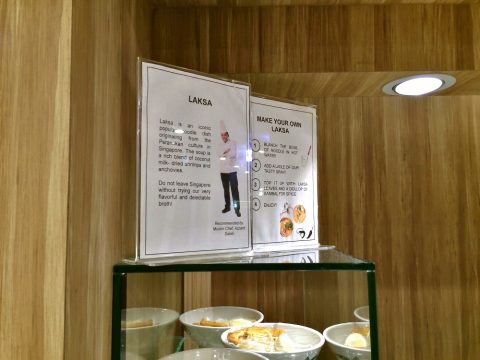 In the corner of the buffet corner, there is a section for Asian food laksa, but it seems that they need to make it by themselves, not by order like in the Qantas Airways lounge.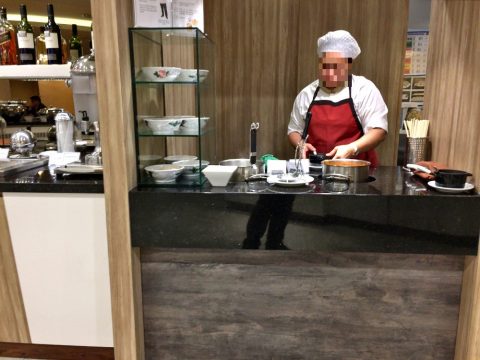 But sometimes the person in charge came out and pretending to cook, so I wonder if they can make it if I tell them …? When I went to "Rose Lounge" in Ho Chi Minh, Vietnam, the person in charge made instant pho on the spot, but I guess Asian noodles are a simple dish that doesn't require much effort.
a slightly expensive French wine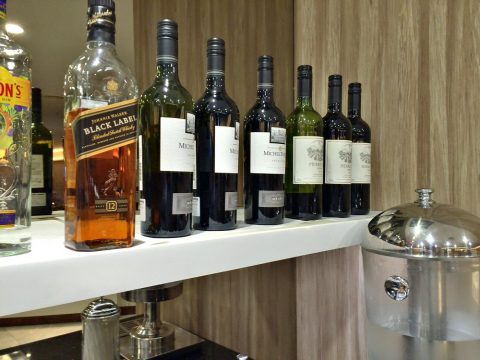 There are few kinds of alcohol, especially hard liquor, and whiskey is only "Joniglo" …
There are 2 brands of red and white wine, "Michel Torino Coleccion" from Argentina and "Pierre Jean Colombard" from France.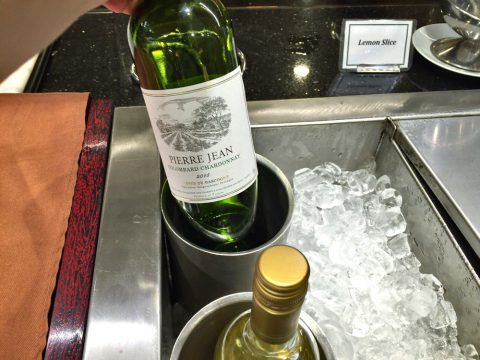 Among these, the one from France is quite expensive. The market price for a bottle of this white wine, "Pierre Jean Colombard Chardonnay", is around ¥3,000. I think it is rather expensive as a wine for a business class lounge. Fruity and easy to drink, suitable for dessert.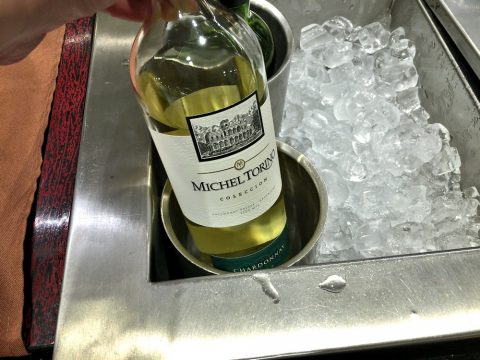 The ones from Argentina are cheaper. "Michel Torino Coleccion Chardonnay" starts at around 800 yen on Rakuten. For both red and white, try to drink French Pierre Jean Colombard here (lol).
There is Asahi Super Dry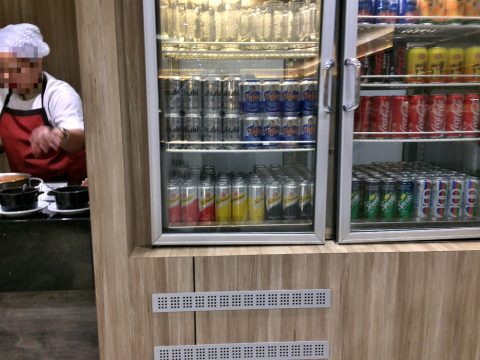 Other drinks are standard. We have 2 kinds of canned beer, Tiger beer and Asahi Super Dry. The soft drinks are Coca-Cola, Sprite and some fruit juices.
There are many people who smudge in their bags without drinking in the lounge when canned drinks are placed like this, but Changi Airport has a baggage check right before boarding, so even if you bring them, they will be confiscated (lol).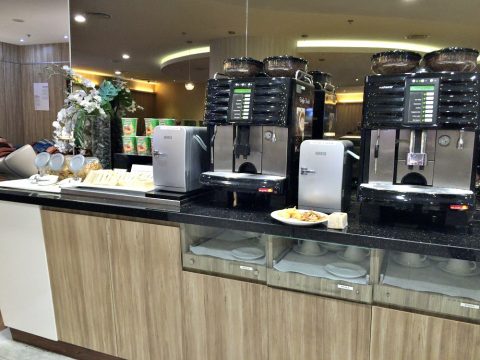 There is also a coffee machine. There is a cup noodle next to it, and hot water is poured from this machine. The coffee cup is pulled out from the machine.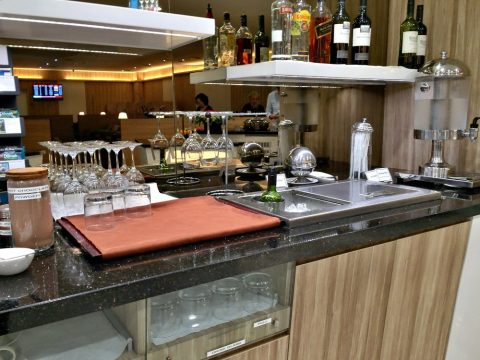 Other than that, there are various glasses to pour drinks in, but maybe because space is limited, the arrangement of tableware was dreadful, and I had a hard time finding the glass I wanted …
Uncleaned shower room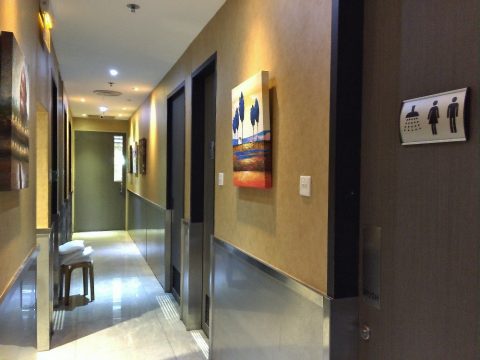 Let's check the shower room. Even though it was a shower, there were no receptions, and this place seems to be a sanitary space shared by men and women and a toilet. There was only one men's room, but there was only a urinal.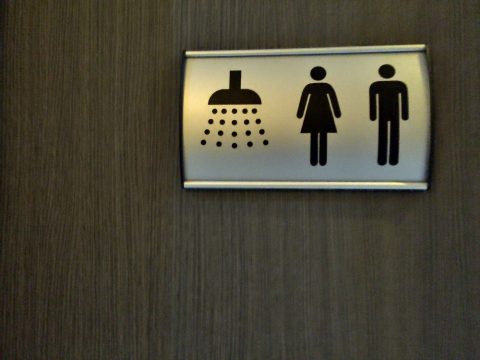 Therefore, if the shower room is full, you won't be able to go to the toilet easily. There are only 6 rooms in total, so it's a little hard during busy hours.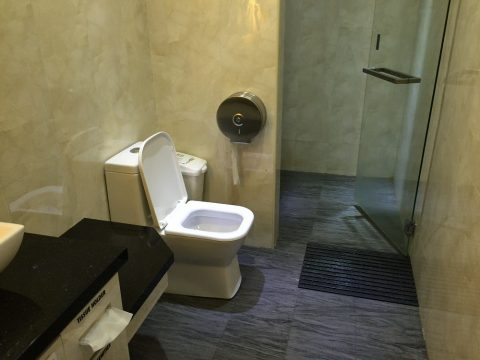 The shower room looks like this. It's big enough, but it's dim and not clean at all. … The fact that there is no reception means that it's not cleaned every time you use it. You end up using it as it was used by the previous person.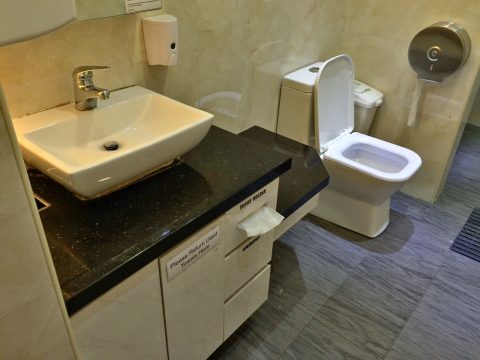 The usability of the washstand is also not good. There is no space as big and clean as Qantas Airline Lounge, so I don't have a place to put things.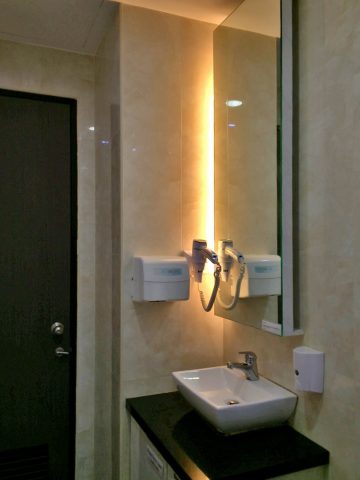 There seems to be a hair dryer installed. However, the mirror is small and dark, so it seems difficult to set my hair.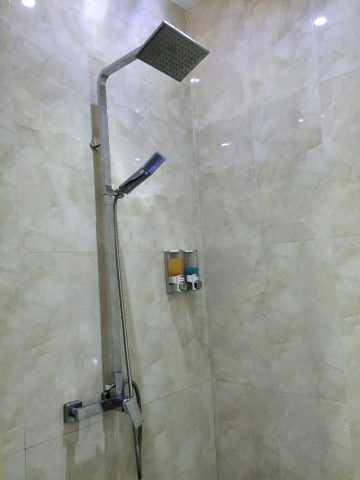 The shower booth in the back is large enough. The water pressure of the shower is higher than Qantas.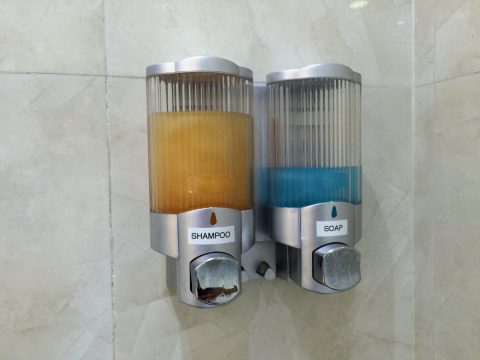 The amenities are only shampoo and soap. It is the color that makes you hesitate to use it. …
Even though it is open 24 hours, the winner is Qantas!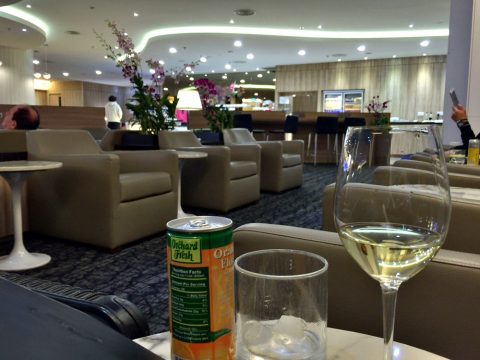 To sum up the SATS Premier Lounge, it is not uncomfortable except for the sanitary space. If you enjoy a buffet with various kinds of French wine in one hand, you will be able to spend your time comfortably.
However, there is nothing outstanding compared to the luxury of Qantas Airline Lounge. This SATS lounge is open 24 hours a day, but Qantas closes at 24 o'clock, so it can't be helped if you take the 2:05 (1:50) flight to Haneda, but if you take the 22: 00 (21: 50) flight, I recommend you go to Qantas without hesitation.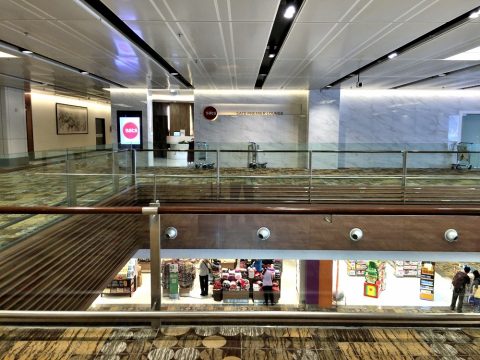 The main airline of Singapore is Singapore Airlines. It goes without saying that Star Alliance is naturally favored. Compared to the gorgeous Singapore Airline Lounge, the One World Lounge doesn't look as good, but it's still a luxury to be able to choose between three or four lounges.
When I leave from Singapore next time, I would like to check in early and enjoy the ladder of the lounge. Please also see "Qantas Airways Lounge" below.
♪I also recommend this link→Collection of AIRPORT LOUNGE Reviews Worldwide! Wine, buffet, Shower, etc.