After enjoying the night view of Marina Bay in Singapore, I wanted to eat something at the food court "Rasapura MASTERS" in Marina Bay Sands but it was already 22:30. However, I got information that this place is open even late at night, so when I visited, it was crowded even though it was late.
Inside is clean and there are a lot of shops! I'd like to introduce you to the delicious dim sum restaurant I ate here.
※This article was written before the virus scandal. This will be updated.
How to get to Rasapura MASTERS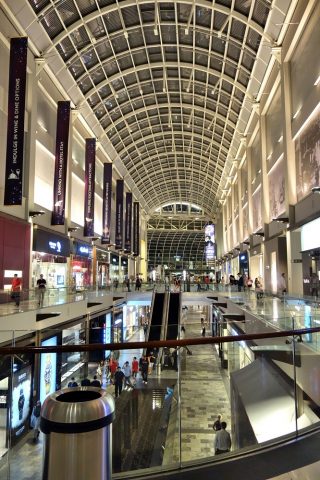 Food court Rasapura MASTERS is located on the first basement floor of Marina Bay Sands. Take the escalator from the atrium to the basement and walk through the shopping district.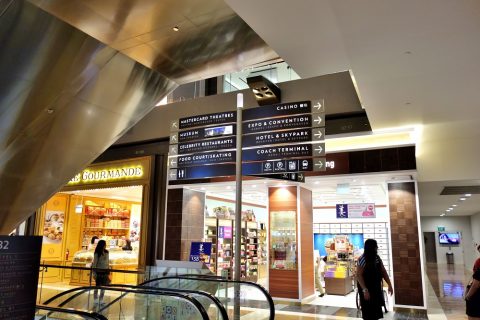 You won't get lost if you follow the "FOOD COURT" arrow on the information board. It's just in the opposite direction from the MRT station.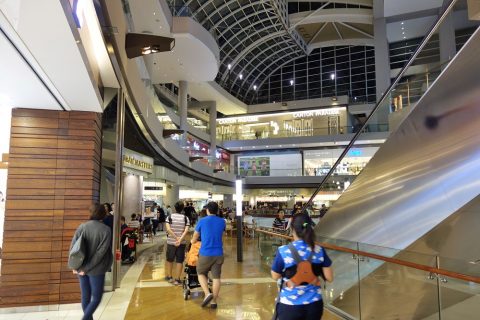 After a short walk, you will reach a large atrium. This is the food court Rasapura MASTERS.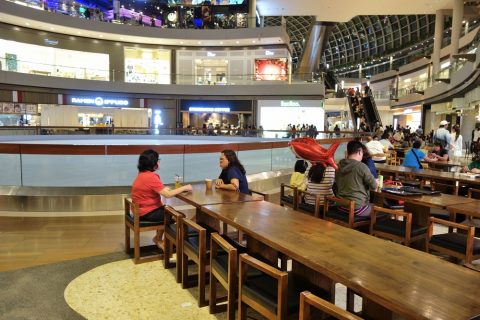 As it is in Marina Bay Sands, the floor and table are clean. Speaking of food court, since it is a popular cheap restaurant, there may be some people who are concerned about the cleanliness, but this is almost the same as the food court in Japanese shopping centers, so you don't have to worry about it.
It's a little pricey.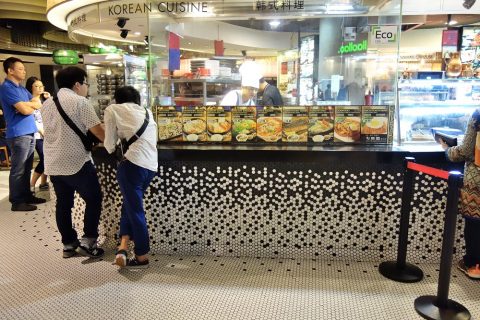 Let's take a look at what kind of shops there are. First, a Korean restaurant. There is a menu using Kimchi and Tteokbokki.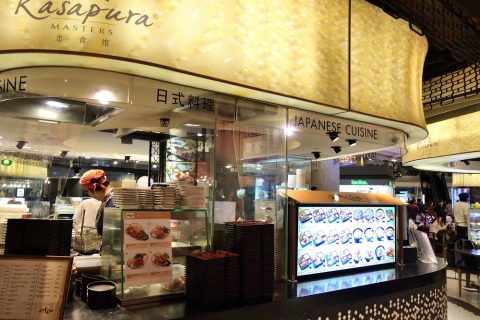 Japanese food? There were also shops that did. Even so, it can be used for bento or rice bowl with miso soup (? The main ingredients are white rice and fried food.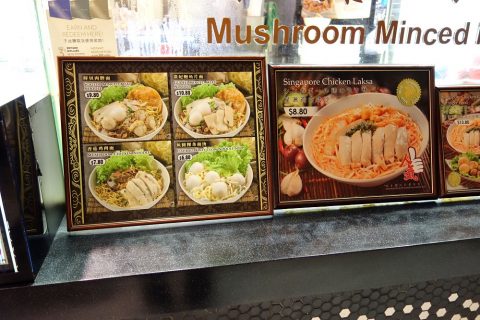 This is a noodle shop. Chicken noodles, fish ball noodles, and chicken laksa. Prices range from $7 to $10, which is a bit pricey for a street stall.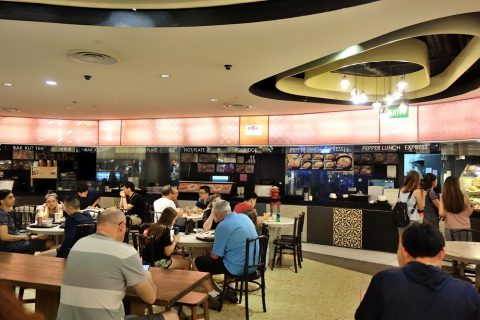 They also have Malaysian food like Bag (Nikkotsu tea). There are not many restaurants, but I had an impression that they have a complete set of Asian food. Most of the customers are Asians, but none are Indian or Muslim, and there are rare Westerners as well as a few Japanese.
Order at a dim sum shop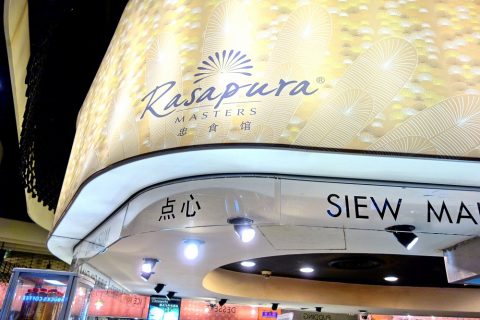 I couldn't decide which restaurant to eat, but I decided to go to dim sum restaurant this time. Come to think of it, since I came to Singapore, there has been only Malaysian food, and I haven't had Chinese food yet …。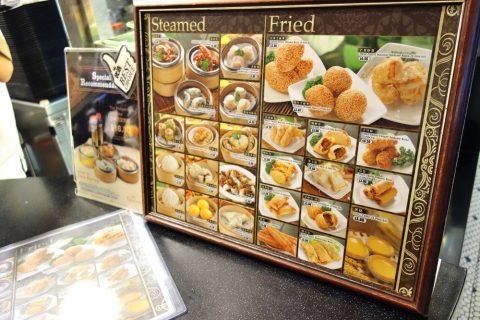 The menu here is roughly divided into two types. They are steamed food in a basket and fried food such as spring rolls. The price is mainly $3 ~ $4, and it is not cheap.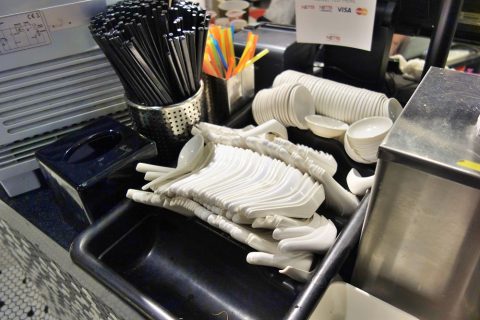 The tableware is by the cash register, so I will bring what I need. Is it clearer than sharing the entire food court?
You can pay by credit card (Visa or Master).
There's nothing better than Chinese food!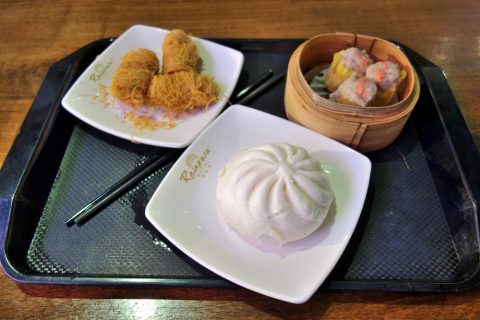 I ordered these 3 items this time. The total was $10.3.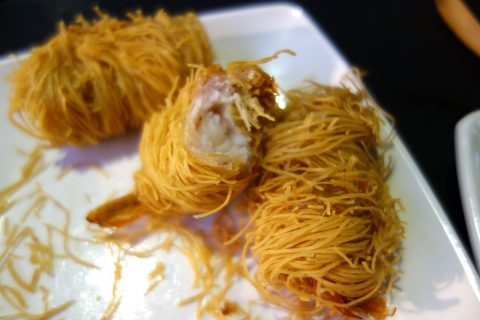 First of all, I started with shrimp kadaifu maki (Deep Fried Crispy Trim Roll). This 3 piece set is a little expensive at $4.5, but it has crunchy texture and plump shrimp, and it is quite delicious! I try not to eat shrimp sippo in places like this, but it was crispy and I could eat it.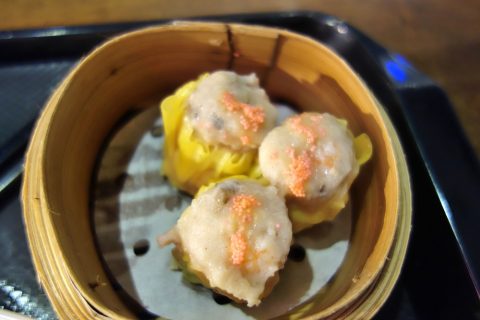 Then, shrimp shumai dumplings (Fish Roe Siew Mai). It costs $3.6 for 3 pieces, but I have no complaints about the taste. The shrimp is thick and smooth on the tongue, and the flavor is rich when you put it in your mouth.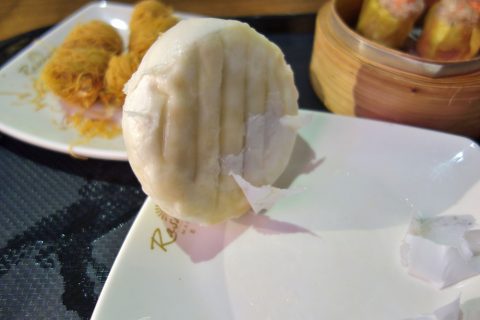 This is Butaman (Pork Bao). This is a reasonable $2.2 butaman with plenty of volume. Struggling to get back paper …。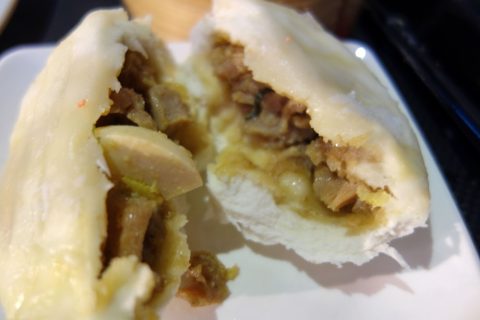 The skin is softer than what we eat in Japan, but the contents are quite a lot of ingredients, and quail eggs (? ) eggs. The chewy pork fillets and vegetables are not particularly tasty, but they are OK.
Unlike other Asian foods, there is no strange Asian smell in any of the dishes, so I was right to choose Chinese food. I feel that only 3 dishes are not enough for dinner, but since it uses oil, my stomach will swell a lot.
Some stores are open 24 hours a day!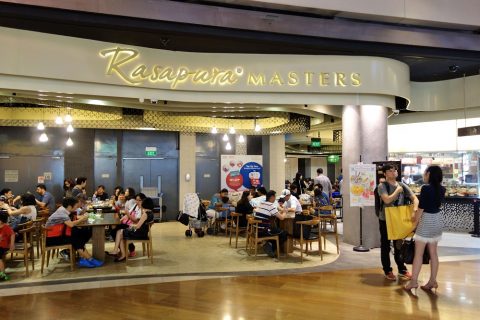 So, I used the food court Rasapura MASTERS of Marina Bay Sands, and it was a convenient place with clean floors and tables, so I would like to come again if I have a chance. Some of the restaurants were closed, but if you could choose this much even late at night and eat casually, it would be worth using.
It is not for the purpose of Rasapura MASTERS, but if you have a chance to look for a restaurant nearby, you should definitely stop by.
♪Click here for a List of articles on "Singapore"