This time, I will report the stay report of "Park Hotel Alexandra (Park Hotel Alexandra)" which I stayed in Singapore!
I was looking for a reasonable hotel in Singapore where the accommodation fee is relatively expensive, and found this hotel which seemed to be good in cost performance, but it was newly built several years ago and the room was clean! Also, there was a pool that I could use freely, so I was able to spend a comfortable time!
※This article was written before the virus scandal. This will be updated.
Free early check-in!
I booked the Park Hotel Alexandra from Expedia. I was searching for a 4 star hotel in Singapore in order of price and found this hotel.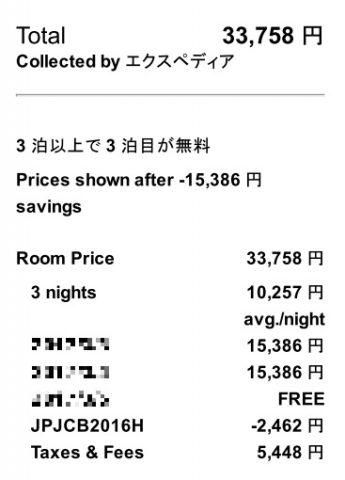 The accommodation fee "deluxe room" is about 33,000 yen for 1 person 1 room 3 nights. The third night is free because of a campaign or something. I made a reservation half a year ago, but when I checked the price again 1 month before the trip, it was about 12,000 yen per night, so I think you can stay at around this price if it's not a busy season.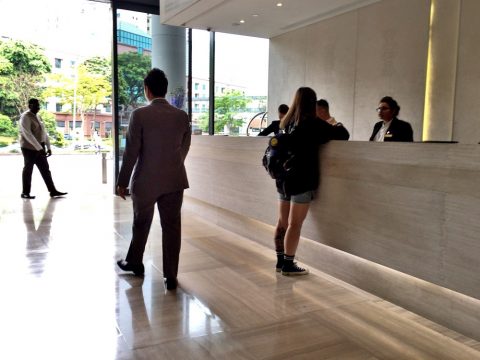 Also, early check-in was free. Or rather, when I made a reservation on Expedia, I only wrote my request of "9: 00 Early Check-in" in the request column, but I was admitted to the room without being told anything.
Maybe it was because it happened to be vacant, but if you make a reservation on Expedia, you can often get a room that is far away from the elevator on the upper floor, and it is convenient for you, so I like Expedia.
Once I booked a hotel in Prague using Jalan, the room was next to the elevator on the lowest floor, and in Taipei the room was facing the road on the lowest floor so the sound of motorcycles was so loud that I couldn't sleep, so choosing a booking site is surprisingly important.
A bit far from the station … location
The Park Hotel Alexandra is located about 5km west of Mahler Aeon in central Singapore.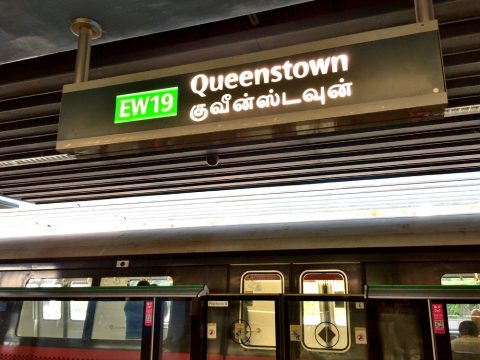 The nearest MRT station is Queenstown (Queenstown). As it is along the East West Line (Tozai Line), it is convenient as it directly connects to City Hall Station and Changi Airport, but the MRT Tozai Line especially takes time to travel because it runs very slowly (About 45 minutes to the airport.).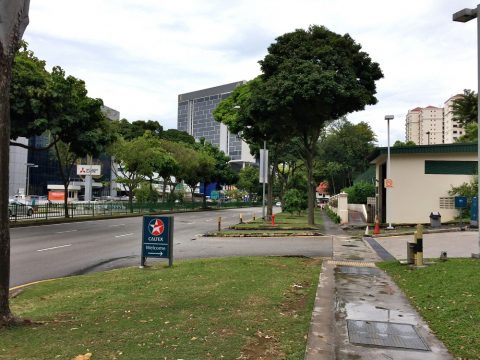 Also, from Queenstown station to the hotel, it takes about 15 minutes on foot by a man. It is not difficult to walk because the conductor is the sidewalk of the main road, but there are stairs to go up the pedestrian bridge on the way, which makes me quite tired …。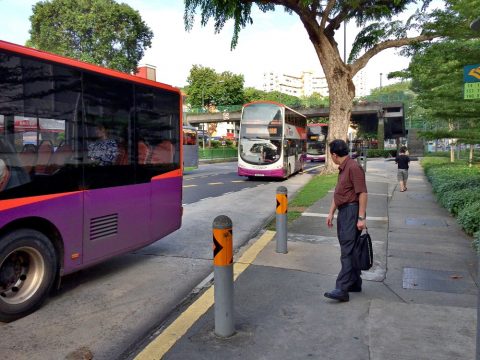 However, there is a bus stop called "Opp OG Fty" 1 minute walk from the hotel, and there are 10 bus routes running through to Chinatown and Merlyon Park, so it's convenient. There is no problem as the bus runs every 10 minutes on 1 route. I mainly used buses during my stay.
New hotel completed in 2015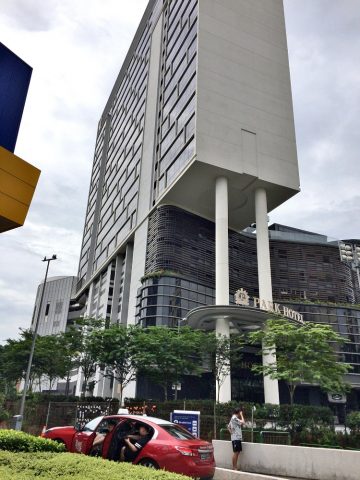 The Park Hotel Alexandra is a 19-story building, but since the lower floors are separate commercial facilities, the area will be at least 8 floors. It opened in 2015 and is still new, and the rooms and facilities were clean!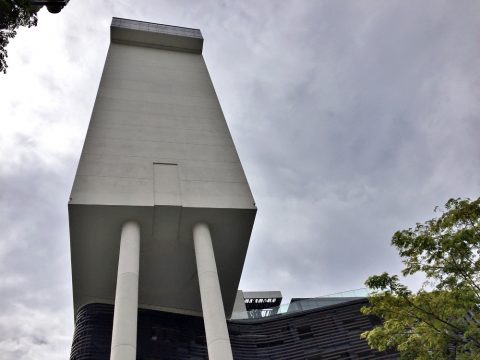 The building has a slightly novel design. It would be impossible in Japan, an earthquake power (lol).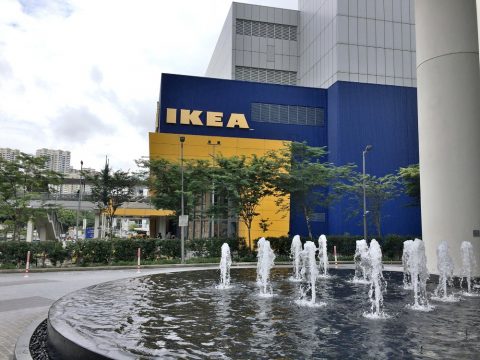 It is far from the MRT station, but there are many commercial facilities around here. Next to the hotel is IKEA.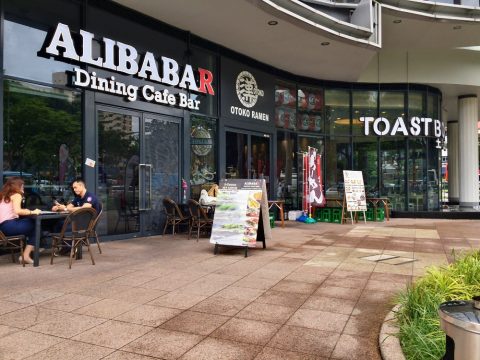 Also, there are many restaurants in the building where the hotel is located, so you won't have any trouble eating. There was even a ramen restaurant with Japanese in it!
Hotel facilities and lobby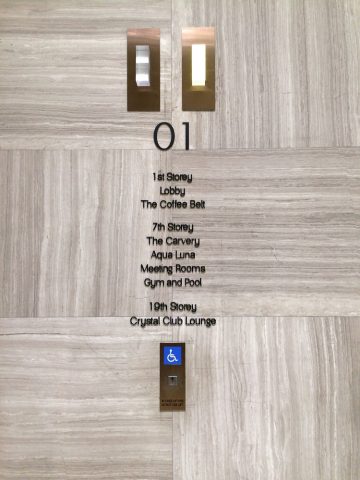 If you look at the facilities of this hotel, there is a lobby and a cafe on the first floor, as well as a breakfast restaurant and meeting room on the seventh floor, a machine gym and a pool.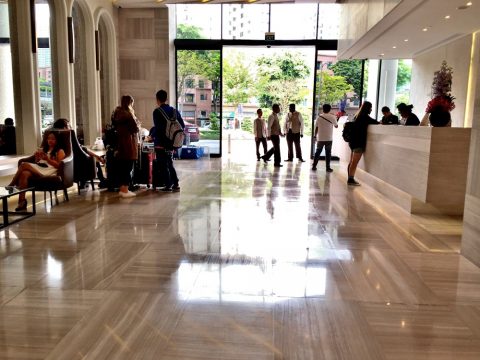 The reception room is large enough to accommodate up to 3 people at the same time, but the lobby is a little small. This lobby was too crowded to walk normally, especially when a group of people were waiting for the bus.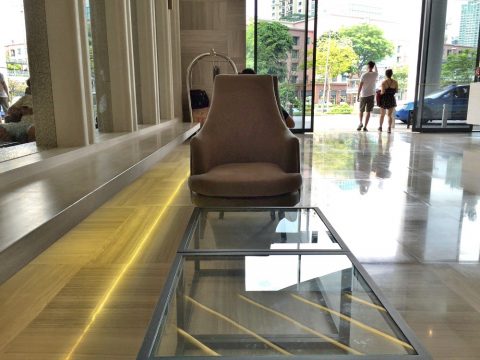 There were only six chairs in the lobby. It was almost always full, so when I wanted to organize my luggage when I checked out, I had a hard time finding room.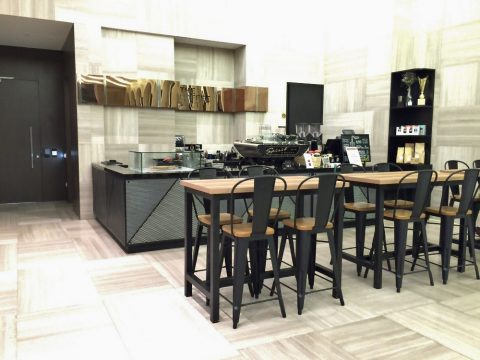 The cafe on the first floor is a small space in a corner of the lobby. I think I'll just use it for a short meeting.
Open pool and gym on the 7th floor.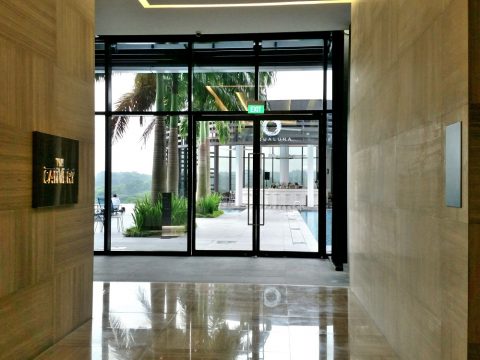 a common space on the seventh floor of a hotel. When you get off the elevator, there is a door you can go out to the pool. There is no reception, and guests can enter with their shoes on.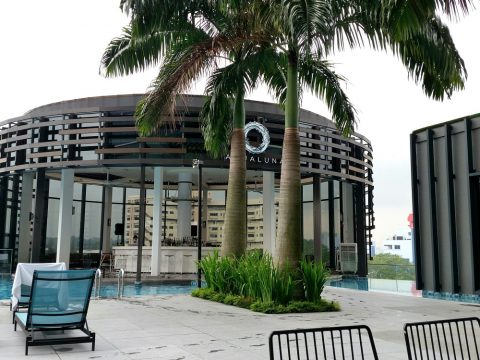 When I went outside, there was a palm tree (? This is a tropical resort style outdoor swimming pool. It's quite spacious.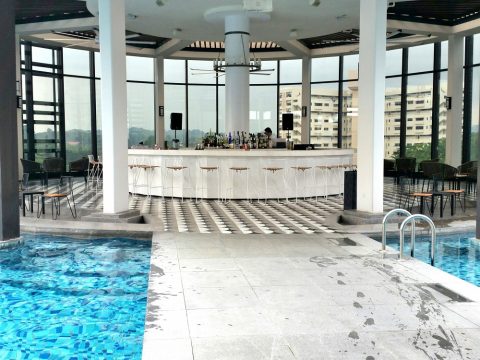 There is also a bar lounge in the back.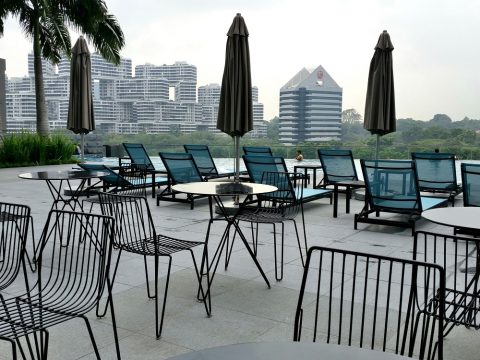 The pool itself is not that big, but you can see the view and feel great! There are many benches, tables and about 10 sun loungers at the poolside.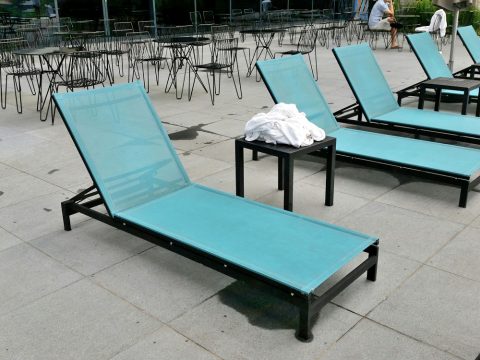 You can even wear sunglasses and enjoy cocktails while lying down.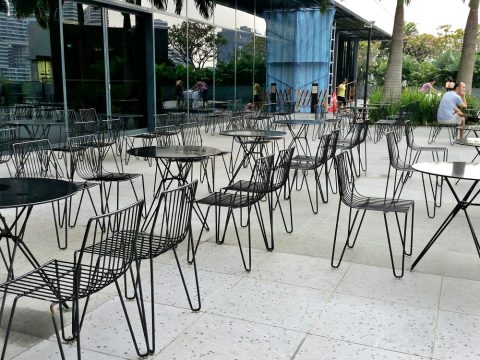 I visited there twice during my stay, and there were only a few guests even during the hottest hours in the afternoon. It is good because you can sit on this bench and relax without swimming in the pool.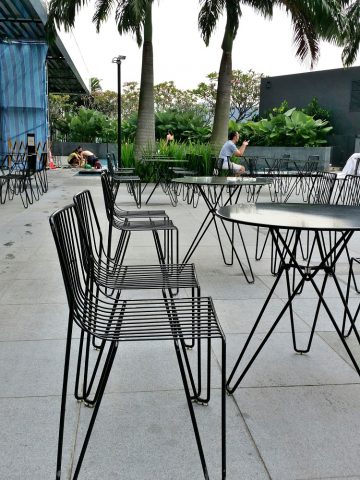 There is also a children's pool here. My family used it at that time.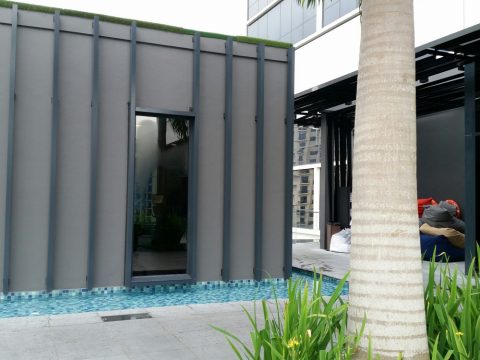 Also, there is an inorganic building like this on the poolside, and this is a machine gym. It is a little hard to understand that it is at the poolside.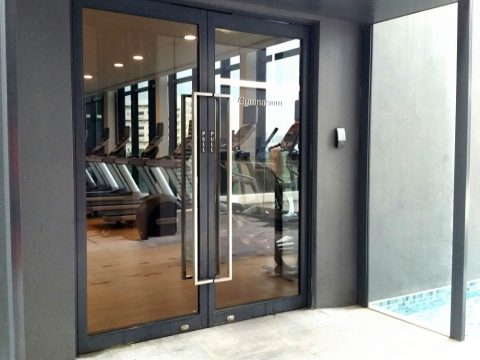 There were only a few machines, but there were some free weights and about 7 ~ 8 running machines.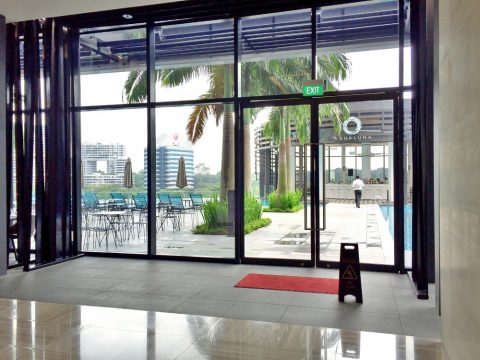 So, I'm going to report on my stay at the Park Hotel Alexandra, and next time, "deluxe room".
♪Click here for a List of articles on "Singapore"