The winter solstice is coming, and the Japanese archipelago is facing the real winter. I think some people may go to Okinawa to keep out the cold during the year-end and New Year holidays. I used to go to Okinawa in December just like every year, but it's unexpectedly chilly in Okinawa in winter, and especially in Okinawa's main island, it sometimes drops to 12 ~ 13 degrees in the morning and evening.
However, the situation is different in Miyako and Yaeyama even though they are all in Okinawa. Even in December, there were many summer days, and there were days when the temperature rose enough to swim. So this time, I would like to see the sea of "Miyako Island" and "Iriomote Island" that I visited in December to see if I can swim in "Okinawa in winter".
a beach at the foot of Miyako Island "Ikema Bridge"
Miyako Islands is a southern island located 250 km southwest of the main island of Okinawa. Because of that, the climate of Okinawa is quite different from that of the main island of Okinawa. The day was sunny and warm, so we decided to go to the beach at the foot of a bridge connecting Miyako Island and Ikema Island to the north.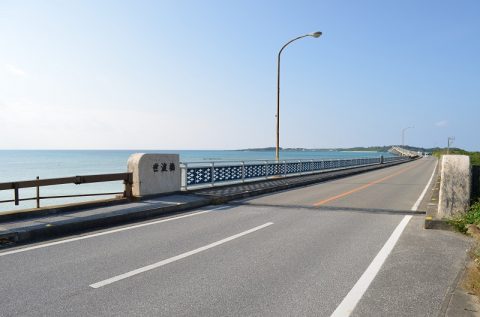 At first glance, the bridge connecting Miyako Island and Ikemajima looks like one bridge, but it is actually divided into "Sedōbashi" and "Ikema Ohashi Bridge". The total length of the 2 bridges is about 1.7 km, which is rather long when seen numerically, but when you actually drive it, it is very short.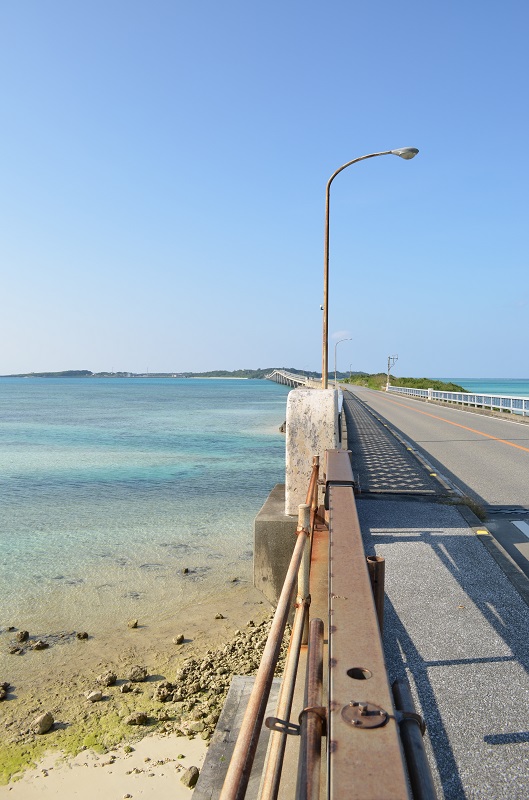 Both sides of the road are ocean blue, so I feel good running. There is a sidewalk on one side, so it might be good to walk slowly and cross the street.
And when I went down to the foot of the bridge on the Ikema Island side across this bridge, there was a white sandy beach. Since it is far from the city, there are few people, and the sound of quiet waves is comfortable. There was a rental boat facility here, so I think it will be crowded with sea bathers in the summer season.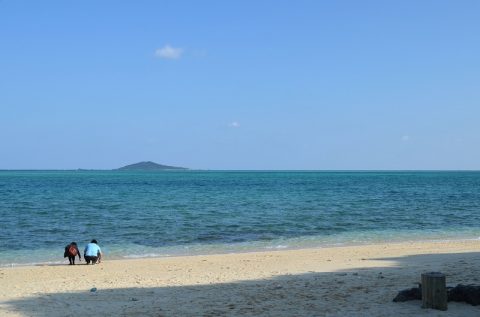 I tried soaking my feet in water here, and it was warmer than I expected and good! It is said that the sea temperature will be two months later than the normal season, so I think it is because there is still some seawater that was warmed from summer to autumn.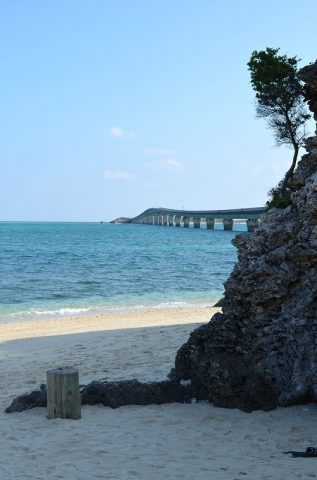 However, it may be difficult to swim in a swimsuit alone … The temperature was 22 ~ 3 degrees today, so even though the water temperature is warm, you will feel very cold when you get out of the water once.
There were sea turtles! Iriomote Island "Hoshizuna no Hama"
In December, it was not possible to swim in Miyako Island Island, but the temperature was even higher in Iriomotejima Island, 150 km southwest of Miyako Island Island, so we succeeded in swimming!
I visited "Hoshizuna no Hama" in the northern part of Iriomote Island. It is near Uehara Port and it takes less than 10 minutes by car.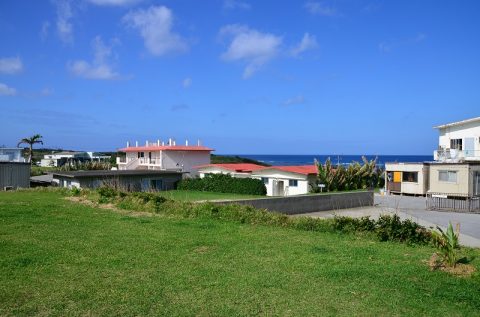 In addition to the parking lot and toilet facilities, there is also a cafe and souvenir shop "Pension Hoshinosuna", and there is also a soba restaurant, so there is no shortage of food and swimming. It is one of the most famous tourist spots on Iriomote Island, but there were no other tourists during this off-season in December.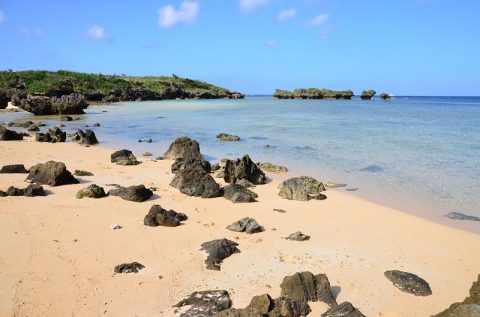 It was a little disappointing that it was just at low tide. The quality of the sandy beach was a little different from that of Miyako Island, and it was a bit like brownish soil.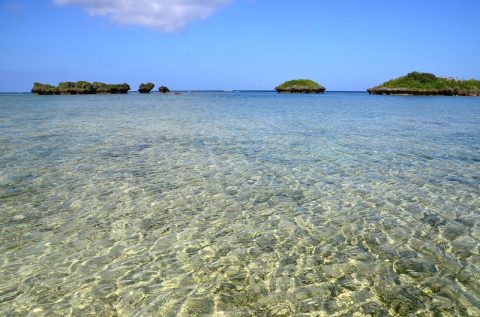 But the beauty of clear water is the same as Miyako Island! I am surprised that it is so clear that I think I can drink it. Since it was a summer day with a temperature of 25 ~ 6 degrees, I decided to swim with my friend who went with me.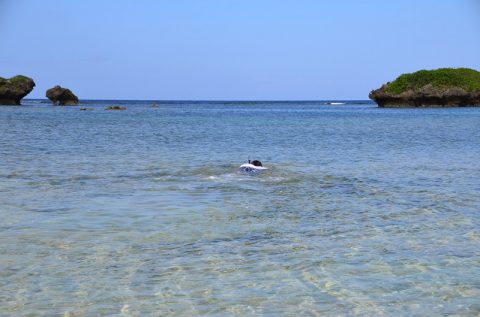 I was a little hesitant to swim in a swimsuit, so I decided to try a wet suit and a rash guard. When I entered the water, it was warmer than I expected, and it didn't bother me at all.
A few tens of meters away from the shore, this stellar sand beach is 4 ~ 5 meters deep, and a vast ocean world spreads out. Besides the colorful fish, I was able to see the sea turtles!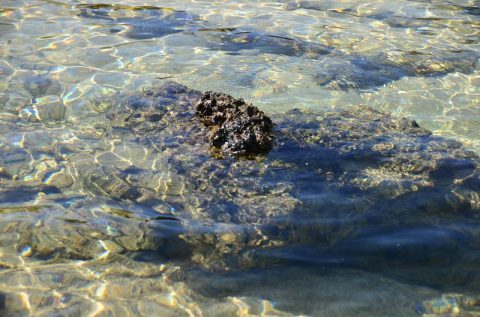 As you can see, it is possible to swim in Okinawa even in December. I think it varies greatly depending on the day and the climate of the year, but it seems to be good to think that you can swim in the Yaeyama region if the temperature exceeds 25 degrees. Of course, if you wear a real winter wetsuit, there will be more possible seasons.
Next time, I will tell you about my experience of the snorkel tour I took in Iriomote Island.