When I came to Moscow, I had my first dinner at the Ukrainian restaurant "Steven Mila Одесса-Мама (Odessa-mama)" near Kyev Station. It's a little far from the station, but there are terrace seats with a nice atmosphere facing the park, and the food was great! The price is reasonable and I really recommend this restaurant.
Three stores in Moscow
There are 3 Ukrainian restaurants "Odessa-mama" in Moscow, and the one I visited this time is near Kiev station. The hotel I was staying at is located in front of Kiev station, so I came here on foot.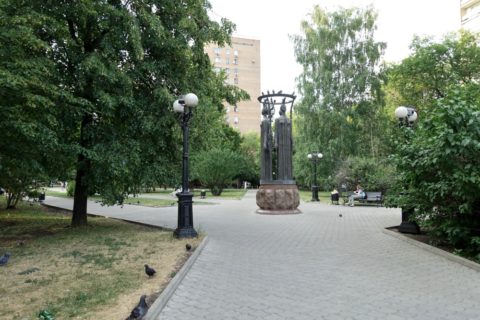 This area is a residential area, and there are many condominiums around a large park. The atmosphere in front of Kiev Station is a little bad, but there are many people taking a walk with their children around here, and it has a nice relaxed atmosphere.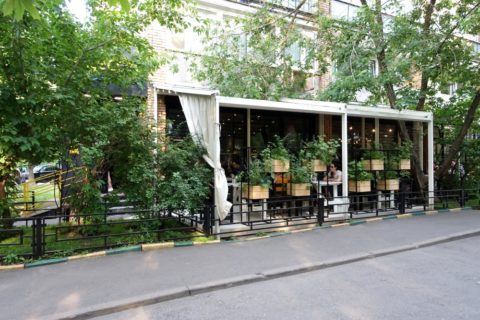 Odessa Mama is in a corner of the park. We are open from 11 o'clock in the afternoon until 23 o'clock at night (No holidays).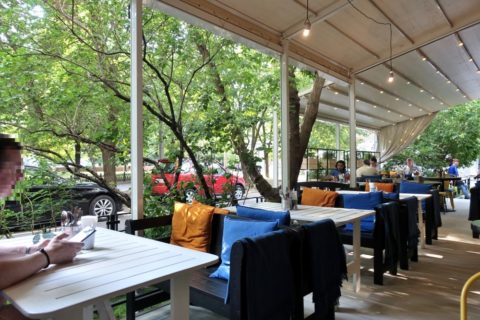 We went to the terrace because the weather was good on this day. I also saw several salaried workers who seemed to be on their way home from work.
The staff was a little unfriendly, but I could understand English well and they handled my work perfectly so there was no problem.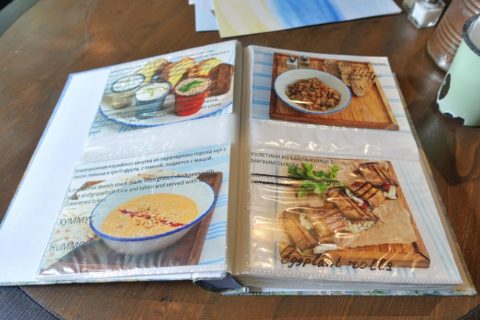 The menu of this restaurant comes with a nice picture for tourists! There are pictures of the dishes in English on the thick photo album.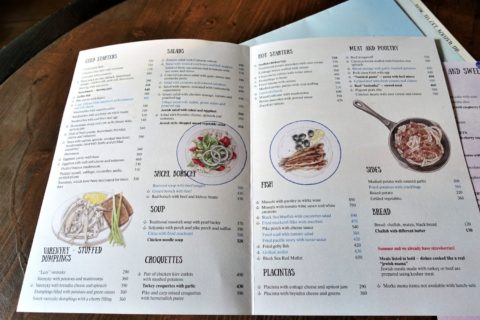 However, the price is not written on the photo menu, so you need to check it against another menu. This is an English menu.
This restaurant is a Ukrainian restaurant, but it certainly has a very different lineup from a Russian restaurant.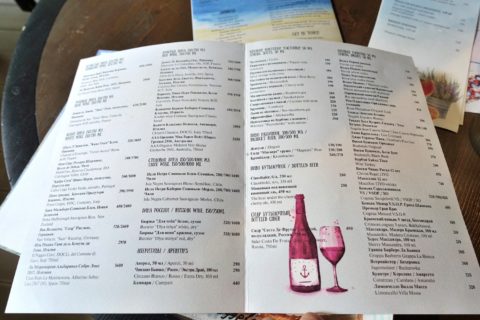 There are various drinks on the menu. You can order European wines by the glass and the table wine is from 280 RUB.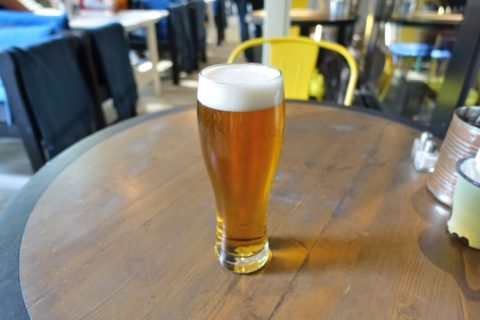 I was thirsty this time, so I chose beer! When I asked for Beer, they said "Russian beer?", so I answered Yes, and this beer was brought to me.
It's a Russian beer called "Zhiguli" and it's a pretty amber beer. It doesn't have much flavor, but the slightly sticky texture is good!
Eggplant Caviar and Delicious Bread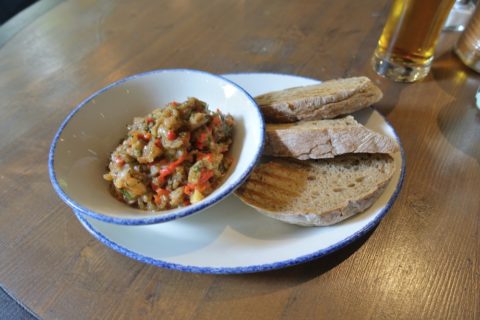 Well, I ordered 3 dishes. First of all, there is an appetizer, this is a menu called Peeled Eggplant Caviar.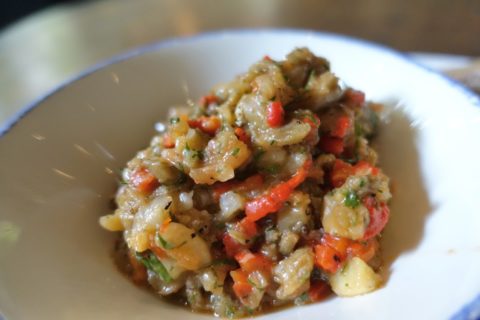 Looking at the picture, I ordered a dish that I thought was probably a kind of "Eggplant caviar" that is often eaten in France and other places. It is a dish based on a baked eggplant paste, and it brings out the flavor of onions and tomatoes.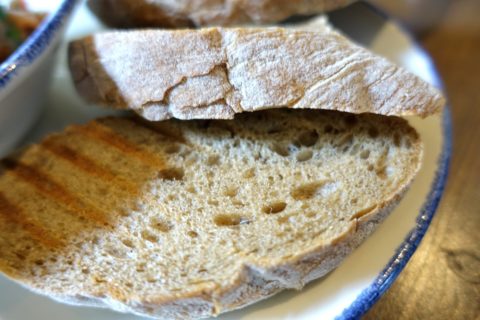 It is a little greasy dish, but if you dip it in the bread for garnish, it becomes just right. This bread is hot, crispy on the outside and chewy on the inside, and delicious!
Combat ration of the Russian Army "Tushonka"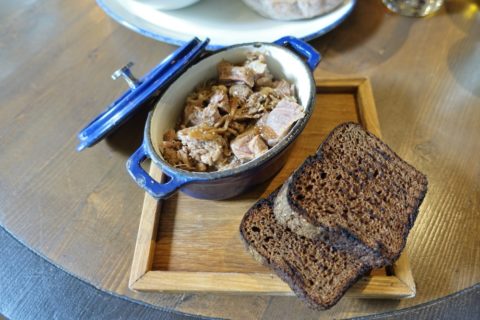 The main dish is Beef Tushonka-Stewed Meat. "Tushonka" is a little strange to hear, but this dish is made by putting meat and onion in a can, adding salt and pepper, and stewing it thoroughly.
It was originally one of the combat foods eaten by the Russian military on the battlefield, but no chemical seasoning or preservatives have been added to the canned food.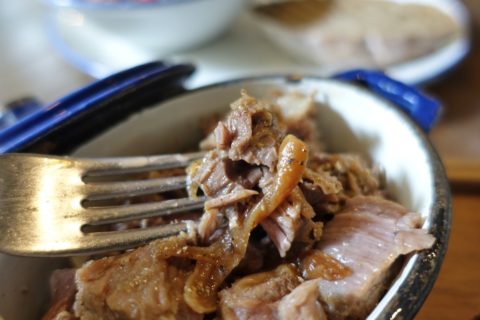 This is probably a recreation of the Tushonka, but it has a bit of onion sweetness and flavor. Some meat is a little dry, but it tastes good.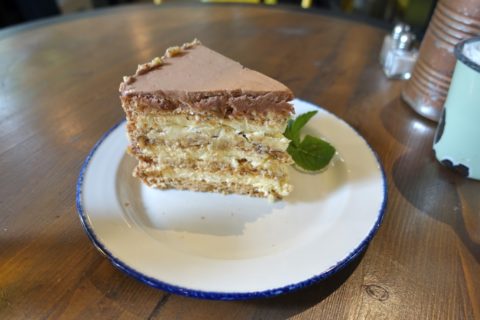 The dessert was Kiev Cake. This millefeuille meringue cake is one of the most popular brand cakes in Ukraine.
The walnut flavor is very strong on the soft and sweet chocolate. I enjoyed the crunchy texture, and this is also my favorite!
Reasonable reasonable price!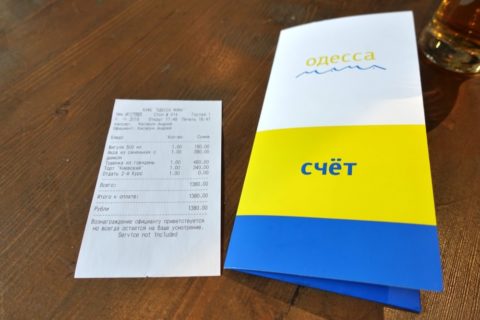 The accounting this time is 1,380 RUB. Isn't this a reasonable price for Moscow? I am especially happy that I can drink 500 ml Russian beer with 190 RUB!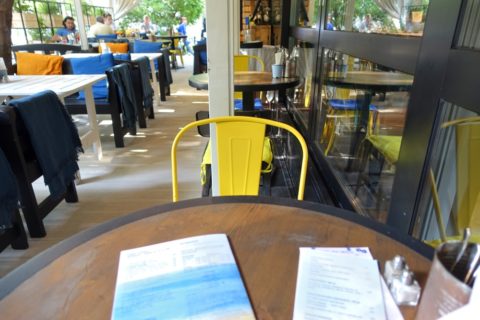 If you have a chance, please visit our 3 stores in Moscow, Odessa Mama!
Odessa-mama(Kievskaya subway st.)
Address:Ukrainskiy Bul'var, 7, Moscow
Opening House:11:00~23:00
For more information about Moscow, click here → "Moscow"