A supermarket where you will often be taken care of while traveling in Moscow, Russia.
There was a large supermarket in front of Kievskaya Station where the hotel I was staying was, so I used it a lot, but there was a delicatessen corner where I could use it easily, and there were many kinds! The price is cheap, and it is a great friend of economical travel!
It is a delicatessen corner of a supermarket which is a little difficult to understand the language in foreign countries, but it is very easy once you get used to it! I would like to report in detail how to use and taste such cheap and delicious supermarket "delicatessen corner" in Moscow.
A big supermarket in front of Kievskaya Station
This time I went to a supermarket in a shopping center called "Европейский" in front of Kievskaya Station. The hotel where I stayed was in front of Kievskaya Station, so I used it a lot during my stay!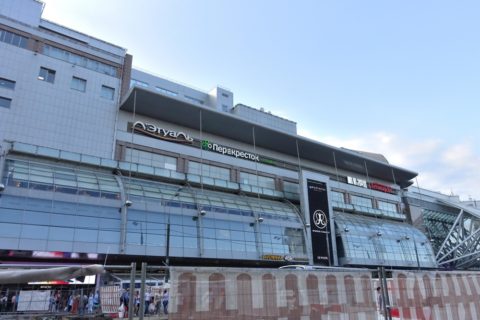 Take the escalator just inside the shopping center and go down to the basement to find a supermarket. This place is very spacious and has a wide selection! It's open until 22 PM every day, so it's easy to use.
Wide variety! Reasonable and delicious "delicatessen corner"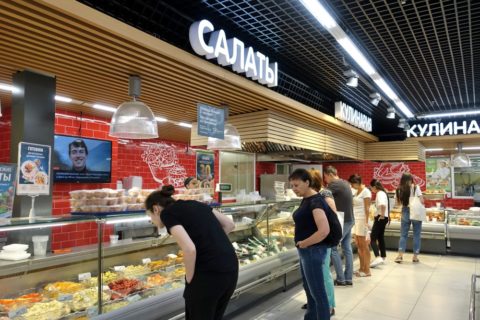 The corner of this supermarket is this side dish corner. From salad to meat, fish, fried food, rice and desserts, there are various side dishes.
There are so many kinds of delicatessen, and I think there are more than 70 ~ 80 kinds of delicatessen. I stayed there three times during my stay in Moscow for about a week and it was helpful because of the variety!
As a Japanese person, I am very happy that there are rice dishes in addition to the familiar menus in Russia such as millefeuille salad using herring and beet. At that time, there were about 3 kinds of pilaf.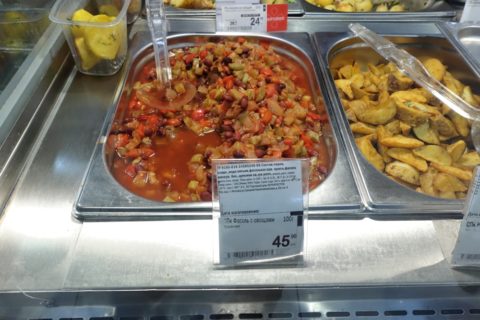 The price tag shows the price per 100 g, which is surprisingly reasonable! About 30 to 40 RUB per 100 g of any side dish is the market price, and some salads can be bought at 17 RUB.
How to order side dishes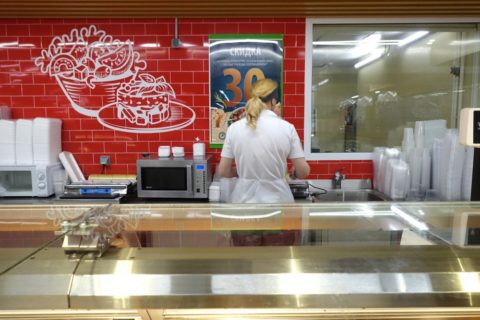 It's very easy to order side dishes! When you see the staff at the counter, you greet them and order your favorite side dishes by pointing at the glass.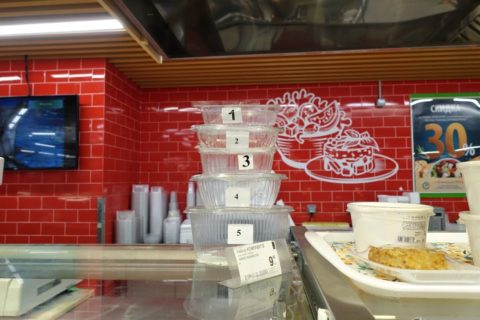 When you specify the capacity, I think it will be understood if you display the number of grams with a calculator on a smartphone, but in my case, when I gestured saying "1 Small Please", they put it in a small container suitable for 1 serving.
Some containers seem to be charged separately, but if you don't say anything, you can put it in a free container.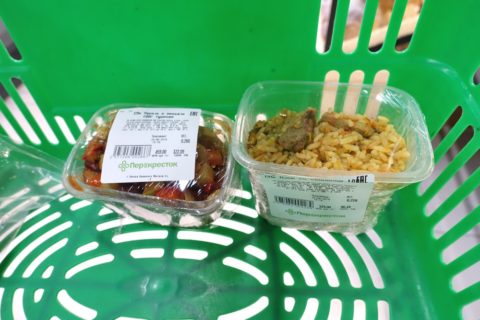 It's sealed with plastic wrap and labeled, so you just need to take it with other items to the cashier and pay! The aunts in the shop are probably people who can't speak English, but they seem to understand One or Small.
The taste is perfect!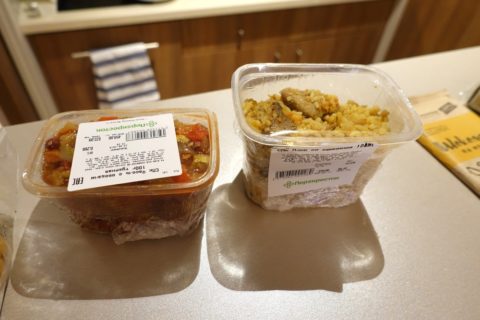 Here is the side dish I bought this time. 37.9 RUB/100 g of chicken pilaf and 45.9 RUB/100 g of warm vegetable salad together comes to about 350 yen.
When I looked at the label, it said 228 g/266 g, so I think the smallest pack is about 250 g.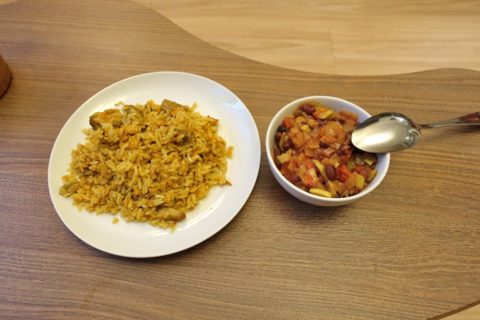 I tried it right away, and the pilaf was my favorite rice with grains of rice, and the chicken filling had a deep taste and was quite delicious! Also, the salad is packed with paprika, avocado, onion, and so on, and it is as delicious as eating it at a restaurant!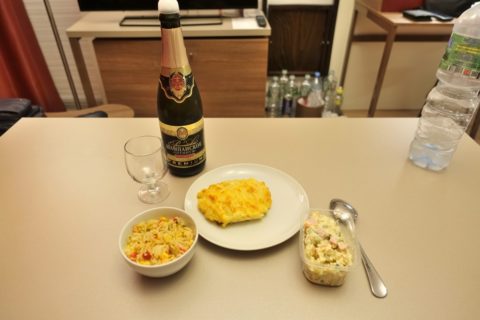 I also tried the menu I bought on another day, and it was also a reasonable price of about $5 for 3 dishes! The salad with a lot of ingredients and the delicious pork potato flavored with mayonnaise were more voluminous than it looked, and the cost performance was great!
Wine, bread and retort are also on sale!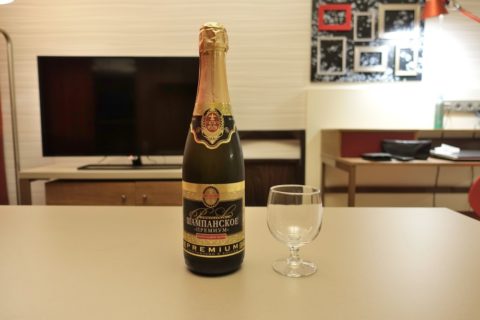 Also, I bought a sparkling wine when I was preparing the side dish, and it was a baby bottle, but the price was 93 RUB, which was very reasonable! I thought it was just a sweetish cheap sake, but after drinking it, I felt the strong spiciness and it was perfect for meals! It's a pretty good wine.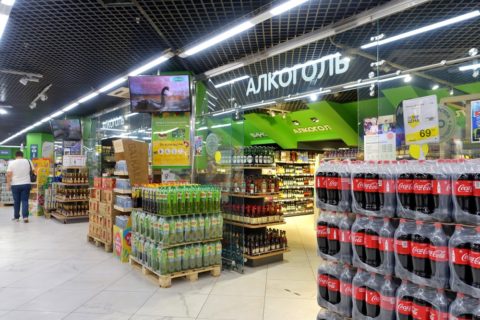 The wine was in the wine section of the same supermarket. There are several sparkling wines in the same price range, but some are just sweet and cheap, so I recommend the dry (BRUT).
Also, I bought the bread sold next to the deli corner and tried it, and the fluffy dough had a savory sesame flavor, which was good! The bread is about 20 cm in size and seems to cost about 300 yen in Japan, but I was able to buy it for only 41.9 RUB!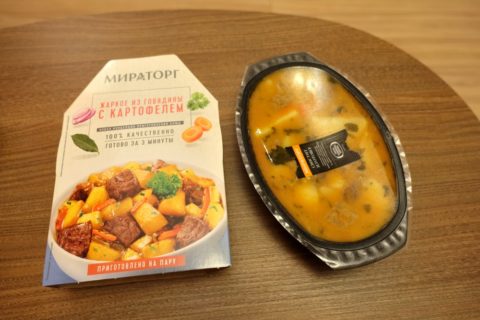 I also tried retort stew as there was an electronic cash register in the hotel room, but the meat was fibrous and the taste was good! There is no strange persistence peculiar to overseas.
However, the price is 270 RUB, so it is definitely better to buy many side dishes.
Very useful! delicatessen of a supermarket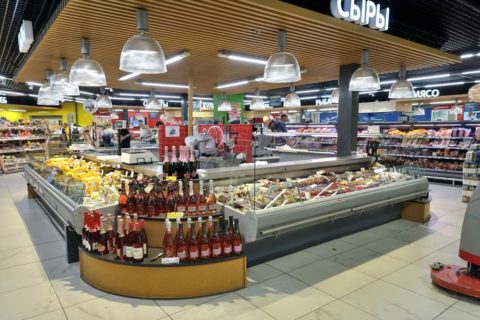 Well, to be honest, I didn't think it was so useful! Moscow's supermarkets, where you can get cheap and delicious side dishes, are a strong point of view for budget travel! If you want to save on food costs, or if you get tired of eating at a restaurant every day, please try it!
Европейский
Address:Kiyevsky Station Square, 2, Moscow
Opening House:10:00~22:00(Friday & Saturday : until 23:00)